MXA RACE TEST: 2017 SUZUKI RM-Z450: THE ROTARY PHONE OF MX BIKES
Click on images to enlarge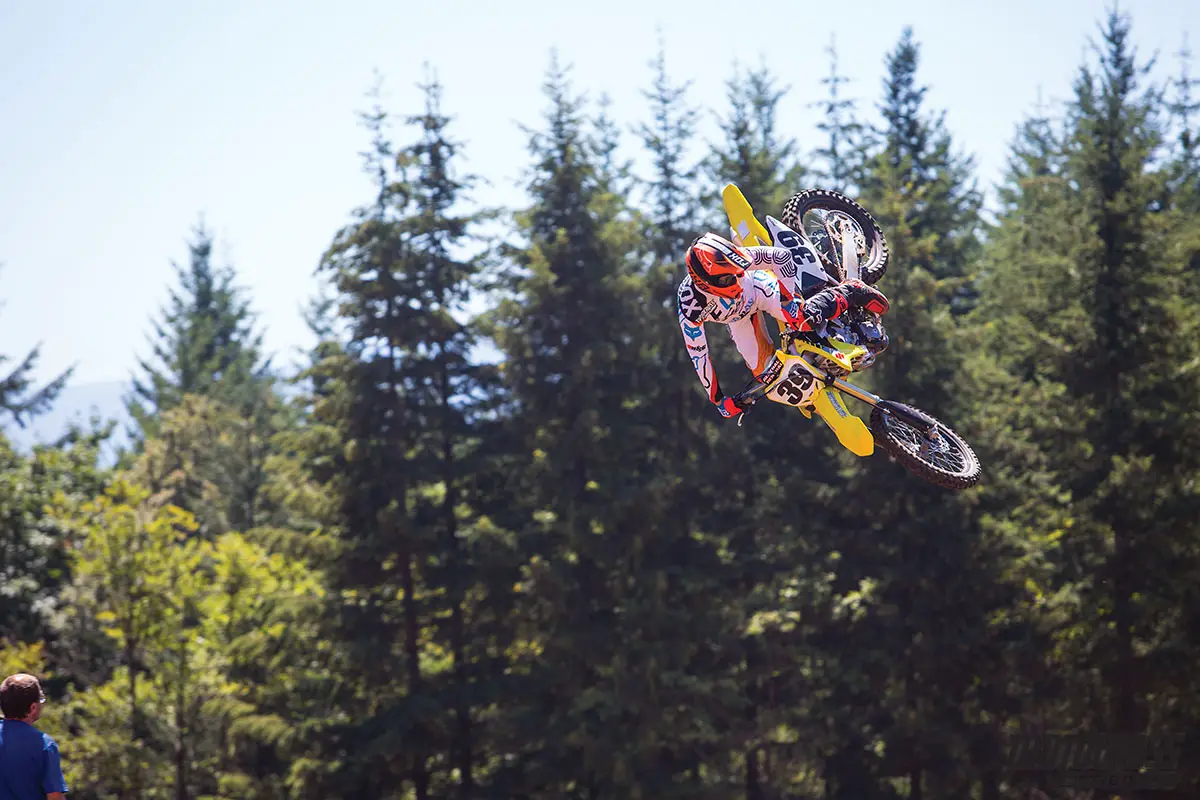 Q: FIRST AND FOREMOST, IS THE 2017 SUZUKI RM-Z450 BETTER THAN THE 2016 RM-Z450?
A: No. Why not? Suzuki only made cosmetic changes to the RM-Z450 for 2017.
Q: WHAT DID SUZUKI CHANGE ON THE 2017 RM-Z450?
A: The plastic, seat cover and rims got a spin around the color palette, as long as your taste is limited to black or yellow. Mechanically, technically and emotionally, there is nothing new on the 2017 Suzuki RM-Z450.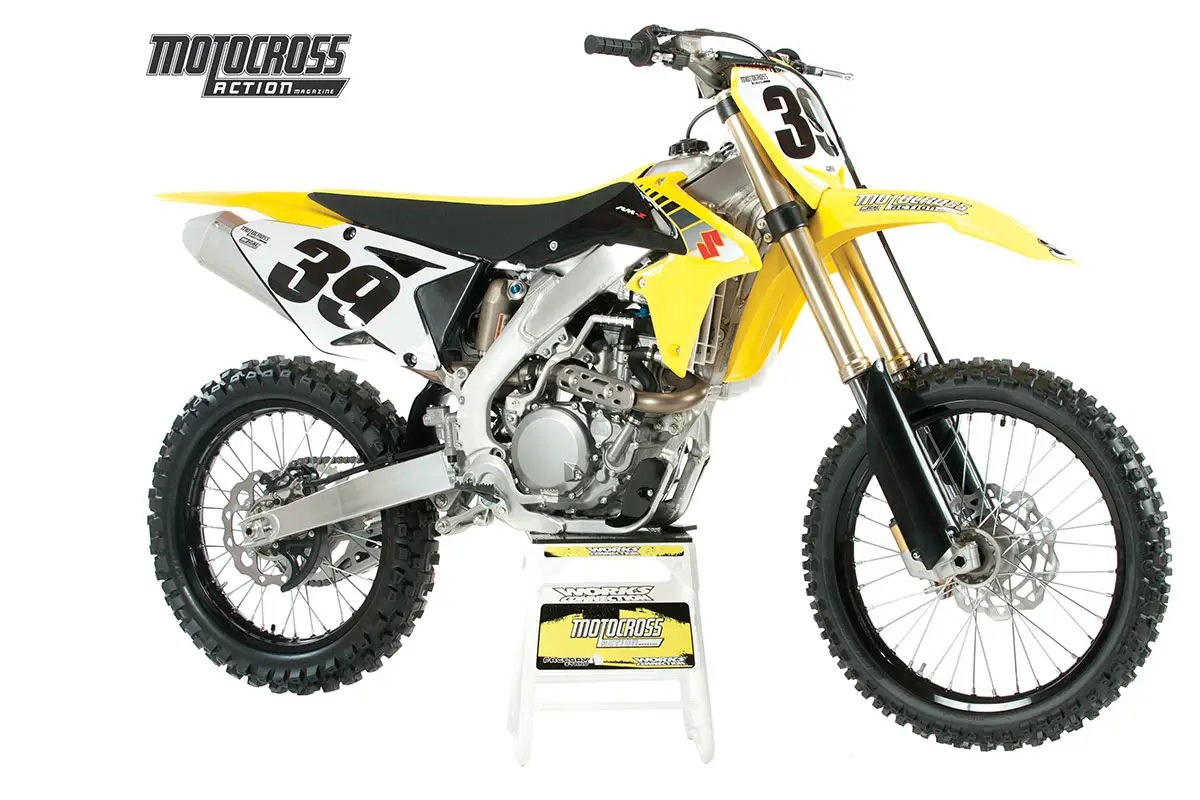 Q: WHY DOESN'T SUZUKI EVER MAKE ANY UPDATES TO ITS BIKES?
A: In many ways you could ask the same question about every brand that follows the now-common four-year production cycle. But, Suzuki has made a very weak effort to stay in touch with the times. The 2017 Suzuki doesn't look that much different from the 2008 Suzuki. This does not inspire a sense of urgency among consumers to buy the new bikes, because they look like the old ones. It is not uncommon to find that Suzuki's most aredent defenders are still racing four or five years old RM-Z450s — instead of the brand-new models.
Plus, Suzuki's technical updates haven't been well received by a man in the street that expects a manufacturer to try harder. The forks have gone from average to terrible. Suzuki failed to keep up in the horsepower wars (and makes almost the same horsepower in 2017 that it made in 2011). When every other Japanese manufacturer went to 270mm front brake rotors, the Suzuki engineers stuck their heads in the sand. While KTM redefined what a 450cc motocross bike should weigh (222 pounds in 2017), the 2017 Suzuki RM-Z450 still weighs 240 pounds. This is not good ad-copy material.
The man on the street believes that Suzuki hasn't made any meaningful changes in the last decade. Suzuki's public image is defined more by the negatives about its lack of updates than the merits of any updates it has made. To analyze this, the MXA wrecking crew went back 10 years to see exactly how many changes Suzuki has made to the RM-Z450 since 2008. Here is a year-by-year breakdown of what Suzuki has changed.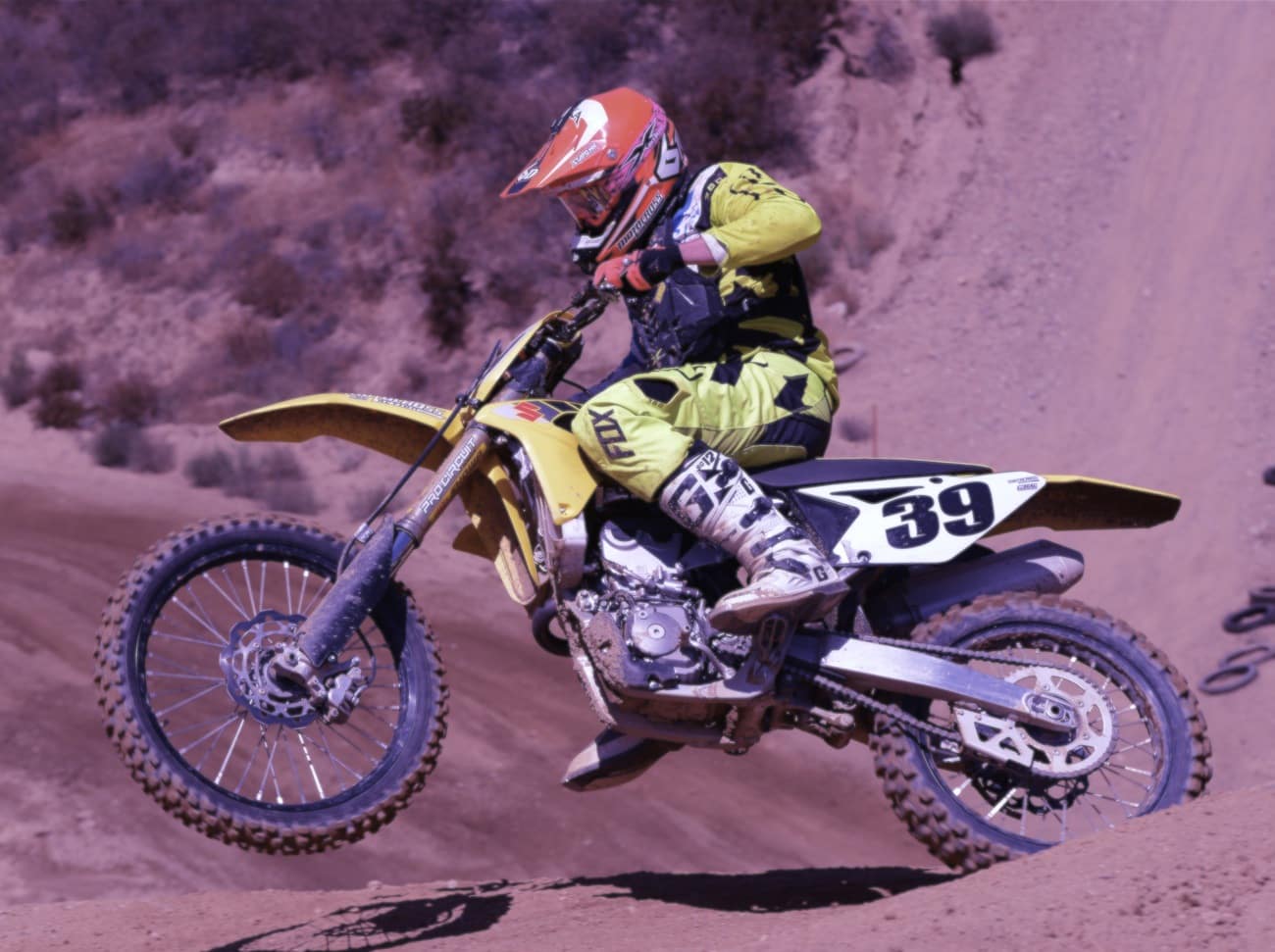 To find out what changes Suzuki has made to the RM-Z450 over the last 10 years read the paragraphs below carefully.
Q: WHAT WAS NEW ON THE 2008 SUZUKI RM-Z450?
A: The 2008 Suzuki RM-Z450 was the first mass-production, fuel-injected motocross bike. The 40mm Keihin FCR carbureter from 2007 was replaced with a Keihin EFI throttle body. Suzuki rolled the dice with a new cylinder head, valve angles, cams, combustion-chamber squish, fuel injection, five-speed gearbox, aluminum gas tank and repositioned crankshaft for the honor of being the first.
However, the 2008 RM-Z450 was a total failure for seven reasons: (1) Teething problems delayed production until well after the selling season. (2) It was 3.3 pounds heavier than the year before. (3) The Showa forks were even softer than the overly soft forks from 2007. (4) The axle marks on the chain blocks were misaligned by two full hash marks. (5) The engine would flame out when riders chopped the throttle for corners. (6) Worst of all, the engine cases blew apart when the idler gear on the kickstarter bound up. This resulted in a recall of the few RM-Z450s that made it to the USA. (7) It finished last in the 2008 450 shootout.
Q: WHAT WAS NEW ON THE 2009 SUZUKI RM-Z450?
A: Suzuki's hopes that the 2008 RM-Z450 would give them the technological high ground were dashed by disasters of epic proportions. Thus, the 2009 RM-Z450 was a carbon copy of the 2008 RM-Z450, but with reinforced engine cases. By now Honda and Kawasaki had fuel-injected their 450s. Worse yet, all the problems of 2008, save for the cracking engine cases, came with the 2009 model.
This was a classic BNG bike—the only true changes were Bold New Graphics. Changes that were sorely needed were better forks, improved shifting, more over-rev (any over-rev) and competitive horsepower (it only made 50 horsepower). It finished last in the 2009 450 shootout.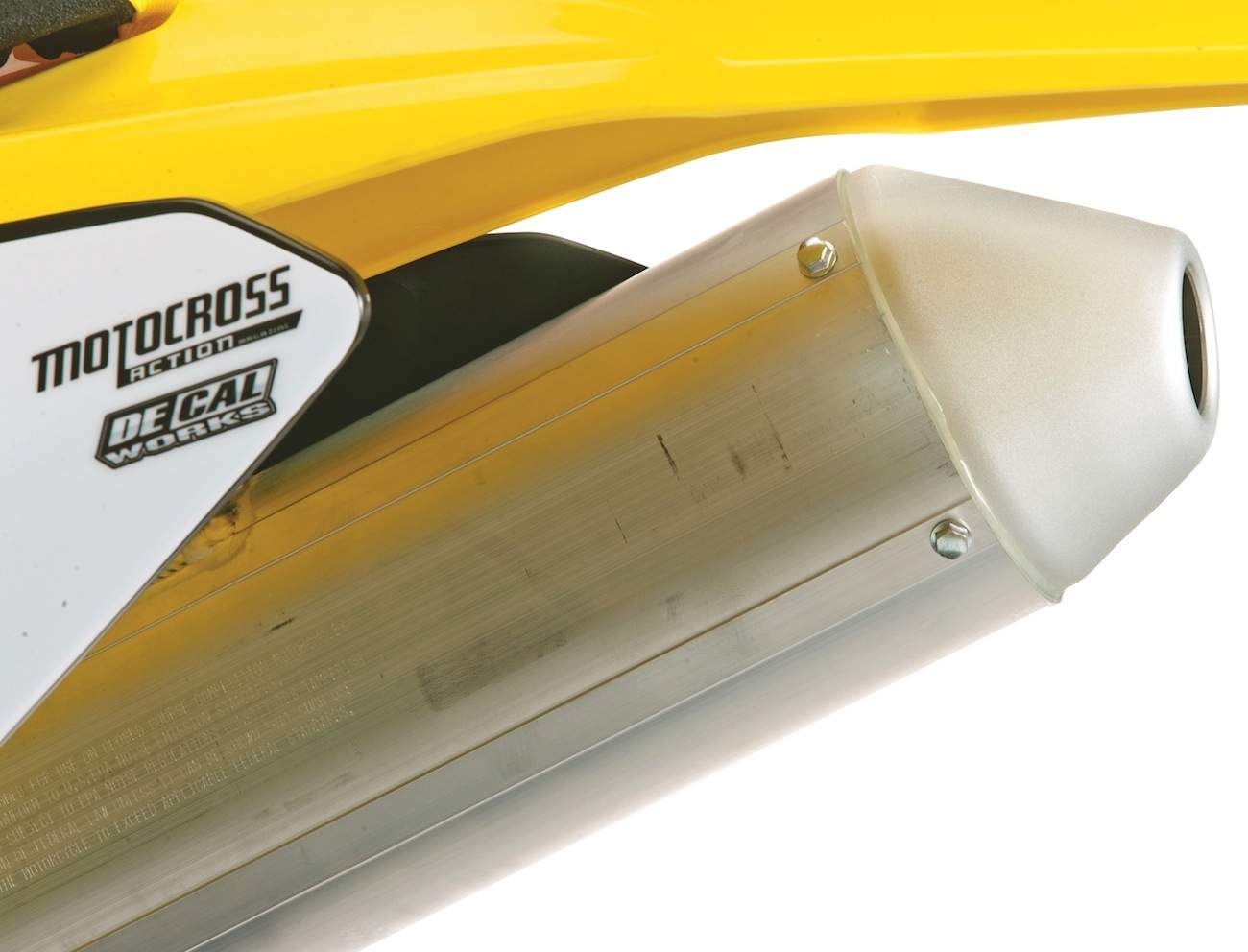 Q: WHAT WAS NEW ON THE 2010 SUZUKI RM-Z450?

A: With the RM-Z450 reeling from the troubles of 2008 and lack of sales in 2009, you would have thought that Suzuki would come out with both guns blazing in 2010. Not so. In fact, it didn't come out at all. Consumers were kept waiting as the bikes were delayed so long that every magazine did its 2010 450 shootout without the RM-Z450.
This must have been the smallest production run in RM-Z450 history. When the 2010 model did appear in incredibly limited numbers, it was updated from 2009 with revised cam profiles, a straighter intake tract, reversed butterfly direction, 9mm-taller head tube, wider upper frame bridge, 0.5mm-thicker lower frame tubes, more rigid swingarm and stiffer spring rates on the 47mm Showa forks. Even with these changes, it would have finished last in the 2010 450 shootout—if Suzuki had made any of them.
Q: WHAT WAS NEW ON THE 2011 SUZUKI RM-Z450?
A: Suzuki got its RM-Z450 act together for 2011. This wasn't a rehash of the previous under-sprung, flat-on-top, trouble-prone bikes of 2008 through 2010. The list of changes for 2011 included new camshafts, a higher compression ratio, redesigned muffler, improved mapping, stronger crankshaft bearings, more rigid front brake rotor, a smaller brake-caliper piston and a gripper seat cover.
As a result of the new mapping, altered cam timing and higher compression, the 2011 RM-Z450 finally got the top-end power it had been lacking (and gained several horsepower in the process). The 2011 RM-Z450 engine offered greater breadth, infinitely more usable power and no sudden surprises. It still shifted poorly, had a clutch that was always on the verge of slipping and puked water on mildly hot days, but the good traits outweighed the bad. It finished second in the 2011 450 shootout.
Q: WHAT WAS NEW ON THE 2012 SUZUKI RM-Z450?
A: The 2012 Suzuki RM-Z450 was identical to the 2011 RM-Z450—unless you count the red stripe down the seat cover as a technical innovation. The best trait of the 2012 (and by proxy the 2011) RM-Z450 engine was its powerband. It was exceptionally manageable off the bottom, built steadily through the middle, and, unlike the dead-on-top RM-Z450s of a few years earlier, it pulled across into the top without the irritating sign-off.
As for problems areas, they remained the same as in 2011—fork springs, clutch, shifting and overheating. Our biggest complaint about the 2012 RM-Z450 was that it weighed 244 pounds—13 pounds heavier than the 2012 CRF450. It dropped one spot from it 2011 performance to finish third in the 2012 450 shootout.
Q: WHAT WAS NEW ON THE 2013 SUZUKI RM-Z450?
A: Unlike in 2012, when Suzuki's only mod was to put a red stripe on the seat cover, Suzuki's engineers did make changes for 2013. The piston was 13 percent lighter. The piston pin was DLC-coated. The intake cam had 0.4mm more lift. The transmission was redesigned with a reshaped shift cam, stopper spring, shifter drive shaft and three-dog gears instead of four-dog cogs. There was an 8-percent increase in electrical output. The airboot was reshaped and enlarged.
The 2013 RM-Z450 was equipped with Showa Separate Function forks (SFF) with a single coil spring in one leg. No one liked the jackhammer-like SFF forks, but, thanks to the single-spring design, the RM-Z lost 2 pounds, coming in at 242 pounds. It dropped another spot to finish fourth in the 2013 450 shootout.
Q: WHAT WAS NEW ON THE 2014 SUZUKI RM-Z450?
A: American Suzuki had declared bankruptcy during the R&D period of the 2014 RM-Z450. Thus, Suzuki's hop-up program for 2014 consisted of little more than an ignition mod to stop the engine from kicking back when it failed to start.
Suzuki's switch to poorly performing Showa SFF single-spring forks in 2013 wasn't rectified in 2014, especially since Suzuki's engineers didn't make any changes to the valving or spring rates. These were the worst forks on any bike sold in 2014, and when you add in the fact that the 2014 RM-Z450 was the heaviest bike in this shootout, with the worst reliability record, this was a bike that needed serious R&D help.
RM-Z450 owners wanted Suzuki to focus on fixing the basics, because the handling, power and ergos were okay. How hard would it have been to give them contemporary radiators, powerful brakes, a reliable clutch and workable fork settings? It finished fourth in the 2014 450 shootout.
Q: WHAT WAS NEW ON THE 2015 SUZUKI RM-Z450?
A: Since the 2014 Suzuki RM-Z450's complete list of updates consisted of changing the side panels from white to yellow, everyone expected Suzuki's engineers to make major changes to the 2015 model. With pressure from KTM and Kawasaki rising, Suzuki tried to bring the RM-Z450 up to snuff for 2015 with some modern touches. These included: (1) A swap from SFF coil-spring forks to Showa SFF TAC air forks. They weren't greeted with rave reviews. (2) Launch control was added for 2015. (3) The 2015 kick-start lever was lengthened by 30mm. (4) The aluminum frame was 4 percent lighter thanks to a new downtube and redesigned ribbing on the main spars. (5) The radiator hose connector was changed from a T-shape to a Y-shape. (6) To help with shifting, a revised gear-shift cam was added.
It was obvious by 2015 that Suzuki was nitpicking its R&D development without any great strides forward. The bike still weighed too much, had weak brakes, a questionable clutch, bad forks and aesthetics that weren't far removed from the 2008 model. It finished fifth in the 2015 450 shootout.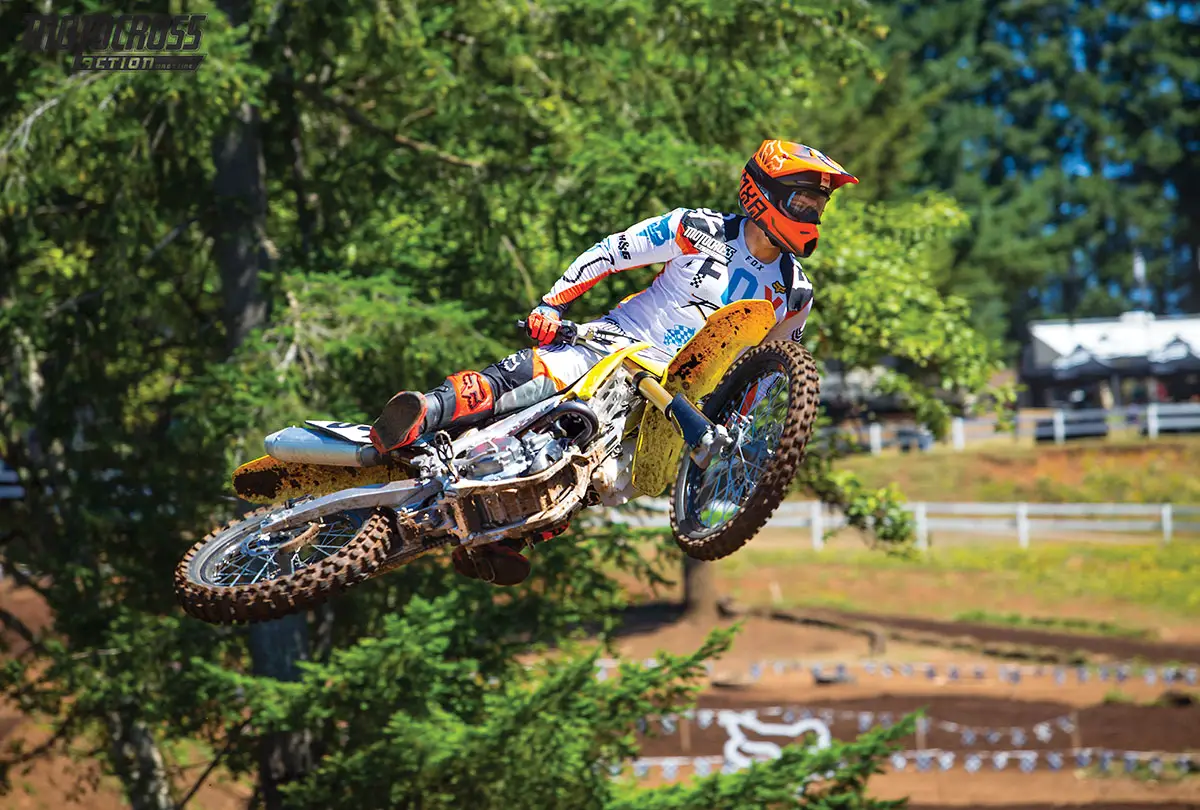 Q: WHAT WAS NEW ON THE 2016 SUZUKI RM-Z450?
A: Instead of making meaningful changes, Suzuki fell into the habit of slapping band-aids on the RM-Z450. For 2016 Suzuki used teeny-tiny band-aids. The big changes were BNG that were almost imperceptible, a revision of the launch-control mapping and a smaller front brake caliper.
This was not enough to inspire the buying public. Why not? The RM-Z450 weighed 240 pounds while the 2016 KTM 450SXF weighed 227 pounds. It had a 250mm front brake rotor, whereas the other bikes had 260mm or 270mm rotors. The clutch was in full-slip mode when it was brand new. The Showa SFF TAC air forks were virtually unrideable across rough ground. These negatives were partially offset by a very clean-running powerband that worked best from low to mid, and handling that was at its best on Supercross, arenacross, jumpy or fairground-style tracks. It finished last in the 2016 450 shootout.

Q: WHAT IS NEW ON THE 2017 SUZUKI RM-Z450?
A: Nothing significant—yellow plastic and black rims.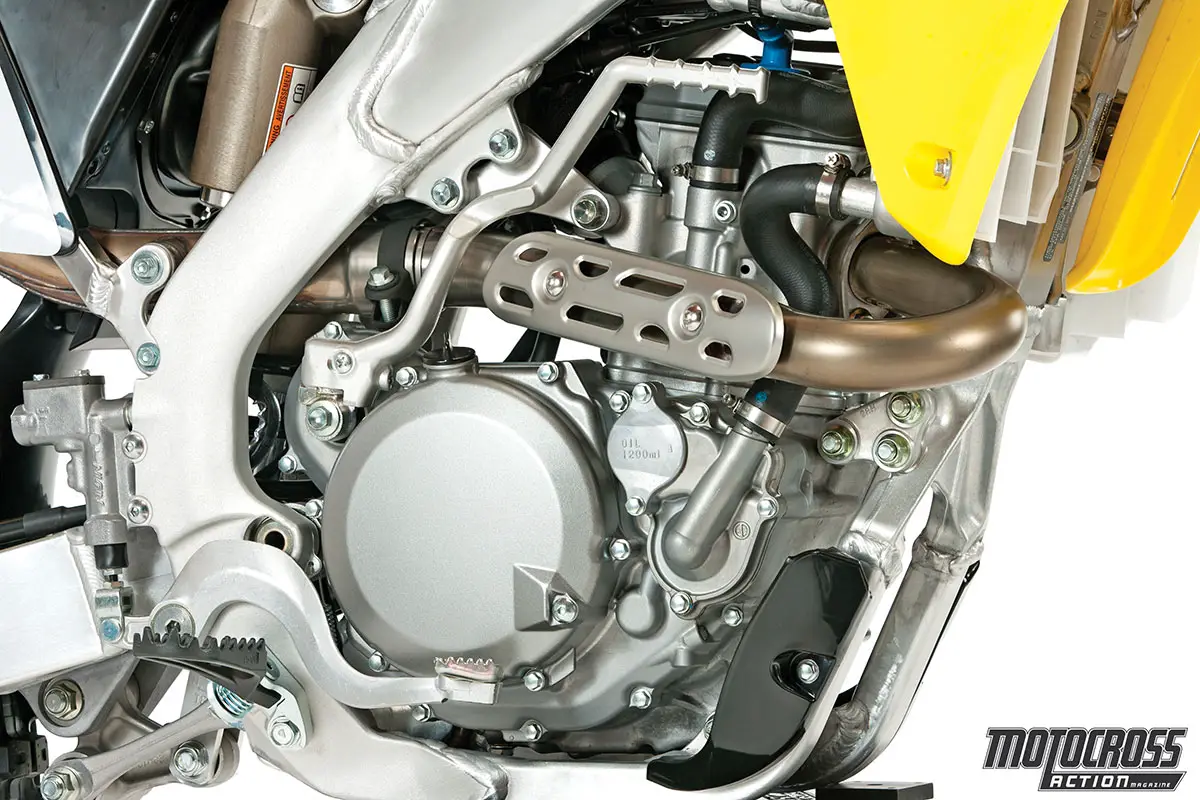 Q: HOW DOES THE 2017 SUZUKI RM-Z450 RUN ON THE TRACK?
A: Let's get back to talking about the 2017 version of the RM-Z450. It's not exceptionally fast, but it has almost perfect power placement. It has a very nice feel that builds confidence thanks to its excellent hook-up. If you are going to win races on an RM-Z450, it will be because of the quickness off the bottom and the healthy midrange. At no point in a race do you feel like you have more power than the bikes around you, but that's because you don't. That said, this is still a very good race engine. It makes competitive power when used properly.
The 2017 engine is identical to the 2016 engine, which was the 2015 engine and, not surprisingly, very similar to the 2014 engine. Peak horsepower was 54.88 horsepower at 9200 rpm. That was a healthy number when Suzuki first reached 54 horses back in 2011, but the world has changed over the last five years. Powerbands have gotten broader and numbers have gone up several horses.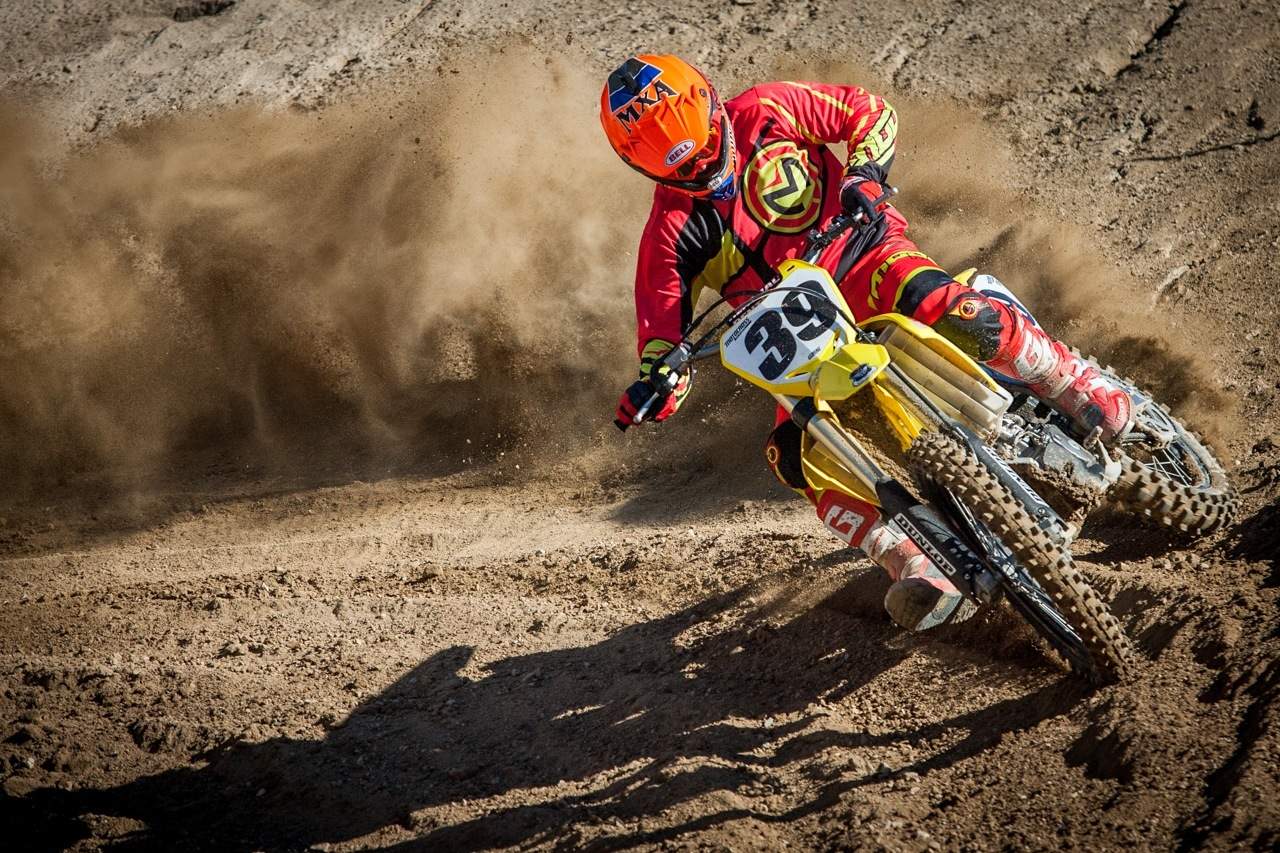 Q: HOW DOES THE 2017 RM-Z450 HANDLE?
A: We love Suzuki's "turn at all costs" philosophy—or rather we would if it had forks that weren't trying to hack the track to pieces every time you hit a bump. Suzuki has the best-turning bike on the track. It will make even the most ham-fisted rider look like he knows what he's doing in switchbacks. The price you pay for the RM-Z450s super-sharp cornering is twitchiness that elicits gasps from spectators on the sidelines. You gotta give to get. With the RM-Z450, you give up straight-line stability in the rough for the ability to dive inside of every other bike in corners.
Q: WHERE IS THE 2017  SUZUZKI RM-Z450 WORK BEST?
A: On a hard-packed track with lots of jumps and very few bumps. In these conditions the forks aren't stressed and the chassis is never upset by undulating terrain.
Q: HOW GOOD ARE THE SHOWA SFF TAC FORKS?
A: They are the worst forks of 2017. Their performance reminds us of the cement-filled Showa SFF single-spring forks from 2013–'14, only much more complicated to live with. Not a single MXA test rider would volunteer to race the 2017 Suzuki on a rough track, claiming that the forks were valved by incubus.
We hate these forks with a passion. We have tried every possible combination of air pressure, clickers and oil height to get them to work. They didn't yield to any persuasion. In desperation, we sent them to Bones Bacon at Pro Circuit. He not only re-valved them, but added an extra balance chamber. They not only worked great, but they helped the shock immensely by taking the transferred load off it.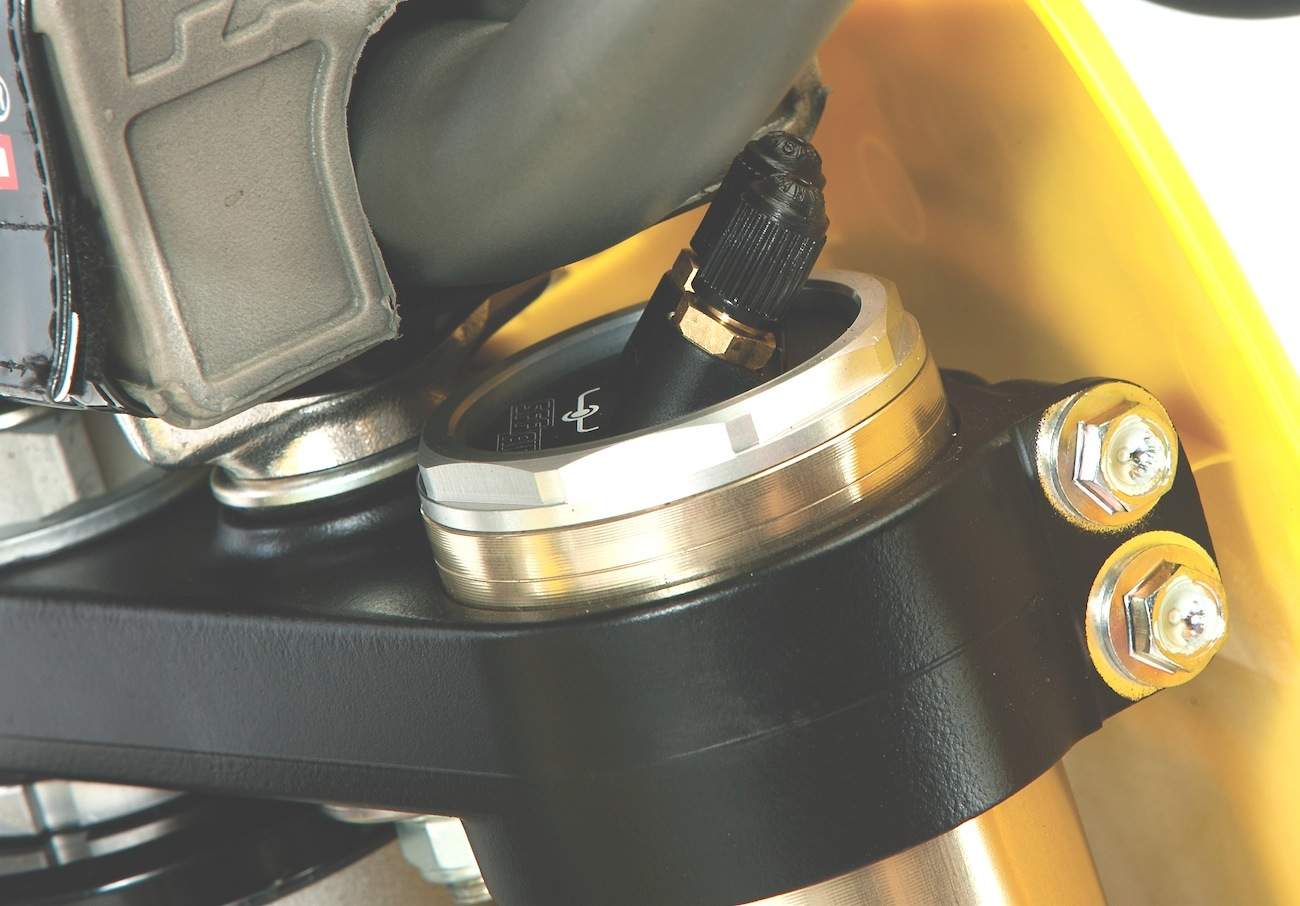 The RM-Z450's stock SFF air forks are the worst forks on the showroom floors. That takes some doing to achieve.
Q: WHAT DID WE HATE?
A: The hate list:
(1) Air forks. On the plus side, they spike horribly at mid-stroke and grind to a halt at the end. Other than those highlights, everything else is much worse.
(2) Clutch. Can you ride with your left hand in your pocket? If you can't, you are going to burn this clutch up in one-tenth the time it takes to wear out a KTM hydraulic clutch.
(3) Weight. If this bike were made out of gold, it would be worth $360,000 more than a KTM 450SXF. Don't let anyone tell you that "weight doesn't matter as long as a bike feels light." That's poppycock. Weight is mass and it takes energy to get mass into motion or to stop it. Additionally, that mass is supported by the suspension, which most work over-time to resist the effects that the extra weight has on both compression and rebound. A 240-pound bike takes more horsepower to get up to speed, stronger brakes to bring it to a halt and stouter suspension to hold it up compared to a 222-pound bike.
(4) Brakes. If you jumped off a KTM 450SXF onto an RM-Z450 and braked at the same point on the track as on the KTM, you would end up in the front grill of a Sprinter.
(5) Number plates. Those solid black side panels could just have easily been white on the 450 and black on the RM-Z250. But Suzuki was looking for showroom snap.
(6) The fix factor: People always tell us that we could get the RM-Z450 to make more power with an aftermarket exhaust pipe. We could, but it would cost $1000 and probably not match the class leading KTMs and Huskys. They tell us to swap the stock clutch for a Hinson unit and it will work fine. That's another $1000, but it will work fine. They say we should shut up about the brakes and just add an oversize front rotor. We could, but that's another $250. They tell us that although it weighs 240 pounds it doesn't feel heavy in motion. Say what? It may not feel heavy when it is floating in the air, but anytime the wheels are on the ground the RM-Z's 240 pounds is forcing every components to work harder (suspension, engine, gearbox, clutch and brakes). They may think that its doesn't feel heavy, but that's no different than telling your wife she doesn't look fat in those yoga pants. And, not even RCH could get Ken Roczen's 2016 National Championship RM-Z250 to weigh as little as a box-stock KTM 450SXF.
Q: WHAT DID WE LIKE?
A: The like list:
(1) Handling. If you've never been very good at cornering, you will be on a Suzuki RM-Z450.
(2) Power. The RM-Z450 has a sweet powerband. It gives up horses in a straight line, but Suzukis aren't about straight lines.
(3) Tires. Bridgestone's 403/404 tire combo is an MXA favorite. Might we suggest a Bridgestone X40 rear with an X30 front in the future.
(4) Color scheme. We would prefer all yellow, but this year's black-and-yellow design is more attractive than previous efforts.
Q: WHAT DO WE REALLY THINK?
A: We think that Suzuki could do so much better—and until they do, this bike is a piece of living history. It's the motocross version of a rotary phone.
MXA'S SUZUKI RM-Z450 SETUP SPECS
This is how we set up our 2017 Suzuki RM-Z450 for racing. We offer it as a guide to help you get your own bike dialed in.
SHOWA SFF TAC FORK SETTINGS
If it were us, and in this test it was, we wouldn't race this bike with the stock forks. They need to be re-valved—now! If you race on pavement, avoid bumps like the plague or only do the jumps at your local track and you'll be fine. For hardcore racing on hard-packed jump tracks, we recommend this fork setup for the 2017 Suzuki RM-Z450 (stock specs are in parentheses):
Inner spring rate: 160 psi (171 psi)
Outer spring rate: 0 psi
Balance spring rate: 150 psi (171 psi)
Compression: 16 clicks out (8 clicks out)
Rebound: 14 clicks out (13 clicks out)
Fork-leg height: 5mm up
Notes: Write your air pressures down in a notebook and change them constantly in hopes of finding the perfect numbers. But, most important, write down the phone number of your personal suspension guru. You'll be calling him.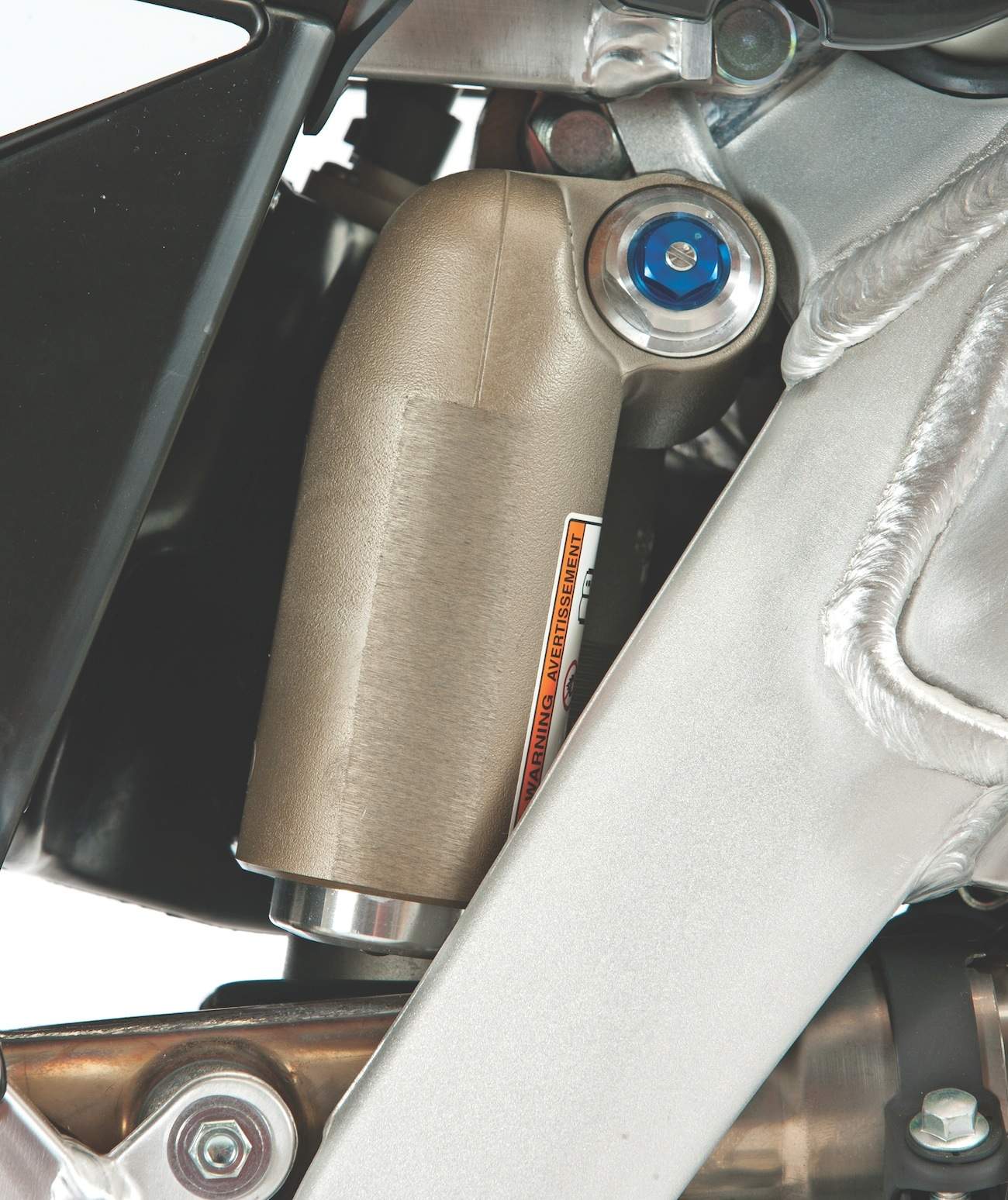 SHOWA SHOCK SETTINGS
The shock is not going to be a problem once you fix the forks. Until then, every bump that the Showa SFF TAC fork fails to absorb will have to be handled by the shock. Fix the front first and the rear will thank you. For hardcore racing, these are MXA's recommended 2017 Suzuki RM-Z450 shock settings (stock settings are in parentheses):
Spring rate: 56 N/m
Hi-compression: 2-1/4 turns out (2 turns out)
Lo-compression: 13 clicks out (12 clicks out)
Rebound: 12 clicks out
Race sag: 105mm
Notes: The best strategy for finding the perfect fore/aft balance is to use the high-speed compression adjuster to level the chassis in motion. Turn it in to raise the rear and turn it out to lower the rear. This isn't going to be measurable at sag, but instead works when the shock is pressurized by movement. We turn the stock high-speed adjuster out a quarter-turn.
MXA'S FIRST RIDE! 2017 SUZUKI RM-Z450