MXA RACE TEST: THE REAL TEST OF THE 2022 KTM 350SXF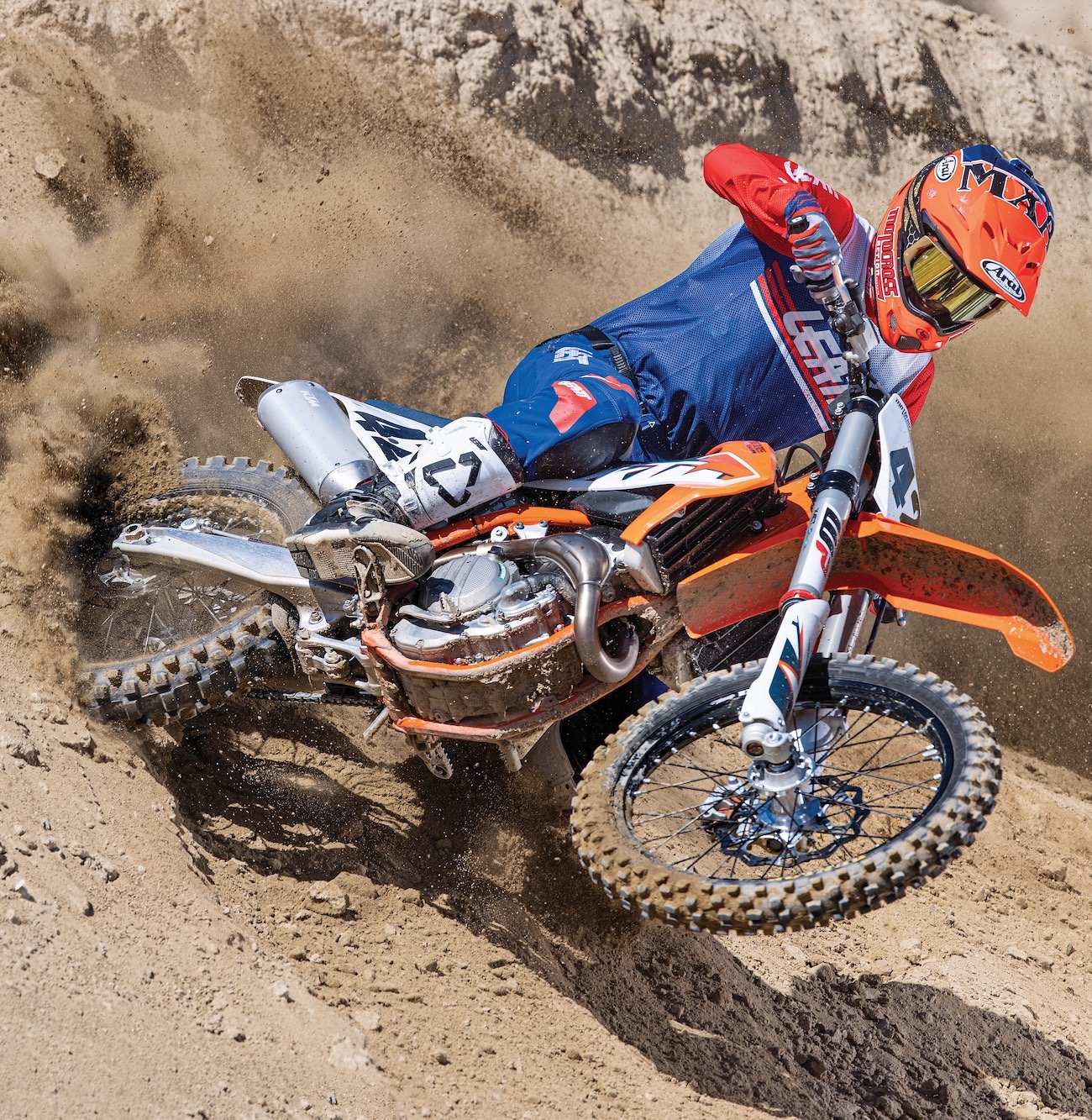 THE GEAR: Jersey: Leatt Moto 5.5 Ultraweld, Pants: Leatt Moto 5.5 Ultraweld, Helmet: Arai VX-Pro4, Goggles: EKS Brand Lucid, Boots: Leatt 5.5 Flexlock.
Q: FIRST AND FOREMOST, IS THE 2022 KTM 350SXF BETTER THAN THE 2021 KTM 350SXF?
A: Not really. If you have a 2021 KTM 350SXF already, there is only one mechanical change, and it is a very small item. KTM replaced the needle bearing on the counter-balancer shaft with a plain bearing—actually, a bushing. The only other changes are cosmetic. First, the graphics are bolder and have a 3D look. Second, the seat cover was black in 2021, and it is blue in 2022. Third, the 2022 frame color was changed from black to orange. Historically, when there is a totally new model on the horizon for the next model year, in this case the 2023 KTM 350SXF, KTM switches the frame before the model change to orange.
The 2022 KTM 350SXF has technologically advanced brakes, a new valve train, gearbox, clutch, airbox, braided-steel lines and chromoly frame wrapped around a perfectly sized engine.
Q: WHAT IS THE SECRET TO MAKING THE 2022 WP XACT AIR FORKS WORK GREAT?
A: There is a learning curve to getting the most out of WP's 2022 XACT air forks. The first thing to do is break them in. They are set-up tight at the WP factory, which is great in the log run, but it makes them feel harsh for the first couple hours. they get better with each passing hours. The KTM WP XACT air fork has one Schrader valve to put air in or take air out. The right fork leg is strictly damping, and the left leg is air only. KTM has a sticker on the air leg to guide you to KTM's recommended air pressure. It is a very good starting point, but it's just a suggestion, not an ironclad law. The air pressure you put into your WP XACT fork is just a replacement for the steel coil springs in other forks. The stock 154 psi (10.6 bar) of air won't work for every rider; lighter, heavier, faster and slower riders have to find their personal air pressure.
The key to success with the 2022 KTM 350SXF air forks is to find your own perfect air pressure. This is easy to do. Step one: Put a zip-tie around the right fork leg and slide it up towards the stanchion. Step two: With the air pressure set on the recommended air pressure on the fork sticker, go ride at your normal pace. Step three: When you get back to the pits, look at the position of the zip-tie on the fork leg. If it is more than 2 inches above bottoming, you need to lower the air pressure. If it has bottomed out, you might need to add air pressure. Step four: Change the air pressure and go back out and ride again. Do this until the zip-tie is 1-1/2 inches above bottoming. That air pressure will be the equivalent of your perfect spring rate (air or coil).
Now that you have found the perfect air pressure for your speed and track, make all damping adjustments with the fork's compression and rebound clickers. MXA test riders start with the compression at 12 clicks out and the rebound on 18 clicks out and make adjustments accordingly.
Too many riders think that they can change the compression and rebound damping by changing the air pressure. While it is true that adding more air will make the compression damping stiffer, it will also decrease the rebound damping. The air pressure is the fork spring. The clickers control damping. Don't mix the two up.
The WP XACT air forks are where the Austrian engineers earned their paychecks. WP has turned its air fork around from mediocre to great in the last two seasons. These air forks are better than most coil-spring forks.
Q: HOW FAST IS THE 2022 KTM 350SXF?
A: It's no secret that the 350SXF is based on the KTM 250SXF engine, which gives it a very 250-ish powerband. It picks up quickly down low, pulls steady through the middle and revs to an amazing 13,400-rpm rev limiter. But somewhere between "down low" and 13,400 rpm, it grows into a power-monger. The 2022 KTM 350SXF makes 54.60 horsepower, along with 29.40 pound-feet of torque, which is more peak horsepower than the 2022 Suzuki RM-Z450 makes; however, to get the best out of the KTM 350SXF engine, you have to rev it to the moon. MXA's advice to all first-time 350SXF riders is' "Don't shift." Peak horsepower is way, way, way up on top, so shifting early is the same as giving up horsepower. Wait for the rev limiter to kick in, and then wait another beat before shifting.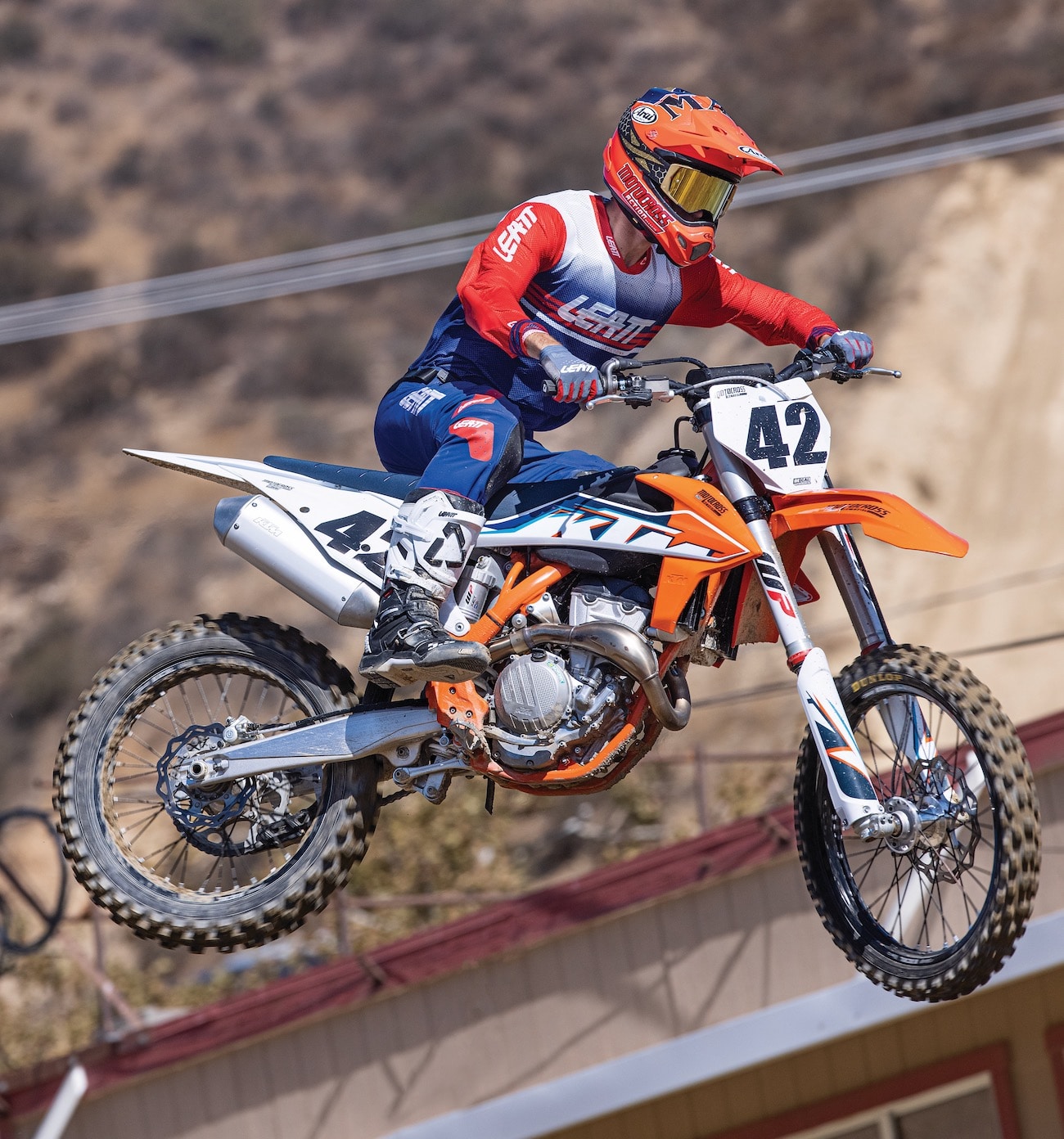 Q: HOW DOES THE 2022 KTM 350SXF HANDLE?
A: For the last 20 years, both aluminum and chromoly frames have battled it out for dominance in the motocross world, with each material suffering its fair share of setbacks, flaws and failures. But, from the MXA test riders' point of view, the natural resilience of chromoly steel produces an inherently livelier feel. Steel delivers a more forgiving frame because its elementary characteristic is to bend to harsh forces and then spring back to its original shape. Aluminum's large-grain structure results in less yield strength (how much a material can be deformed before it reaches its limit), while chromoly's yield and tensile strength are vastly superior to that of aluminum. That doesn't mean that aluminum can't be made into a good motocross frame, it just means that aluminum has to be used structurally, not in small, light tubes, but in forgings, castings and extrusions.
The 2022 KTM 350SXF's steel chassis has a naturally resilient feel in motion. The 2022 KTM 350SXF handles like a dream. Its proven frame geometry allows it to respond quickly and accurately to rider input. It doesn't suffer from unwanted oversteer or understeer. It tracks straight and slices through corners.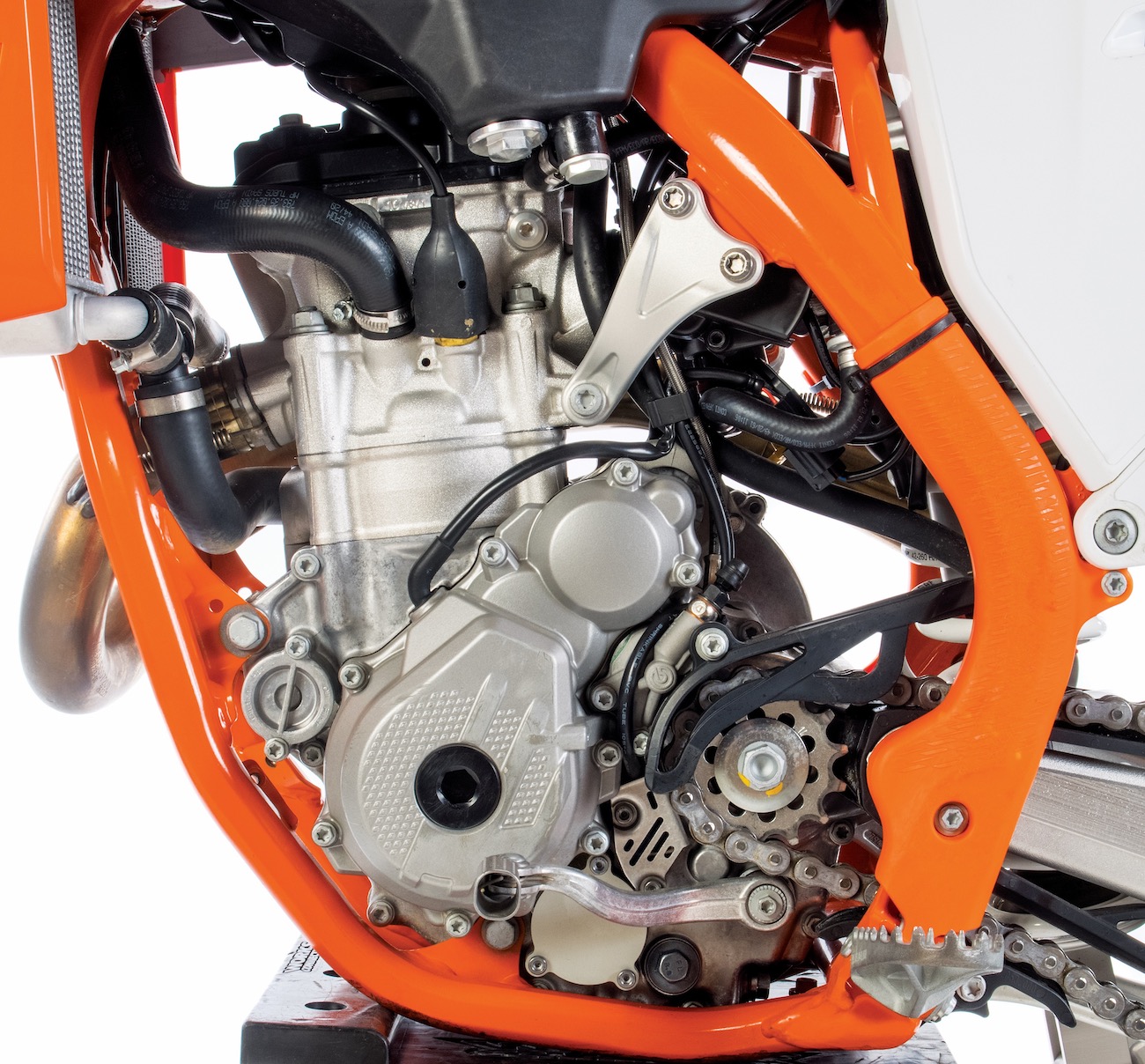 Q: HOW TO GET THE MOST PERFORMANCE OUT OF THE 2022 KTM 350SXF?
A: Every bike has its own personal peccadilloes. Here are the things we watch on the 2022 KTM 350SXF.
(1) Throttle cam. Your KTM 350SX rolled off the showroom floor with the stock, long-throw throttle cam installed. Put on the quick-turn black throttle cam that came with your bike.
(2) Airbox cover. Run the vented airbox cover whenever the situation allows it.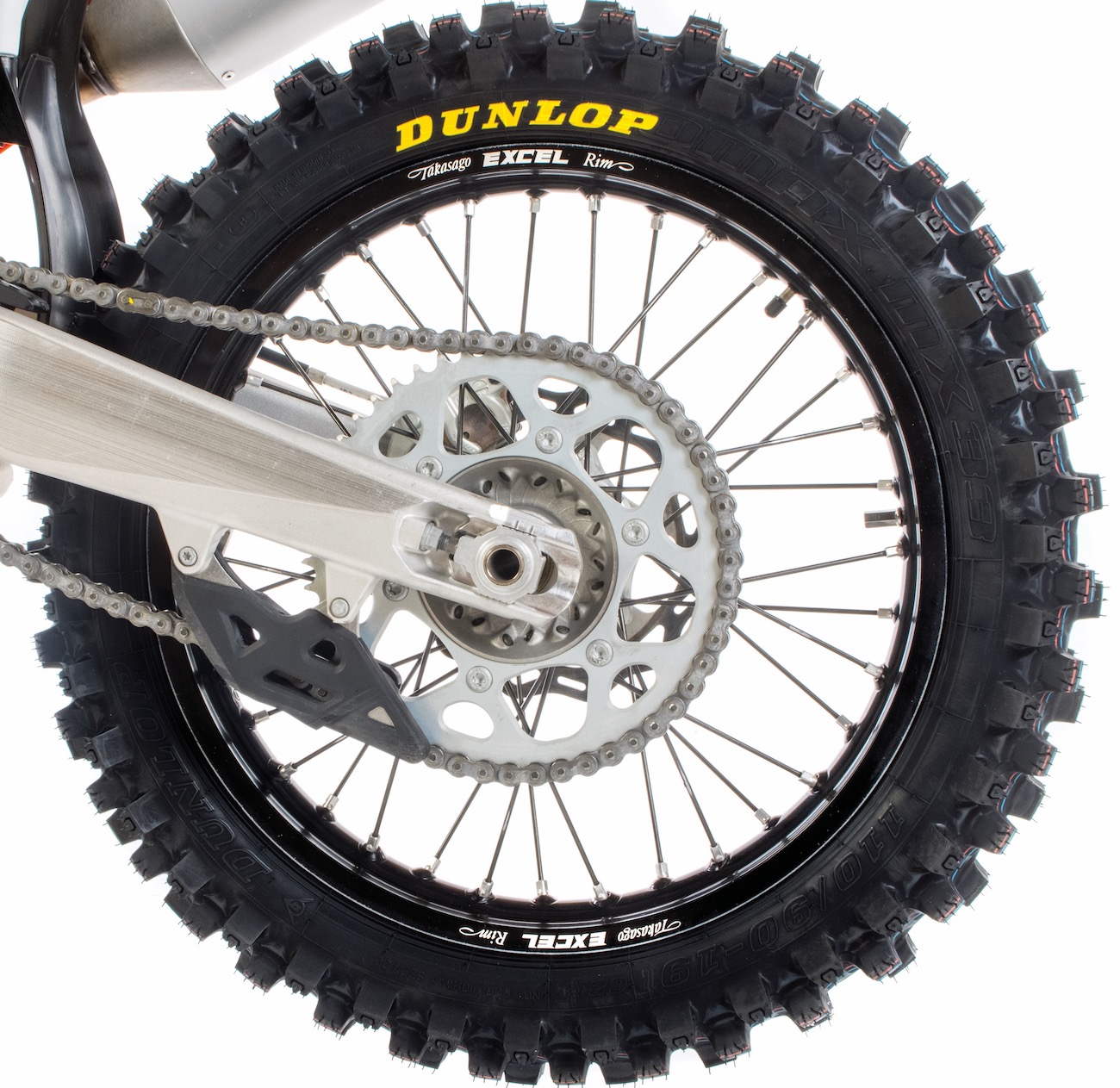 (3) Gearing. Lots of 350SXF owners run 1 to 2 teeth more on the rear sprocket. Lower gearing perks up low-to-mid power, makes third gear more usable and provides more drive in every situation.
(4) Mapping. Unlike in the past, the 2022 ECU is locked so that it can't be remapped. The 350SXF comes with two distinctly different maps that can be used in conjunction with both Launch Control and Traction Control—and they are easy to access (except for Launch Control, which requires some digital gymnastics). Map 1 is the mellow map and comes in handy on wet, sandy, slick or rocky terrain. Map 2 is the aggressive map and is best used by riders or on tracks that require a little more oomph. If you want to have your 2022 KTM 350SXF mapped for better performance, you have to buy a Vortex ignition
Torn between the brutish power of a 450 and the revvability of a 250? The 350SXF's answer is a 54-horse engine that revs to 13,400 rpm.
Q: WHAT THINGS SHOULD YOU KEEP AN EYE ON?
A: Obviously the list of things to watch on a KTM starts with the spokes and rear sprocket bolts.
(1) Chain adjustment. You need 55mm of chain free-play when measured from the back edge of the chain slider.
(2) Kill button. The bikes are shipped to America with the kill button mounted inboard of the map switch and clutch perch; we move the kill button next to the left grip.
(3) Finding neutral. Getting the transmission into neutral on the starting line is hard. Sometimes it helps to rev the engine really high and then snick the shift lever before the rpm falls off. If this doesn't work, use your hand.
(4) Wiring. The starter button wire pulls out of the white junction box behind the front number plate occasionally. If you can stick the wire back into the proper plug, do it and then wrap it with electrical tape.
(5) Idiot light. The LED light on the FI idiot light that is used for maintenance codes and Launch Control engagement falls out of its plug-in rubber holder all the time.
(6) Preload ring. The plastic preload ring gets notched out. We take a long flat-bladed screwdriver and use the frame as a fulcrum to move the collar by prying on the preload ring.

Q: THINGS THAT KTM WILL FIX ON THE 2023 KTM 350SXF?
A: We would be remiss if we didn't point out the flaws that KTM will be fixing for the 2023 model.
(1) Bottoming cone. In 2021-22, WP forks didn't use bottoming cones. They used a bump rubber. For 2023, WP is going back to a tapered bottoming cone called a "Hydro-Stop."
(2) Bar mounts. For years, KTM bars mounts have been prone to twisting. For 2023, there will be stronger bars mounts (that can be tightened from underneath without having to remove the handlebars).
(3) Idiot light. For 2023, the FI idiot light will not fall out because it will be incorporated into the triple clamp-mounted hour meter.
(4) Map switch. Last year's map switch was jumbo-sized, but for 2023, an all-new, smaller map switch tucks between the left grip and the clutch perch.
(5) Kill button. For 2023 KTM will introduce a redesigned starter button that also houses the kill switch.
(6) Front fender. The 2023 front fender still uses its I-beam design, but it will be wider to deflect more dirt, and the back half will have eight winglets added that make the front fender wider without cutting down on air flow to the radiators.
(7) Fork guards. The 2023 fork guards wrap farther around the inside diameter of the fork tubes to offer more protection from rock dings.
(8) Rear brake pedal spring. MXA test riders break KTM rear brake pedal springs constantly. The 2023 brake pedal spring is laid down at an angle to put less stress on it.
(9) Countershaft sprocket. The 2023 engine will be rotated rearward 2 degrees, which lowers the countershaft sprocket 3mm. This will decrease chain torque and work as an anti-squat device under hard acceleration.
(10) Subframe. The 2023 subframe is a combination of aluminum and polyamide plastic. It is stronger and breathes better.
(11) Spoke nipples. To stop the spokes from getting loose, KTM has spec'ed a new-style spoke nipple.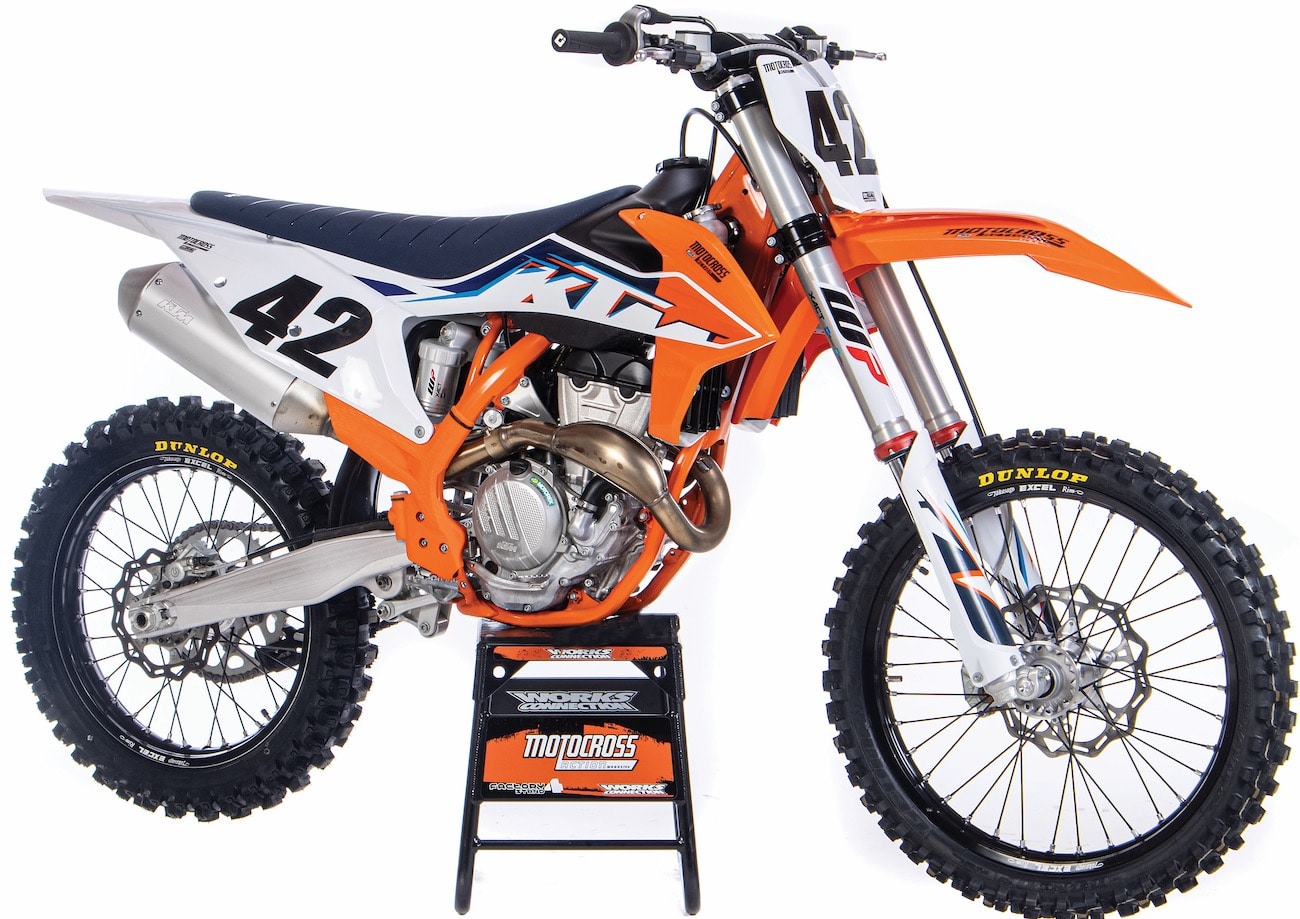 Q: WHAT DID WE HATE?
A: The hate list:
(1) Seat height. Motocross bikes keep getting taller. If you are under 5-foot-9, your feet won't touch the ground on the 350SXF; however if you want a lower 350, buy the 2021 Husqvarna FC350. It is an inch lower at the rear of the seat.
(2) Checklist. Check the bolts on the rear sprocket, shift lever, shock linkage, head stays, front motor mount and swingarm pivot at regular intervals.
(3) Compression clicker. We don't need more or fewer prongs; we need longer prongs.
(4) On the stand. When the KTM 350SXF is sitting on a bike stand, the front wheel is hitting the ground. It's a hassle for simple maintenance and washing. KTM isn't the only brand with this issue.
(5) Orange rings. Don't rely on the orange rings to measure fork travel. They wear out quickly, and when they wear out, they fall to the bottom of the fork legs.
Q: WHAT DID WE LIKE?
A: The like list:
(1) Brembo hydraulic clutch. We like the "pop" feel of the Brembo master cylinder.
(2) Brembo brakes. Someday, Nissin will catch up to Brembo when it comes to well-modulated, powerful and one-finger braking, but it isn't going to be this year.
(3) Weight. The 2022 KTM 350SXF weighs 222 pounds, and while that is only 1 pound less than the KTM 450SXF, it is 11 pounds less than a Honda CRF450. Thanks to the lighter rotating mass of the 350SXF engine, it feels much lighter than the 1-pound difference.
(4) Air filter. We love how foolproof it is to put a KTM air filter cage into the airbox. No gymnastics required. 
(5) Gasoline. The KTM 350SXF is tuned to run on 91-octane American fuel. If you modify your engine, increase the compression, or switch black boxes, then you might need better fuel. Until then, run the highest-octane pump gas that you can find at the busiest gas station in your town.
(6) Vented airbox. Don't run the vented airbox cover on dusty or rainy days; run it on days when you could use extra power. Cover the vents with duct tape before washing your bike.
Q: WHAT DO WE REALLY THINK?
A: We're not shy. The KTM 350SXF (and its white and red stablemates) are the best all-around motocross bikes you can buy.
The 2022 KTM 350SXF looks all new with its bold new graphics (BNG), but it is very much a clone of the 2021 model. No shame there, since only the Honda CRF250 got any major updates for 2022.
MXA'S 2022 KTM 350SXF SETUP SPECS
This is how we set up our 2022 KTM 350SXF for racing. We offer it as a guide to help you find your own sweet spot.
AER FORK SETTINGS
The 2022 WP XACT air forks will change your mind about air forks—if you learn how to make them work. WP applied common logic to air and oil spikes to produce the best air fork imaginable (and many factory riders are now running air forks, including 2021 AMA 450 National Champion Dylan Ferrandis). The new-generation WP XACT forks offer the feel of a coil-spring fork while being 3 pounds lighter. To get that feel, you have to find your perfect air pressure and do all additional tuning with the clickers. For hardcore racing, we recommend this fork setup for an average rider on the 2022 KTM 350SXF (stock specs are in parentheses):
Spring rate: Pros (10.6 bar, 155 psi), intermediates (10.3 bar, 150 psi), fast novices (10.0 bar), novices; vets (9.6 bar, 140 psi)
Compression: 15 clicks out (12 clicks out stock)
Rebound: 10 clicks out (12 clicks out stock)
Fork-leg height: Third line
Notes: Bleed the outer chambers at regular intervals. Reset the air pressure to your chosen settings between motos (once the forks have cooled down from riding).
WP SHOCK SETTINGS
Most MXA test riders added more high-speed compression and more rebound, but, as a rule, MXA test riders don't stray far from the stock 15 clicks out on low-speed compression, relying on the high-speed and rebound adjustments to have a crossover effect on the whole shock.  For hardcore racing, we recommend this shock setup for the 2022 KTM 350SXF (stock specs are in parentheses):
Spring rate: 45 N/mm
Race sag: 105mm
Hi-compression: 1-1/4 turns out (1-1/2 turns out stock)
Lo-compression: 15 clicks out
Rebound: 10 clicks out (15 clicks out stock)
Notes: We turned the high-speed compression damping in 1/4 turn to lessen G-outs and run more rebound than the recommended setting.