MXA RACE TEST: THE REAL TEST OF THE 2023 KTM FREERIDE E-XC ELECTRIC BIKE
The KTM Freeride E-XC has been around since 2012, but now KTM is finally starting to promote it. THE GEAR: Jersey: Fly Racing Kinetic Mesh, Pants: Fly Racing Kinetic Mesh, Helmet: Fly Racing Formula, Goggles: Viral Brand F2 series, Boots: Sidi Atojo.
Q: FIRST AND FOREMOST, IS THE 2023 KTM FREERIDE BETTER THAN THE 2022 MODEL?
A: No, it isn't. Although, we never got to test a 2022 model, or the 2021, or any model—all the way back to 2012. We do know that this bike hasn't seen any major updates since 2018. 
Q: WHY DID KTM WAIT 10 YEARS TO TALK ABOUT THIS BIKE?
A: KTM first introduced the Freeride in 2012 but never made any serious attempts to sell it in the USA. The KTM Freeride has been featured on the cover of Motocross Action Magazine multiple times all the way back to the July 2010 issue. At first, the bike was made and sold in limited quantities in Europe to test the market and test the technology. It was finally brought to the U.S. in 2015, but only with 100 units offered through 10 Midwest dealers. A decade ago, electric dirt bikes weren't accepted or welcomed with open arms. Most core motocrossers hate the idea of e-bikes, which causes OEMs to tread lightly in the electric realm. Previously, Alta had made the biggest splash in our industry when it came to e-bikes, but in the end, it wasn't successful, and the company went out of business in 2018. 
We believe two large puzzle pieces have caused KTM to formally introduce the KTM Freeride 12 years after it first appeared in MXA. First, KTM's SX-E5 electric minibikes have been a big success. Built off the chassis of the 50SX two-stroke Pee-Wee, KTM, Husky and GasGas have created a new class at the races. They've made it easier for young riders to get hooked on two wheels and easier for parents to maintain little Johnny's dirt bike. Second, the introduction of the Stark Varg electric bike increased interest in electric bikes and re-sparked conversations about full-scale electric dirt bikes at the track. 
At the recent KTM Dealer Summit in North Carolina, the Pierer Mobility Group announced their plans to expand into making more electric bikes in the coming years, stating, "By the middle of this decade, the electric lineup will feature more than 20 electric off-road motorcycles from all brands, ranging from beginner to competition-level models, aimed at young, talented riders who are taking the future of motorsports to the next level."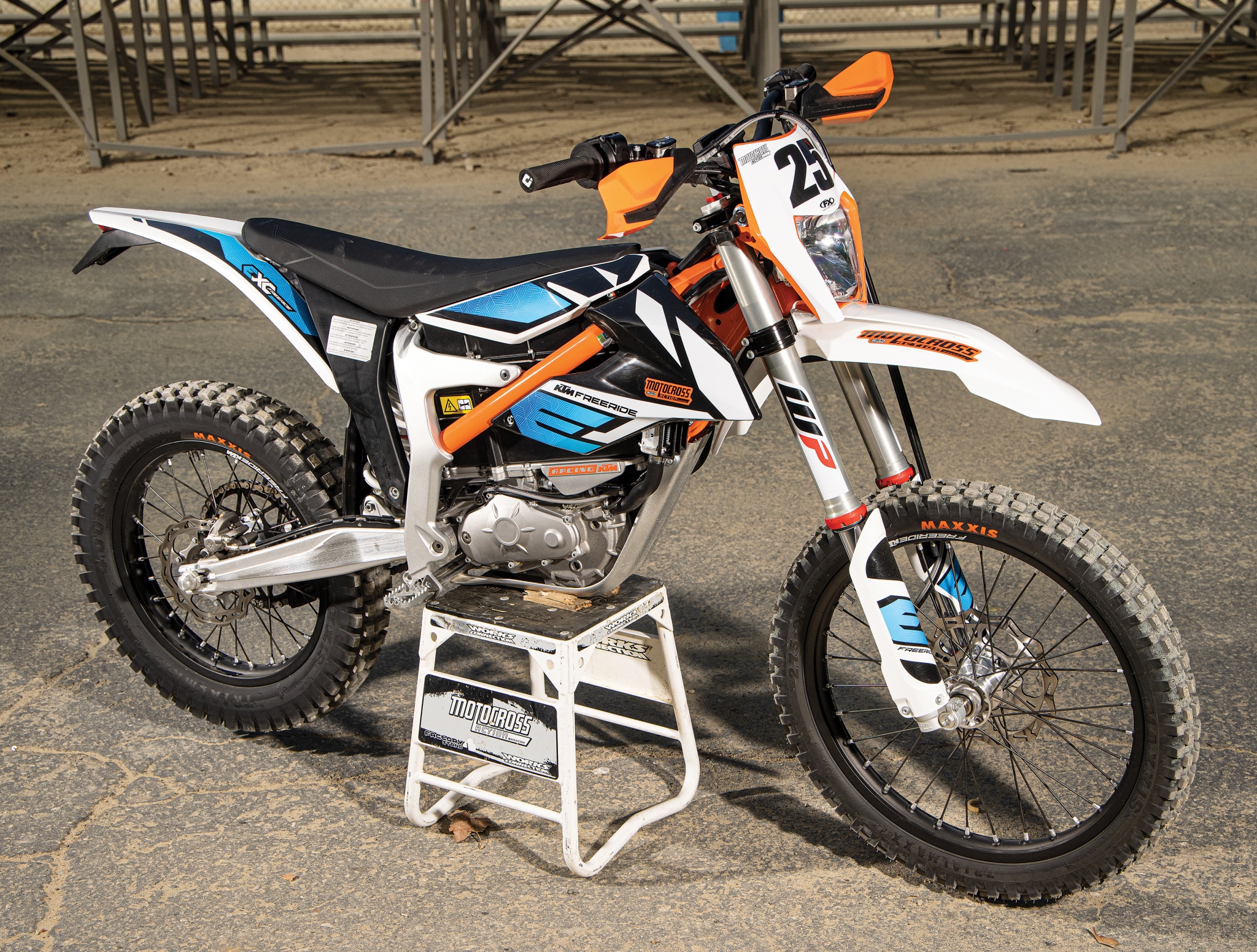 The KTM Freeride E-XC weighs 245 pounds, but in motion, it's nimble and easy to ride.
Q: WHAT HAS CHANGED ON THE KTM FREERIDE SINCE ITS INCEPTION?
A: Technically, we are testing the second-generation Freeride. The original Freeride introduced in 2012 came stock with liquid cooling, but we learned from KTM that it was supposed to be air-cooled; however, the KTM engineers were using European enduro events to test the prototype bike and it was overheating, so they added the radiators. During their enduro race-testing phase, they would make pit stops like the other riders, only instead of filling up on fuel, they'd swap out the battery (it only takes four bolts to get it out). The second-generation bike came in 2018 with updated suspension, stronger motor output (up from 15kW to 18kW) and 50 percent more battery capacity. 
Q: HOW LONG DOES THE BATTERY LAST?
A: This question doesn't have a black-and-white answer. While the Freeride may last all day for one rider, it might not complete a full moto for the next. It all depends on the skill level, speed, and terrain. Let us explain. 
Batteries drain differently from fuel tanks. A two-stroke or four-stroke ridden wide open down a road drains fuel faster than it does in a hard race of the same duration on a track. This is the opposite for e-bikes. Because you aren't constantly turning the power on and off coming in and out of corners, the KTM Freeride can go full throttle on the open road longer than it can on the track. Soft dirt is not ideal for electric bikes, and it zaps power quickly. If you're riding in the sand, the battery won't last very long. 
For MXA's beginner test rider who had never ridden a dirt bike before, he could get three hours of trail riding on a full charge, largely because he didn't ride hard and he chose the mellowest map. MXA's experienced riders playing around on trails and jumps got a solid 1-1/2 hours of fun. But, when we stuck a Pro rider on a racetrack on the Freeride, a full charge only lasted 35 minutes. 
One of the more difficult things about this bike is charging it. The Freeride has a 300-volt motor, but the charger requires a 220-volt plug, which is not common in a lot of garages or on a lot of generators. Some test riders found a 220-volt plug, but they had to unplug their dryer to get to it. 
Q: HOW DOES IT HANDLE?
A: Although the KTM Freeride weighs 245 pounds, which is 4 pounds heavier than the 2023 Suzuki RM-Z450, it feels light and nimble in motion. How so? It has sleek bodywork that is easy to grip, and it's slightly smaller than a traditional bike, placing the center of gravity lower to the ground. The head angle is steep, helping it to turn sharper, and the electric motor has little rotating mass inside, creating less gyro effect when leaning in and out of turns. The footpegs are positioned back on the bike, which encourages the rider to stand more often in the attack position. The 43mm WP Xplor forks and no-link PDS rear shock are too soft for motocross, but the settings make it fun to play around on. Additionally, the absence of the link and the 21-inch front and 18-inch rear wheels make for a tall 340mm of ground clearance that is great for going over rocks. 
Altogether, the Freeride E-XC handles like a hybrid trials/enduro bike. It's easy to wheelie and fun to play around on.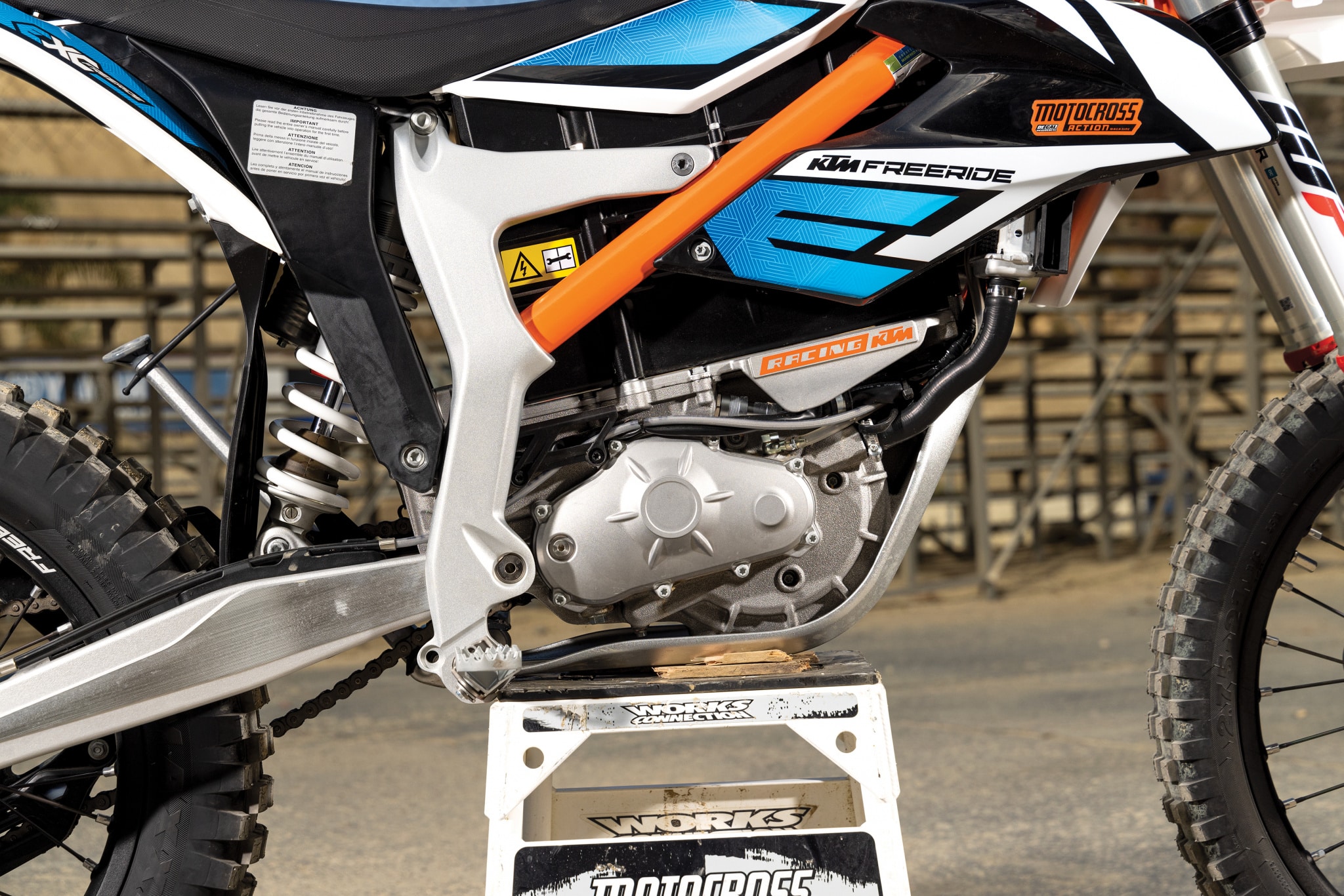 The absence of an engine opens up new areas for riding, hence the name "Freeride."
Q: HOW IS THE KTM FREERIDE'S POWER?
A: The KTM Freeride comes with three maps to adjust the power, and the battery level is indicated on the electronic suite right in front of the seat (where a fuel cap would go). The Freeride uses the same style map suite as the SX-E5 electric Pee-Wee bikes. Map 1 is mellow; the power comes on gently and maxes out at 30 mph. Map two is slightly more aggressive with a peak of 21-1/2 horsepower. Map three is the "aggressive" mode, and it gives you max power and speed, which is 24 horsepower with a speed of 55 mph. 
We used map one to teach our Beginner rider how to ride a dirt bike for the first time, and everyone who already knows how to ride left it in map three. There was nothing aggressive about the third map. Yes, it came on quicker than the others, but the throttle response was still tame and easy to control. We wish the Freeride came with a fourth map that boosted power into the high 30- or 40-horsepower range to make it more exciting for experienced riders. 
Monitoring battery levels is easy. When the suite shows three green lights, this indicates that you have between 100- and 70-percent battery. Two green lights are for 70- to 50-percent power. One green light warns you have between 50- and 30-percent power. The bottom light showing yellow means 30- to 20-percent battery. Red is between 20- and 10-percent, and flashing red indicates less than 10-percent power. It takes just under two hours to get a full charge or 75 minutes to charge to 80 percent. 
Q: WHAT'S IT LIKE RIDING A SILENT BIKE?
A: The absence of an internal combustion engine certainly lessens the noise produced by the Freeride, but it's not silent. The electric motor still makes a buzz. Plus, without a loud engine, you can hear the chain slap, you can hear the tire knobbies folding, and you can hear rocks and dirt hitting the fenders. 
The chain slap takes away from the high-quality feel of the Freeride; however, with a purring four-stroke engine or crisp two-stroke, you feel more connected to your bike and can appreciate its quality. Of course, the KTM Freeride has been put together with the same quality craftsmanship that all KTM bikes have, but the motor makes it feel different. With an electric motor and chain slapping noises, the rider experience takes some getting used to. 
Top-of-the-line downhill mountain bikes have pulleys that the chain rides on, and they move position with every gear change to keep the chain from slapping and to keep the chain tension right. This makes for a smoother, more pleasant sound when powering down rocky hills. Cheaper mountain bikes clank around, and you get a similar sensation when you hear the chain slapping. So far, we've heard chain slap on the two e-bikes we've ridden, the Alta and the Freeride. This is something that takes time to get used to. 

The KTM Freeride E-XC is a mix between a trials bike and an enduro bike. It's a hybrid in its own category.
Q: WHAT DO WE HATE?
A: The hate list.
(1) Price. When you ride up to your friends' pit area on a Freeride and they ask how much the bike costs, you're embarrassed to admit KTM is charging $11,099 for this bike. 
(2) Power. We need more power. 
(3) Charger. It's tough to find test riders who have a 220-volt plug at their house to charge the Freeride.
(4) Weight. 245 pounds is 4 pounds heavier than a stock Suzuki RM-Z450.
(5) Battery. The battery needs to last longer for this electric bike to be taken seriously, and getting the battery out of the frame is a job for a young Arnold Schwarzenegger. It is awkward, ungainly and did we mention heavy? 
(6) Maps. We appreciate the different maps but want a more exciting one for more advanced riders.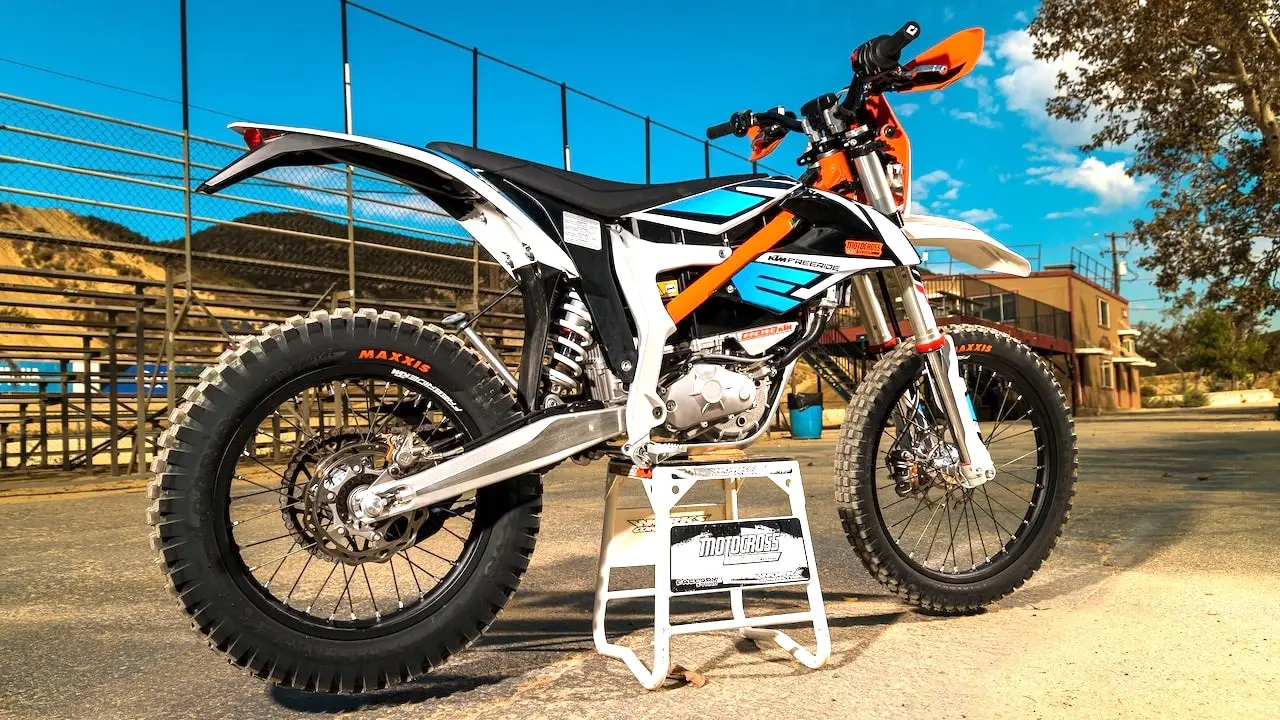 Q: WHAT DO WE LIKE?
A: The like list.
(1) Sound. It's not too hard to get used to the buzz of the electric motor. You get a different sensation when riding an e-bike than you do with an internal combustion engine. It's not better, just different.
(2) Maintenance. The motor uses 155cc of engine oil that needs to be replaced every 50 hours. The chain needs to be tightened, the spokes need to be checked, and tire pressure needs to be set. That's it. 
(3) Tires. The Maxxis gummy trials tires grab traction everywhere and encourage you to try new obstacles. 
(4) Hand brake. After getting used to the rear hand brake, you truly feel the benefits of riding on the balls of your feet. It's easier to have good technique when your feet aren't reaching for a shift lever or brake pedal. 
(5) Styling. The frame is uniquely made up of chromoly steel, plastic and forged aluminum. It also has modern plastics that make the bike look exotic.
(6) Removable battery. We never had a second battery, but if we did, we could have ridden longer. The hardest part of a battery swap is lifting the battery straight up out of the frame. 
(7) Powerparts. It's nice to know KTM has options for modifying its e-bike. Lots of KTM 85SX parts can be retrofit. 
(8) Handling. This bike is a cross between a trials bike and an enduro bike. It's fun to play on. 
(9) Regeneration. When you let off the throttle, the rear wheel recharges the battery.
(10) Safety. Both the motor and battery are sealed to ensure you don't have to worry about electrocution in puddles or when washing the bike.  
The MXA testers had fun playing on the KTM Freeride but were unimpressed with the price tag and power output.
Q: WHAT DO WE REALLY THINK?
A: The KTM Freeride E-XC would be a great bike if it retailed for $6500, but the high $11,099 price tag and low 24-horsepower numbers don't make for an impressive stat sheet. The Freeride fits a very niche market. It's great if you know someone else with one, so you can explore with or race against your buddy. It's great if you want a bike to use for play riding in your backyard. The absence of a shift lever and brake pedals helps you keep your feet locked in position and gives you the confidence to navigate new obstacles. For this reason, electric bikes are good for working on technique drills. Even Max Vohland, Red Bull KTM's 250 National rider, spent a lot of time during his Supermini and 125 years riding the KTM Freeride on rough hill tracks near his home that he wouldn't have been allowed to ride with a two-stroke. 
This bike is also great if you want to introduce a beginner to the sport; however, if you want to go for long trail rides or if you want to ride hard on a motocross track, it's not up to the task. It's a research and development project that KTM has used to learn more about electric motors and batteries. They didn't promote this bike because they didn't believe in it. Now that electric bikes are in vogue, KTM figured they might as well show off the side project that they've been toying with since 2012.  
MXA VIDEO: 2023 KTM FREERIDE E-XC ELECTRIC DIRT BIKE