MXA RACE TEST: THE REAL TEST OF THE 2020 YAMAHA YZ125X CROSS-COUNTRY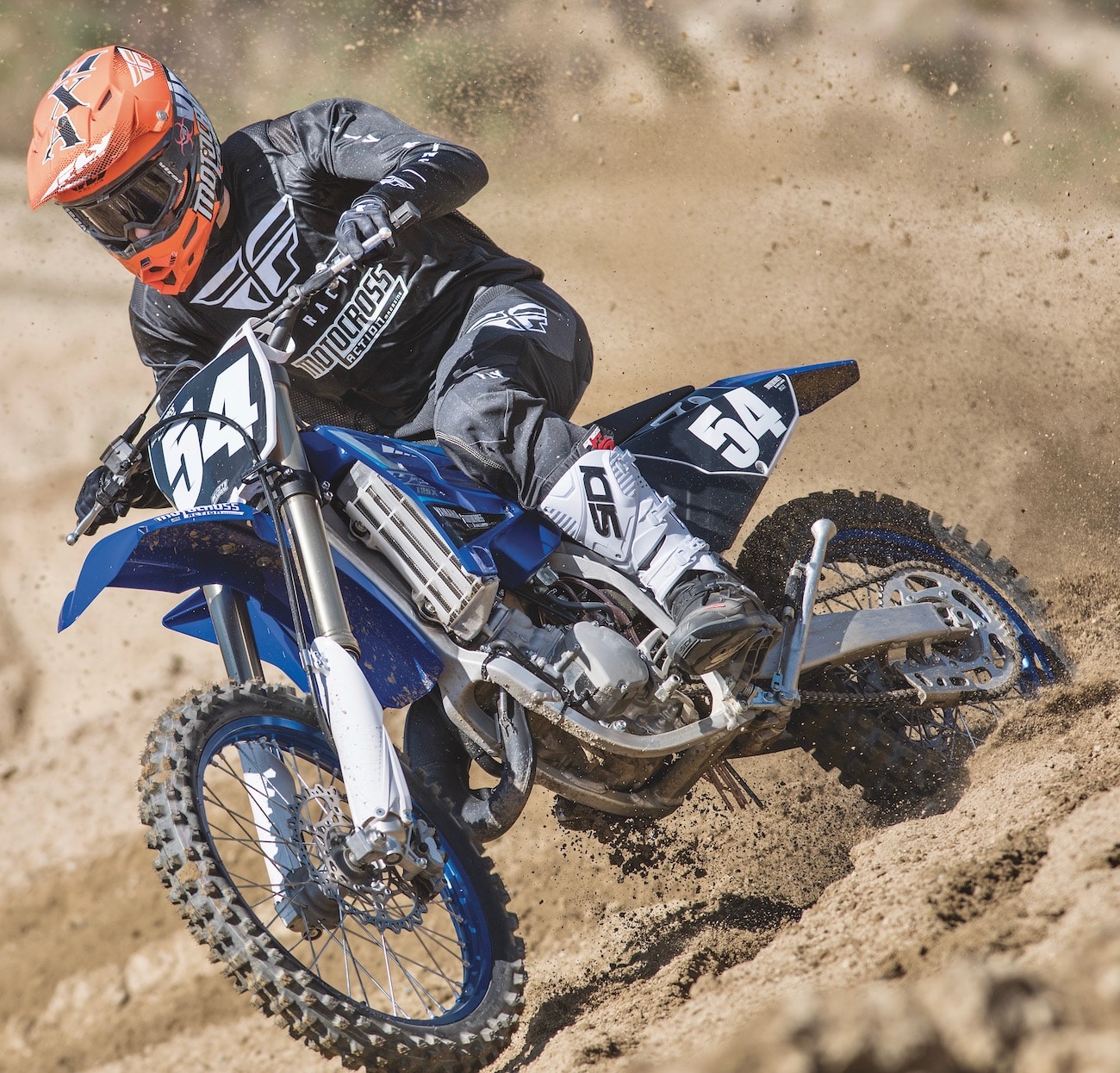 Q: IS THE 2020 YAMAHA YZ125X BETTER THAN THE 2019 YZ125X?
A: No, but not for the reason you think. The 2020 Yamaha YZ125X is a totally new model that the public has never seen and MXA has never tested before. It is the latest piece in Yamaha's cross-country growth program, which includes the 2020 YZ250X, YZ250FX and YZ450FX.
Q: HOW MUCH DOES THE 2020 YAMAHA YZ125X COST?
A: The 2020 YZ125 retails for $6699, which is $100 more than the YZ125 motocross version. The YZ250X two-stroke costs $7599, the YZ250FX is $8499 and the YZ450FX is $9599.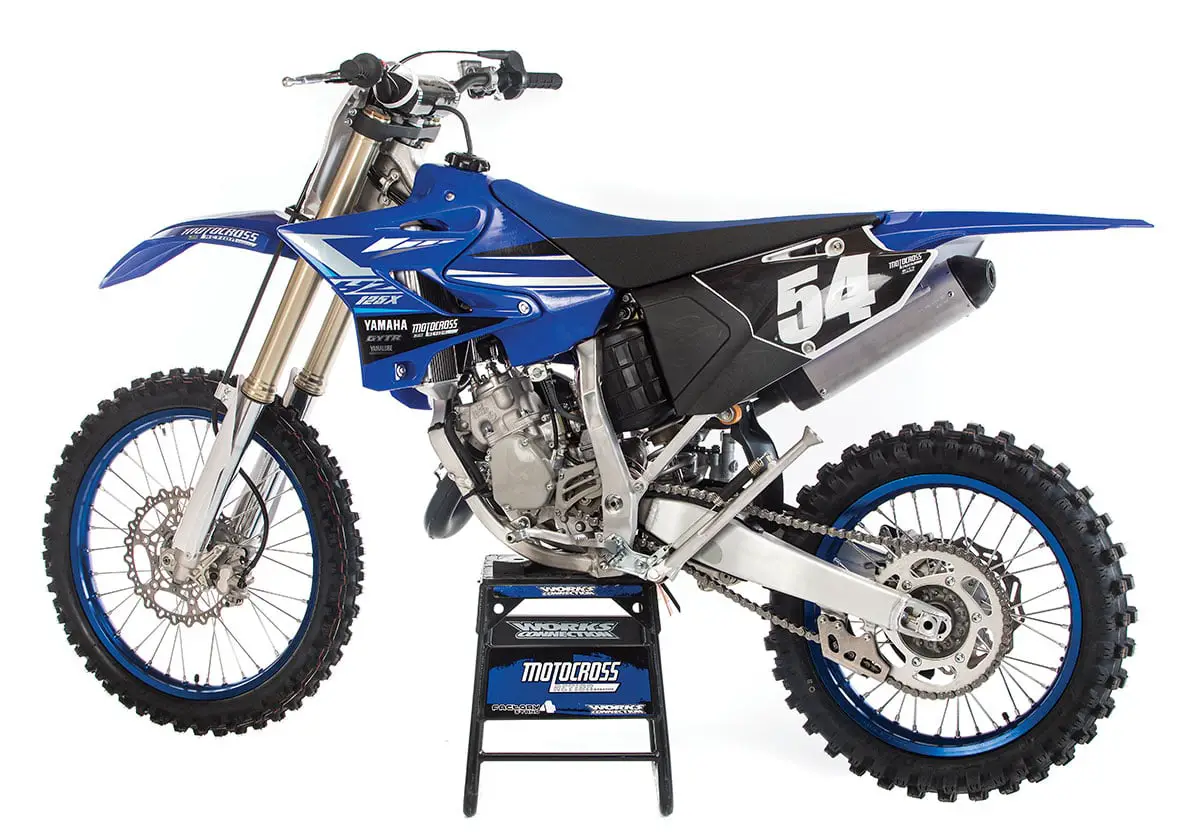 Q: HOW MUCH DOES THE 2020 YAMAHA YZ125X DIFFER FROM THE YZ125?
A: Yamaha's goal wasn't to reinvent the wheel, and Yamaha certainly didn't want to spend a ton of R&D money on a small-bore cross-country bike, so the basic bones of the YZ125X come directly from the YZ125 motocrosser. Here are the 10 differences.
(1) Cylinder head. The compression has been reduced to 8.8:1 compared to 10.7:1 on the YZ125 motocross head. Yamaha achieved this in a novel way, raising the spark plug 3mm in the head, using the same casting but different machining. This change added 1.3cc to the head's volume, which is 8.4cc on the YZ125 and 10.1cc on the YZ125X. Some of the increase in combustion chamber volume is attributable to the taller dome of the YZ125X. All in all, the compression ratio is considerably lower on the X.
(2) Power valve. Stiffer springs were added to make the power valve open slower and later in the rpm range, while the power valve itself was reshaped to lower the exhaust port by 0.5mm to boost low-end power. On the YZ125 motocross engine, the power valve opens at 7500 rpm and is fully open by 9500 rpm, while the YZ125X power valve opens at a much later 8000 rpm and is not fully open until 10,250 rpm.
(3) ECU. The ignition timing is advanced 5 degrees from low-to-mid (and slightly retarded from mid-to-top). This perks up low-end power to help the YZ125X in the slower sections where off-road riders don't have the ability to rev up the two-stroke like on a motocross track.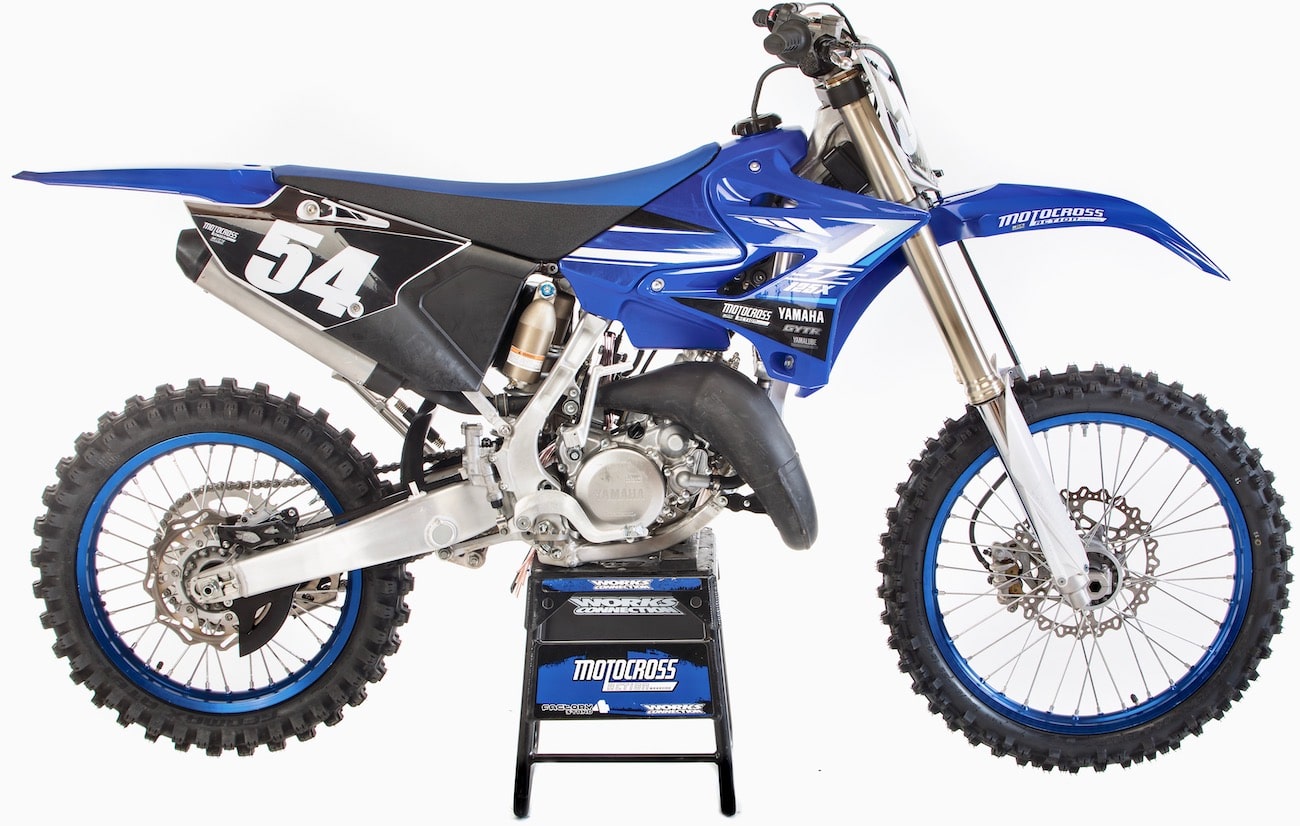 (4) Exhaust pipe. Yamaha claims that the expansion chamber is narrower and raised higher to provide more clearance; but, in truth, the X-pipe is identical to a YZ125 pipe.
(5) Gearing. Yamaha's engineers increased the rear sprocket size from the YZ125's 48-tooth sprocket to a 50-toother. This not only lowered first gear for tight woods riding but made second gear very useful on single-track.
(6) Forks. The YZ125X offers the same industry-leading Kayaba SSS components as the YZ125, including the same 4.1 N/mm spring rates, but with the internal shim stacks valved softer for better trail compliance.
(7) Shock. The YZ125X rear suspension is made more compliant by lighter valving, while the 4.6 N/mm shock spring is unchanged from the YZ125 motocross bike.
(8) Chain. The 2020 Yamaha YZ125X is equipped with an enduro-ready O-ring chain.
(9) Wheels. A terrain-specific, 18-inch rear wheel with Dunlop Geomax AT81 off-road terrain tires were spec'ed on the YZ125X for better grip on rocks, roots and muddy water crossings.
(10) Miscellaneous. Although the gas tank isn't bigger than the YZ125's, it does have a petcock with a reserve switch position. A kickstand comes standard. The six-speed gearbox has the same gear ratios as the YZ125, but the final drive is lower.
Q: IS THE 2020 YZ125X FASTER THAN THE 2020 YZ125?

A: Of course not. If you wanted a stock Yamaha YZ125 engine to be faster for motocross racing, you would increase the compression, raise the exhaust port and advance the ignition mapping from mid and up. This is the exact opposite of what Yamaha did when building the YZ125X engine. The result is that the YZ125X gives up power to the YZ125. But, and this is a big but, Yamaha's engineers weren't looking to build a fire-breathing 125. Instead, they were willing to give up brute strength in exchange for a more usable two-stroke style of power by incorporating less compression, lower ports and milder mapping.
Q: CAN YOU RACE A 2020 YZ125X  IN A MOTOCROSS RACE5?
A: Yes. But, understand that although the YZ125X is based on the YZ125 motocross bike, the X's focus is off-road, not motocross. The milder hit and tractable pull of the engine, along with the ultra-plush suspension, make the YZ125X a decent motocross bike, especially for Novices, Vets and mellow tracks; however, if motocross tracks are 70 percent of your focus, consider a YZ125. There is no doubt that what Yamaha gave up to make the YZ125X trail-worthy reduces its effectiveness on a motocross track.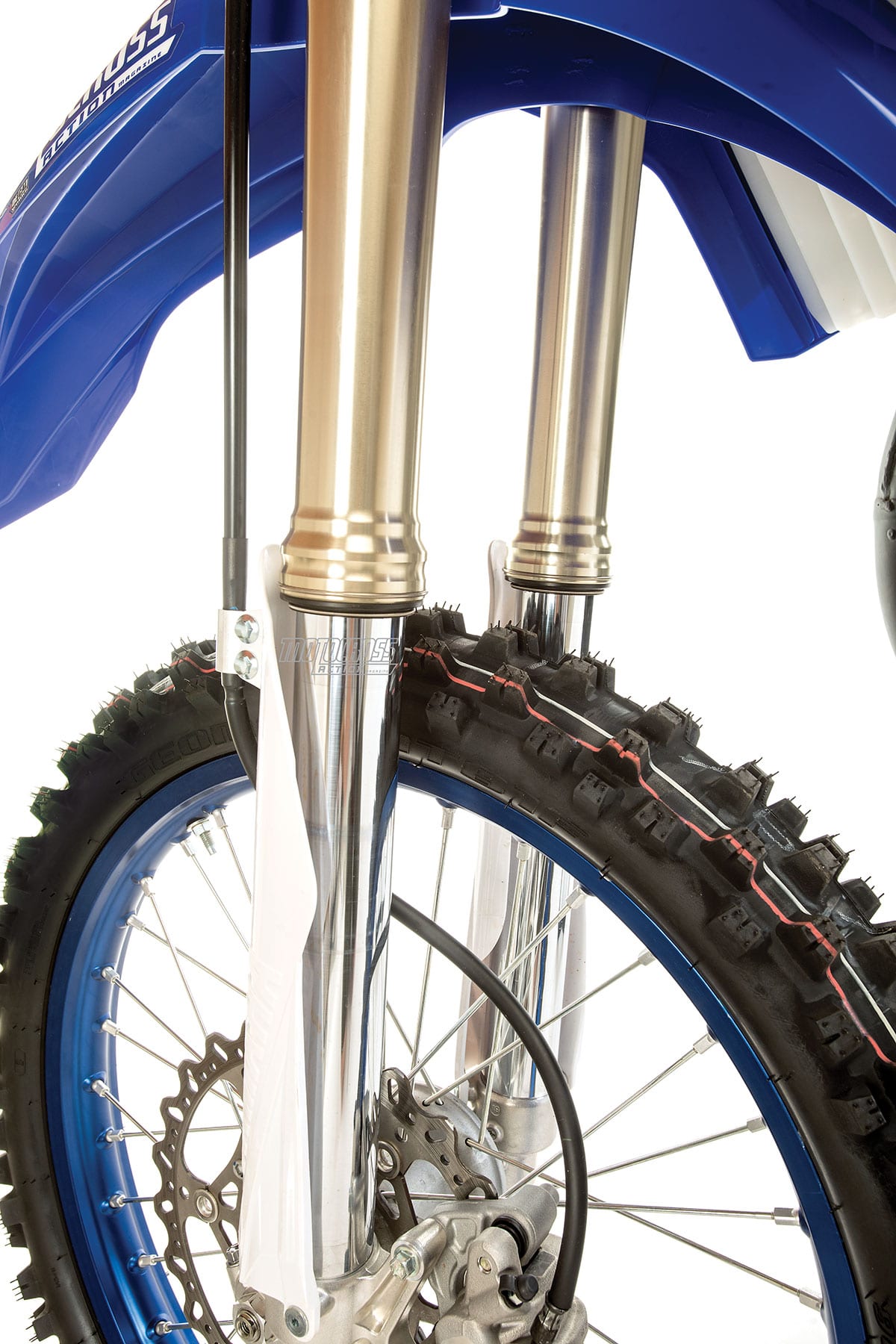 Q:  HOW DOES THE YZ125X WORK AS AN OFF-ROAD BIKE?
A: From a performance standpoint, this is a very good 125cc off-road bike. MXA spent considerable time riding the YZ125X in the South Carolina woods, Big Bear singletrack and Lucerne Valley rocks. Every MXA test rider loved the bike on trails. Its perky, manageable powerband was great for tight trails and picking your way up a mountainside. For open-trail riding, we could just click it into fifth or sixth and cruise. The softer suspension absorbed rocks without deflection and was well-planted on slick terrain. Off-road, there wasn't much to dislike on the YZ125X, but we did dislike some stuff.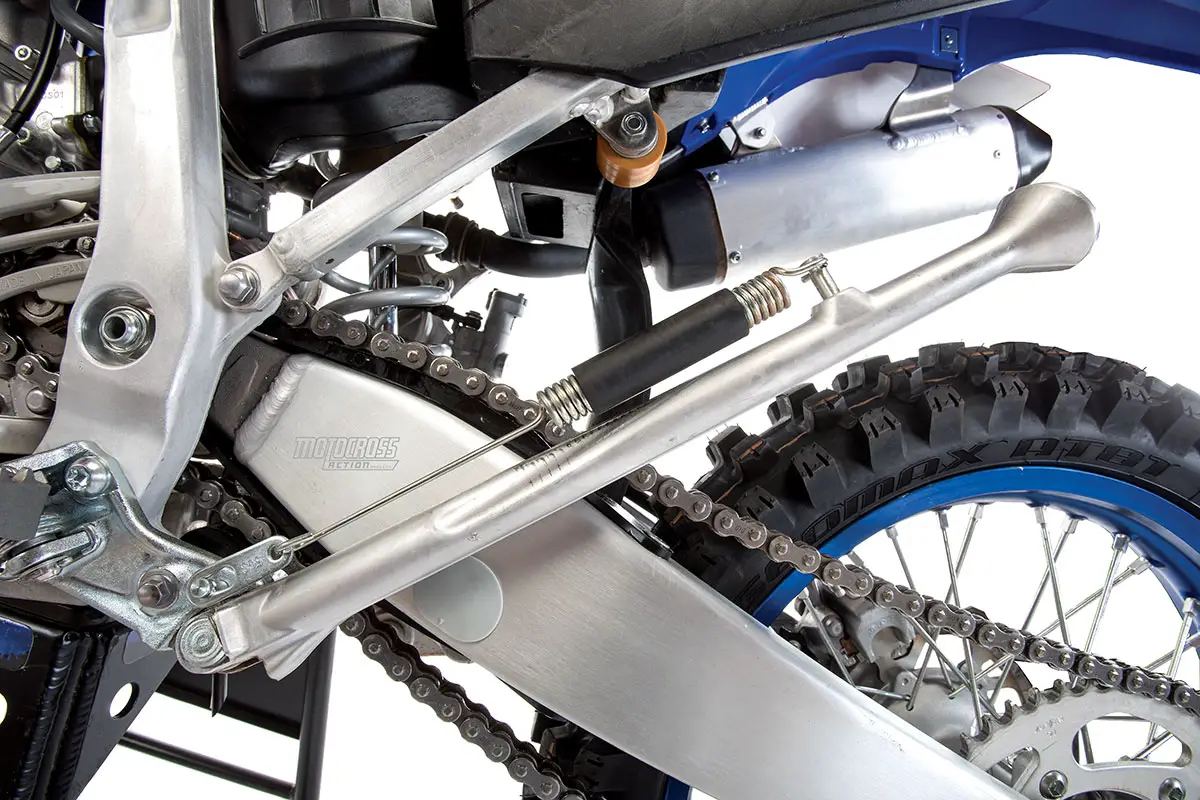 Q: WHAT DIDN'T WE LIKE ON THE 2020 YAMAHA YZ125X?
A: Every motorcycle is a compromise; it has to fit the wide profile of buyers' weight, height, talent and usage. Thus, Yamaha had to make compromises on the YZ125X. Here is a quick list of things that would have made the 2020 Yamaha YZ125X a better off-road bike.

(1) Fuel capacity. By keeping the 2.1 gallon YZ125 gas tank, Yamaha has handicapped the YZ125X as an off-road bike. With a ride time of about 40 minutes, you wouldn't get very far before you'd have to turn around in order to avoid running out of gas. It was nice that Yamaha put a reserve position on the petcock, but that doesn't increase fuel capacity.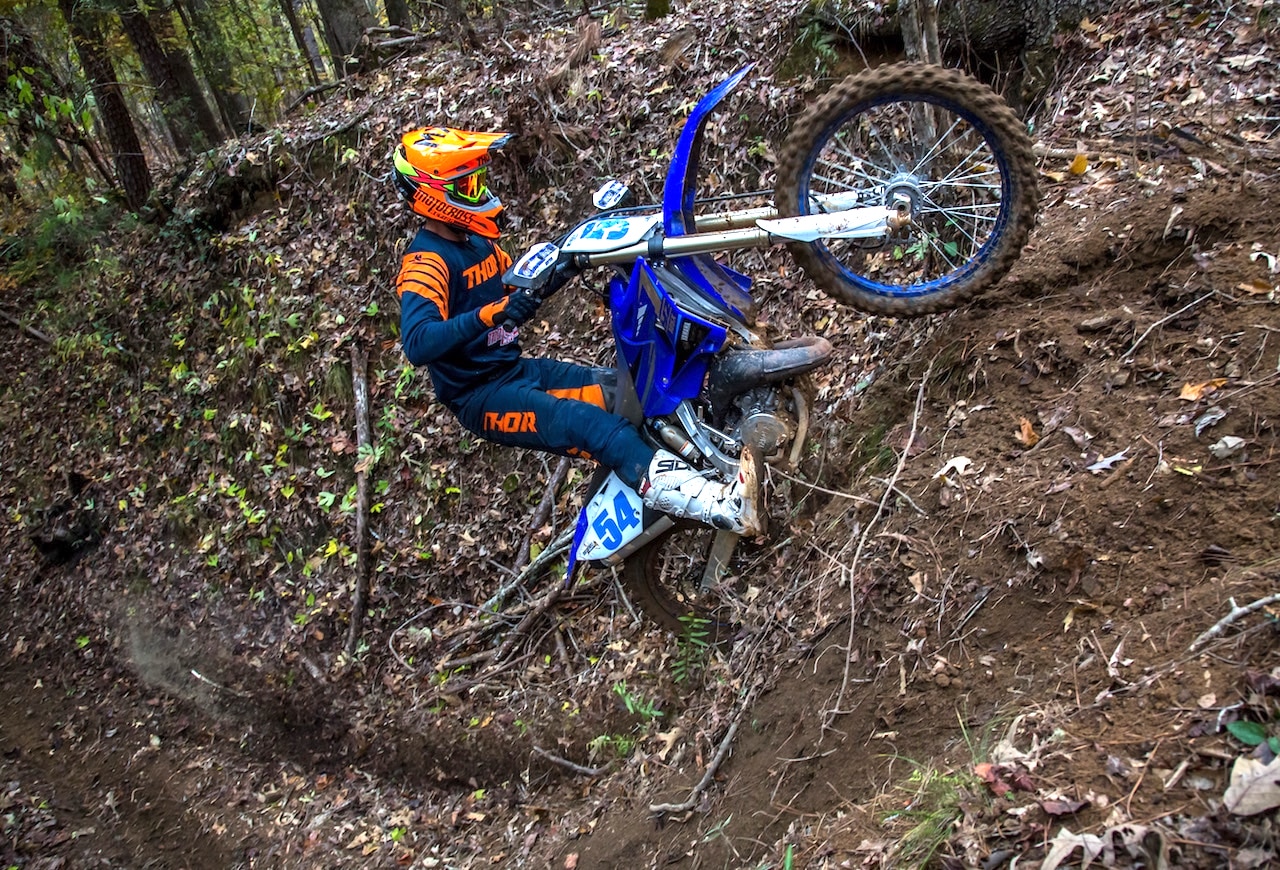 (2) Gearbox. By keeping the YZ125's six-speed motocross-specific gearbox, Yamaha gave up the ability to select gear ratios that could pull stumps and cross the Baja Peninsula with six really good gears. Instead, Yamaha was forced to add two teeth to the rear sprocket to get a low enough first gear for slow going in a rock garden, which brought the other five gears down at the same time. On the 2020 YZ250X, Yamaha added a lower third gear and taller fourth and fifth gears (as much as five-teeth taller in fifth).
(3) Skid plate. Remember that rock garden we talked about? You have to pussyfoot through it with the YZ125, because nothing protects the cases, water pump or ignition. Serious off-road bikes come with skid plates (including the YZ250FX and YZ450FX).
(4) Hand guards. Not every trail is as wide as a six-lane super highway. In fact, if you have 32-inch-wide handlebars on your bike, it is a sure bet that the gap between trees on your favorite trail will be 31-1/2 inches.
Q: WHAT DID WE HATE?
A: The hate list:
(1) Tires. The YZ125X comes with Dunlop AT-81 off-road tires front and rear. These are workable off-road tires but less effective on a motocross track.
(2) 18-inch rear wheel. We aren't opposed to the YZ125X's 18-inch rear wheel. It has a bigger footprint, plusher sidewalls and better hookup. But, if you want to switch to a 19-inch rear wheel, the best solution is to buy a 19-inch rim and longer spokes and lace the rim and spokes to the stock YZ125X hub.
(3) Gas tank. In a cross-country race or on a long trail ride, the YZ125X will have a hard time completing a 40-mile loop without running out of gas. There are oversized aftermarket gas tanks available, but the bike should come with a bigger tank from Yamaha.
(4) Clutch. It should be noted that we run stiffer clutch springs on our YZ125 two-strokes.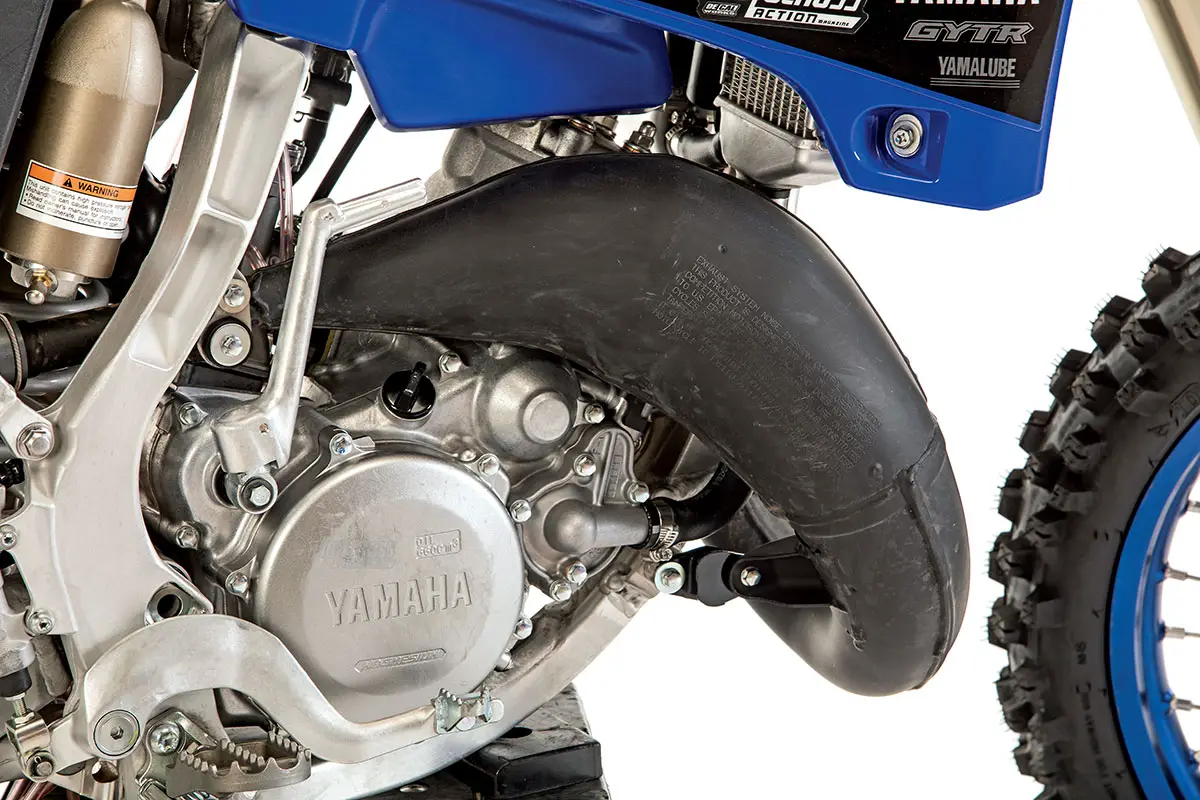 Q: WHAT DID WE LIKE?
A: The like list:
(1) Suspension. Big or small, beginner or Pro, the Kayaba SSS (Speed Sensitive System) components are exceptional. The YZ125X setup is on the soft side, which is an issue for motocross but perfect for trails.
(2) Maintenance. Anyone who is mechanically inclined will be more than capable of changing a YZ125X top-end. A Vertex piston kit costs $111.95 (www.vertexpistons.com). You can buy two YZ125 pistons for the price of one YZ250FX four-stroke piston.
(3) Parts. Even if the YZ125 parts cost the same as their four-stroke nephews (which they don't), there are a lot fewer of them to buy. The MXA wrecking crew doesn't believe that two-strokes are more reliable than four-strokes. It is just that when unreliability rears its ugly head, a two-stroke owner spends less dough on pistons, rings and gaskets—and can do the work himself.
(4) Bulletproof. The YZ125's reliability is legendary. Why? Because its 13-year-old parts have been time tested to eliminate failures.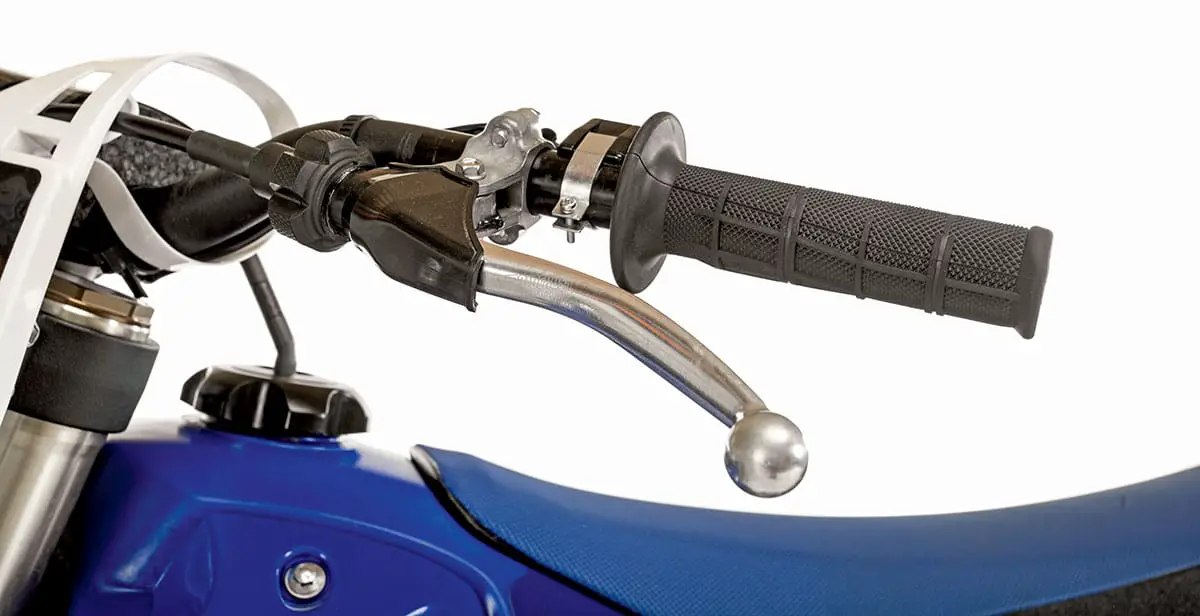 (5) Weight. At just over 203 pounds, the Yamaha YZ125X is easy to ride and very agile. We loved dodging the bumps that our friends on four-strokes had to hit.
Q: WHAT DO WE REALLY THINK?
A: If you are a pure off-road rider or hardcore motocrosser, there are better bikes for you. The YZ125X isn't the best 125cc two-stroke off-road racer or the best 125cc two-stroke motocross bike. It is a compromise bike, but it might be the best all-around 125 two-stroke for a guy who wants to ride off-road trails this weekend and a motocross track next weekend.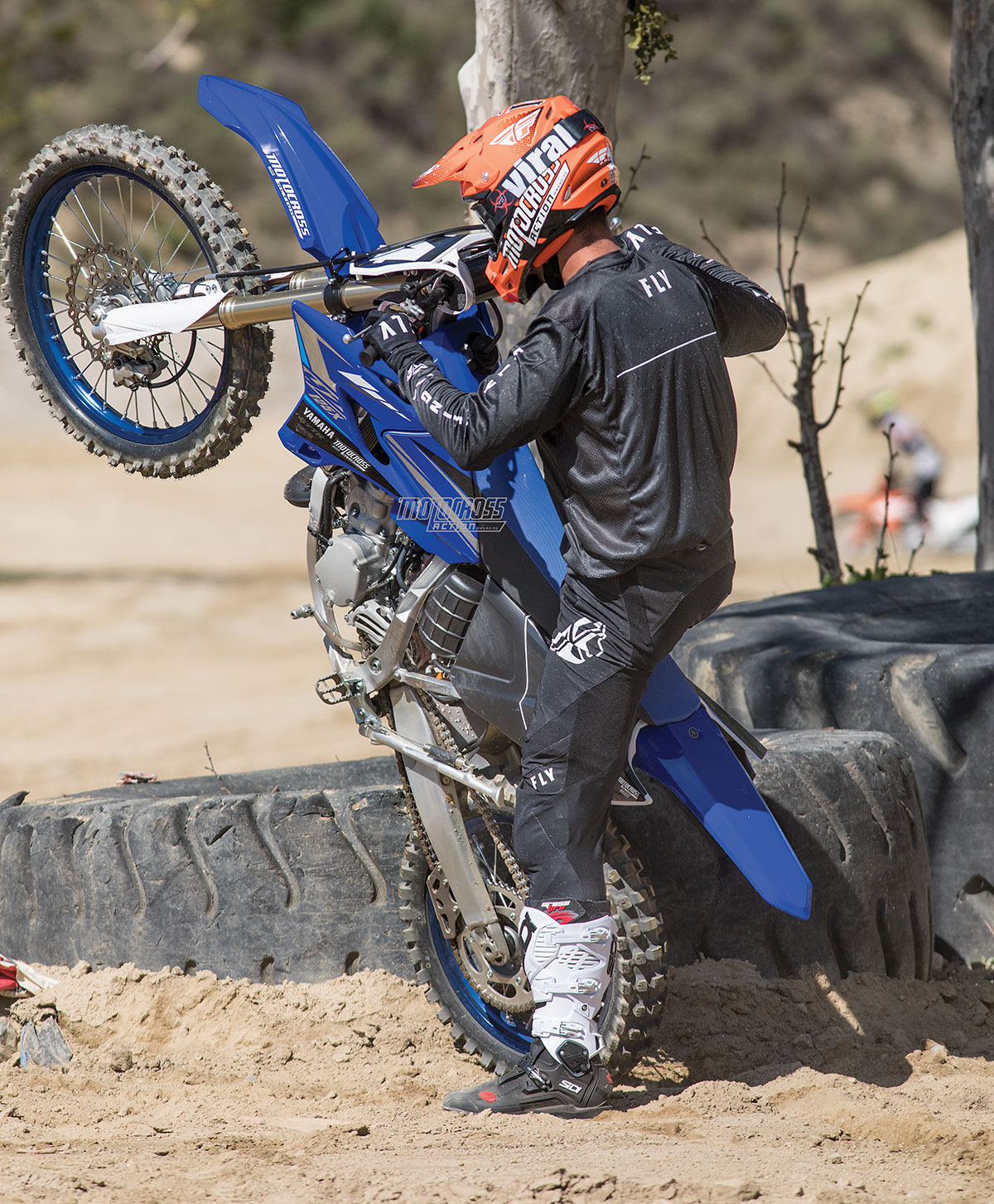 MXA'S 2020 YAMAHA YZ125X
SETUP SPECS
This is how we set up our 2020 Yamaha YZ125X for the motocross track (stock settings are in parentheses). We offer it as a guide to help you find your own sweet spot.
KAYABA SSS FORK SETTINGS
Most MXA test riders went stiffer on the fork's stock clicker settings (and some added 10cc of oil to each fork leg). For hardcore racing, we ran this setup on the 2020 Yamaha YZ125X (stock clickers are in parentheses).
Spring rate: 4.1 N/mm
Compression: 9 clicks out (15 clicks out stock)
Rebound: 7 clicks out (9 clicks out stock)
Notes: The SSS components did not feel as if they were bottoming out, which was a huge confidence booster for all conditions. For faster and heavier riders, we added 10cc of oil to each fork leg (raising the stock oil volume from 230cc to 240cc).
KAYABA SSS SHOCK SETTINGS
Our testers liked the movement on the shock but felt that it was a bit under-damped. They went in a few clicks with the rebound and compression to slow it down and keep it up in the stroke. For hardcore racing, we ran this setup on the 2020 Yamaha YZ125X (stock clickers are in parentheses):
Spring rate: 46 N/mm
Race sag: 105mm
Hi-compression: 2 turns out (1-5/8 turns out stock)
Lo-compression: 10 clicks out (13 clicks out stock)
Rebound: 8 clicks out (13 clicks out stock)
Notes: The shock is the same as on the YZ125, including the spring rate. The only difference is the shim stack, which can be firmed up with compression and rebound clicks.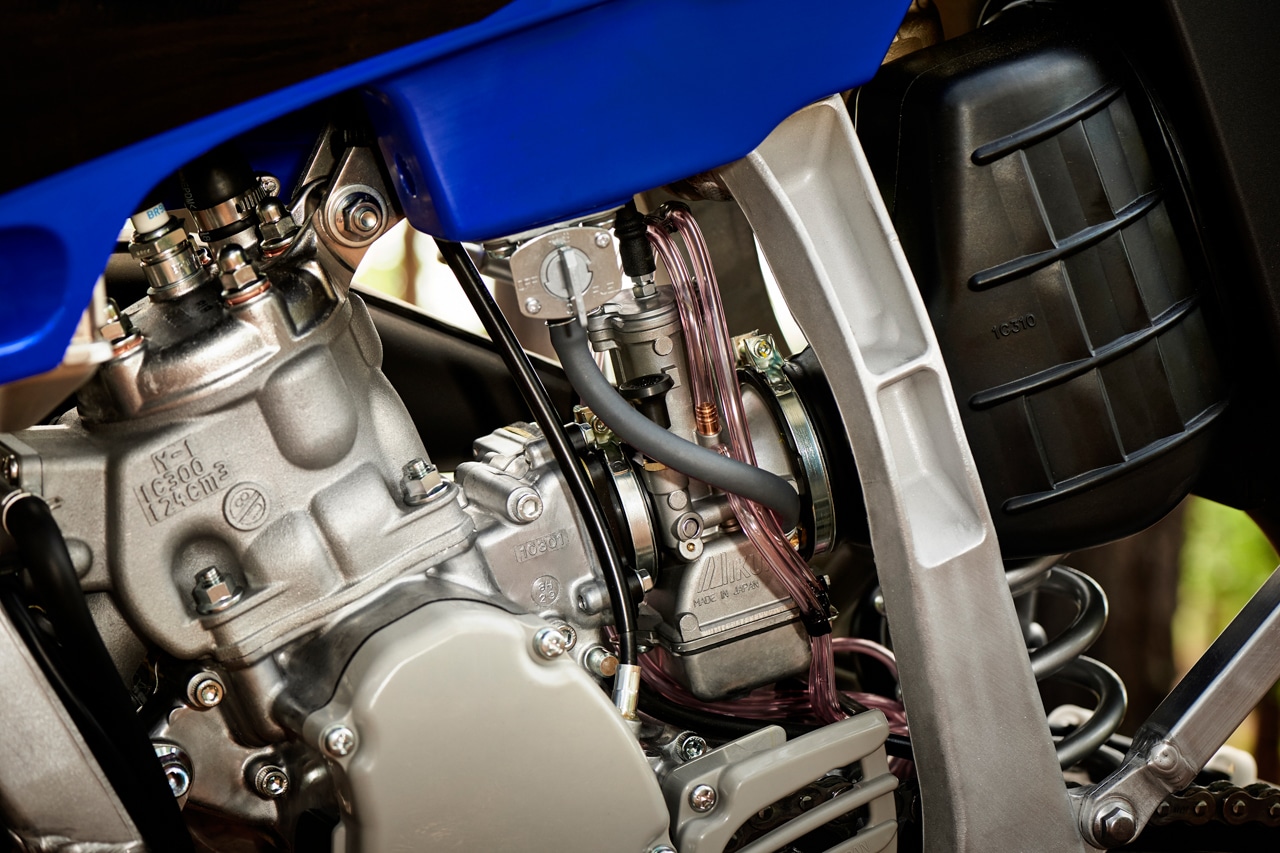 YAMAHA YZ125X JETTING
We changed the main jet, pilot jet and needle. Here are MXA's recommended jetting specs (stock specs are in parentheses):
Main: 430
Pilot: 37.5 (40 stock)
Needle: 6BYF44-74-2 (6BFY43-74-3 stock)
Clip: 2nd from top
Air screw: 2-1/2 turns out (1-1/4 stock)
Notes: If you hop-up the YZ125X or add an aftermarket exhaust pipe, you might need to go to a bigger main or add a dash of VP C-12 fuel to your pump gas.