MXA RACE TEST: THE REAL TEST OF THE 2022-1/2 KTM 450SXF FACTORY EDITION
Since racers will be living with the technical changes made to the 2022-1/2 Factory Edition for the next four model years, KTM engineers wanted to move motocross design forward with advancements in bodywork, electronics, ergonomics, power, ease of use and overall design. They did a pretty good job.
MXA RACE TEST: THE REAL TEST OF THE 2022-1/2 KTM 450SXF FACTORY EDITION
Q: WHAT DID KTM CHANGE ON THE 2022-1/2 450SXF FACTORY EDITION?
A: Virtually everything, including the hydro-formed frame, engine position, compression ratio (increased from 13.75 to 14.1), aluminum/injection-molded, polyamide carbon subframe, stiffer die-cast aluminum swingarm, downsized rear axle and all-new bodywork.
Q: HOW FAST IS THE 2022-1/2 KTM 450SXF FACTORY EDITION?
A: It is a rocket ship in Map 2, but more manageable in Map 1; however, most MXA test riders opted for Map 2, even though it was scary fast in the hands of Vets and Novices. Even our Pro test riders felt it was very aggressive, but the simple solution was to gear it taller by running 13/50 (3.846 ratio) gearing instead of the stock 13/51 (3.923 ratio). For an even taller and thus mellower power, run 14/52 (3.7146 ratio). Changing the gearing to alter the power delivery is not an unusual solution. Honda would often gear the CR500 two-stroke taller when consumers complained that it was too brutish down low.
We had some rider's who liked Map 1. The power delivery was chuggy at low rpm in contrast to Map 2's much smoother power profile. Initially, most of our Vet test riders preferred to run Map 1, but once they adapted to Map 2's stronger output, they switched to Map 2 in conjunction with traction control all the time.
Q: HOW DID IT RUN ON THE DYNO?
A: Map 2 is exactly what most KTM 450SXF owners have been asking for—more power! Conversely, Map 1's detuned power is the answer to the request for a bigger difference between Maps 1 and 2. No doubt about it, there is no confusing Map 1 and Map 2. Map 1 gave up a couple of horsepower to Map 2 from 5000 rpm until narrowing the gap by 8700 rpm. Even though Map 1 may have gotten closest to Map 2 by 9400 rpm, it was still 2 horsepower down. Worse yet, that margin grew to 3 horsepower by 11,000 rpm. 
Surprisingly, the stock 2022 KTM 450SXF's power output was very similar to the 2022-1/2 KTM 450SXF Factory Edition (in Map 2) and, correspondingly, much more powerful than the 2022-1/2 Factory Edition in Map 1. In a direct comparison, peak horsepower on the Factory Edition in Map 2 was 59.85 horsepower, while Map 1 peaked at 56.79 horsepower. Surprisingly, the stock 2022 KTM 450SXF engine peaked at 58.69 horsepower. 
Q: HOW GOOD IS THE FACTORY EDITION SUSPENSION?
A: WP reworked the forks and shock for 2022-1/2 with the goal of making the damping firmer at both ends. As far as mechanical changes go, the WP XACT air forks got new valving and bottoming cones, which use a tapered shape to create an "oil lock" to stop the forks from bottoming. When we complained about not getting full travel, WP insisted that the unused fork tube at the bottom of the fork legs was a fail-safe—in case we needed bail-out travel if we did something stupid. We do stupid things all the time but never needed a fail-safe to stop the forks early. We always relied on damping, air pressure or oil height to control bottoming.
If you are a long-time KTM racer, you may remember when the 2018 KTM 450SXF was released with additional gusseting around the steering head. When we tried to run the suspension settings that worked so well on our 2017 450SXF, they didn't work on the stiffer 2018 frame. We had to develop new fork and shock settings to get back to the comfort and plushness of the 2017. 
We have the same feeling about the 2022-1/2 KTM 450SXF Factory Edition suspension setup, with the caveat that instead of stamped metal gussets, as in 2018, the 2022-1/2 frame has ultra-strong, forged steel pieces at the head tube, shock tower, footpeg brackets and motor mounts.
We started with KTM's recommended air pressure, clicker settings and sag numbers and worked with them one clicker at time to get the feel that each test rider liked.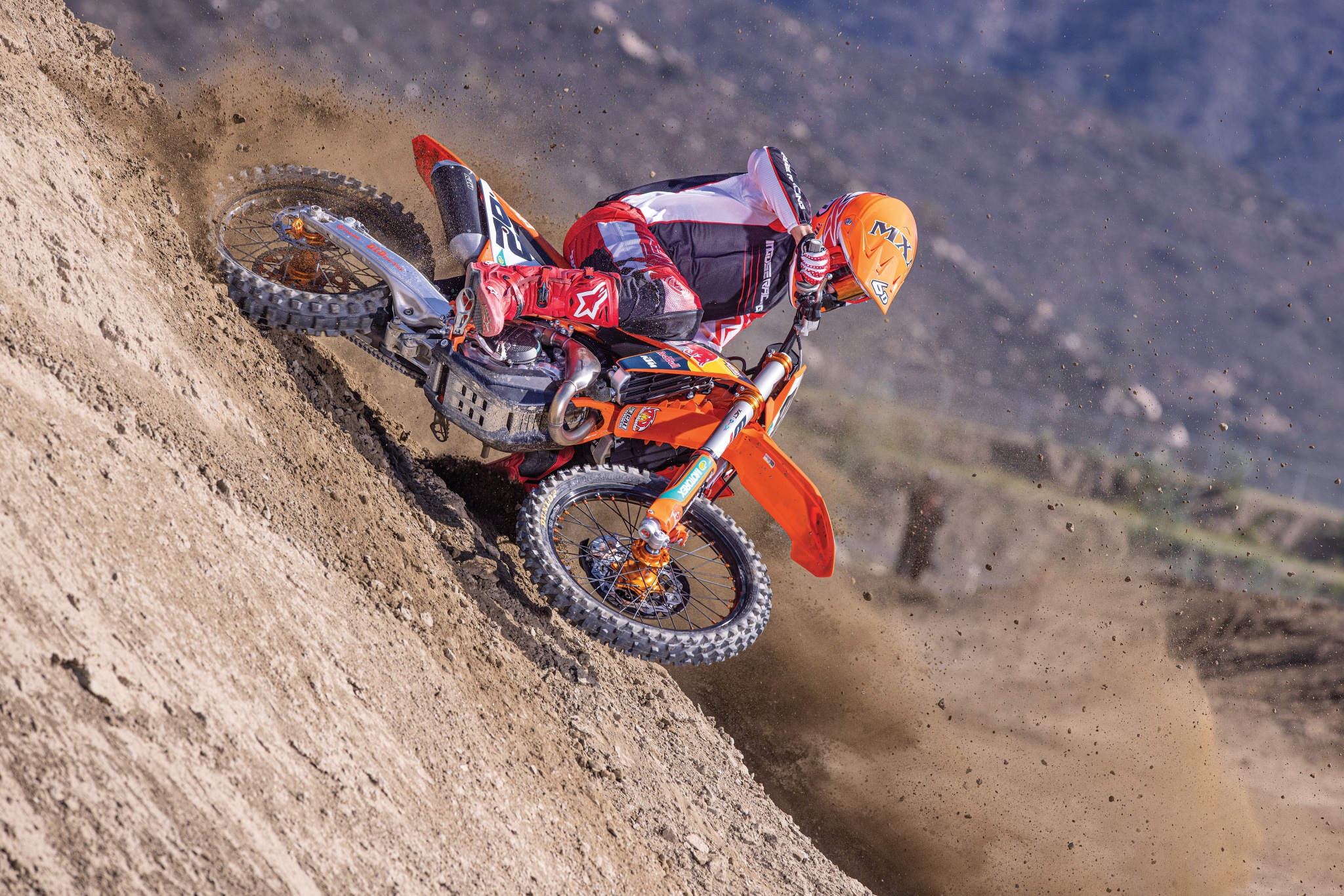 Q: HOW DID THE FACTORY EDITION HANDLE?
A: We like the way the 2022-1/2 KTM 450SXF Factory Edition feels in motion. Yes, it is heavier, especially at the front wheel, but depending on track conditions this can make it feel more planted (heavier, but in contact with the ground). The new bodywork is a blessing. Each piece is ergonomically shaped to work with the human body. The width of the tank, shroud and side panels makes it easier to grip the bike with your knees. The seat has pleats and a diamond-shaped fabric to keep you from sliding off the back. The airbox is larger, easier to access and works best with the optional vented airbox cover. The footpegs look like they stick out farther, but they are actually mounted inboard on recessed brackets in the frame. They make more room inboard for your boots. The front fender is 1 inch wider than in 2022, and it features unique winglets on the back portion to keep debris from flying up into your goggles.
KTM even went back in time to Horst Leitner's and Eyvind Boyesen's playbooks on reducing chain torque's effect on the chassis in braking bumps, whoops and rough ground. You may think they rotated the engine 2 degrees backwards for centralization of mass, but their real goal was to stop the frame from squatting under acceleration by reducing chain torque. We can feel the improvement in rear-wheel traction.
Q: WHAT YOU AREN'T GOING TO LIKE?

A: In truth, you aren't going to like the 2022-1/2 KTM 450SXF Factory Edition or the 2023 KTM 450SXF for the first couple of hours. Time is the friend of the new KTM suspension and handling. The forks need a couple hours on them to get them to feel anything like the 2022 AER forks. How many hours depends on how fast you are or how many trusted friends you can get to ride it for you. The suspension breaks in a little bit with each ride, but doesn't seem to feel as good as possible until four to six hours.
Guess what? We didn't really feel comfortable on the frame until twice as much time as the forks. If you have the patience to stick with it, the KTM 450SXF Factory Edition will get better with age. We wish we had a better answer, but this a very stiff feeling bike, Luckily, since it is a chromoly frame it will  feel better and better with each ride.
Q: WHAT DID IT WEIGH?
A: Initially, the KTM engineers told us that the Factory Edition was "4 pounds heavier, more or less" than the 2022 production 450SXF. The "more or less" comment scared us. It could have meant that they knew exactly what it weighed and didn't want to tell us or that they didn't know what it weighed and were guesstimating. We drained the gas tank and weighed the bike ourselves. It weighed a surprisingly porky 231 pounds. That is 8 pounds more than the 2022 production bike. 
That sounds bad, but we give KTM the benefit of the doubt, because: (1) Even at 231 pounds, it is still the second lightest 450 motocross bike after the 222-pound GasGas MC450F. (2) The Factory Edition is littered with "added value parts" that not only add value but add weight. (3) By our calculations, the Factory hubs, rims, cross-three spoke pattern, skid plate, front rotor guard, pleated seat cover, wider front fender, split triple clamps, hybrid aluminum/plastic subframe and "forged" head tube cradle, shock tower, frame gusseting, motor mounts and head stay brackets all add approximately 4 pounds. (4) If you subtract 4 pounds from 231 pounds, you get 227 pounds ("more or less") for the yet-to-be released 2023 production 450SXF.
Q: WHAT DID WE THINK OF QUICK SHIFT?
A: There is nothing new about Quick Shift. It comes on many Japanese street bikes, not to mention KTM's adventure models and the Duke 390, 690, 890 and 1290 street bikes. Quick Shift momentarily interrupts the ignition when a sensor on the shift drum signals the ECU that an upshift is about to happen. Killing the spark relieves pressure on the gearbox to allow faster clutch-less shifting. Quick Shift is only active on upshifts. It can be turned on or off by pressing the "QS" button on the map switch, and it can be changed on the fly (lots of luck finding that tiny little button with your left humb. We rotated the map switch forward to make the QS button more accessible, but most test riders still couldn't find it easily).
Quick Shift is the greatest thing since sliced bread on the start. But, on the racetrack, only half of the MXA test riders liked Quick Shift. Since motocross requires a varied mix of shifting at full throttle, half throttle or even while coasting, Quick Shift can be a hindrance in some situations. Since Quick Shift can be turned on and off on the fly, it would be optimal for these riders to use it on the start and then turn it off after turn one; however, the location and size of the QS button make it hard to find. We think of Quick Shift as an all-or-nothing proposition, and 50 percent of our test riders chose nothing. 
Q: WHAT IS THE MANUFACTURER'S SUGGESTED RETAIL PRICE (MSRP)? 
A: The 2022-1/2 KTM 450SXF Factory Edition's retail price is $11,700, which is $1000 more expensive than the 2022 KTM 450SXF ($10,700). When you compare the 450SXF Factory Edition to the Honda CRF450WE (Works Edition) or Kawasaki KX450SR (Special Racer), you will find out the Kawasaki and Honda versions of the Factory Edition retail for $12,400. That is $700 more than the KTM Factory Edition's MSRP.
The kicker is that the retail price of the basic 2022 CRF450 and 2022 KX450 is $9600. The red and green CRF450WE and KX450SR cost $2700 more than the production models they are based on. That makes their price hike $1700 more than KTM's price hike. And remember, the Honda CRF450WE and Kawasaki KX450SR are not next year's bikes. They are spiffed-up version of the 2022 production models.
Q: WHAT DID WE HATE?
A: The hate list:
(1) Seat height. Motocross bikes keep getting taller, and that is true of the 2022-1/2 KTM 450SXF. It is skyscraper tall. If you don't have long legs, your boots aren't going to touch the ground—look into riding a Husky.

(2) Checklist. Check the bolts on the rear sprocket, shift lever, shock linkage, head stays, front motor mount and swingarm pivot at regular intervals.
(3) Compression clicker. We don't need more or fewer prongs; we need longer prongs on the fork's compression clicker. 
(4) On the stand. When the KTM 450SXF is sitting on a bike stand, the front wheel is hitting the ground. It's a hassle for simple maintenance and washing. 
(5) Weight. The 2022 KTM 450SXF Factory Edition weighs 231 pounds, that is still lighter than a Honda, Yamaha, Kawasaki or Suzuki, but it is 8 pounds heavier than the 2022 KTM 450SXF.
(6) Orange rings. Don't rely on the orange rings to measure fork travel. They wear out quickly, and when they wear out, they fall to the bottom of the fork legs. We put a zip-tiez under them and then slide both of them up to get an accurate gauge of how much travel we are getting.
(7) Push buttons. We like the push buttons on the new electronics for start, stop, traction control, maps and Quick Shift, but the buttons are so low-profile that getting them depressed with a gloved hand is often hit or miss.
(8) Chain slack. The Factory Edition owner's manual says to measure 58mm at the back of the chain buffer pad, but KTM's engineers told us to go to 70mm. A week later they said it should be 65mm. We're waiting for distance number four.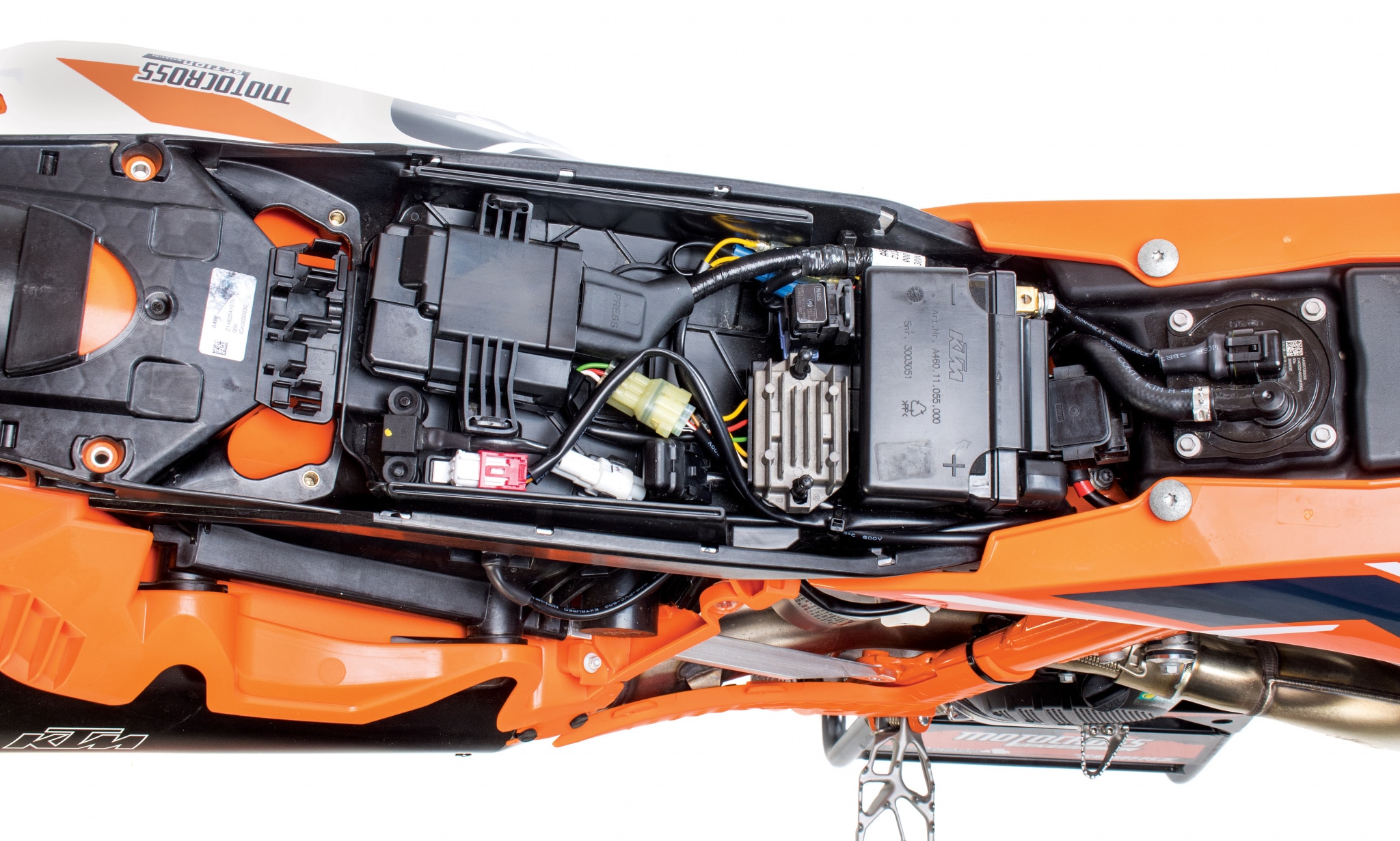 (9) Finding neutral. Getting the transmission into neutral on the starting line is hard. Sometimes it helps to rev the engine really high and then snick the shift lever before the rpm falls off. If this doesn't work, use your hand.
Q: WHAT DID WE LIKE?
A: The like list:
(1) Brembo hydraulic clutch. We like the "pop" feel of the Brembo master cylinder.
(2) Cross-three spokes. The more spokes that an individual spoke crosses over on the way from the hub to the rim, the stronger and more forgiving the wheel. The Factory Edition front wheel is laced cross-three.
(3) Quick Shift. Starts will never be the same.
(4) Wider front fender. Functionally, all a front fender does is knock down roost flinging off the front tire. Wider is better. The Factory Edition front fender is 1-inch wider on the front half of the fender, while four 1-inch winglets on each side of the rear half of the fender widen the rear fender without cutting down on air flow to the radiators. This design concept cuts down on dirt, mud, and water spray being thrown up towards the rider by the front wheel.
(5) Adjustable offset. The Factory Edition triple clamps can be changed from 22mm offset to 20mm offset. We never change it, but it is an option.
(6) Map 2. A great map: Smoother off the bottom with reduced engine braking and linear power that takes off in the middle and goes until the blood rushes out of your brain. 
(7) Air filter. No air filter is easier to put in a bike than the 2022-1/2 KTM Factory Edition.
(8) Airbox cover. It has a handle molded into the upper front corner that makes it easier to get the cover off sans tools. 
(9) No tools clickers. You can adjust the WP shock and forks without ever using a tool. Low-speed compression, high-speed compression, shock rebound, fork rebound and fork compression are all adjusted by hand.
(10) Vented airbox cover. The bike comes with a vented airbox cover that improves throttle response.
(11) Anti-squat chain line. All credit goes to ATK's anti-chain torque experiments and the Boyesen Link.
(12) Brembo brakes. Lost all your fingers except one in a chain saw accident? You can still be a "late braker" with one finger on the Factory Edition's powerful Brembo brakes.
(13) Kill button. The previous kill button was mounted inboard on the left handlebar. For 2023, the kill button and start button share a fitting on the right side of the handlebar. Again, the button itself could be raised up higher for easier use. 
(14) Idiot light. In 2022, the FI diagnostic's LED light fell out of its holder constantly. On the Factory Edition, the idiot light has been moved to the hour meter.
(15) Fork guards. New fork guards wrap farther around the exposed forks legs to cut down on chrome dings.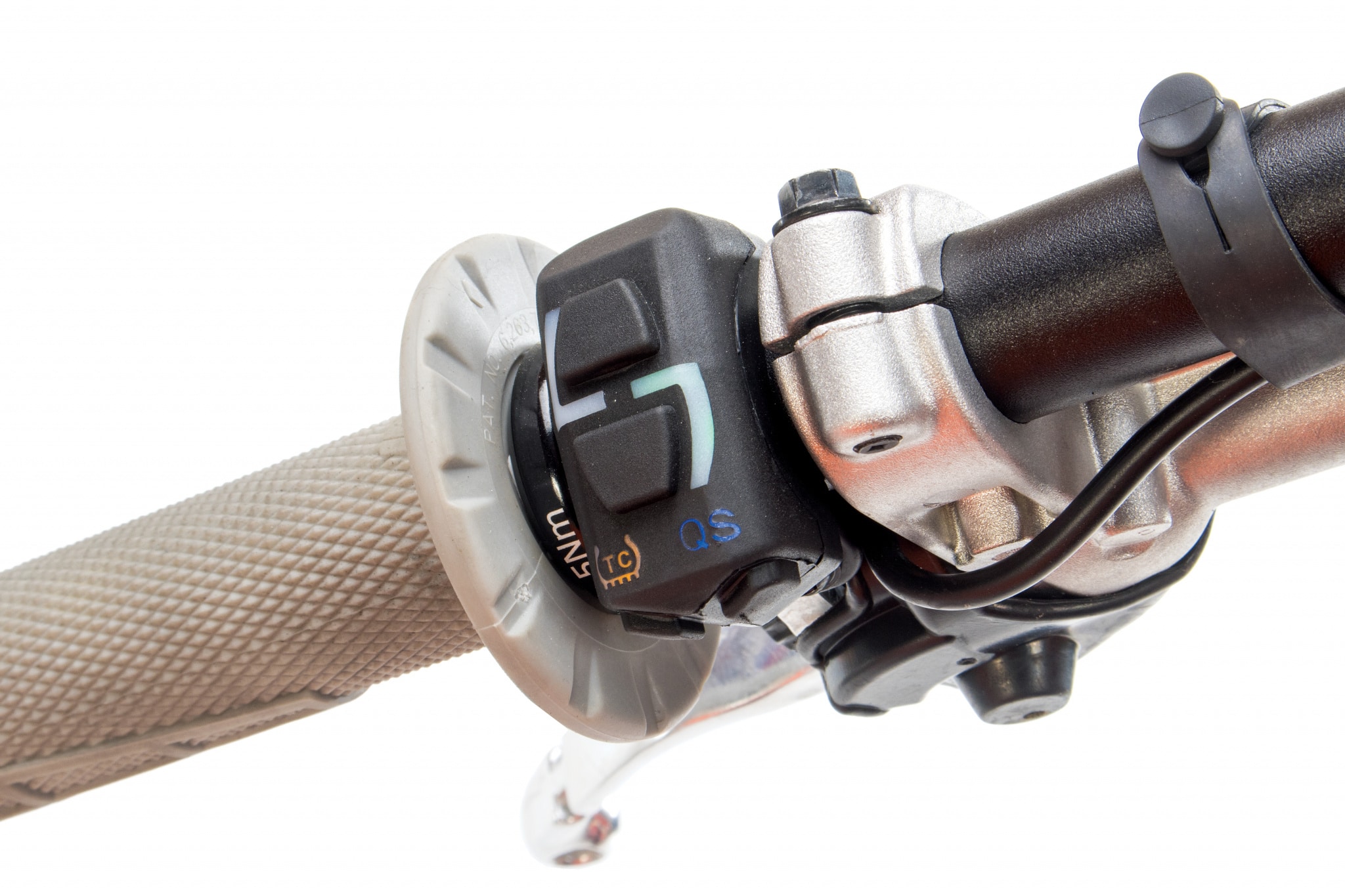 Q: WHAT DO WE REALLY THINK?   
A: The 2022-1/2 KTM 450SXF Factory Edition is a harbinger of things to come. It is also a first-year model, and, according to the unwritten manual of common motocross wisdom, you should never buy a first-year model. But Factory Editions are immune to common sense because KTM makes so few of them, and all are snapped up by guys who are either filthy rich or just want a status-symbol piece of machinery; however, for the common man, we suggest skipping the Factory Edition and waiting for the true-to-life 2023 KTM 450SXF. With the money you save, you can build a race bike with the pipe, wheels, triple clamps and graphics you want.
MXA'S 2022-1/2 KTM 450SXF FACTORY EDITION SETUP SPECS
This is how we set up our 2022-1/2 KTM 450SXF Factory Edition suspension for racing. We offer it as a guide to help you find your own sweet spot.
WP AER FORK SETTINGS
There is a learning curve to getting the most out of the WP XACT air forks. The KTM WP XACT air fork has one Schrader valve to put air in or take air out. The right fork leg is strictly damping, and the left leg is air only. KTM has a sticker on the air leg to guide you to the recommended air pressure. It is a very good starting point, but it's just a suggestion, not an ironclad law. MXA has test riders who run as much as 165 psi and test riders who run as low as 135 psi. The 2022-1/2 forks have the potential to be great. For hardcore racing, we recommend this fork setup for an average rider on the 2022-1/2 KTM 450SXF Factory Edition:
Spring rate: 158 psi (10.9 bar)
Compression: 14 clicks out (12 clicks out)
Rebound: 15 clicks out (18 clicks out)
Fork-leg height: Third line
Notes: The 2022-1/2 KTM 450SXF Factory Edition comes with rubber rings on each leg to allow the rider to see how much travel he is getting at a given pressure, but the orange rings wear out and slide down by themselves after a couple of hours. We were bothered by the fact that Factory Edition forks didn't want to use all of their fork tube travel. The forks need six hours of break-in time before they smooth out and work to their fullest.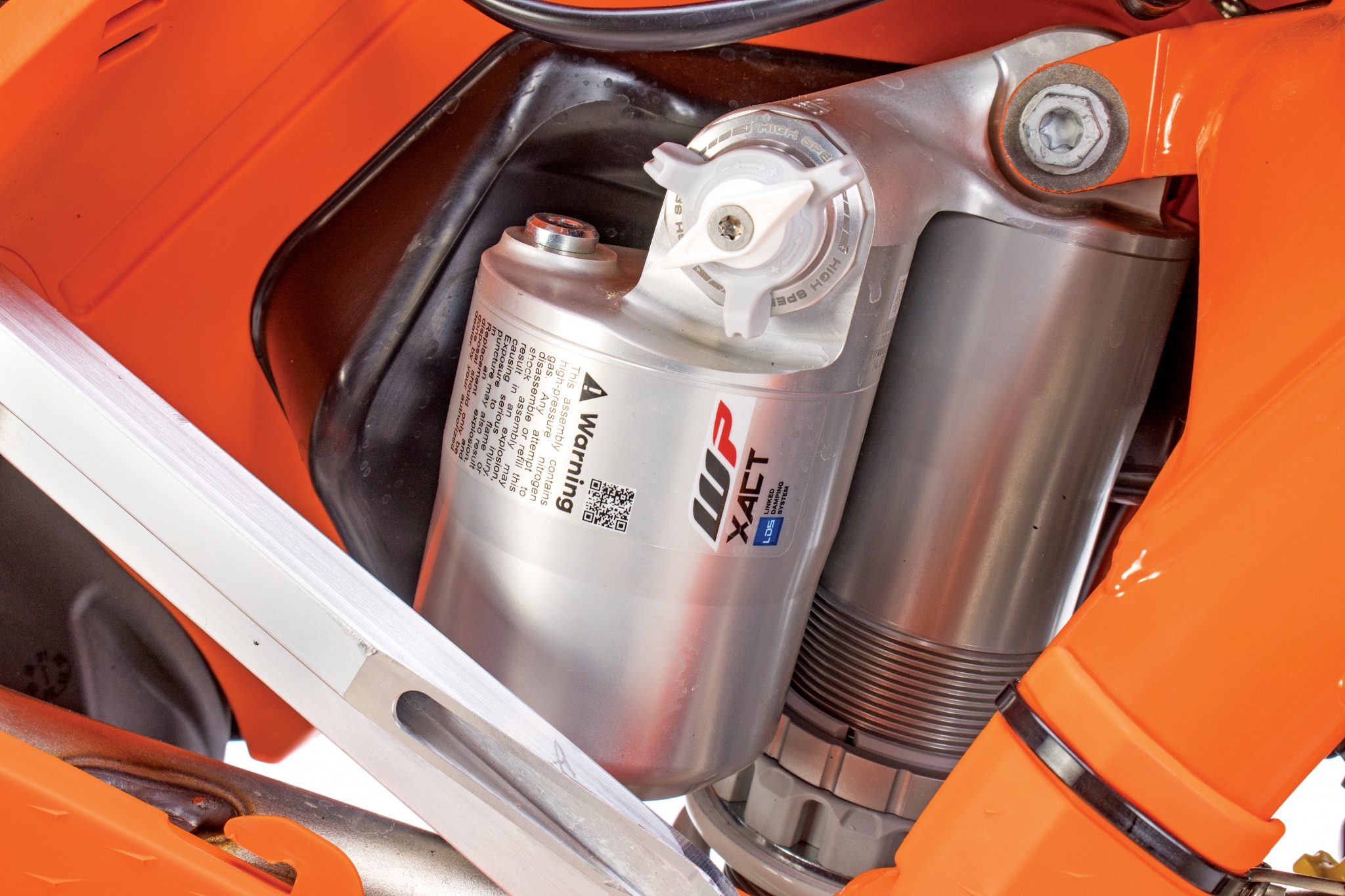 WP SHOCK SETTINGS
Most MXA test riders liked the overall feel of the WP rear shock, especially after KTM lowered the shock spring rate in 2017 from 48 N/mm to 45 N/mm. WP did make some technical changes to the WP XACT shock to make the damping stiffer. We run the low-speed compression on 15 clicks out, the high-speed compression 1-1/2 turns out, the rebound on 15 clicks out and set the sag at 105mm. For hardcore racing, we recommend this shock setup for the 2022-1/2 KTM 450SXF Factory Edition:
Spring rate: 45 N/mm (for 175 and up pounds), 42 N/mm (for riders under 175 pounds)
Race sag: 105mm
Hi-compression: 1-1/2 turns out
Lo-compression: 15 clicks out
Rebound: 15 clicks out
Notes: Static sag, measured without the rider on the bike, should be between 30mm and 40mm. To measure static sag, first set your race sag to 105mm. Next, take the bike off the stand and have someone hold it vertically while you measure how much the rear suspension sags without a rider on it. If your static sag is more than the recommended 40mm, your spring may be too stiff for your weight. In this case, the spring is not compressed enough to allow the suspension to extend far enough on its own. If your static sag is less than 30mm in the rear, the spring may be too soft for your weight. In this case, the spring requires so much preload to achieve the proper race sag that it makes the rear suspension prone to topping out under a load.