MXA RETRO TEST: WE RIDE CHAD REED'S 2004 YAMAHA YZ250
Editor's note: We sometimes get misty-eyed thinking about past bikes we loved, as well as ones that should remain forgotten. We decided to take you on a trip down memory lane with bike tests that got filed away and forgotten in the MXA archives. Here is our test of Chad Reed's 2004 AMA Supercross Championship-winning factory Yamaha YZ250.
By Tim Olson
Ever had a perfect day? You get up on the right side of the bed—the side where the floor is nice and warm. Your shower water is the perfect temperature. The little woman at the diner fixes your favorite breakfast. The ride into work is traffic-free. Your boss congratulates you on a job well done and stuffs Jeffersons into your pockets. The lottery ticket you found on the way to lunch turns out to be a winner, and Team Yamaha calls to ask if you'd like to ride Chad Reed's Supercross-winning Yamaha YZ250 two-stroke.
Those kinds of days are few and far between. And, I have to admit, I don't always hit the ground running. The floor isn't always comfy. The shower is warm until someone in the tri-state region flushes. Breakfast is often little more than a handful of Triscuits. Traffic is a bear every day in SoCal. My boss isn't prone to platitudes, and, if I won the lotto, do you really think I'd be typing this?
On the other hand, the phone at the palatial MXA offices did ring. It was Team Yamaha on the other end. And, just as good as winning the state lottery is winning the works-bike lottery. Yamaha wanted the MXA wrecking crew to ride Chad Reed's 2004 YZ250. That made my day. You could say that I'm the luckiest man alive (when it comes to riding the world's best bikes). I've personally ridden Carmichael's (both KX and CR), Pastrana's, Ferry's, McGrath's (CR, RM and YZ), Brown's, Walker's, LaRocco's, Wey's, Lewis', Pichon's, Everts', Henry's, Hughes' and Langston's race bikes. Not a bad list if I do say so myself—and the only guy who has ridden more works bikes is Jody. His list makes mine look like a piker.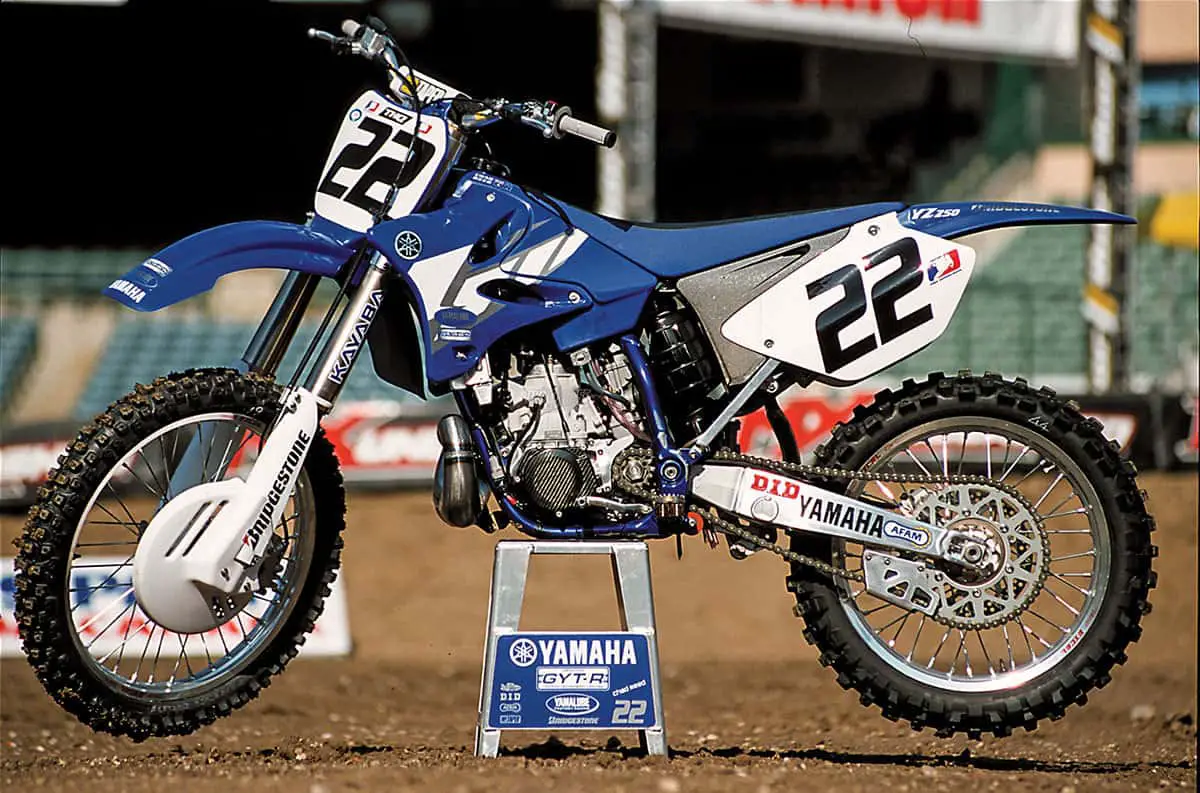 Chad Reed's bike would be another notch in both our guns. Getting to ride Reed's Supercross-winning bike sounds like a great idea, but you must remember that we planned to ride it in the exact condition that it rolled off the track. We asked Team Yamaha not to clean the bike—just bring it directly from Anaheim Stadium to Glen Helen Raceway.
"I GET EXCITED. I STARTED GETTING GOOSEBUMPS. I HAD WATCHED CHAD REED AND KEVIN WINDHAM ENGAGED IN AN EPIC BATTLE THAT SATURDAY NIGHT, AND IN LESS THAN AN HOUR, I'D BE RIDING THE SAME BIKE THAT 45,000 PEOPLE HAD BEEN CHEERING FOR (OR AGAINST)."
A confession is in order here. I get excited. As I aimed up the 15 freeway in the direction of San Bernardino, I started getting goosebumps. I had watched Chad Reed and Kevin Windham engaged in an epic battle that Saturday night, and in less than an hour, I'd be riding the same bike that 45,000 people had been cheering for (or against). Even better, as I pulled up to the track, Chad's YZ250 still had Anaheim dirt encrusted on the tires.
Before I even grabbed my gear, I had to check out the bike. Team Yamaha made big changes this year. The plastic and the graphics haven't changed radically since Clinton was president, but the important stuff is completely new. The new AMA gas rules forced the boys at Team Yamaha to change their engine spec. The suspension got a complete redesign. The forks are all new. The shock is new. The linkage is new. The list of works parts is impressive. The hubs are magnesium. The tires are one-off Bridgestones and the silencer is a carbon fiber Pro Circuit model that you can't buy.
But, some of the works parts are available over the counter. The GYTR footpegs, clutch cover, ignition cover and clutch perch are all available from your local Yamaha dealership. And, the Pro Circuit pipe is an off-the-shelf unit.
Works bikes don't travel alone. They need a security detail. So who did Yamaha send out to Glen Helen? Yamaha's Terry Beal. Terry was the man who hooked up the whole deal. That was it. No entourage. No hordes of execs. No engineers from the factory. And, no sightseers. We had Glen Helen to ourselves—just us and Chad Reed's bike.
Getting to ride a factory rider's personal machine gives you insight into what they think and feel. Not in terms of style or speed, but in terms of bar, lever and suspension settings. Within two laps I was back at the Yamaha truck begging them to raise the bars. I'm only a few inches taller than Chad, but he's part of the low-bar crowd. The lever position was fine, and I left the suspension alone for the first test session.

I had heard rumblings in the Supercross pits that the works YZ250s don't run well until they are warmed up, but I didn't believe it. I should have. To say it needed to be warmed up was an understatement. You have to get it scorching hot.
"GETTING TO RIDE REED'S SUPERCROSS-WINNING BIKE SOUNDS LIKE A GREAT IDEA, BUT YOU MUST REMEMBER THAT WE PLANNED TO RIDE IT IN THE
EXACT CONDITION THAT IT ROLLED OFF THE TRACK. WE ASKED
TEAM YAMAHA NOT TO CLEAN THE BIKE."
Why is it so cold-blooded? Blame the AMA and its stupid unleaded gas rule. I fouled a plug almost immediately—and I haven't fouled a plug on a stock bike in 15 years. I felt like a chump until Terry broke it to me that Reed, Ferry, Vuillemin and Lusk all have the same problem. To prove it, Terry showed me the four $25 spark plugs that he had tucked in his tool pouch. As it would turn out, I'd need another before the day was over. With the engine nice and warm, I was ready to bust some laps and see what Reed's bike was capable of in the hands of a mortal man.
The first thing I noticed was the tires. They may have been Bridgestones, and they may have had 601 and 602 embossed on the sidewalls, but these weren't the junk-heap 601s that we are used to throwing away. They had nothing in common with the production tires. Perhaps Bridgestone could do its tainted image some good by coming out with a set of race-replica tires like Dunlop did with the D756.
The second thing that caught my attention was the rear suspension. It handled every bump, tracked straight and begged to be used to its fullest. This is great rear suspension, and what makes it even more impressive is that I was riding it on a beat-up outdoor track, not the Supercross layout it was designed for. I can only imagine how good Yamaha's outdoor setup must be if its Supercross spec is this good.

The third biggest impression came from the powerband. The Bob Oliver-built engine is barky, powerful and fast. It goes without saying (although I am saying it) that you have to keep it running wide open all the time. Any time I coasted, I could hear it burble. I lived in total fear of fouling another plug. So, I would pull the clutch in and blip the throttle to clean it out. The power is broad. When you roll it on, it picks up quickly. It does its best work in the midrange and revs considerably farther than a stock YZ250, which we brought out for comparison purposes. Unlike the stocker, Reed's power delivery G-loaded you back in the saddle, lifted the front wheel on the exit of turns and shrieked through the normally pleasant YZ power curve. It was fast. Not easy to ride, but fast nonetheless.
The fourth most prominent thing on Chad Reed's YZ250 were the forks. They were stiff! Surprised? I wasn't. The 50mm Kayaba works forks are valved for Supercross. They have to be stiff. But, what did surprise me was the action of the forks. They actually moved up and down when they hit little and medium-sized bumps. This is something most Supercross-spec'ed forks don't do. Knowing that they moved, and with the blessing of Terry Beal, I took 12 clicks of compression out of the forks and went out for another long stint on the bike. What a difference! I can honestly say I could have raced the bike just like it was—and I'm talking about outdoors. Those 12 clicks made such a difference, it was unbelievable.
"THEY MAY HAVE BEEN BRIDGESTONES AND THEY MAY HAVE HAD 601
AND 602 EMBOSSED ON THE SIDEWALLS, BUT THESE WEREN'T THE
JUNK-HEAP 601s THAT WE ARE USED TO THROWING AWAY."
The fifth thing I perceived came when I tried to shift through the gears on a long straight. Surprise! Yamaha turned the five-speed YZ250 into a four-speed for Supercross. If I had to break down the time I spent in each gear, it would break down like this—30 percent in second, 60 percent in third and 10 percent in fourth. I never used first on the track, and I couldn't use fifth—because there wasn't one.
The sixth thing I noticed was the individual components. We loved Chad Reed's clutch perch, footpegs, shift lever, brake lever and throttle setup. The brake lever was not too high—even Jody, with his old-school low-pedal preference, liked Reed's pedal position. The GYTR clutch setup was easy to adjust, and with a perfectly lubed cable, the clutch pull was light. The footpegs are the best in the business. If you own a Yamaha and want new pegs, get the GYTR pegs. They make almost every other peg company jealous (not all of them, because LightSpeed makes close copies). Reed runs his shift lever in the stock position, and shifting was accurate and trouble-free.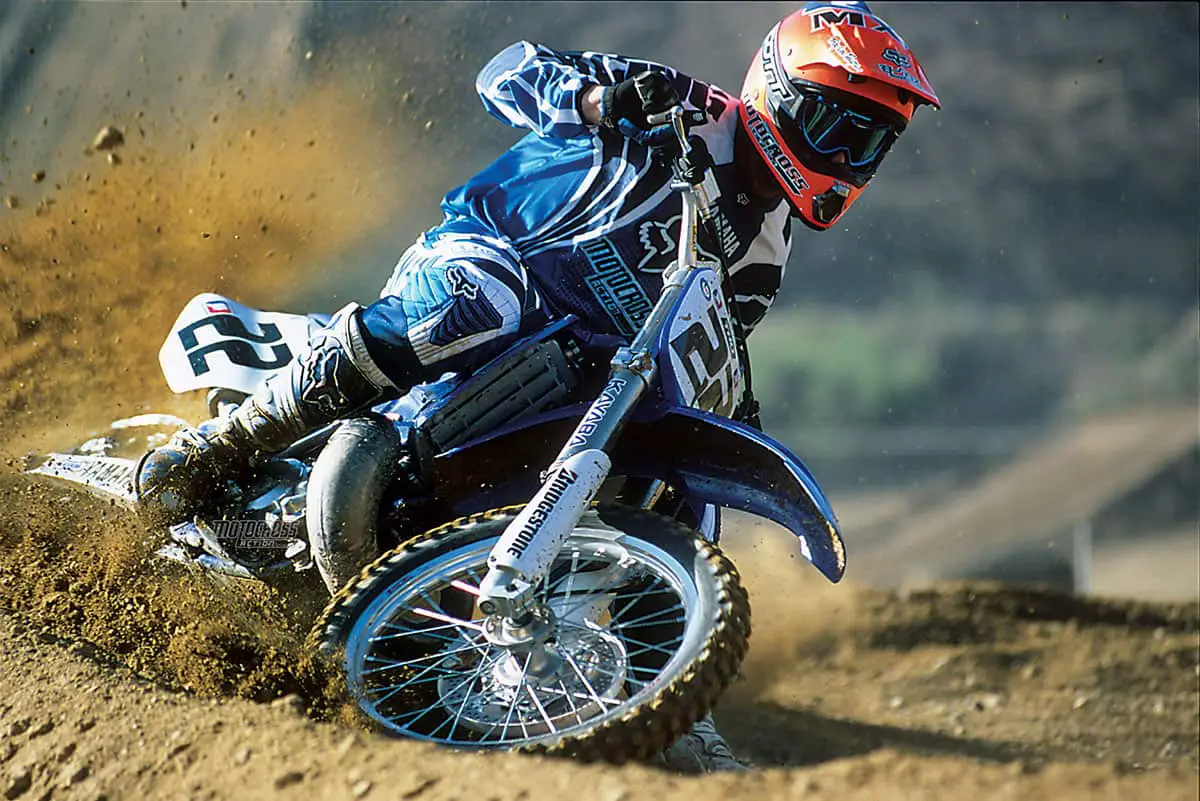 The seventh most striking aspect was that the grip tape on Reed's airbox ate my leathers and boots in less than two hours of riding. My pants were shredded worse than if they had been melted by a four-stroke pipe. Why worse? Unlike a four-stroke, which melts one side, Reed's grip tape gnarled up both knees. The top of my boots didn't fare any better.
All great days must come to an end, and unlike a lotto winner who gets to take his money home (in 20 yearly payouts), I unfortunately had to help the Yamaha guys load Chad Reed's bike up in the back of their box van (even though my truck was empty). Hey, at least I can say I got to ride his bike. I must be a lucky guy. What's the jackpot for the California Lotto this weekend?