MXA RETRO TEST: WE RIDE CHAD REED'S 2009 MAKITA/SUZUKI RM-Z450
We get misty-eyed sometimes thinking about past bikes we loved, as well as ones that should remain forgotten. We take you on a trip down memory lane with bike tests that got filed away and disregarded in the MXA achieves. We reminisce on a piece of moto history that has been resurrected. Here is our test of Chad Reed's Factory 2009 Makita/Suzuki RM-Z450.
The 2009 season will go down as one of the most exciting championship battles of the last decade. Chad Reed and James Stewart went toe to toe all the way to Las Vegas. Had the finale played out slightly differently, Reed would have earned his third Supercross title. It wasn't meant to be, but not without a lack of drama or questionable riding tactics. The rub seen around the world has been debated in motocross circles for months; however, the reality of the situation is that James Stewart is the 2009 AMA Supercross Champion (and that Stewart and Reed will not be sending one another Yuletide greeting cards).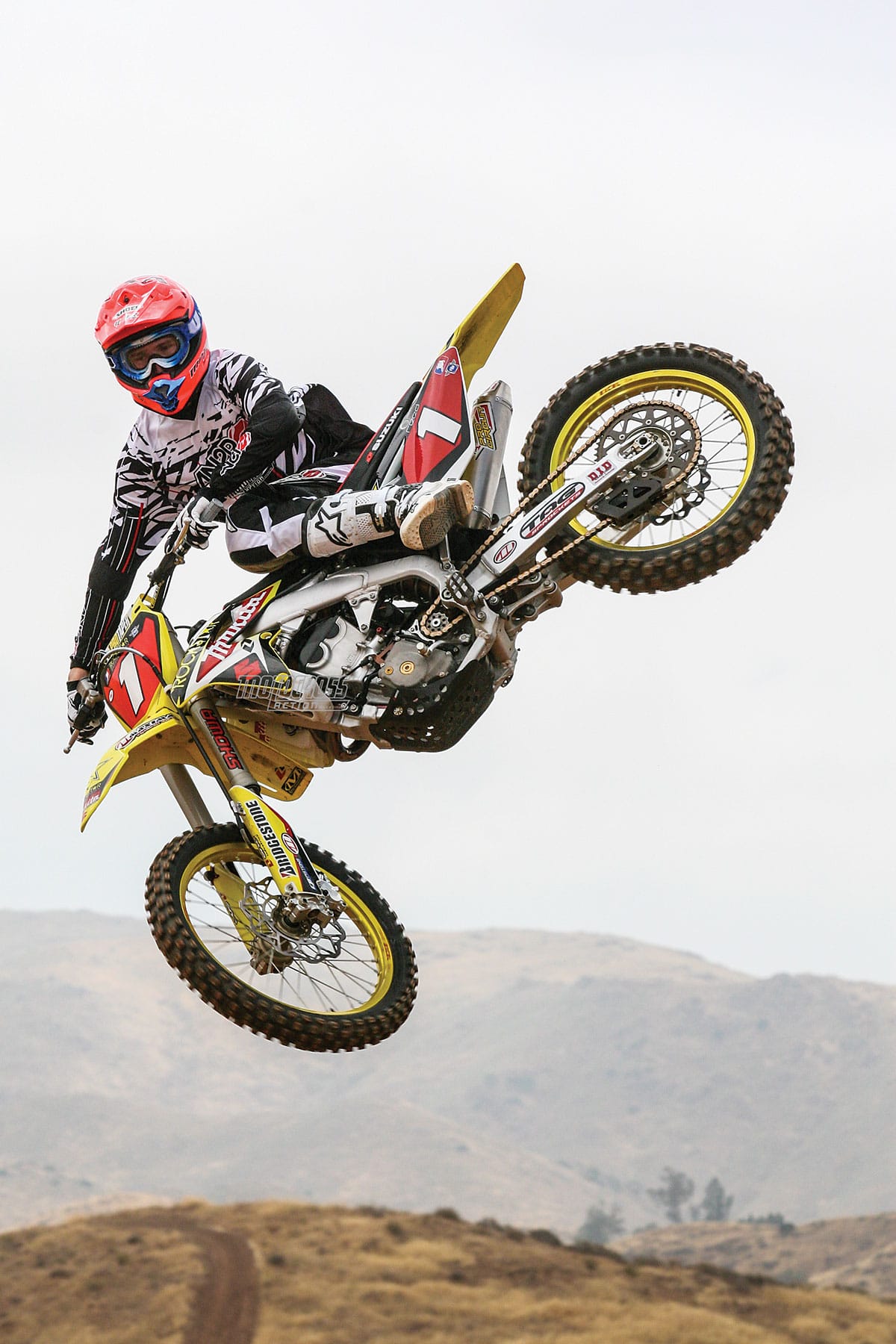 While the 2009 National series was finishing up in August, Chad Reed was searching for a ride. He didn't think it would be a problem' since he was the reigning Supercross Champion. He was wrong! It wasn't until rather late in the game that Makita/Suzuki, with the help of Rockstar Energy, signed Reed to a one-year deal. Chad became the biggest high-profile name since Ricky Carmichael to ride under the Suzuki banner, and he also became the points leader in the young Supercross series after a run-in with James Stewart at round one. Throughout the season, the two swapped paint and the points lead several times before Stewart finally sealed the deal in Las Vegas. 
No one likes to finish second in the Supercross Championship—butinstead of brooding about the loss for the next seven months, Chad Reed has moved on to greener pastures by racing the Nationals. Reed hopes to win the 450 National Championship, a title that has evaded him. 
The ever-inquisitive MXA wrecking crew called Roger DeCoster and inquired about the possibility of testing Chad's RM-Z450. It didn't take long to hear a positive response, and in short order we found ourselves on Chad's bike at Suzuki's private test track.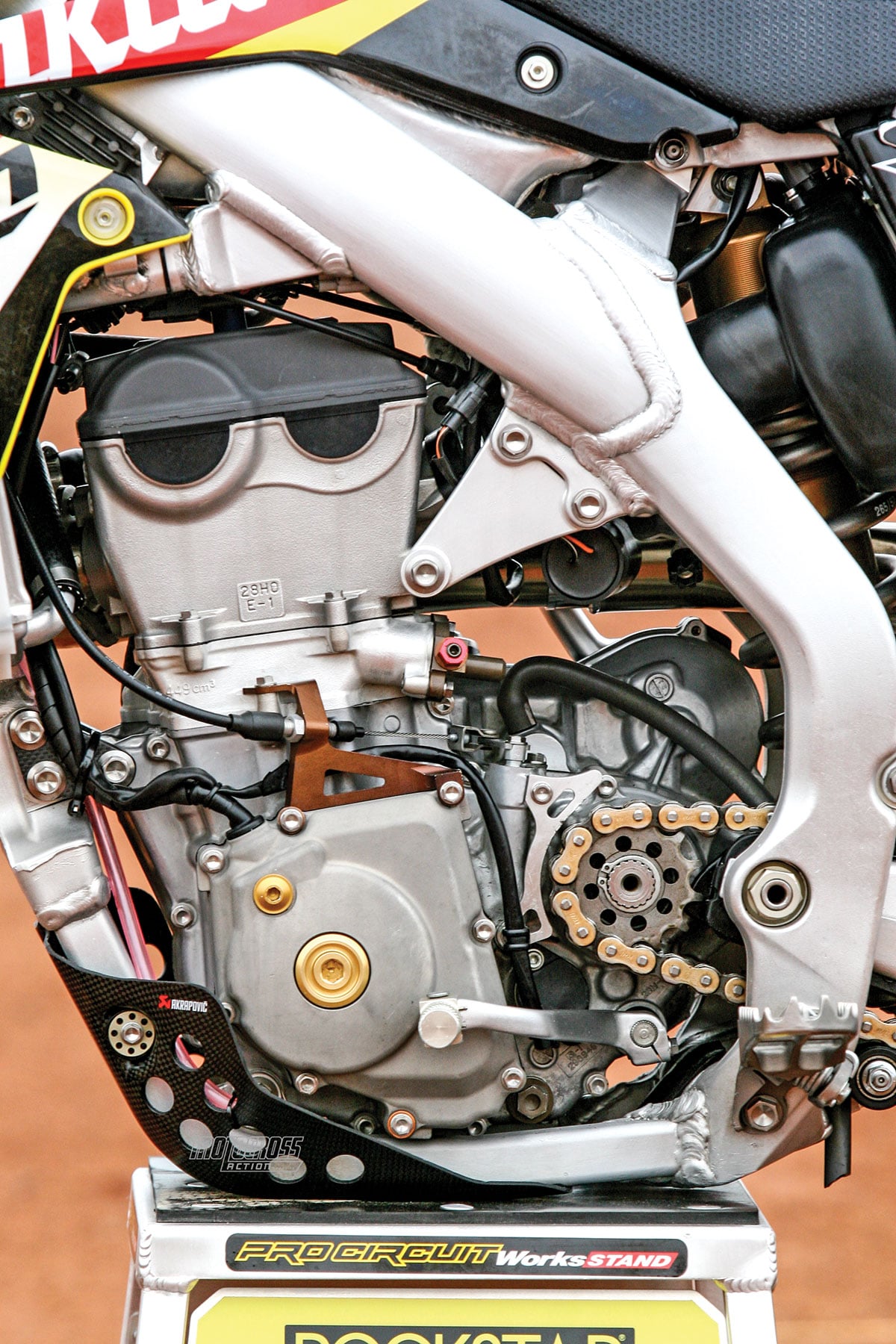 SHOP TALK: DISCUSSING THE COMPONENTS
There's an involved process in testing any motocross bike, but it becomes especially difficult when analyzing a factory bike. From the outside looking in, most people would jump at the opportunity to ride a works bike. After all, you are given intimate time with a one-of-a-kind machine and the opportunity to ride it for as long as you please. However, there is an exorbitant amount of information that needs to be covered in order to fully understand the bike. 
The MXA wrecking crew had to play a cat-and-mouse game with the Makita/Suzuki mechanics when dissecting Chad Reed's RM-Z450. We searched for every kernel of information that we could glean, while the Suzuki mechanics did their best to give no quarter. Why? Loose lips sink ships, and the last people factory teams want to tell their million-dollar secrets to is MXA. Roger DeCoster couldn't make it to our test, which was unfortunate, because Roger is very honest and forthcoming. He knows what's secret and what's not. The mechanics were unsure of what was secret and what wasn't, so, in an effort to protect their jobs, they were very vague in their descriptions. It wasn't our first rodeo, though, so it didn't take us long to start getting real answers to our questions. Case in point: when we mentioned the engine modifications, they told us that Reed's powerplant was stock. Even those members of the MXA wrecking crew who are still wet behind the ears saw through the cloud of donkey dung. 
Most of the specifications on Chad Reed's factory RM-Z450 were easy to spot. The frame, swingarm and engine cases were stock, because the AMA rule book states that these parts must remain production. Also on the stock list were the aluminum gas tank, radiators, 1.6 radiator cap, engine cylinder and plastic. 
With the help of a few key aftermarket companies, the stock 2009 RM-Z450 was transformed from an also-ran into the perfect weapon for Reed to win on. Pro Circuit not only handled the exhaust duty (Ti-4R full race system), it also secured the rear brake pedal (brake snake) and helped the Suzuki keep the front end down on starts (holeshot device). Pro Taper provided full-waffle hard-density grips and low-bend handlebars. Tag Metals took care of the gearing (13/51 for Supercross tracks and 13/49 for outdoor tracks). D.I.D. put power to the ground with the chain. Twin Air handled the air filter, while NGK spark plugs, CP Pistons, Hinson clutches, Excel rims, Bridgestone tires, One Industries graphics and Maxima oil handled the rest. Thanks to the wildly popular Maxima SC-1 spray, Reed's bike looked sharp and shiny.   

A factory bike is supposed to have all the expensive bells and whistles that aren't for sale. Reed's RM-Z450 didn't disappoint. Every square inch of the Suzuki was studied, massaged and made better. No stone was left unturned, evidenced by the extensive list of works parts. 
Suspension: At the top of the list was the Showa suspension. With parts that were superior to the stock offerings, larger components and better actuation and flow, the Showa units were the bread and butter of Reed's RM-Z450 package. Unfortunately, anyone other than Chad Reed and Mike Alessi is out of luck if they want to get their hands on this version of Showa works suspension. AMA ruling doesn't allow 250 Supercross riders to use suspension that's not available to the public, so Ryan Dungey and Nico Izzi raced with Showa A-Kit suspension. 

Components: Also on the works parts list were the integrated hot-start lever/choke, titanium footpegs (although they were the same width as stock), brake rotors, front brake caliper, 20mm offset triple clamps, bar mounts, transmission, carbon fiber engine spacers, titanium pivot bolt, engine head, valves, camshaft, crank, ignition, hubs, axles, linkage, levers, skid plate, shifter, and titanium nuts and bolts (the heads on the bolts were drilled out for even greater weight savings).
What wasn't on Chad Reed's bike that we expected to see? The parts were few and far between, but mostly we were surprised to discover that in its Supercross mode, Reed's RM-Z450 lacked a radiator catch tank or external shock reservoir. These two parts aren't imperative for improved performance, especially in Supercross. Nevertheless, we were surprised that Suzuki didn't have any interest in utilizing those (sometimes) advantageous parts.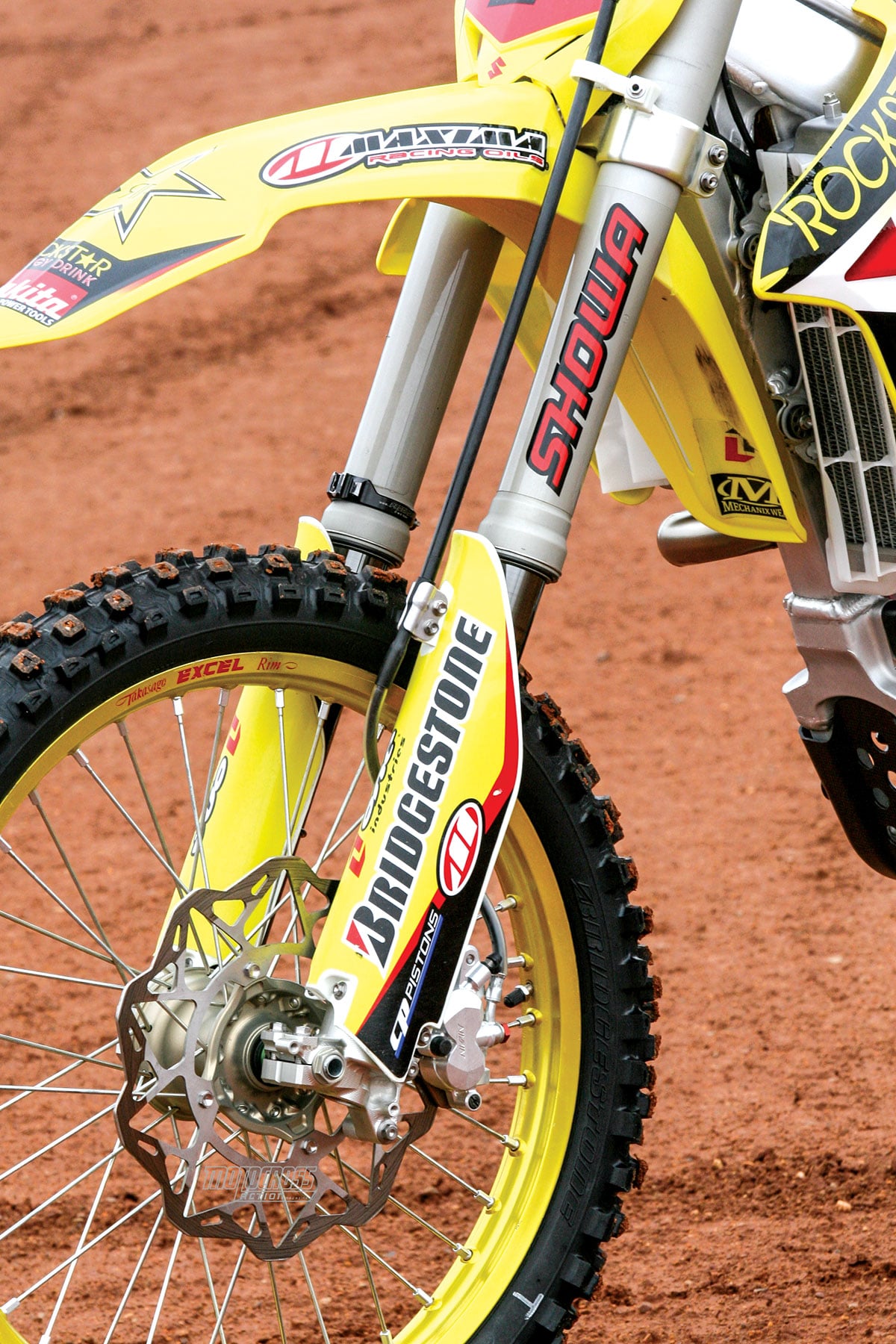 TEST RIDE: HOLD ON AND PRAY
Chad Reed isn't normal in any sense of the word. He is lightning fast, adapts quickly to track changes, never gives up and isn't from this continent. Chad is, however, normal in stature and weight. The 27-year-old stands at 5-foot-11 and tips the scale at 160 pounds. His average stature excited every single MXA test rider. Why? The average test rider on the MXA wrecking crew stands about 5-foot-11 and weighs about 180 pounds. You're probably wondering why we would be so elated that Reed weighs 20 pounds less than most MXA test riders. If you have ever ridden with works-bike suspension, then you know that it doesn't move. The only way an average motocross racer can get the forks and shock to budge is by being extremely fast or having a bulbaceous body profile. We figured that our heavier weight would average out and force the suspension to move. We were right.
Reed's Showa works suspension was nice, which was shocking to say. It is rare that the suspension of a top Pro is actually usable. In fact, one month ago we tested James Stewart's L&M YZ450F and could barely get an inch of travel out of his forks. Reed's works units were remarkably manageable' especially compared to Stewart's. On a motocross track, it was very stiff, but for Supercross, the suspension felt metered and balanced. Lighter riders found that the front end was slightly stiffer than the rear, which caused riders to jump nose high. After one MXA test rider nearly looped out over a double, a quick shift in body positioning towards the front of the cockpit remedied the problem.
When asked to describe Reed's engine profile, words like "powerful," "smooth" and "aggressive" came up. Typically, when discerning the characteristics of an engine, it's rare to hear words like smooth and aggressive in the same sentence. Then we learned that Chad Reed's RM-Z450 engine had two distinct personalities. Off the bottom, the engine was smooth and powerful, but once in the midrange, the bipolar powerplant became very responsive and aggressive. Every test rider raved about the dynamic engine performance. At low speed, the RM-Z450 was manageable. As the rider twisted the throttle, he was rewarded with a powerband that begged to be pushed to the limits. 
The MXA wrecking crew has learned quite a few things about Chad Reed simply by riding his bike. For example, we knew that Reed wasn't very kind to his clutch. The clue? His overly stiff clutch springs were built to take abuse. He also had a slightly schizophrenic personality. How so? His clutch and brake lever weren't even. The cast clutch lever was higher than the billet front brake lever. At first, the dissimilar levers felt awkward, but weren't even noticeable after a few laps of riding. Chad is very set in his ways. We figured this out the first time we applied his brakes. They were very powerful, which was made readily apparent by his trash-can-lid-sized front brake rotor. The 280mm works rotor looked like it belonged on a GSX-R750.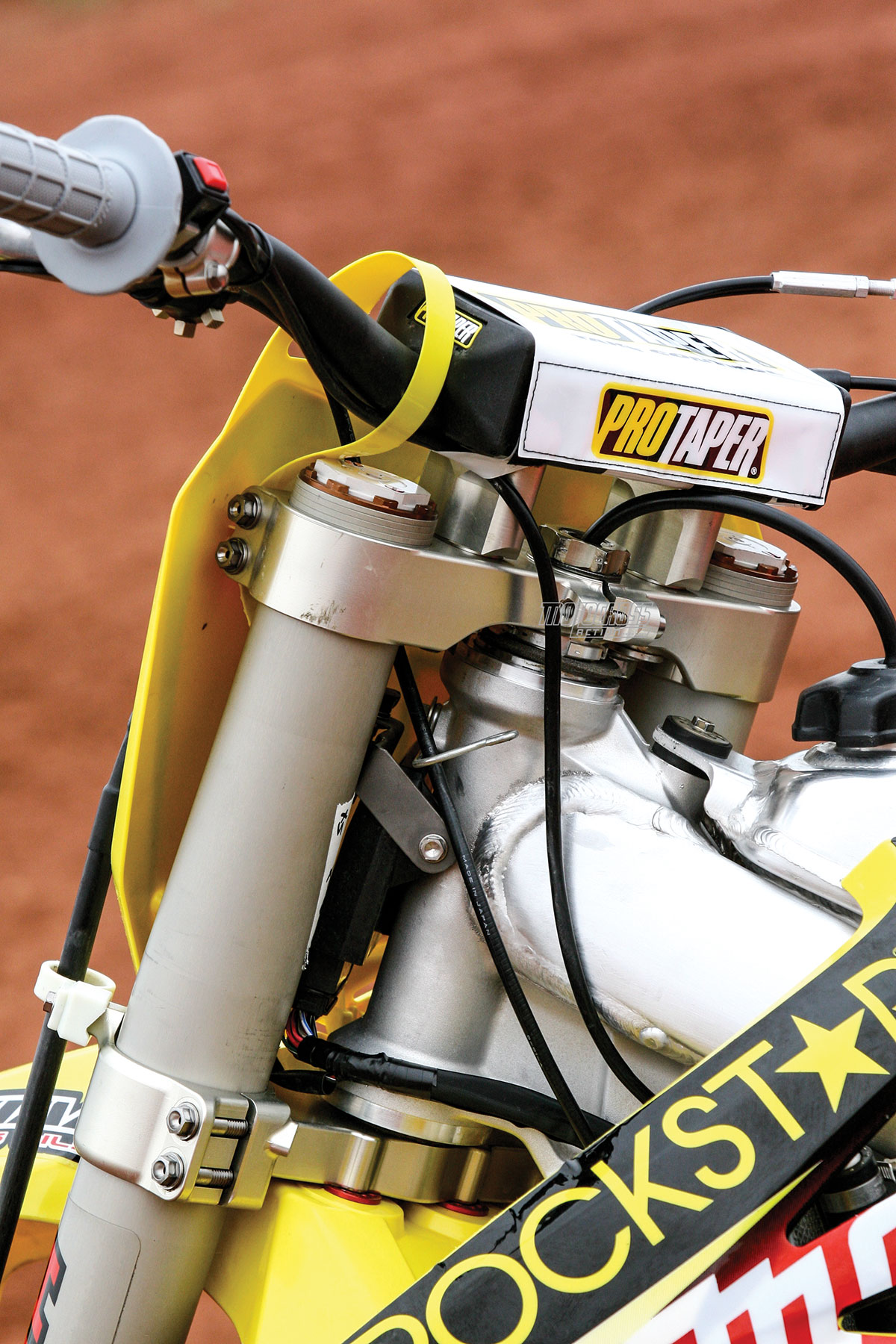 CONCLUSION: WHAT DO WE REALLY THINK?
Of all the Supercross bikes that we have tested in the last few years, Chad Reed's RM-Z450 stands out among the crowd. This isn't a surprise to us, because we have tested a lot of Suzuki works bikes in the past, and we have always been impressed by them (and to this day, Travis Pastrana's works Suzuki RM250 ranks as one of the greatest bikes we have ever thrown a leg over). Reed's engine was powerful yet manageable. The suspension actually compressed under a heavy load, and the overall bike setup was comfortable. Chad Reed didn't win the 2009  AMA Supercross Championship, but with the help of his works Suzuki, he (or his Suzuki-mounted teammate Mike Alessi) just might win the 2009 AMA 450 National Championship.