MXA RETRO TEST: WE RIDE DAMON HUFFMAN'S 1995 FACTORY SUZUKI RM125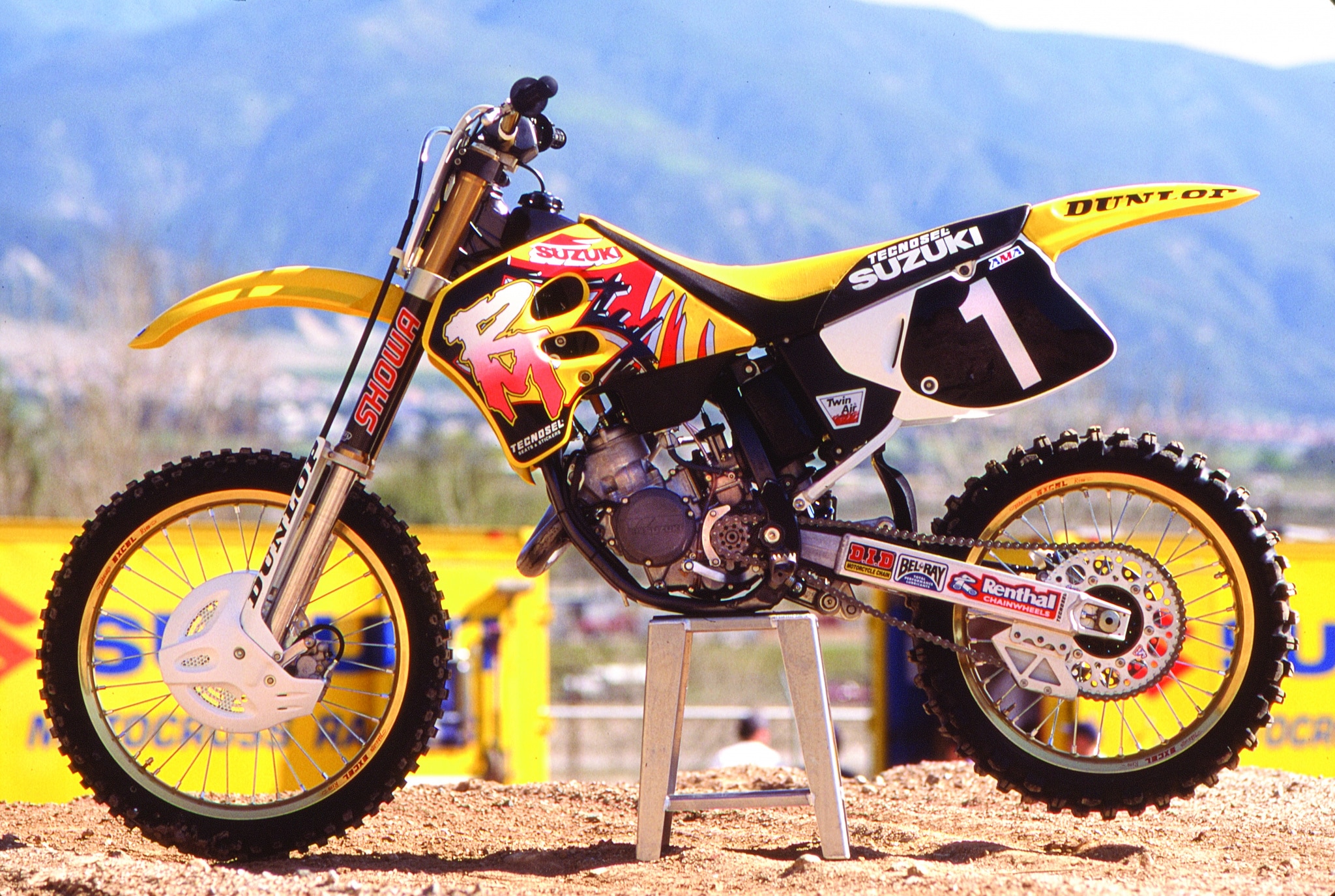 We get misty-eyed sometimes thinking about past bikes we loved and those that should remain forgotten. We take you on a trip down memory lane with bike tests that got filed away and disregarded in the MXA archives. We reminisce on a piece of moto history that has been resurrected. Here is our test of Damon Huffman's factory 1995 Suzuki RM125.
"The engine isn't that good," announced MXA test rider Larry Brooks as he skidded the winningest 125 Supercross bike into the pits. It was the wrong answer to a question no one had yet asked. It was met with stunned silence by Suzuki team manager Roger DeCoster and a host of Suzuki technical people. They were shocked. When offered the chance to ride the winningest 125 on the Supercross circuit, no one expected an MXA test rider to come back in and make discouraging statements. It was immediately pointed out that Damon had holeshot two out of four starts so far in this year's West Coast Supercross series, not to mention always being the first to the checkers. Damon's mechanic poured more gas into the factory RM125, and Larry was sent back out to spend more time getting used to the powerband.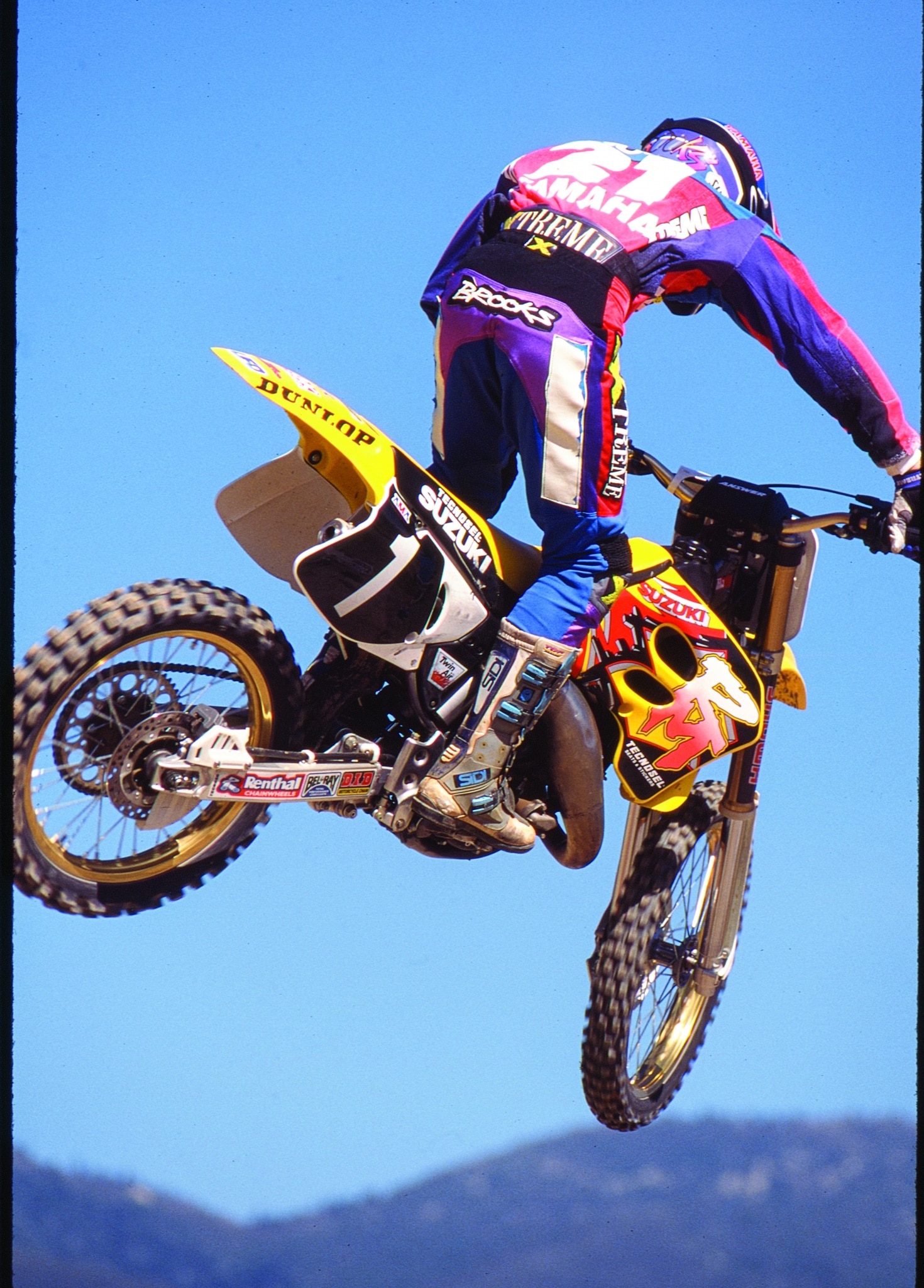 MXA test rider Larry Brooks was glad to get off of Yamaha's secret test track and get a chance to ride on Suzuki's secret track. It made it all the more fun to get to thrash on a fully prepped, Supercross-winning factory race bike.
FACTORY TESTING ON SUZUKI'S NEW SUPERCROSS TRACK
Testing factory race bikes is not something that many people get the chance to experience. Team manager DeCoster had offered to let the MXA wrecking crew ride the winningest 125 of the 1995 Supercross season, called Faithful #1 (Damon Huffman's factory ride). Damon didn't like the idea of anyone else riding his bike. Suzuki mechanic Tony Berluti didn't want us messing up the bike that he worked so hard on, and the factory was nervous about—well, they are just nervous all the time. Roger, Damon and Tony are nice guys, and, while they had qualms, they knew that they would get over them. While winning Supercrosses is nice, guaranteeing that people know you won on a Suzuki is the business they are in.
TESTING FACTORY RACE BIKES IS NOT SOMETHING THAT MANY PEOPLE GET THE CHANCE TO EXPERIENCE. TEAM MANAGER DECOSTER HAD OFFERED TO LET THE MXA WRECKING CREW RIDE THE WINNINGEST 125 OF THE 1995 SUPERCROSS SEASON.
Riding a factory bike offers a total reality check. Test riders often head into the experience with the preconceived notion that a "works" bike is going to be all engine—a fire-breathing, rip-snorting 125 mill that hits like a 250 and revs out like a banshee. It ain't so! The showroom-stock Suzuki RM125 won the "1995 MXA 125 of the Year Shootout" because it is slow and fast at the same time. The stock powerband is a paradox. It makes the lowest dyno reading on paper, yet on the track the bike makes steady, impressive and easy-to-use power. 
Damon's Supercross engine does its work in the midrange and did not offer lots of over-rev. A different top end is used outdoors that allows for a much longer and stronger high-end pull.
So, when full-time Supercross racer and MXA test rider Larry Brooks rolled into the pits and said what he said, the rest of the wrecking crew wasn't that shocked to find that Damon's 125 doesn't have the arm-wrenching type of power that the common man would assume is needed to win AMA Supercrosses. It makes plenty of power, but, just like on the production RM125, Damon's bike delivers it in a more user-friendly spread. It's an engine that, even in a hopped-up state, is more of a mix of power, hook-up, spread and usability than anything else on the track. It proves that it's not always who has the most power but how they use what they have.
"I didn't feel like the bottom hit as hard as I thought it would," commented Larry after another hour on the bike. "The midrange was pretty good, though, but to get there it was kind of flat on the bottom. It was no Kawasaki off the bottom, and I would compare the midrange to a Honda. It signed off a bit early; it just went flat. The pull would just hang there and wouldn't rev any further.
"It shifted like a regular Suzuki, which is sometimes cobby when switching a cog with the power on. The clutch was good. I used it a lot, and it never faded or grabbed inconsistently."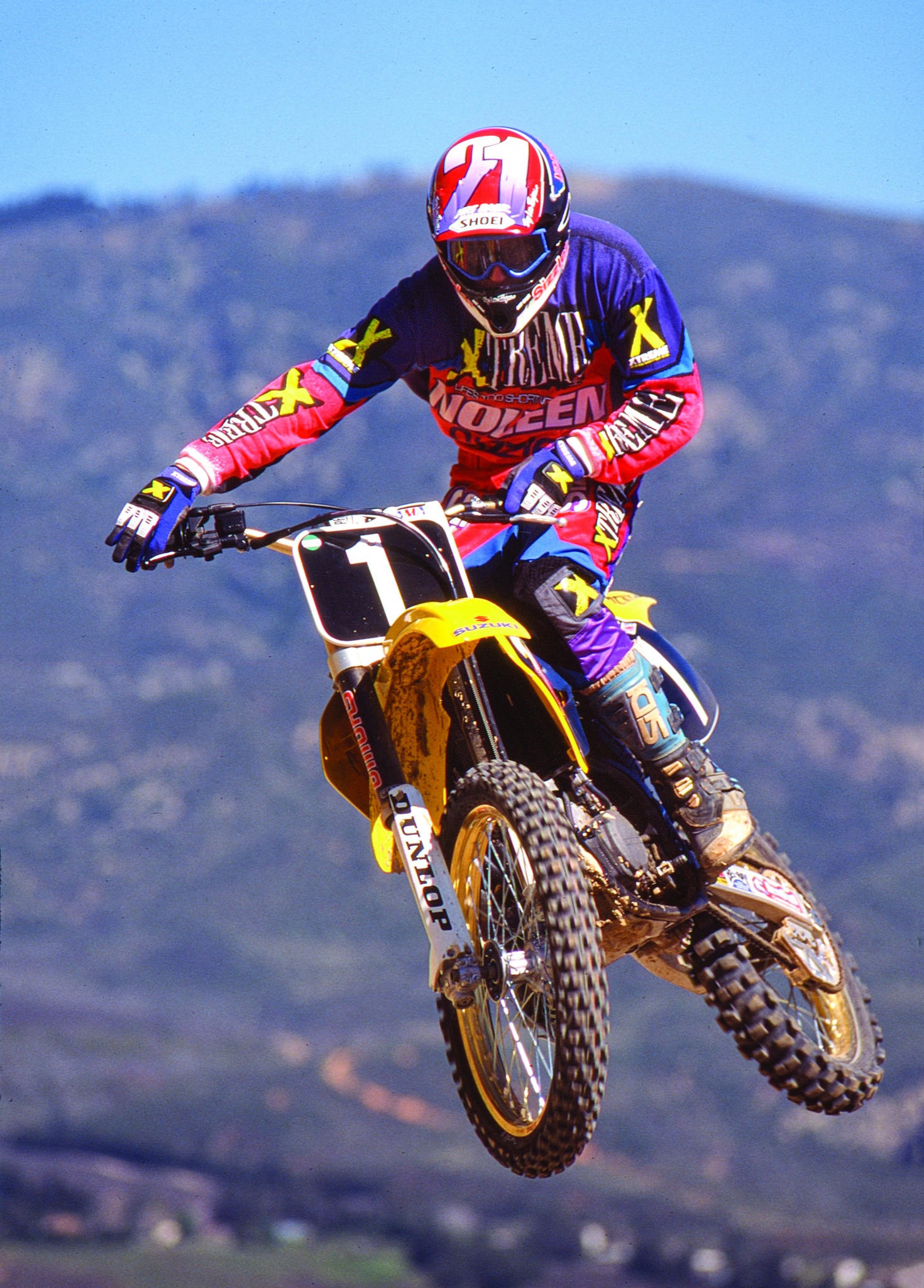 Except for the works ignition, gas tank, suspension internals and a few other miscellaneous fasteners and doodads, you, too, could build a Damon Huffman replica racer. It retains the ugly-duckling-turned-beautiful personality of the stocker.
WHAT ABOUT THAT WORKS SUSPENSION?
Per AMA rules, Damon's RM125 Supercross bike uses a production-based fork and shock, but that is where the similarity ends. The more progressive works linkage, different triple-clamp offset, factory fork and shock internals, and personal Showa suspension technician (Tsutomu "Tom" Kajino) all combine to deliver one of the best examples of quality plushness felt by anyone. The bike could hit any obstacle at Suzuki's private Supercross test track without the slightest trace of head-shake, packing, hard bottoming (or even faint bottoming), kicking or swapping; it was as close to perfection as suspension can get. That experience naturally leads us to the opinion that Damon Huffman's suspension and handling package are more of a factor in his and Suzuki's phenomenal 1995 success than the engine.
Larry Brooks loved the suspension: "The forks were awesome, probably the best set I've ever ridden with. I never felt them hit bottom, yet they were extremely plush in the beginning of travel and in the midstroke—a really progressive fork that could handle any jump or whoop and still be supple enough to let the bike turn perfectly.
"The shock wasn't as noticeably good as the forks were. It worked well but wasn't performing at quite the same 'unobtainable' level as the front end. I came up a little short on some of the jumps, and it damped it well and wouldn't just blow through the travel—a good, properly setup rear suspension. The balance between the front and rear was great.
"The brakes were really good, especially the front one. It uses a Honda Nissin brake master cylinder, and that is what I use on my Noleen bike. They make for a big improvement in the feel and power of the brake. I use the same handlebar bend on my bike and felt right at home with it. The bike had a good, light feel to it, and I could throw it around and put it anywhere on the track. Maybe I wasn't impressed with the engine because I spend most of my time on a 250, but to be honest, every time I swing a leg over a race CR125, I come away impressed with the way the engine runs.

"Due mostly to the careful setup, the overall feel of the bike was great, although I would have to say that the only thing that really felt works on it was the suspension. More than anything else, Damon is winning because of his suspension."
Even with the freer-breathing carburetor and top end, the Suzuki factory boys have found that both out on the track and in the dyno room the RM125 is more responsive when run with the standard airbox lid intact.
DAMON HUFFMAN'S RM125 SPECS
Want the same bike that Damon Huffman has? No problem. The MXA spec detective has ferreted out all the information you would need to build the bike of your dreams. Unfortunately, many of the parts are special one-off works items, but for the most part you could make your RM125 very close to Damon Huffman's. These are the factory Suzuki specs:
ENGINE
Horsepower: 34 claimed at the countershaft
Stock horsepower: 28.5 at the countershaft
Cylinder/head: Standard w/ works porting
Piston/rings: Standard
Cylinder clearance: 0.003"
Ring gap: 0.012-0.013"
Spark plug/gap: '96 preproduction NGK R6918B/8/0.7mm (0.0276")
Gas: VP-C12 108 octane
Premix oil/ratio: Bel-Ray H1R/32:1
Ignition black box: Kokusan Denki (retards quicker for more revs)
Ignition lower stator: Stock
Ignition timing: 0 degrees BTDC (standard)
Exhaust valves: Works (wider)
Exhaust valve governor/linkage: Standard
Exhaust valve adjustment: Tightened 1-1/4 turn
Carb: Keihin 38 PWK (36 PWK stock)
Jetting: 180 main, 60 pilot, 1467M needle in 3rd-clip position, #6 slide, air screw adjusted 1-1/2 to 2 turns out
Reeds: Standard block, stops & petals w/17mm top stiffeners (cut down stock petals)
Pipe: Unpainted works
Muffler: Bill's Pipes round aluminum
Crank: Standard

Clutch basket: Works hard-coated aluminum
Clutch plates: FCC sintered
Outer clutch cover: Standard
Inner clutch cover: Works magnesium
Gearbox oil: 800cc 80w Bel-Ray (+50cc for more cooling)
Water pump impeller cover: Works magnesium
Coolant: 50/50 distilled water/Texaco antifreeze
SUSPENSION
Forks: Showa twin chamber (re-valved production per new 125 Supercross rules)
Fork-oil height: 450cc (Showa does not use height measurement. In order to achieve the standard 170mm oil height, 435cc of oil is required per leg.)
Fork spring rate: 0.41 (indoor)/0.39 (outdoor)/0.38 (stock)
Triple clamps: Works magnesium top and aluminum bottom + or – up to 2mm (per track)
Shock: Showa revalved production
Shock pressure: 10 kg/cm (142.2 psi)
Shock spring rate: 5.0 (indoors)/4.8 (outdoors)/4.8 (stock)
Linkage: Works bottom link (more progressive)
CHASSIS
Weight: 203 lb. (stock-210 claimed)
Air box: Standard w/ top (air boot sealed for outdoors)
Air filter: Pre-oiled Twin Air
Air/manifold boots: Standard
Front sprocket: 12-tooth (standard)
Rear sprocket: 51-tooth (49 stock)
Chain: DID ERT 520 non-O-ring
Chain rollers: Works (lighter & smaller diameter.)
Handlebar/width: Answer Pro Taper/31.5
Clutch lever: Works shorty clutch
Clutch lever play: 5mm at lever ball
Shifter: Standard/level position
Throttle: Stock
Grips: Stock
Pegs: Factory titanium
Axles: Works chromoly
Gas tank: Works plastic (lighter)
Seat: Tecnosel standard cover
Graphics: Tecnosel 1995 works-Suzuki-style
Fork guards: Streamlined stockers
Rear master-cylinder guard: Works
Motor mounts, linkage pivots & body bolts: Titanium
Guide plate: Works aluminum
WHEELS
Front hub: Shaved and polished
Front rim: Takasago Excel 1.60" (stock width)
Front tire: Dunlop 490 80/100-21 (hard terrain), Dunlop 755 80/100-21 (soft terrain)
Front tire pressure: 10.5-11 psi
Rear hub: Works magnesium
Rear rim: Takasago Excel 1.85"(stock/2.15" (hard tracks)
Rear tire: Dunlop 695 100/90-19 (hard terrain), Dunlop 752 100/90-19 (soft terrain)
Rear tire pressure: 12-13 psi
Spokes: Standard