MXA RETRO TEST: WE RIDE JAMES STEWART'S LAST MINI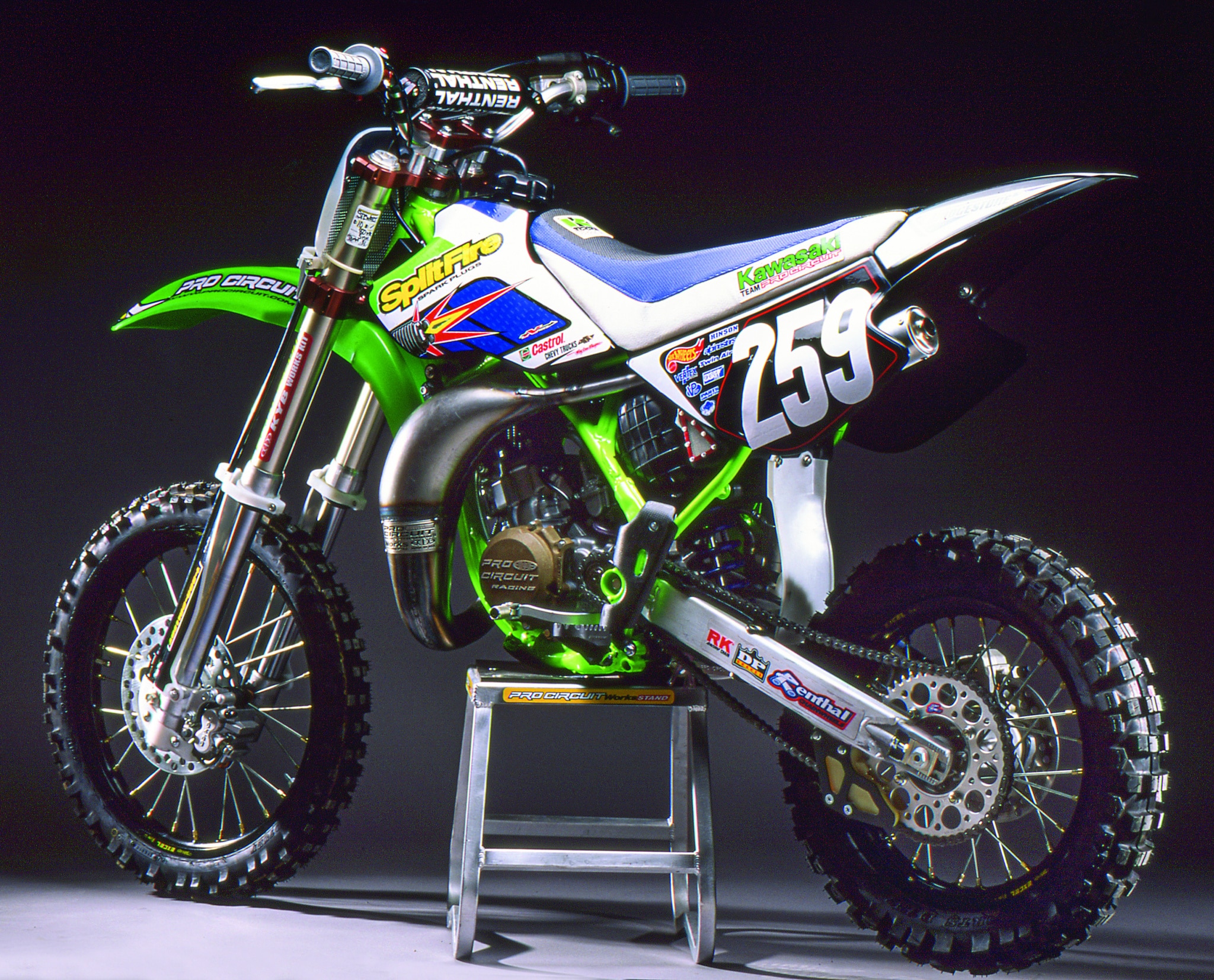 We get misty-eyed sometimes thinking about past bikes we loved and those that should remain forgotten. We take you on a trip down memory lane with bike tests that got filed away and disregarded in the MXA archives. We reminisce on a piece of moto history that has been resurrected. Here is our original February 2001 test of James Stewart's last mini. 
If you haven't heard of James Stewart, you need to crawl out from the rock you've been living under. James Stewart is the next Ricky Carmichael. He's not the next Jeremy McGrath, because James isn't following in Jeremy's footsteps as much as he is tracing RC's life to a T. He's won the same amateur titles as Ricky (only more). He's from the same state. He started at about the same age. He rides the same brand. He's Ricky Carmichael's clone, with one big exception—his intentions are to grow up and knock Ricky off his pedestal.
At the end of this last season, James Stewart graduated into the 125 ranks (in a big way we might add). He was involved in a first turn pileup in his first outing and suffered a shoulder injury). He's no longer a mini rider (which means his dad is no longer a mini dad).
But, before everyone forgets Stewart's minicycle success, we grabbed his SplitFire KX85 right out from underneath him (after he pulled off the Loretta Lynn track with his 10 billionth amateur championship) and took it home to SoCal so the MXA wrecking crew could see if he had an unfair advantage.
IF YOU CAN START OFF WITH A 2001 KX85, YOU'RE LUCKY (OTHERWISE YOU HAVE TO BORE OUT YOUR KX80). STEWART STARTED OUT WITH A BOX STOCK 2000 KX80 AND TORE IT DOWN TO THE FRAME HOW DO YOU MAKE YOUR BIKE LOOK LIKE STEWART'S  KX85?
If you can start off with a 2001 KX85, you're lucky (otherwise you have to bore out your KX80). Stewart started out with a box stock 2000 KX80 and tore it down to the frame (which was then sent off to Olympic Powder Coating to get the fluorescent green frame treatment). Once the frame was flo-greened, it was put back together with SplitFire-replica UFO plastic, a Cycra vented front number plate, N-Style graphics and black Excel rims

WHAT MAKES STEWART'S BIKE SO GOOD IS THAT THE POWER IS IMPROVED FROM TOP TO BOTTOM. THE ENGINE DOESN'T SACRIFICE ANY PART OF THE POWERBAND.
Kawasaki's 2000 KX80 was due for a major renovation. Pro Circuit knew it and, to tell the truth, so did Kawasaki. While the bike was down to the frame, Pro Circuit tore into the engine. First the cases were split, then matched, removing any casting errors and smoothing out certain rough edges.
Next on the agenda was to bore the engine out to 85cc, which is the max the AMA allows in the 80cc class. Don't worry, we know what you are thinking. The rule doesn't make any sense. We agree, but those are the rules and Stewart wasn't about to be underpowered just so he could say he rode an actual 80. Of course, a SplitFire bike isn't a race bike until it is equipped with a Pro Circuit "works" pipe and Shorty stainless silencer.
What makes Stewart's bike so good is that the power is improved from top to bottom. The engine doesn't sacrifice any part of the powerband. As with most minis, you'll have more success if you don't try to lug it. You should let the engine hit in the midrange and rev to the moon.
WE'D BREAK IT DOWN LIKE THIS: IF YOUR KID IS BIG AND COMPLAINING ABOUT THE SUSPENSION—START THERE. IF HE THINKS HIS BIKE IS SLOW—START WITH THE ENGINE. HOW DOES STEWART'S KX80 HANDLE?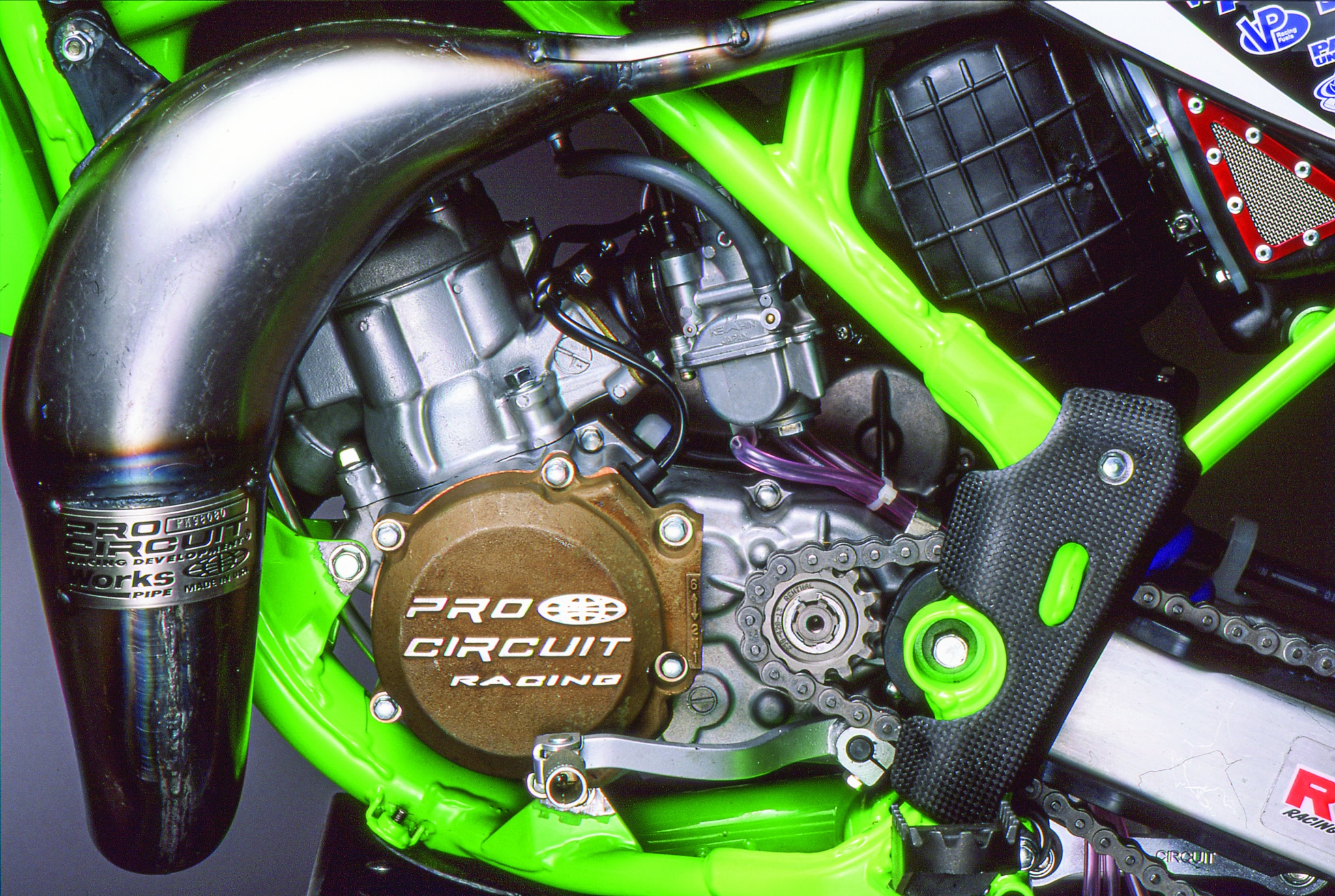 Forks: The stock .28 kg/mm fork springs were dumped for stiffer .31 kg/mm springs, while the compression was taken from 7 clicks out to 10. Pro Circuit's Bones Bacon completely threw away the stock compression adjuster and replaced it with the unit off of Yamaha's YZ80 (reworked with his own valving). If you are wondering about rebound, the Kayaba forks don't have any external rebound adjustment. The finishing touches to the forks were a Pro Circuit Works KYB kit and lining them up flush with the top triple clamp.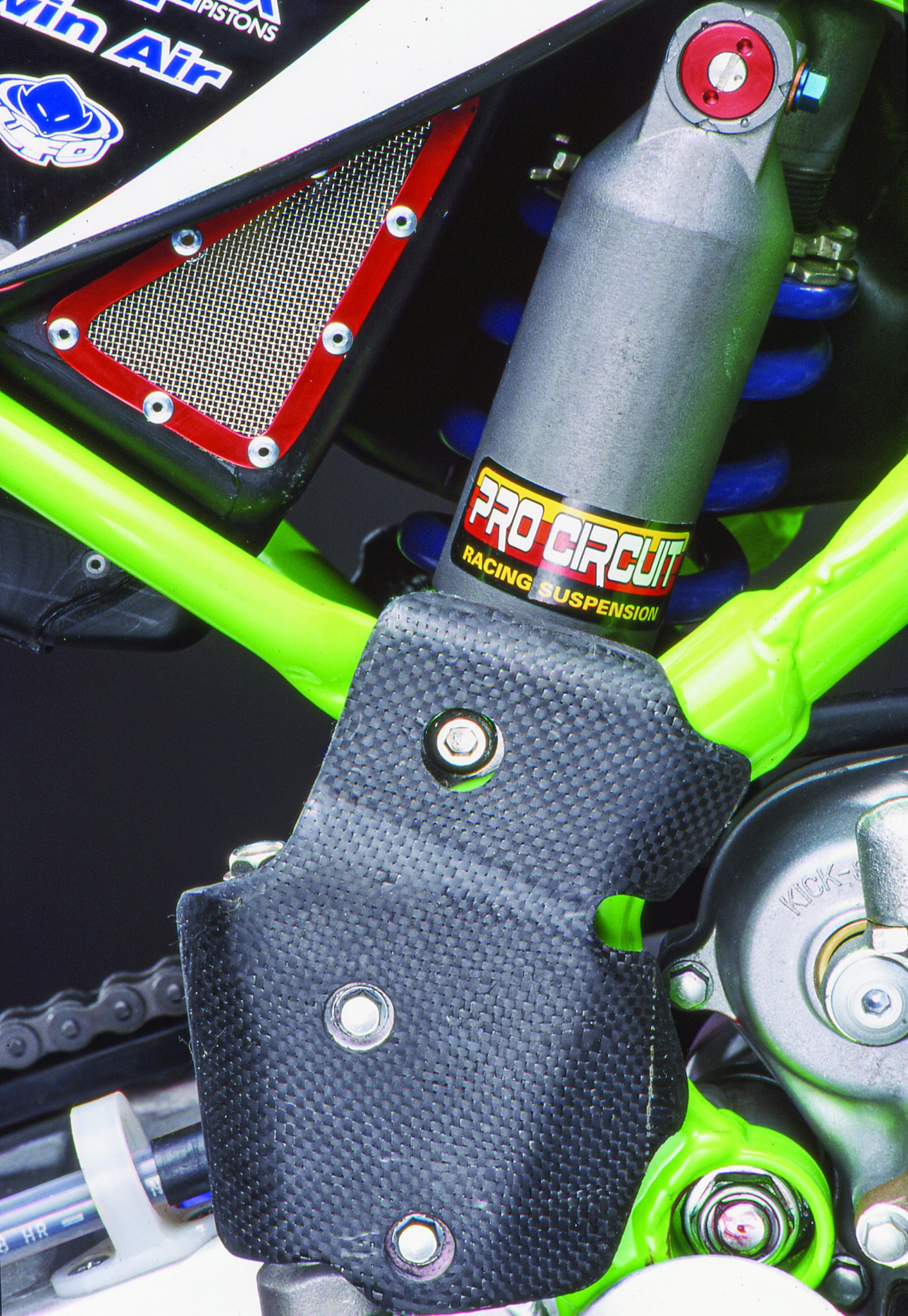 Shock: The shock was a little tougher to stretch. Bones Bacon lengthened the shock and replaced the stock pull rods with shorter ones (this raised the rear of the bike). The stock 4.8 kg/mm spring rate was dropped for a stiffer 5.0 kg/mm spring. The compression on Stewart's shock stayed the same as stock (at 2 clicks out), but the rebound went from 9 clicks out to 8. No works shock would be complete without a little hard anodizing, a bigger bumper and a slightly larger bladder cap.
WHAT ABOUT THE WORKS PARTS?
We've already mentioned the taller suspension, but Pro Circuit never stops in its attempt to make Stewart feel as comfortable as possible. Stewart's KX features a set of Pro Circuit triple clamps that are higher than the stockers.
No works bike would be full factory without bigger footpegs, a quick-adjust clutch perch, aluminum throttle barrel, Renthal bars and Renthal grips. As for protection, every works bike needs Works Connection frame guards and a skid plate. Last, but not least, no high-horsepower engine would be complete without a Hinson clutch basket to make sure the clutch doesn't slip.
DOES YOUR KID NEED A JAMES STEWART REPLICA?
Of course he does! You shouldn't be allowed to call yourself a mini dad unless you've hocked the family's future to give Junior a shot at stardom; however, the truth is Junior probably doesn't need all of Stewart's modifications. We'd break it down like this: if your kid is big and complaining about the suspension—start there. If he thinks his bike is slow—start with the engine. As for all the bolt-on stuff—check with your financial analyst.
No matter what your choice, your kid will be happy, and that should make any self-respecting mini dad happy.

WHAT IT COSTS: JAMES STEWART'S SPLITFIRE KAWASAKI KX85 ENGINE
Cylinder & head modification: $290.00
Match cases: $80.00
Split cases: $295.00
Hinson clutch basket: $225.00
28mm carb: $188.95
Ignition cover: $89.00
Airbox modification: $100.00
PC works pipe: $191.00