MXA RETRO TEST: WE RIDE JEREMY McGRATH'S 1992 PEAK HONDA CR125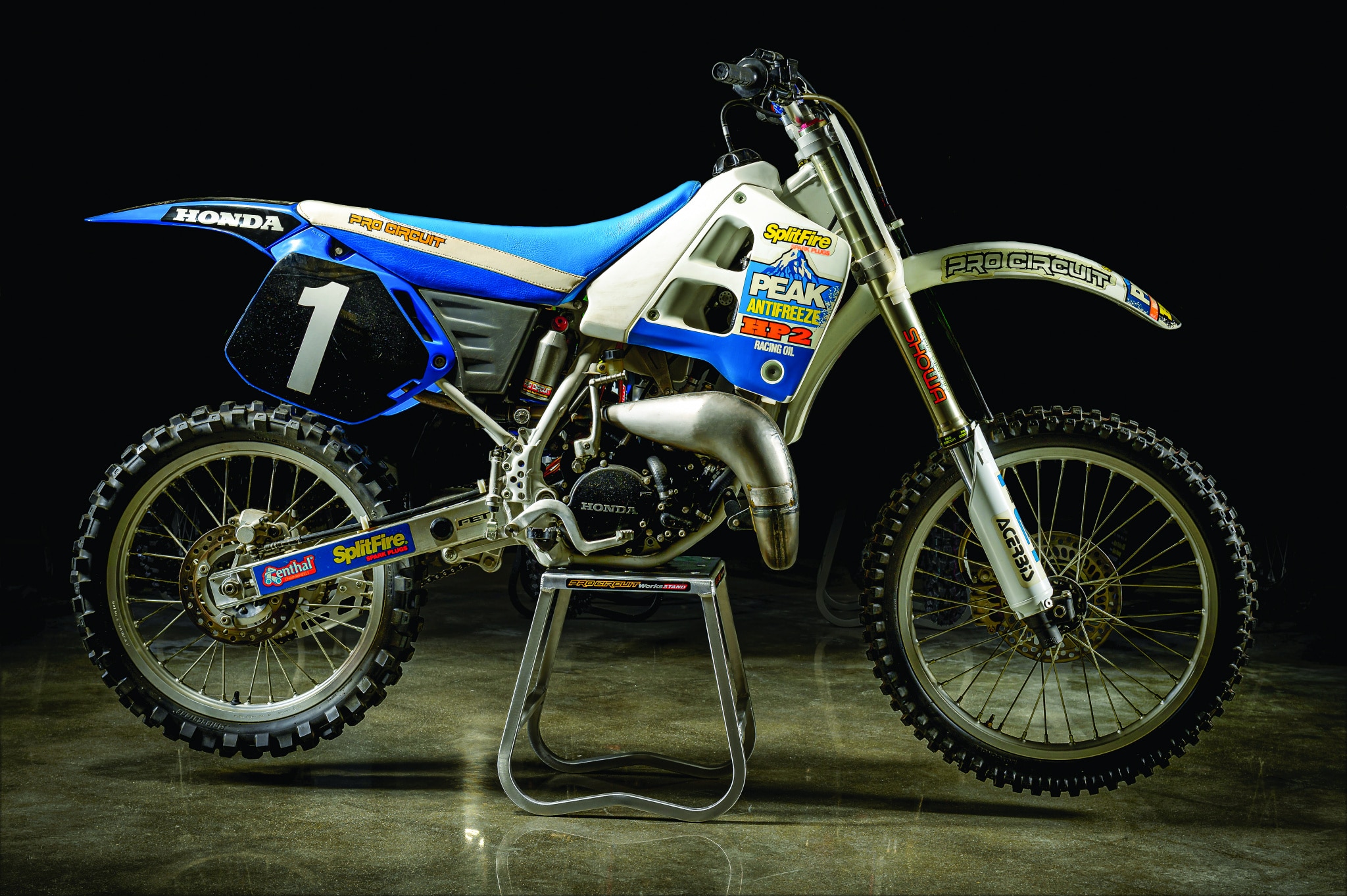 We get misty-eyed sometimes thinking about past bikes we loved and those that should remain forgotten. We take you on a trip down memory lane with bike tests that got filed away and disregarded in the MXA archives. We reminisce on a piece of moto history that has been resurrected. Here is our test of Jeremy McGrath's 1992 Peak Honda CR125.
Last year the fans and competition watched Team Peak wheelie its blue-and-white Hondas into the winner's circle at virtually every 125 Supercross event. It was apparent that not only did the antifreeze-sponsored team have the best riders, it also had the fastest bikes. Armed with Pro Circuit engines and works suspension from HRC, the young, teenage speed kings were elevated to demigod status by season's end, so much so that Pro Circuit Racing started offering Peak replica bikes (minus the works parts) to the public for a cool $6000. Within six months, Pro Circuit had managed to sell lots of blue CR125s. Every local track from Disneyland to the Statue of Liberty was home to at least one Team Peak look-alike bike.
WITHIN SIX MONTHS, PRO CIRCUIT HAD MANAGED TO SELL OVER LOTS BLUE CR125S. EVERY LOCAL TRACK FROM DISNEYLAND TO THE STATUE OF LIBERTY WAS HOME TO AT LEAST ONE TEAM PEAK LOOK-ALIKE BIKE.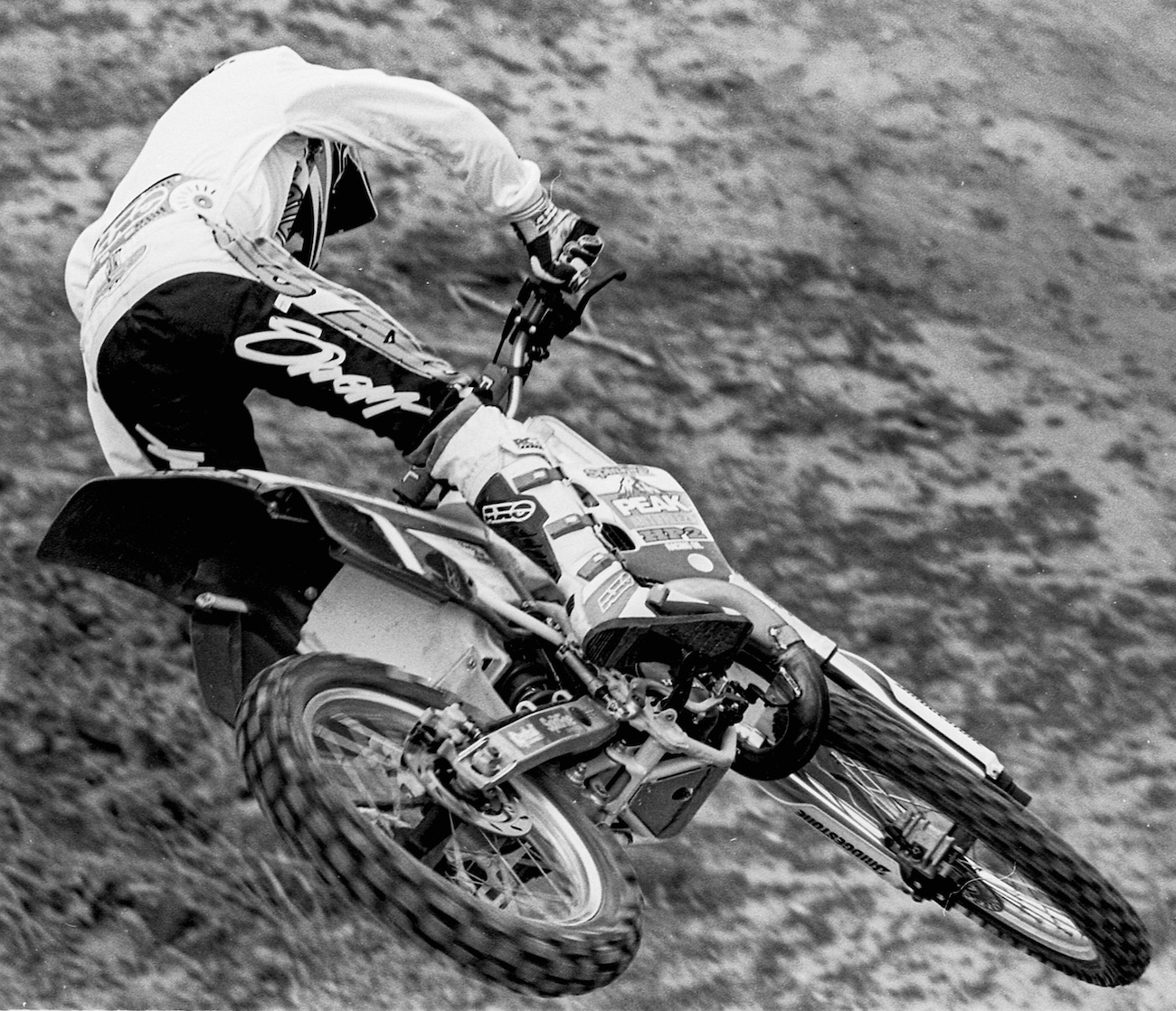 The general consensus is that the Team Peak Honda CR125s must be full-on works units. Why? Because Honda provides the team with bikes and parts, and it is well known that Team Honda does not skimp on trick-ness (regardless of the cost). But, that is not the case. At least not this year. It is true that last year Team Peak used works HRC shock linkages and pre-production '92 Showa forks (with a few goodies inside), but this year the team has opted for a completely stock setup. "Honda offered to give us some works parts again this year," said Team Manager Mitch Payton, "but after months of testing, we decided the stock Showa units could be made to work better." Obviously, the testing the team did on last year's Showa prototypes paid off.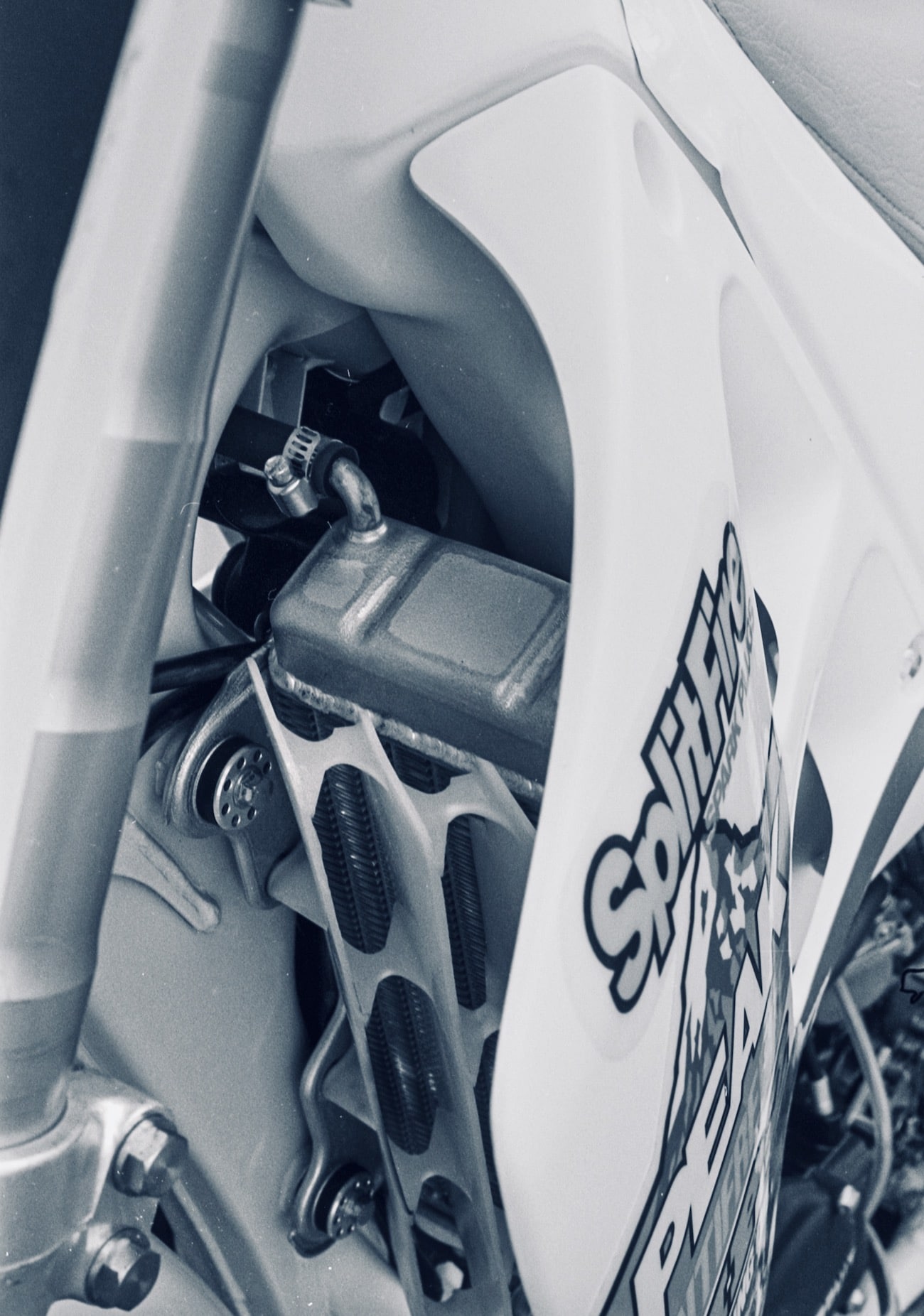 HOW STOCK IS STOCK?
A completely stock bike means there is nothing on the bike that cannot be purchased by the average rider. To give you an idea of just how stock the Team Peak bikes really are, the MXA wrecking crew borrowed not only 125 West Coast Supercross Champion Jeremy McGrath's team Peak Honda CR125 but also Honda's personal test track, Hondaland, located in Simi Valley, California. Here is a look at the winningest 125 in Supercross from front to back.
Tires: For most tracks, Jeremy prefers to run a Bridgestone M6l in the front with either an M48 or 860 (prototype test tire) on the rear. On sandy tracks, Jeremy's preference is an M40 front and M39 rear.
Wheels: The rims are D.I.Ds mounted to stock hubs. A 19-inch rear wheel was chosen over the stock Honda 18-incher to provide a larger contact patch and a slight reduction in overall weight. A precision-honed, anodized, titanium rear axle replaces the stock unit to save a few more ounces of un-sprung weight.
Brakes: Team Peak uses the same stock Nissin brakes that come on the '92 Honda CR125. Jeremy's bike and the rest of Team Peak's bikes are among the few factory bikes whose brakes are totally stock. Not even aftermarket brake pads are used.
Forks: The forks are stock Showa externals, right off the showroom-floor models. And why not? The Peak team spent most of last year testing the pre-production '92s for Honda, and obviously they were happy with their effort. Bones Bacon of Pro Circuit modifies the stock forks to suit each rider's weight and style, but the mods are slight, and Pro Circuit will make you the same forks they make Jeremy if you wish. The two biggest changes include 0.40 kg/mm fork springs and special Supercross valving. McGrath's forks are considerably stiffer than normal due to the demanding Supercross terrain. PC-01 fork oil is used in all Team Peak bikes. Triple clamps are stock (last year Team Peak used triple clamps with a different offset, but Honda changed the '92 production spec to duplicate what Team Peak used last year). The forks have hard-anodized axle lugs with the axle holes precision-honed to allow a quick and easy fit for the front axle. The fork cap is hard-anodized to help prevent fatigue on the threads during assembly and disassembly, which is a weekly ritual.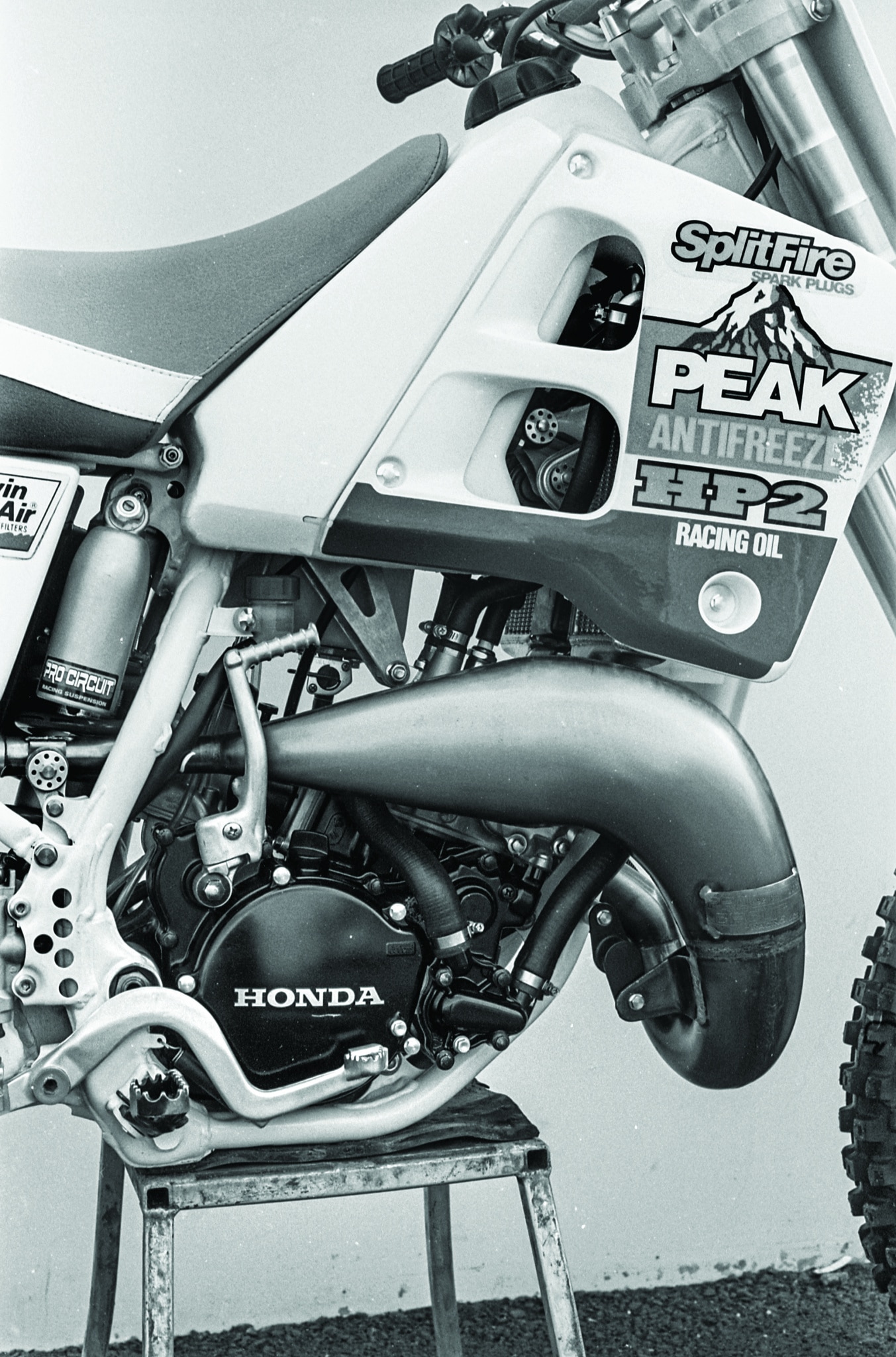 Shock: After long hours of testing, Jeremy opted to run a production CR250 Showa shock. The '92 CR125 comes stock with a Kayaba shock, but Team Peak has a solid working relationship with the Showa engineers and felt that the CR250 shock was better suited to the demands of their team. The shock's internals have been completely re-valved to match Jeremy's riding style. Jeremy runs a 5.0 kg/mm shock spring, which is a big step up from Honda's stock 3.65 kg/mm Kayaba spring, but remember that the valving is quite different on the Showa. The shock is connected to stock CR125 shock linkages and a standard Honda CR125 swingarm.
Carburetor: A stock 36mm Keihin carburetor does the work, along with custom-designed vent hoses. A special aluminum T-fitting guides the carb vent hoses both up and down to keep the bike from bogging off the big jumps found at most stadium motocross events.  Venting the carb upwards ensures the fuel cannot vapor-lock or gurgle back into the carb when landing hard. Pro Circuit will make the special T-fitting available to the public sometime this year. The main jet was a 162, and the 1468 needle was set in the second position. 
"HONDA OFFERED TO GIVE US SOME WORKS PARTS AGAIN THIS YEAR," SAID TEAM MANAGER MITCH PAYTON, "BUT AFTER MONTHS OF TESTING, WE DECIDED THE STOCK SHOWA UNITS COULD BE MADE TO WORK BETTER."
Idle screw: One trick that Team Peak discovered is to turn the choke adjuster/idle screw in all the way until it bottoms and then back it out one turn. This shuts off one of the carb's circuits to provide better jetting. It also eliminates idling, which most Pros do not want or need.
Air filter: Jeremy, along with the rest of the team, uses Twin Air filters for both indoor and outdoor events.


Engine: It is hard to believe that the engine mounted inside Jeremy's race bike is available to the public. Jeremy has been hole-shoting most of the Supercrosses this season, which is usually a sign that there is more to the engine than meets the eye. After close inspection, though, we admit that the Pro Circuit engine is a legit aftermarket unit. Cylinder porting was completed to Pro Circuit specs and, other than the Pro Circuit pipe and silencer, the engine itself used stock parts. The HPP power valve guides have been matched and trimmed to match the exhaust profile, but this is standard Pro Circuit fare on all cylinders that they port. Mitch Payton did admit that Team Peak uses special ignition parts they are currently testing for the outdoor series, but he did not care to comment on what exactly it was they were testing.
Pro Circuit has been switching back and forth between the flat-topped '92 piston and the domed '91 piston. With the '91 piston, Pro Circuit has to mill the '92 head (or run a '91 cylinder head).  Before the engines are even run, the cases are split and surfaced and matched to the cylinder base to prevent air leaks. The Peak bikes can only run on race fuel (VP) because they are pumping out some serious compression.
The inner clutch basket and push rod have been modified to increase lubrication, and all of the seams on the stock Honda radiators have been silver-soldered to keep them from leaking and to further protect them from damage. Peak also uses dense foam underneath the carburetor to keep it from hitting the cases. A Splitfire SF405C spark plug replaces the stock plug.
Miscellaneous: Renthal provides the sprockets (McGrath almost always runs a 12-51) and D.I.D supplies the chains. Jeremy uses a 520 ERS series chain. Titanium and aluminum bolts can be found from end to end. VP supplies the race gas, and Hondaline HP-2 is the oil of choice among the team Peak riders (as well as Bayle and Stanton). Scott Hurricane grips are mounted to prototype Renthal 960 bend handlebars.
Jeremy uses a Ceet seat, as well as a custom-designed blue-and-white seat cover, which is changed after every race. Jeremy is also among the few who prefer the stock footpegs; he claims that he cannot move around as well on the wider pegs. A very trick aluminum ignition cover has been sand-cast especially for the Team Peak riders. It replaces the stock black plastic units and has "Pro Circuit" cast into it. Skid plate brackets have been hand-welded onto the bottom of the re-gusseted Honda frame. N-Style numbers attach to the deep-blue Acerbis plastic side panels and numberplate. Everything from grips to brake lines to the countershaft jam nut is safety-wired.
For mud races, Team Peak uses a Kawasaki spark plug cap. The Team Peak mechanics also use last year's chain guide. It has steel sleeves inside the bolt holes and is able to withstand blows better without deforming.
COMPATIBILITY WAS THE FIRST THING WE NOTICED AS WE THREW OUR LEG OVER THE BLUE-AND-WHITE ROCKET SHIP.

 
Compatibility was the first thing we noticed as we threw our leg over the blue-and-white rocket ship. There was nothing out of the ordinary anywhere. The bars were pretty far forward (which is the current craze among Professional racers), but after a few laps around Hondaland's test track, we felt right at home. According to Jeremy's mechanic, Skip Norfolk, Jeremy is not too picky about the details of his race bike but is demanding about its performance.
What is it like to ride? That's easy. It is the Porsche Turbo Carrera of the 125 class. Not only does it rev higher, harder and longer than the stock CR125 (that is a combination of pipe, porting and ignition), but it has better bottom than the stocker. Pro Circuit has managed to eliminate the dead spot in the lower midrange of the stock CR125 engine and make it romp from the bottom to the top. Most competitors of team Peak believe that the bikes are high-rpm shriekers that are hard to ride. They seem to think that the Peak boys just hang on and pray. Not so! This is a do-it-all 125 engine. It can grunt out of turns, blast through a berm or make dogs howl three blocks away. It is fast but subtle.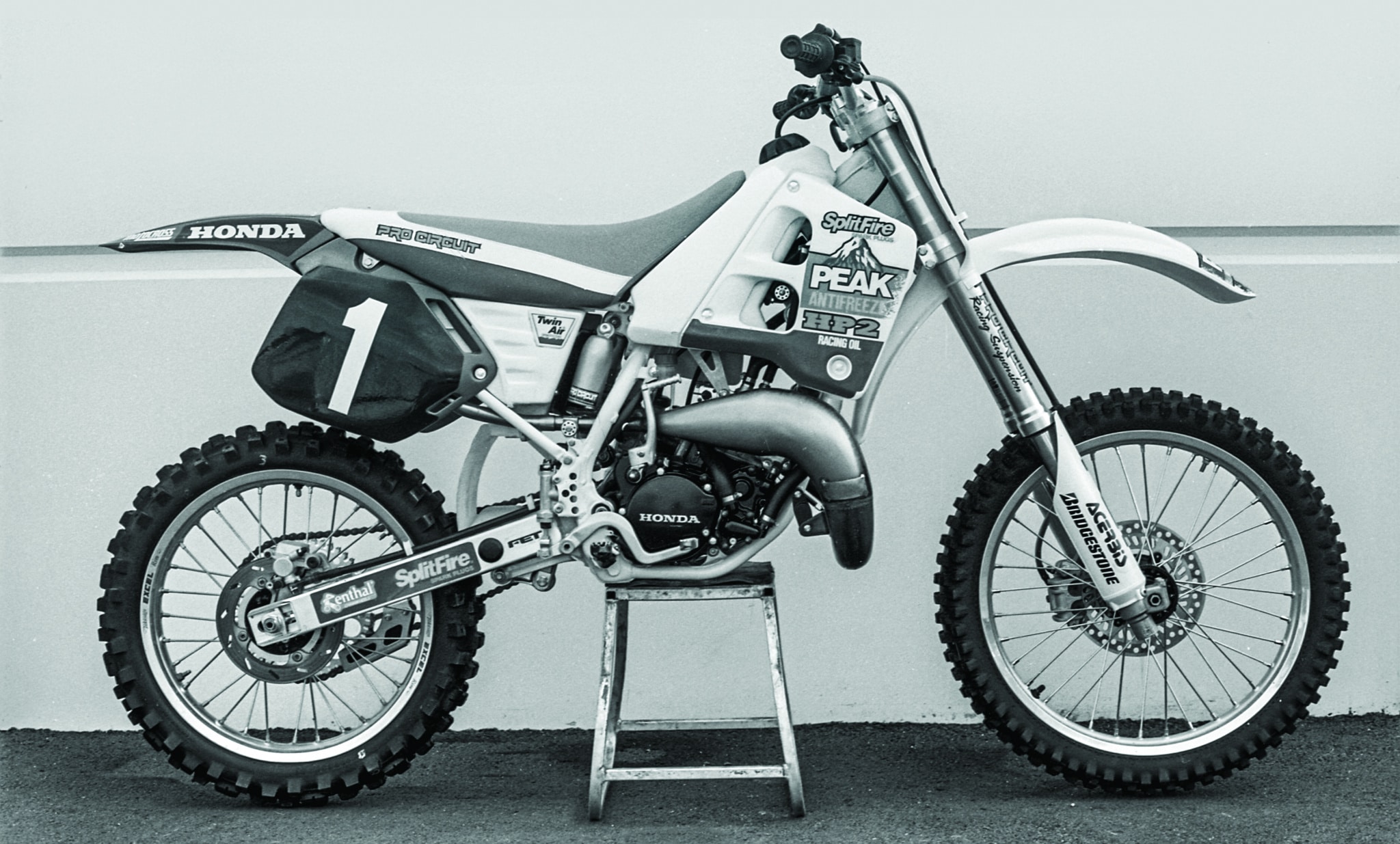 Could the average rider take full advantage of Jeremy McGrath's Peak Honda? Yes. Without a doubt, the Peak powerband makes the bike easier to ride than the stock Honda CR125. The gain in overall power is the biggest plus for a Novice or Intermediate rider. By coming on stronger sooner, the Peak CR125 is able to do half-throttle transitions that the stock CR125 wants to bog in. It runs clean down low, and that makes the midrange and top-end all that more effective. Remember, this is the same bike that won the Anaheim, Seattle and San Diego Supercrosses in quick succession this year. It did it by launching out of the starting gate and never looking back. Stock Hondas are the fastest 125s on the track, so imagine how fast the fastest Honda on the planet is.
Team Peak spent a lot of time trying to find the perfect balance on the CR125 chassis. Last year, Peak used the longer prototype forks, special shock linkages, different triple clamps and various length shocks to get the twitchy CRs dialed in to their liking. Luckily for Peak, Honda adopted most of Team Peak's mods into '92 production, so the bikes sit in stock trim pretty much the way Pro Circuit wants them. Obviously, the suspension setup is on the stiff side–the super-stiff side actually! Stadium whoops require suspension that does not give ground, and when it does, it gives it up grudgingly. For outdoor races, Peak runs totally different suspension settings (on the softer side of stiff but not soft). For grabbing mega air and slamming square-edged stutters, the Team Peak CR125 is as balanced as any bike can get. It is firm but compliant when it has to be.
THE END RESULT
Team Peak/Pro Circuit/AXO/Honda is the most successful privately sponsored team in the history of American motocross. Unlike with past factory bikes, however, there is little on Jeremy McGrath's CR125 that you could not buy off-the-shelf. The engine, suspension, plastic, graphics, pipe, jetting and sprockets are all available from Pro Circuit. The only things you cannot buy are the prototype Renthal handlebars, Bridgestone test tires, special ignition and Jeremy McGrath's skill. If that last item were for sale, you probably would not need a special bike.
TECHNICAL SHEET: INSIDE JEREMYS' PEAK CR125
ENGINE SPECS:
Porting: Pro Circuit
Pipe: Pro Circuit
Silencer: Pro Circuit
Carburetor: Stock CR
Reeds: Stock
Plug: Splitfire SF 405C
SUSPENSION:
Forks: Showa
Triple Clamps: Stock
Shock: Showa
Linkage: Stock
Axle: Titanium
CHASSIS:
Frame: Stock
Hubs: Stock
Tires: Bridgestone 61A/M48
Rims: D.I.D
Air filter: Twin Air
Bars: Renthal 960
Weight: 198.7