MXA RETRO TEST: WE RIDE KYLE LEWIS' 2002 MOTO X3 CRF450
We get misty-eyed sometimes thinking about past bikes we loved and those that should remain forgotten. We take you on a trip down memory lane with bike tests that got filed away and disregarded in the MXA archives. We reminisce on a piece of moto history that has been resurrected. Here is our test of Kyle Lewis' Moto X3 Honda CRF450. 
As we walked over to Kyle Lewis' Moto X3 box van, we began to think up all kinds of questions. Our questions were sharp and to the point: As a YZ426 guy, was it hard to adapt to the CRF? Does the push in the front end bother you? How do you like the power? What kind of triple clamps do you run? Have you had any engine work done? 
HADN'T HE READ THE MXA TEST? WE'VE SPENT MONTHS TESTING A WIDE ARRAY OF AFTERMARKET PARTS AND SUSPENSION SETTINGS ON THE CRF450.

 
But, as we got closer to Kyle, one question stuck in our heads: Why did you switch from the YZ426 to the CRF450? Kyle's answer was elusive. He said, "Have you ridden one yet?"
Of course we had. Hadn't he read the MXA test? We've spent months testing a wide array of aftermarket parts and suspension settings on the CRF450. During our testing, we found that the CRF450 got some serious benefits from a different exhaust system, stiffer springs (front and rear) and different offset triple clamps.
BACK TO THE SWITCH
Had we ridden one yet? What kind of question was that? We weren't going to let Kyle off the hook that easily. We peppered him with more questions, and the truth started coming out. 
Here are Kyle's real reasons for the switch:
(1) Weight. The first thing Kyle brought up was the weight. We don't blame him. At 234.5 pounds versus 250 pounds, the CRF450 feels a lot lighter—on and off the track. 
(2) Carburetion. Next, Kyle mentioned the carburetion. While we've been lucky enough to get good carburetors on our YZ426s, we have ridden more than our fair share that had a small stumble down low. The Honda doesn't have this stumble. 
(3) Controls. Last but not least on Kyle's list of reasons for switching were the controls. He liked the fit and feel of the Honda's package.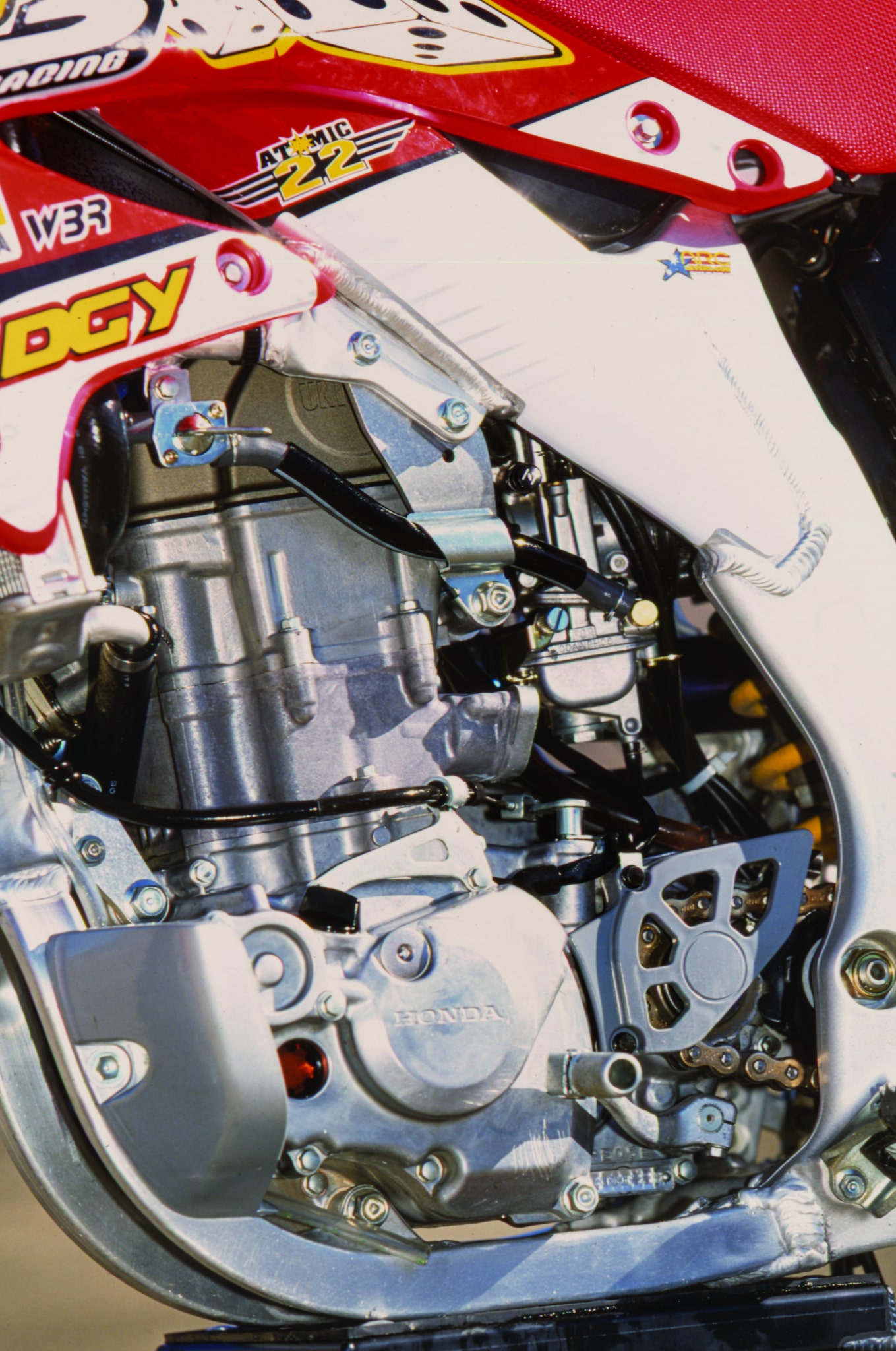 WHAT'S THE DEAL ON THE MOTO X3 CRF450?
By the opening round of the 2002 AMA Supercross Series, Lewis had only ridden his new bike five times (due to injuries and a relatively late switch from Yamaha). Kyle wasn't that happy with his early-season performances, but he's overly critical. The bike looked good and so did Kyle.
Kyle isn't a throw-parts-at-it kind of guy. If the stock parts perform, he keeps them. On the other hand, if someone has something better, Kyle is more than willing to give it a try.
WHAT'S IN THE ENGINE?


Kyle and the Moto X3 team hooked up with Yoshimura for their four-stroke engine needs last year, and the relationship worked out. Long held in high regard in the Superbike world, which is dominated by four-strokes, Yoshimura has slowly been gaining ground in motocross. Still early in its development cycle on the CRF450, Yoshimura has completely torn apart and blue-printed Kyle's engine, but nothing has been done to the valves or the cam. 
The same cannot be said about the exhaust system. Yoshimura uses a titanium head pipe, but instead of being a constant diameter along its length, Yoshimura's head pipe gradually increases in diameter through a series of steps. Where Yoshimura's exhaust system gets really weird is at the muffler. It's not oval or round; instead, Yoshimura developed a tri-oval muffler. It looks bizarre at first glance, but the tri-oval shape cuts down on noise and offers better wheel clearance.
That's it! What's it? That is all that Kyle Lewis does to his Honda CRF450 engine. You read that right: Kyle races the AMA Supercross series with nothing more than a Yosh exhaust pipe on his bike. Pretty sweet.
How does it run? No big surprise here. It runs like a stock CRF450 with an aftermarket exhaust system. Instead of going with an exhaust system that radically alters the CRF450's powerband, Kyle had Yoshimura build him a one-off exhaust system that keeps the stock powerband but adds about 2 horsepower to it everywhere.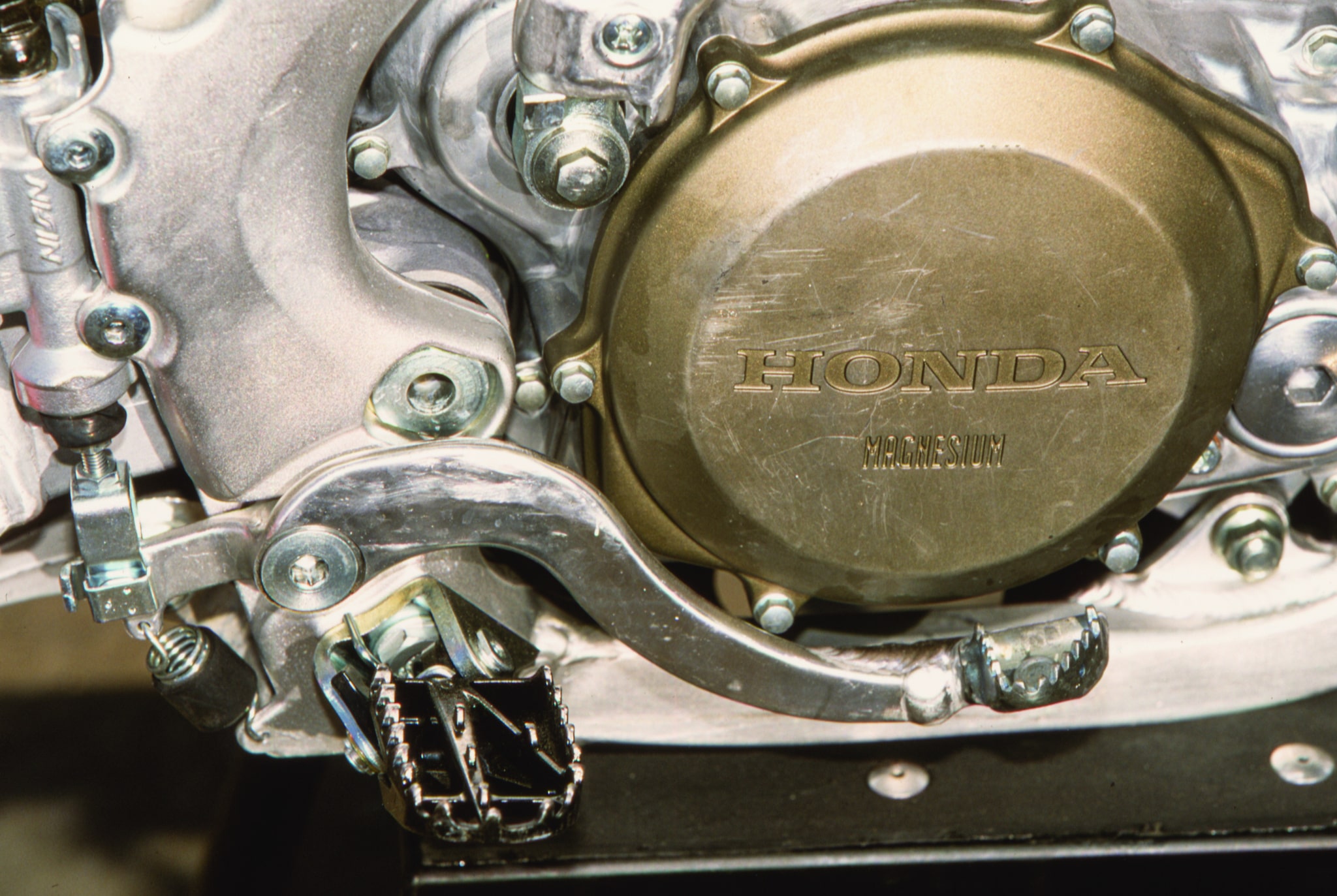 WHAT ABOUT THE SUSPENSION?
You have to be nuts to race Supercross. That's what we kept telling ourselves as we watched Kyle do countless laps around the Supercross track. It is a grinding, hammering and pounding way to make a living. We opted to take Kyle's bike to an outdoor track and ride it hard—without the beating. Guess what we found out? Kyle's suspension is Supercross-stiff (in sharp contrast to Tim Ferry's works Yamaha). A-Ride has tuned Kyle's suspension to handle the big landings, steep faces and whoops of a Supercross track. On an outdoor track, the forks were very stiff, and the rebound was overly fast. While the shock didn't exhibit the same damping behavior as the fork, it was equally stiff.
WHAT ARE THE CONTROLS LIKE?
With his own line of signature handlebars from Tag Metals, you can tell right away that Kyle is very picky about his controls. If the clutch and front brake aren't exactly where he likes them, he makes minute adjustments. Luckily, Kyle's mechanic Alan Brown knows exactly where to put them better than Kyle does.
Other than the clutch cable, there isn't much stock about the Honda clutch. Works Connection handles the perch and lever duties (as well as the hot-start lever), while the stock clutch basket is thrown out in favor of a complete Hinson system—even the clutch plates have been treated by Hinson. While riders can abuse the stock Honda clutch in a matter of laps, it took a lot of hard work to get Kyle's Hinson clutch to fade. 
The front brake on Kyle's bike has a Braking 270mm Wave rotor with a Ride Engineering stainless steel-braided line. The stock lever is replaced with an ARC folding lever that has been modified with the addition of a bearing where the lever hits the reservoir plunger. We need to get this system for our bike. The combination of the lever, line and rotor produces a powerful but progressive front brake.
Kyle uses IMS footpegs on his race bike. The funny thing is that because the IMS pegs are wider than the stockers, Kyle started having problems reaching the rear brake pedal. To fix this, he cut the cage off the end of the brake pedal and welded it back on closer to the footpeg. We tried this setup with the stock footpegs and didn't even notice the difference.
At the moment, Kyle is running 22mm-offset triple clamps (the stockers have 24mm offset). Tag Metals is busy building Kyle new sets of 20mm and 22mm triple clamps to test with. The MXA test crew personally runs 20mm offset triple clamps on our 2002 CRF450.
WHAT DO WE REALLY THINK?
Kyle Lewis was originally going to ride a Yamaha YZ250F both indoors and outdoors this year. He is eligible in the 125 East/West Supercross support class, thanks to being out of the country for three years (while winning the Japanese National Championship). But he changed his mind when he first rode the Honda CRF450.
Kyle Lewis has made has made modest changes to his Honda, but thoughtful ones. It's not a gaudy go-fast buggy, but a professionally prepped race bike that works really well.