MXA RETRO TEST: WE RIDE NICK WEY'S MDK/MOTOSPORT OUTLET HONDA CRF450
Nick Wey's 2006 MDK CRF450 was a privateer effort with a factory touch. They had the factory semi-look and the best parts money could buy. Sounds great, right? Not when you are going up against much better parts that money can't buy and the bottomless budget of a factory team.
We get misty-eyed sometimes thinking about past bikes we loved and those that should remain forgotten. We take you on a trip down memory lane with bike tests that got filed away and disregarded in the MXA achieves. We reminisce on a piece of moto history that has been resurrected. Here is the test we did on Nick Wey's 2006 MDK/Motosports Outlet Honda CRF450.
There is something charming about rooting for the underdog. It's an admirable avocation for a motocross fan. Underdogs need the support. The stars have more than enough fans, at least while they are winning. Ricky Carmichael is not an underdog, even if he has had it stitched on the backside of his pants. Chad Reed is not a poor privateer battling insurmountable odds. James Stewart has never known life without a bevy of attendants.
We are talking about real underdogs, guys who don't have the might of a motorcycle manufacturer behind them—no accountants, Cessna Citations or public relations men. A true underdog knows that he barely has a one-in-a-hundred chance of beating the top dogs, but he still shows up week in and week out, on inferior equipment, hoping to get into the main event and beat at least one of the factory boys.
WE CAN HONESTLY SAY WE NEVER GOT CLOSE TO USING FIFTH GEAR—AND WE WERE ON A FULL-SIZE OUTDOOR TRACK. FOURTH GEAR WIDE OPEN HAD US GOING FAST ENOUGH.
MDK/MotoSport Outlet's Nick Wey is a true underdog. Oh, don't get us wrong, it wasn't always that way for Nick. He was on the fast track to being the next Ricky Carmichael. A few years younger than RC, Nick won everything worth winning as an Amateur. He followed in Ricky's footsteps to the Pro Circuit team (and in 1999 won the Millville 125 National for Mitch). Nick's career was on the upward path—upward until that fateful day in 2001 when he did what no one since Mike Brown and Jeremy Buehl had been able to do; he pointed out of the 125 Supercross class. For a guy who makes his living as a motocross racer, pointing out is the equivalent of the kiss of death. Ineligible for the 125 East or West, Nick was in trouble. Team offers dried up faster than a Sahara rain puddle.
Nick's CRF450 was pleasant to ride for someone at his speed. Sure, it was way too stiff for mortal men, but that was expected.
Yet, he persevered in the premier class. After finishing an amazing fourth in Supercross as a privateer for Team Moto XXX, he got his second chance at factory stardom. Team Suzuki picked him up for the 2004 season, and he rewarded their faith in him with fifth overall in 250 Supercross and seventh overall at the 250 Nationals. As a reward, Suzuki dropped him from the team. Why? So they could replace him with Ricky Carmichael. You can't really argue with Suzuki on that decision.
Nick was out of work. What did he do? What he always does. He got ready for the 2005 season. Nick's a born racer. With or without a factory ride, Nick was going to race. At the last minute, Mark Kvamme of MDK Motorsports stepped in and gave Nick the ride he needed, but, unfortunately, a severe knee injury kept Nick out for most of the 2005 season.
A SUPERCROSS BIKE HAS TO BE STABLE IN THE WHOOPS SINCE THAT'S THE MAKE-IT-OR-BREAK-IT OBSTACLE ON TODAY'S SUPERCROSS TRACKS. WHEN COMPARED TO THE SHOCK, NICK'S FORKS WERE SOFT.
Now, fast-forward to 2006. Nick's still with MDK, but now they've added MotoSport Outlet as their title sponsor. So, how has Nick's 2006 season gone so far? Amazingly well, and, best of all, Nick did something at the San Francisco Supercross that hasn't been done in a really long time. He made the podium of a 250 main event as a privateer! The realities of the mud-bog race were better suited to a hard-core privateer than most of the moto-rock-star factory boys. Nick got this first-ever podium; the mud made it sweeter.
So, how did the MXA wrecking crew wind up throwing a leg over Nick's MDK/MotoSport Outlet Honda CRF450? Nick asked us to ride his bike. Long before his San Francisco triumph, Nick wanted us to take his CRF450 out for a test ride. Why? Because he believes it's good.

Nick's belief in his equipment is significant. It goes against the grain of the typical privateer mindset. Most privateers believe that their bikes are no good, and that if they had a works bike they would be a winner. Nick Wey seems to be the only privateer who knows that this isn't true.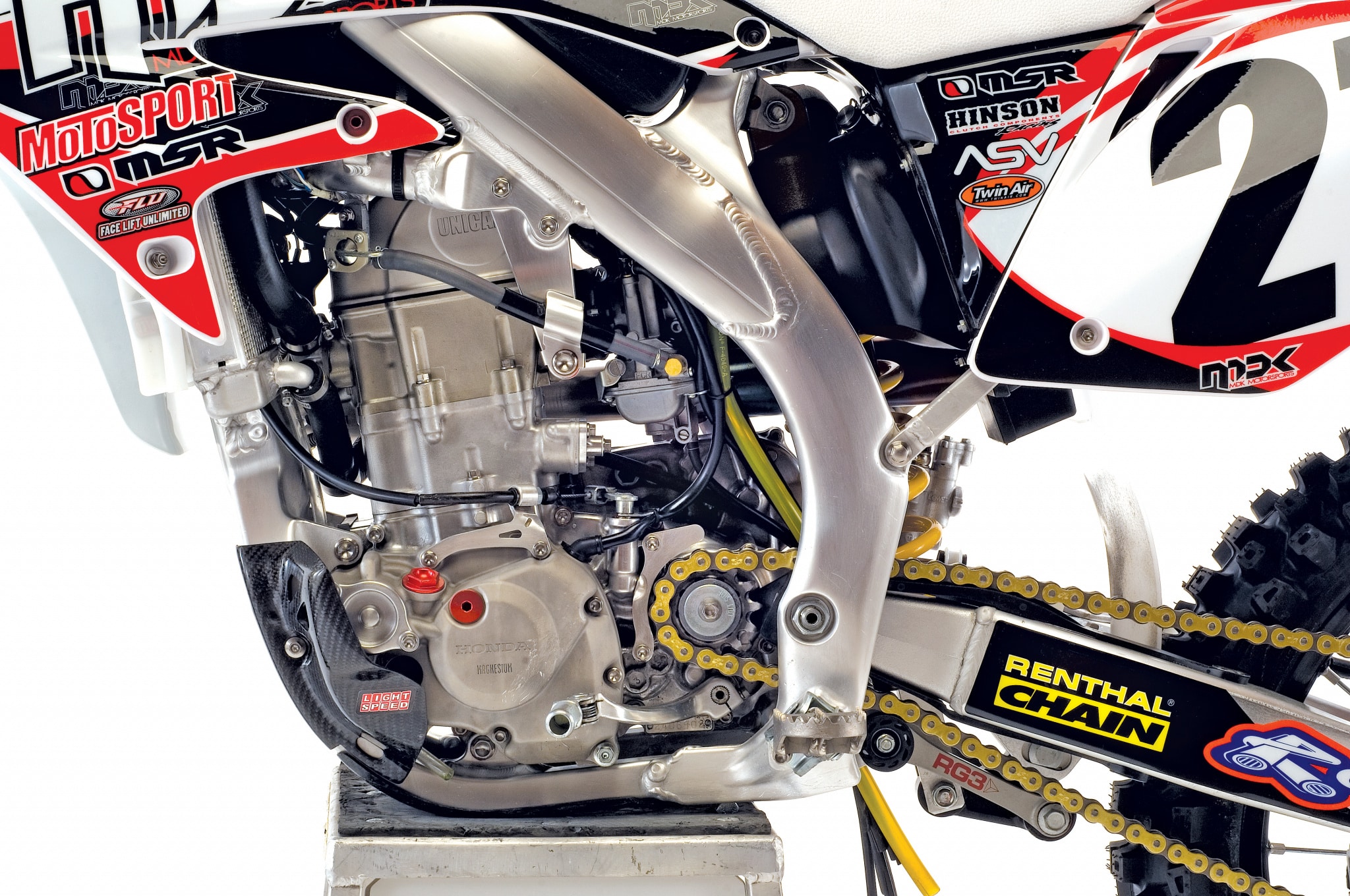 Take it from the MXA test riders, "The power output wants to rip our arms out of their sockets." 'Nuff said.
As Nick's mechanic, Brian Calma rolled Wey's all-white Honda CRF450 into MXA's palatial photo studio, it was readily apparent that Nick went for only the finest sponsors available. His engine and exhaust are from Pro Circuit, as well as his throttle tube and Launch Control holeshot device. His suspension is A-kit stuff directly from Showa. RG3 services his suspension and provides the triple clamps and shock linkage. He runs a complete Hinson clutch, including the outside cover. Renthal handles the bars, grips, chain and sprockets. All the carbon fiber on the bike is from Lightspeed (as are the titanium footpegs). Larger Newfren rotors front and rear help Nick stop on a dime. A Twin Air filter and cage are used to eliminate the backfire screen. Just like Stewart, RC and Reed, Nick runs works Bridgestone tires. Acerbis supplies the white plastic, and Flu makes sure the graphics and seat look good. Rounding out the list of changes is a complete titanium bolt kit and VP fuel.
Undoubtedly, the most important question is how did Nick Wey's MDK/MotoSport Outlet bike run? The answer in a nutshell: The power output of Nick's Pro Circuit CRF450 engine is nothing short of amazing. It really wants to rip your arms out of their sockets. The solution to this small problem is simple—shift early. Use all the extra power to get into third and fourth gear long before your competition does. Think we are overstating the case? Not so. How do we know? Nick uses fifth gear in the whoops. We can honestly say we never got close to using fifth gear—and we were on a full-size outdoor track. Fourth gear wide open had us going fast enough.
Even though we've painted the picture that Nick's CRF450 is a horsepower monster, the most astonishing thing was that we weren't scared of it. With wonderfully crisp throttle response, Nick's engine would do almost anything we wanted. Looking for an e-ticket ride? Turn it wide open and hang on. Trying to be safe and sane? Roll on the power and watch it build like a crescendo.

A TRUE UNDERDOG KNOWS THAT HE BARELY HAS A ONE-IN-A-HUNDRED CHANCE OF BEATING THE TOP DOGS, BUT HE SHOWS UP WEEK IN AND WEEK OUT.
We had our best luck on Nick's bike when we got into third gear and left it there. To get out of really tight corners, we used a little clutch. Around the entire course we found ourselves in second in only one corner and fourth down one straight. Everywhere else we were in third gear.
How was Nick's Showa kit suspension (set up for Supercross) on a jumpy outdoor track? Surprisingly good. Yes, the shock was really stiff. It literally went halfway down and stopped. The reason for this is simple—a Supercross bike has to be stable in the whoops since that's the make-it-or-break-it obstacle on today's Supercross tracks. When compared to the shock, Nick's forks were soft. Now don't think they were soft by production standards. No way, Jose. They were definitely valved for Supercross. They were soft enough, however, that the bike felt slightly out of balance. Funny thing, when we told Nick's mechanic, Brian Calma, this, he said Nick had felt the same thing that weekend and was going to test some stiffer fork settings for the remainder of the Supercross season.
Since we've already told you that Nick's bike was fast and really stiff, what's left? How about the fact that it stops on a dime. We'd never heard of Newfren rotors before we rode Nick's bike, but we can tell you they definitely work. How could we tell? A quiet squeak the brakes give off when they're locking up.
In a world populated by privateers, we would be remiss if we didn't ask one last question: Is Nick Wey's MDK/MotoSport Outlet bike good enough to win on? The answer is simple—yes.