MXA RETRO TEST: WE RIDE RYAN DUNGEY'S 2009 CHAMPIONSHIP SUZUKI RM-Z250
We get misty-eyed sometimes thinking about past bikes we loved, as well as ones that should remain forgotten. We take you on a trip down memory lane with bike tests that got filed away and disregarded in the MXA archives. We reminisce on a piece of moto history that has been resurrected. Here is our test of Ryan Dungey's 2009 Factory Suzuki RM-Z250.  
The greatest advantage of a factory ride over a production bike is the availability of different options and the resources to customize the bike to suit the rider and the conditions. But, there is a common misconception that the quality of the individual components is far superior to what is available to the pubic. It's not that the factory parts are better made; it's that they are custom made. A Team Suzuki RM-Z250 isn't all that impressive at first glance. Suzuki does a lot more 450 racing on the world stage than 250 racing and, as a result, there are more exotic RM-Z450 race parts than RM-Z250 pieces. The special parts that come from Suzuki of Japan are either performance options (cams, subframes, valves) or lightweight titanium or magnesium parts.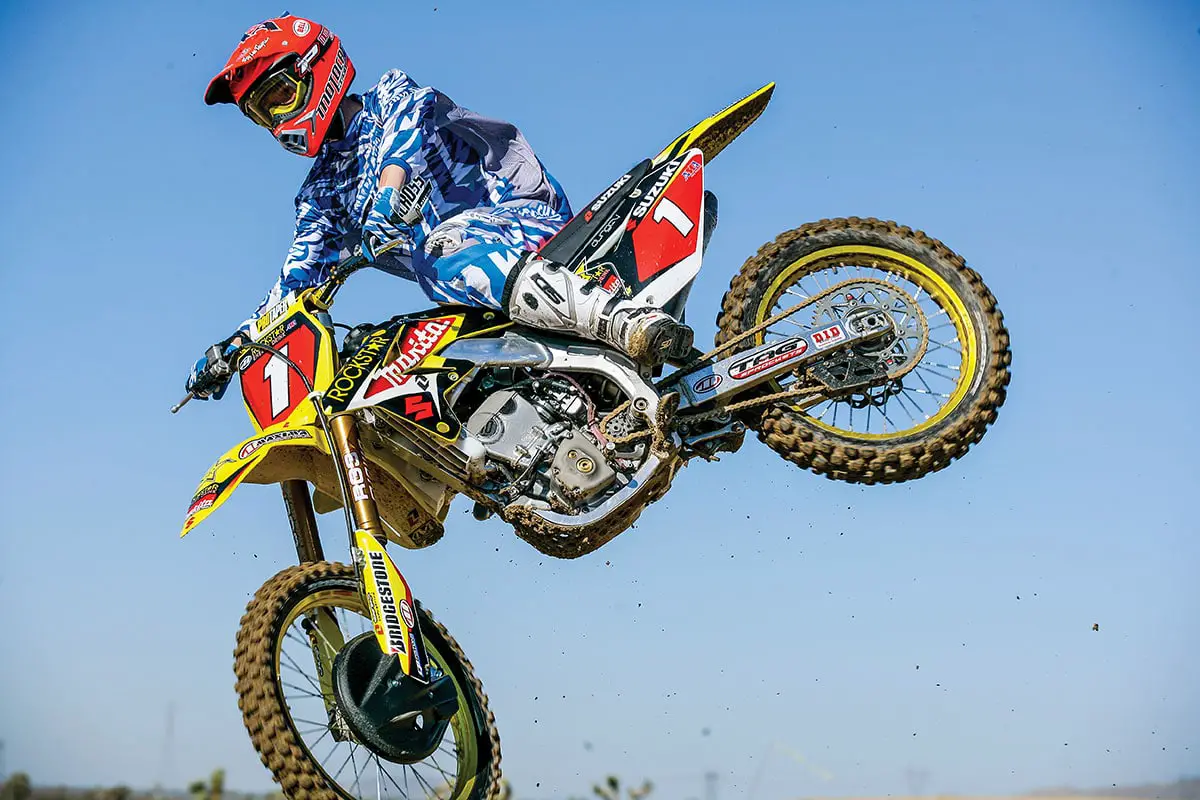 What the MXA wrecking crew has learned over its years of riding works bikes is that the best factory bike isn't necessarily the most exotic. Care and thought are more important than flash and finish.
Stepping up to his Team Factory Suzuki position straight from the Amateur ranks, Ryan Dungey has benefited from the testing and racing time aboard his Makita/Rockstar Suzuki RM-Z250. Ryan's three seasons of Pro racing have been not only successful but also dramatic. In 2007, he learned the ropes and earned the AMA Rookie of the Year award. In 2008, Dungey fought for championships but finished runner-up in both the 250 indoor series and 250 outdoor series. It was rightly assumed that 2009 would be his final chance to earn a number-one plate before moving up to the premier 450 class. Dungey finished first in the 2009 250 West Coast Supercross series and the 250 National Championship.
Before the season got into full swing, Dungey announced that, win or lose, he would say goodbye to his 250 after the final round at Steel City. In fact, Dungey immediately switched to an RM-Z450 for the Motocross Des Nations. Winning the 2009 AMA 250 National Championship was the culmination of Ryan Dungey's 250F career.  It was also the perfect time for the MXA gang to test Ryan Dungey's National Championship-winning Suzuki RM-Z250.
SHOP TALK: BREAK IT DOWN
Here's what we found out about Ryan's RM-Z250 engine. The cylinder, according to AMA rules, was production. The head was modified by American Suzuki. The crank and cams came from Suzuki of Japan, and the piston came from CP Pistons (via Pro Circuit). The transmission was production-based but with special attention. The gearbox components go through a polishing process, and there is a different star gear that trades a bit of efficiency on downshifts for smoother upshifts. Clutch components were from Hinson.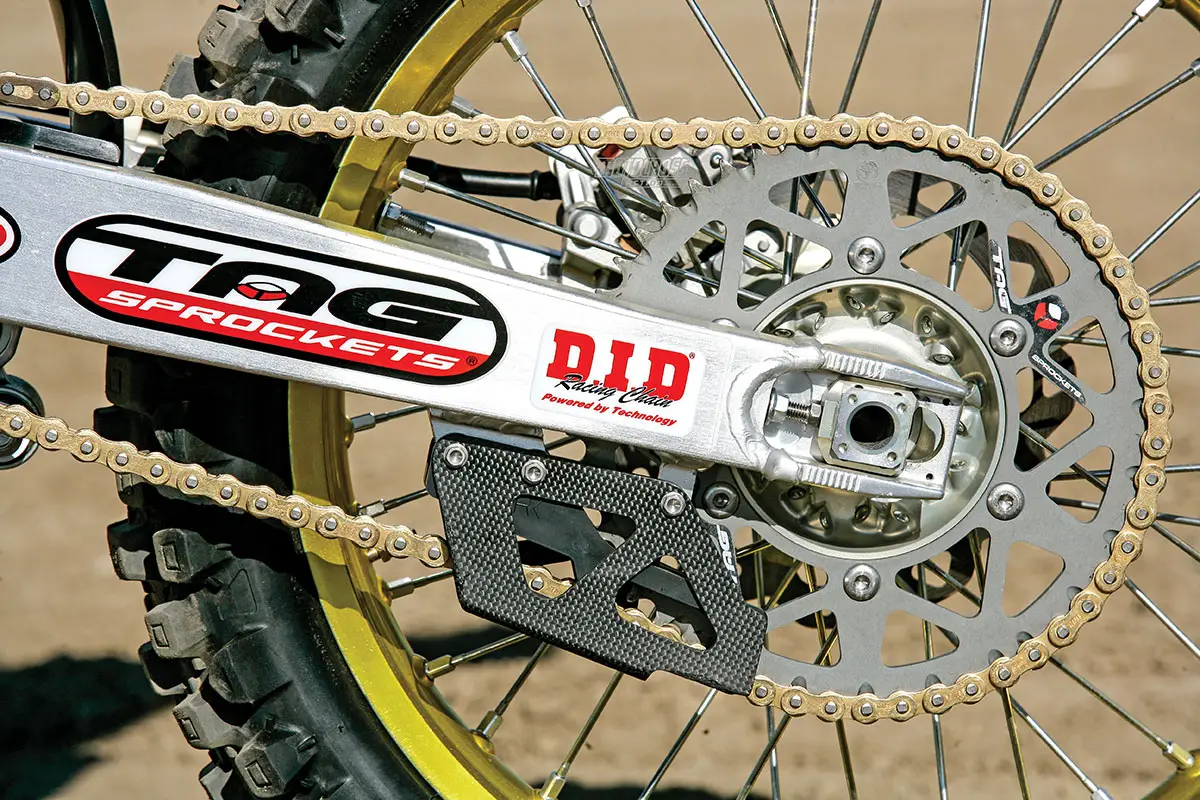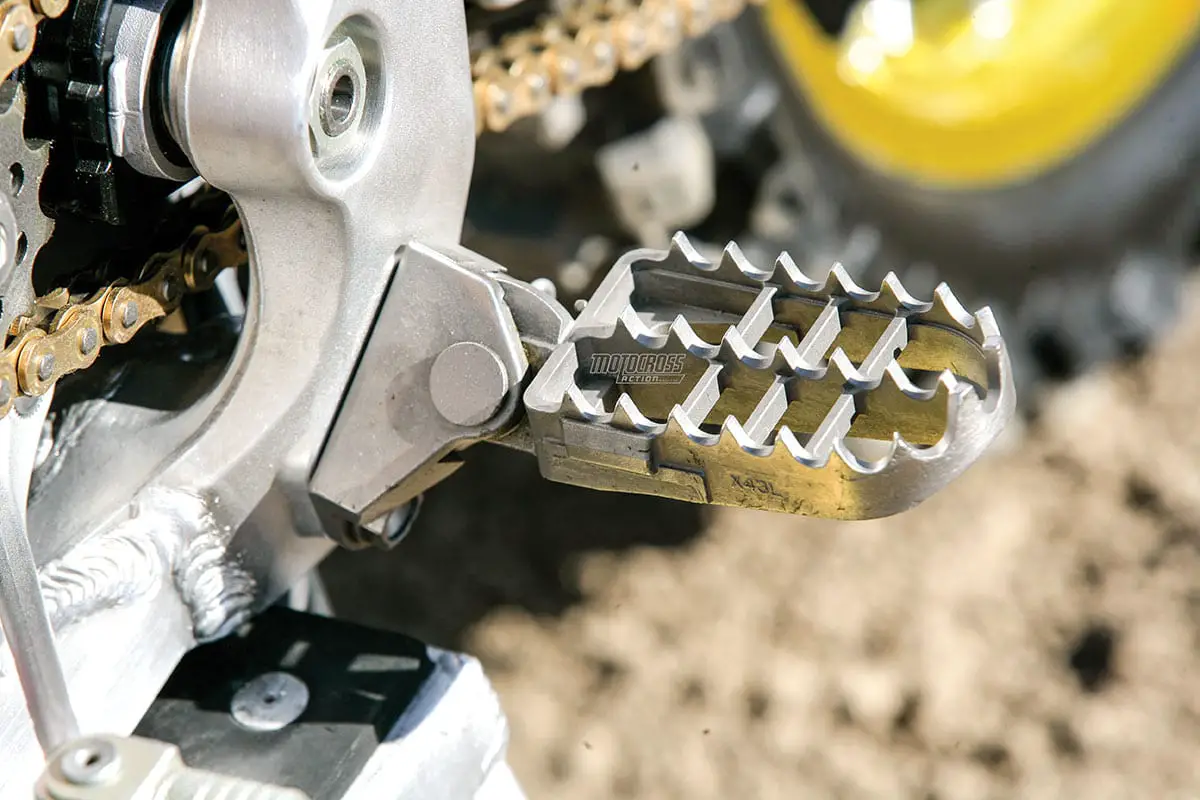 Other components included the Keihin carburetor, NGK spark plug, Pro Circuit exhaust, Twin Air Filter, Tag Metals sprockets, a D.I.D chain, Maxima oils and works radiators and an ignition from Suzuki of Japan.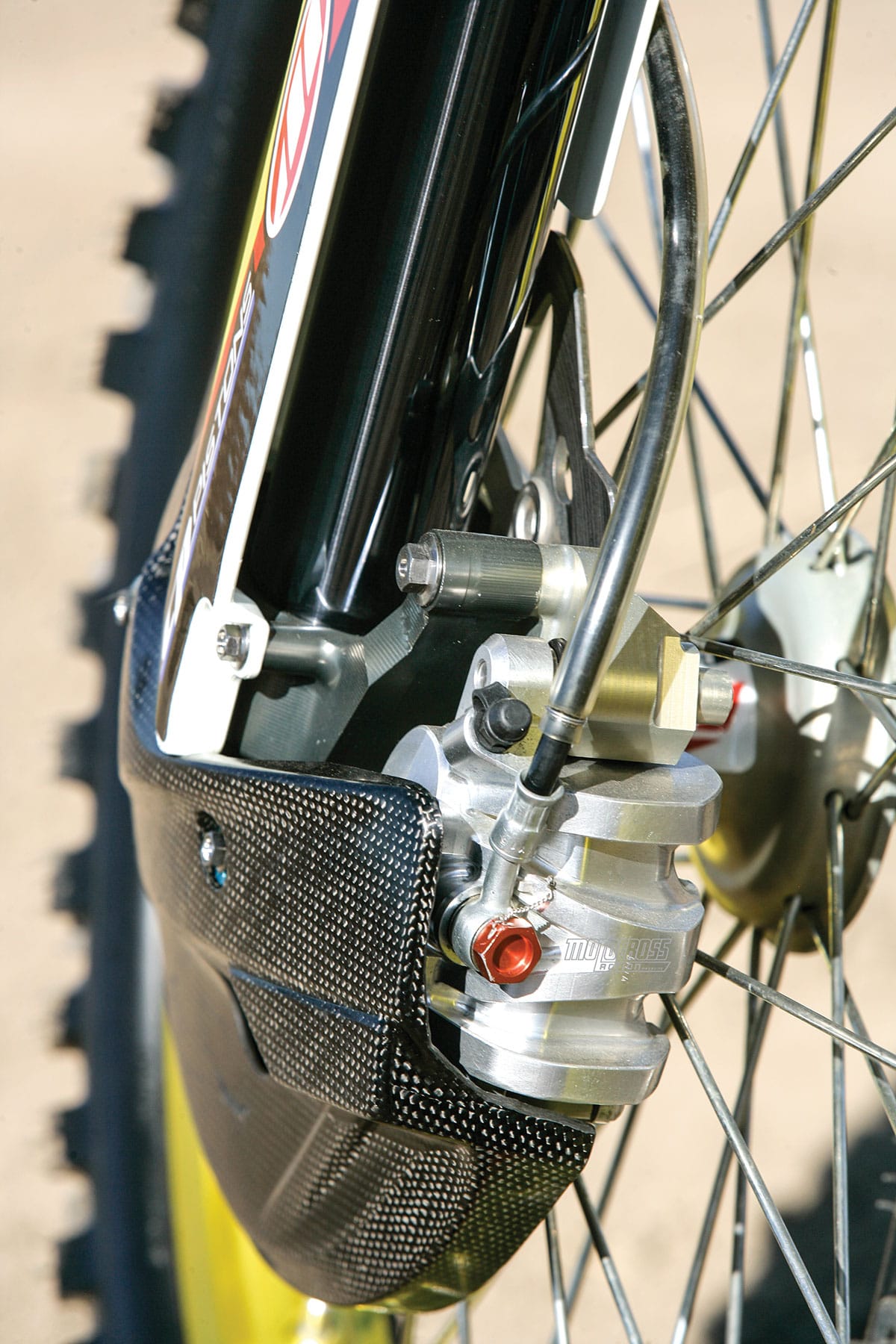 In the chassis department, we were able to dig up some top-secret info on the championship bike. The wheels are comprised of magnesium hubs from Suzuki of Japan, along with Excel rims, stock spokes and a special works axle. For stopping power, Dungey's Suzuki utilized works Nissin brake pads, master cylinders and calipers. The oversized front brake rotor, rear rotor and brake clevis are works parts from Japan. 

Dungey's forks and shock were RG3-tuned Showa A-kit parts, and the linkage and triple clamps were from Suzuki of Japan. A notable point on Dungey's shock setup is a common bleed system allowing oil to flow freely on compression and rebound strokes. Whereas a traditional shock uses a check valve to isolate the two, Dungey's works shock uses an open-bleed design.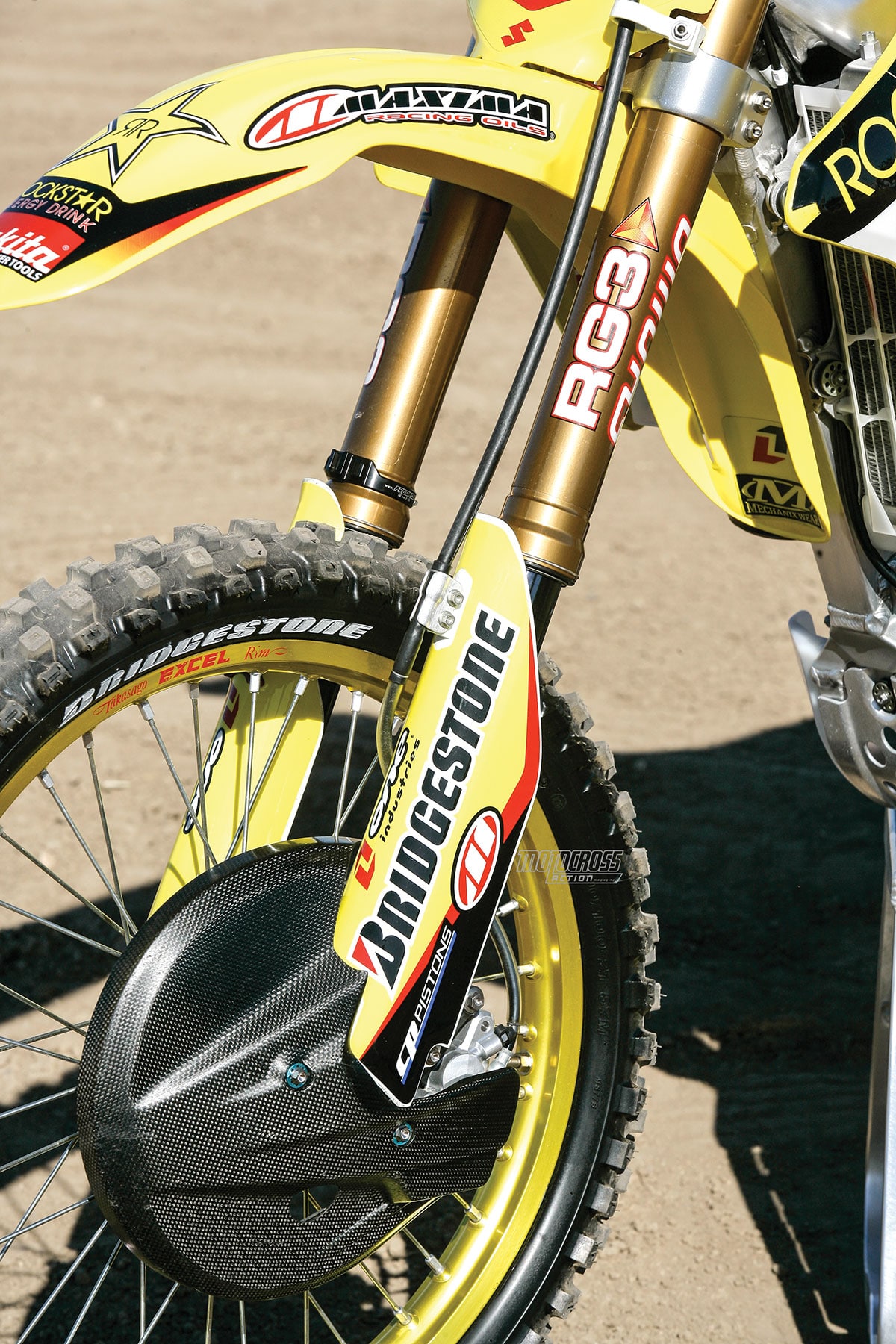 Pro Taper handlebars and grips, One Industries graphics and seat cover and Bridgestone tires complete the package. The Bridgestone rear tire was actually a works unit that just became available to race teams at the beginning of the year. It consolidated two different Bridgestone hard-pack tire designs into one. It was originally designed for Supercross but became the tire of choice at many tracks with loam over a hard base, like the final round at Steel City. Dungey's seat foam, levers, skid plate, titanium footpegs and mounts and other titanium hardware all came from Suzuki of Japan.

TEST RIDE: PIN IT TO WIN IT
When MXA tests a factory bike, generally the rider's mechanic and maybe the team manager will accompany us to the track to answer our questions and spin wrenches on the bike. On this occasion, Ryan Dungey decided to come along so that he could turn some practice laps on his RM-Z450. Ryan is one of the nicest guys on the circuit and offered invaluable insight into the National bike.
According to Ryan, the first thing he checks on the bike are the handlebars and levers. We noticed that his clutch lever was a little farther down than most, while his brake lever was standard (although his mechanic informed us that its precise position varies day to day). From there, Ryan said tire and suspension setup are very important to him, and he often makes changes throughout the day. Ryan has a notebook full of gearing, cam, flywheel and other engine mods that might help him at a specific track.
On the track, the MXA test riders were immediately impressed by the roll-on power. Whereas some Pros might sacrifice a broad powerband to maximize every ounce of horsepower on top, Dungey has chosen to spread that power out. His Suzuki made solid power in the low-to-mid range. It should be noted that through the midrange Dungey's RM-Z250 left the stock RM-Z250 in the dust. Ryan's engine would rev freely and pull strongly through the middle and into the top. Eventually, the power would flatten out and test riders had to shift in order to maintain the blistering acceleration.
Short-shifting, albeit not too soon, was like reloading a cannon. Each shift, when accomplished on the torque curve instead of at peak rpm, would result in an instantaneous rush of acceleration.
The Nissin brake caliper and oversized front rotor were things to be loved and feared. The brake could be fed in at the entrance of turns to stop the bike on a dime. It had to be respected, because an accidental twitch of the finger would be dangerous. The powerful front brake allowed testers to go much hotter into turns, while the works forks allowed them to do so while maintaining accuracy over braking bumps. The shock had a very light feel on rebound; it had an exhilarating, free sensation.
Dungey's bike was comfortable and confidence inspiring, so testers had no problem jumping the big jumps…or attempting to jump the big jumps to be more accurate. Dungey's stiff Showa works suspension made up for our shortcomings and saved us from any crashes, although we did leave a nice square spot in his front rim (he didn't need it anymore anyway).
WHAT DO WE REALLY THINK?
In theory, the razor-sharp-turning RM-Z250 chassis should be the best starting place for a serious race bike, since suspension and power are the easiest to fix. Not surprisingly, this is the recipe that Suzuki used on Ryan Dungey's RM-Z250. Dungey's time on the RM-Z250 was well-spent, and judging by the powerband of his 250F and the success he has already had on the 450, we think it's a safe bet that Ryan will feel right at home on his new RM-Z450.