MXA RETRO TEST: WE RIDE RYAN HUFFMAN'S 1998 PRIMAL IMPULSE SUZUKI RM125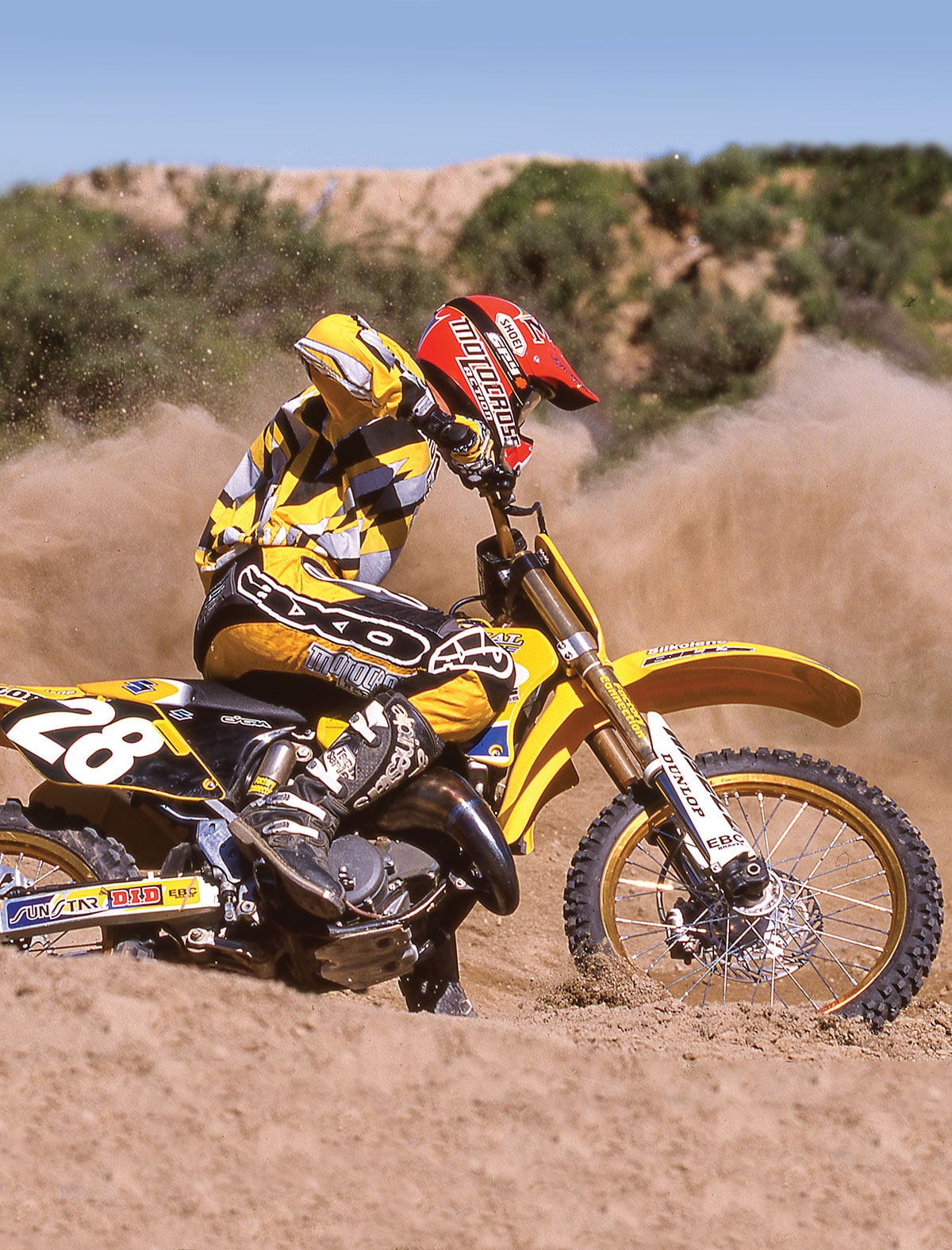 We get misty-eyed sometimes thinking about past bikes we loved, as well as ones that should remain forgotten. We take you on a trip down memory lane with bike tests that got filed away and disregarded in the MXA archives. We reminisce on a piece of moto history that has been resurrected. Here is our test of Ryan Huffman's 1998 Suzuki RM125 two-stroke. 
You've probably heard of Ryan Huffman a couple of times before—although you may not remember why. Let us refresh your memory. (1) He's the kid whose parents own Washougal. (2) Every year Ryan would put in a couple of good rides, one of which would always be at Washougal. (3) Ryan was one of the most successful privateers in the 2007 250 Supercross class (on a KX250). Those 250 rides brought him to the attention of Roger DeCoster.
Thanks to Roger, Ryan Huffman is now known as the rider who holeshots almost every 125 West Supercross race. Ryan has holeshot more than 75 percent of the 125 West Coast main events in '98. Is it the bike? Is it Ryan? The MXA wrecking crew wanted to find out. So, we called Roger DeCoster and asked, "Can we ride Ryan Huffman's Primal Impulse Suzuki RM125?" Roger said yes.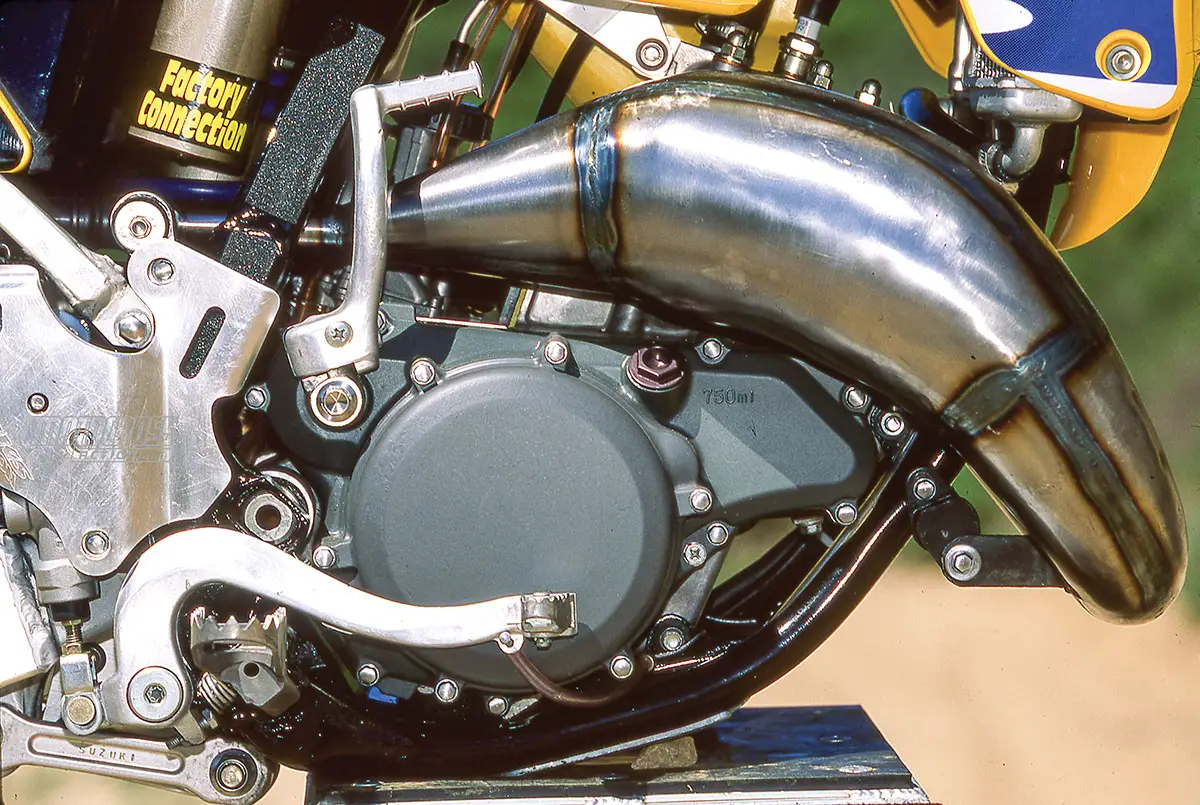 HOW ARE RYAN'S CONTROLS?
Normal. Are you surprised? We were. Of all the factory bikes the MXA test crew has ridden, only Jeremy McGrath's came anywhere close to feeling normal. Huffman's handlebar and lever position are perfect. In a world where many factory riders run their bars at a severe upward sweep, Ryan's choice of the rather flat Doug Henry-signature Pro Taper bar is as vanilla as you can get. As for the bar clamps, Ryan runs works triple clamps that are 5mm forward from stock. Why? Because moving the bars forward improves turning on tight Supercross tracks. This advantage comes with a price, though—stability. But, we agree with Ryan that stability isn't as critical as turning sharper in Supercross—the sharper the better.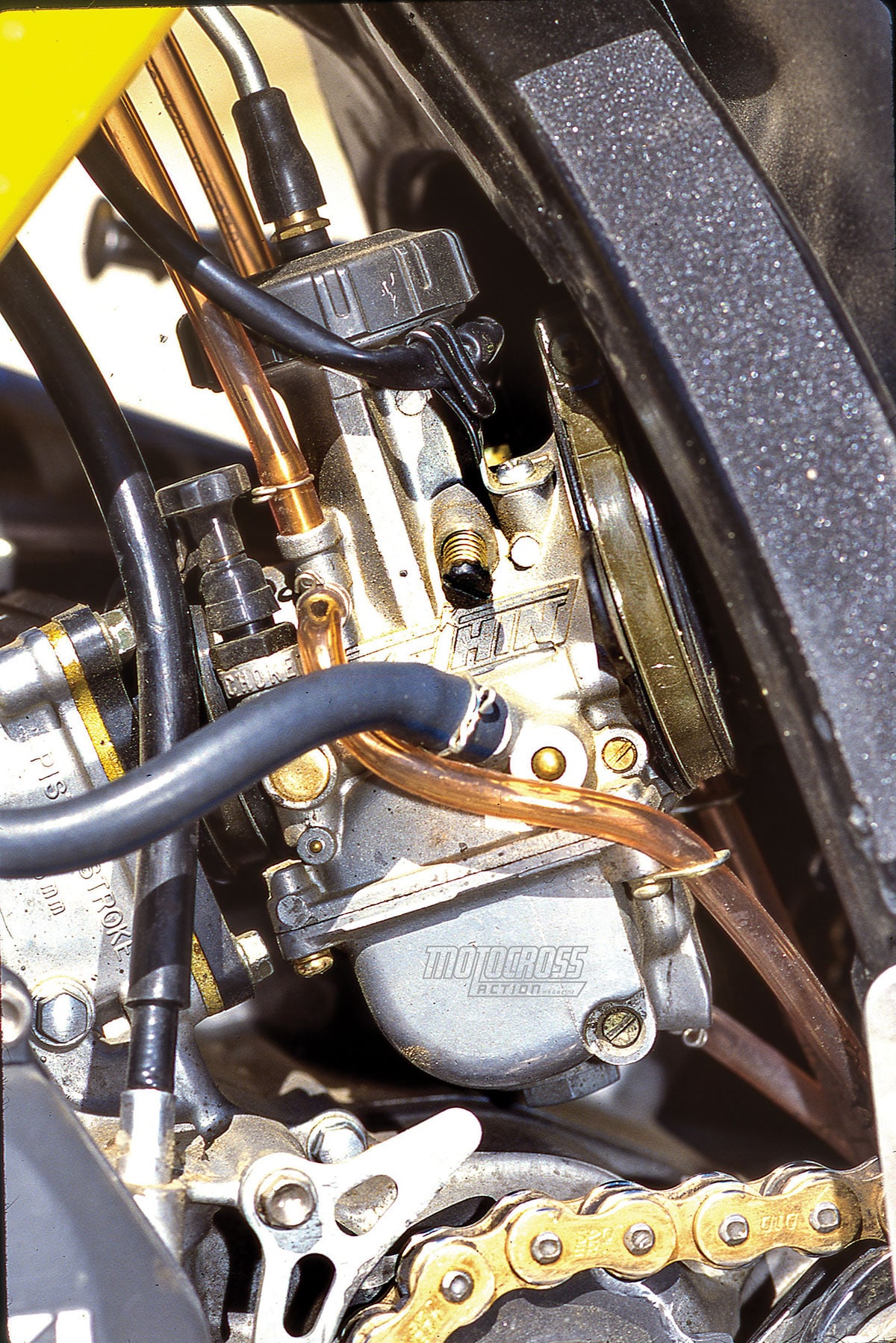 Ryan shaves the ribs off his grips. Not just off the tops, but completely off the grips.
As for his clutch lever, Ryan runs a Works Connection perch and lever, along with the EZ-Adjust lever rather than a works part from Japan. As for clutch pull, it is hard to believe, but Ryan's was easier than the already nonexistent pull of the stocker. What's even harder to believe is that nothing's changed from the stocker. Ryan's mechanic Todd Brown just makes sure the cable and lever are well-lubed before every ride.
Ryan's front brake is bone stock—no special master cylinder, no steel braided line, just one powerful front brake. How is the brake stronger than stock? The stock 240mm rotor is ditched for a 260mm floating rotor.
Throttle pull is just what we'd expect—light. The stock plastic throttle barrel is replaced with an aluminum unit.
HOW IS RYAN HUFFMAN'S ENGINE?
Deceptive. After watching Ryan holeshot just about every Supercross this year, we expected Ryan's engine to be a Saturn V rocket. It's not, but we aren't complaining. Huffman's RM125 engine won't get you to the moon and back, but it will get him to the first turn in front of 21 other screaming 125 pilots. How does it do it?
The power on Huffman's RM is straight forward. It has no bottom, tons of midrange and enough top to get you to the next gear. Is it easy to ride? Not exactly. The Suzuki factory replaces the standard first gear with a taller cog to help the bike get out of tight turns (because of the lack of bottom-end power). For Intermediate and Pro riders, the lack of bottom end isn't a problem, because they never run there. When was the last time you saw a 125 Pro lugging his bike through a turn? A 125 Novice, however, would have trouble keeping Huffman's bike on the pipe.

The midrange on Huffman's RM125 is brutal. It comes on strong (not explosively) and carries on up into the top end. Need to clear a 50-foot double with only a 15-foot run at it? No problem. Just jump on the throttle hard and be prepared to jump 60 feet past the guy you're racing against.

Huffman's engine is radically different from the stocker. In fact, his RM125 is probably the most "works" out of all the 125s on the circuit. Everything in the engine is factory except the piston. Team Primal runs a factory cylinder, head, pipe, 2mm-longer rod, ignition and carburetor. What do all these works parts get them? A 125 that pumps out a healthy 36 horsepower.
HOW'S THAT WORKS SUSPENSION?
Plush. Yes, it's stiff enough for Supercross, but unlike many Supercross setups, Ryan's suspension does want to go up and down. 
How many teams can Factory Connection help? Besides LaRocco, FMF/Honda and Primal Impulse, Factory Connection has a monopoly on the professional Showa market. That may sound bad, but it's not. Factory Connection (in conjunction with the Showa works internal kit) makes the 47mm Showa upside forks some of nicest forks we've ever tested.
With the suspension settings exactly where Ryan left them after the San Diego Supercross, his bike was not only ridable but fun. True, the front forks were a little stiff for the average rider, but they were still capable of absorbing little bumps.
On the rear, Ryan runs a stock shock (although the valving is modified by Factory Connection). The standard spring rate is dumped in favor of a 4.9 kg/mm spring. Ryan's rear suspension was actually a little soft for our test riders. Ryan tips the scales at 155 pounds, while the average MXA test rider is closer to 170 pounds. Even with the weight differential, the RM125 never bottomed thanks to progressive damping and the rising-rate linkage (the bike did have a tendency to ride down in the travel, which we could have fixed with more shock preload).
WHAT'S IT LIKE TO RIDE HUFFMAN'S BIKE
A treat. Ryan Huffman gets good starts because: (1) His reaction times are incredibly fast. (2) His Primal Impulse Suzuki has the perfect holeshot powerband (strong, but well-metered mid and plenty of top). With strong midrange, smooth shifting, easy clutch pull and light throttle action, you'd have to flub the gate to fail to get a good start. 
It's a sweet bike to ride. Test riders could hit the throttle hard, feather the clutch on a whim, bang the bike through its gears with a flurry and never have to shut off. 
What would it take to make Ryan Huffman's bike into the perfect weekend warrior (as opposed to Pro weapon)? That's simple. Take clicks out of the forks, put some into the shock and fill up the gas tank.
HUFFMAN'S ENGINE

 
Horsepower: 36
Cylinder/head: Factory Japan
Piston/rings: Stock
Transmission: Taller 1st gear
Spark Plug/Gap: NGK R6918B-9/.028 inches
Gas: VP AMA Pro 2
Premix Oil/ratio: Silkolene Pro 2/40:1
Ignition black box: Factory
Exhaust valves: Stock
Carb: Keihin PWK 38 PowerJet
Jetting: 178 main jet, 55 pilot jet, 80 power jet, 6.0 slide, R1469S needle, clip in the middle position and the air screw 1-1/2 turns out.
Reeds: Carbon Tech
Pipe: Factory
Muffler: Bill's Pipe
Crank: 2mm-longer rod
Clutch basket: Hinson
Clutch plates: Stock
Outer clutch cover: Stock
Inner clutch cover: Stock
Water-pump impeller cover: Stock
HUFFMAN'S CHASSIS
Weight: 197 lb.
Air box: Stock Air filter
Uni Air/manifold boots: 1997 intake/airboot
Front sprocket: 12
Rear Sprocket: 51
Chain: DID 520 ERT
Chain Guide: Carbon fiber
Handlebar/width: Pro Taper Henry bend
Bar-clamp position: 5mm forward
Clutch lever: Works Connection
Shifter: Stock
Throttle: Stock
Grips: Stock/completely shaved
Pegs: Titanium
Axles: Titanium
Fork Guards: Stock '95
Glide plate: Factory