MXA RETRO TEST: WE RIDE RYAN SIPES' ROCKSTAR ENERGY 2013 SUZUKI RM-Z250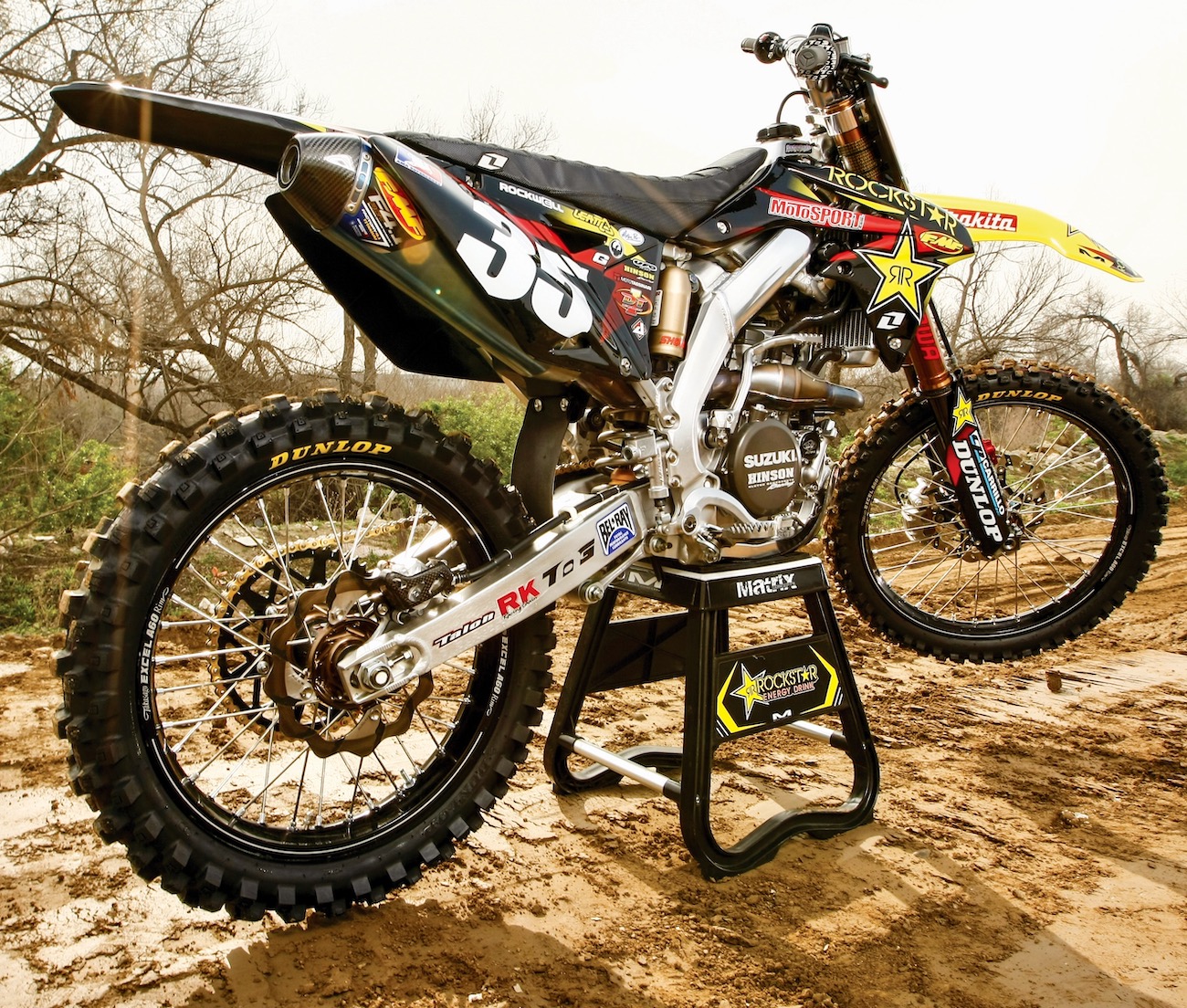 We get misty-eyed sometimes thinking about past bikes we loved and those that should remain forgotten. We take you on a trip down memory lane with bike tests that got filed away and disregarded in the MXA archives. We reminisce on a piece of moto history that has been resurrected. Here is our test of Ryan Sipes' 2013 Rockstar Energy Racing Suzuki RM-Z250.
Away from the glitz and glamor of the 18-wheelers and Supercross stadiums lie the realities of running a race team. In truth, support is limited, money is tight, expectations are high and the odds of winning are low. With great risk and little reward, many teams are on the verge of shrinking, going into debt or closing the doors. It's a sad state of affairs when Suzuki can only afford a one-man team and Yamaha doesn't even field a factory effort. 
Amazingly, there is one team that is bucking the trend. Sans factory support, without manufacturer funding, free bikes or factory parts, the Rockstar Energy Racing (RER) team has still managed to turn the racing world on its head. 
Rockstar Energy Racing may look like a Suzuki-supported factory team, but it isn't. It would like to be, but when team owner Bobby Hewitt inquired about Suzuki support, he was told that they would have to go it alone because Suzuki was only backing the Yoshimura team and the RCH Hart and Huntington team. 
ROCKSTAR ENERGY RACING'S PROGRAM WAS SAVED BY ROCKSTAR, WHO WAS UNCEREMONIOUSLY DUMPED FROM THE SUZUKI FOLD WHEN
JAMES STEWART BROUGHT RED BULL WITH HIM TO YOSHIMURA.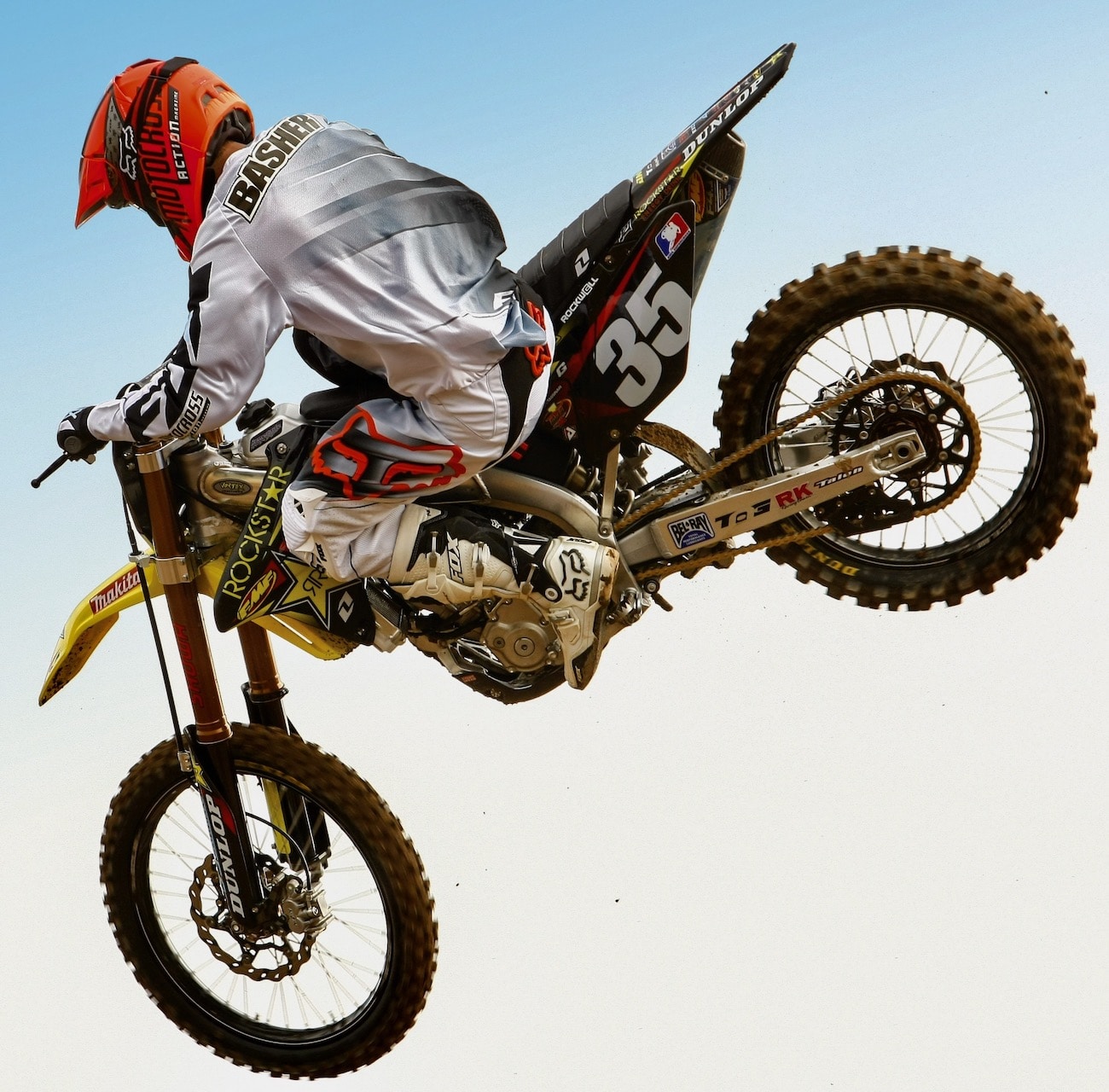 Rockstar Energy Racing's program was saved by Rockstar, who was unceremoniously dumped from the Suzuki fold when James Stewart brought his personal Red Bull sponsorship with him to Yoshimura. As RER Crew Chief Jamie Ellis puts it, "Without Rockstar, we wouldn't be a race team. They are very passionate and driven. They put all of their eggs in our basket for 2013, and we're trying to pay them back with great results. We have a multi-year commitment with Rockstar, and Motosport.com came on board, which has been very helpful." 
Team names can be confusing, and the Bobby Hewitt team has changed names several times over the years. They were once known as Canidae Kawasaki, then as the official Suzuki 250 team and now as Rockstar Energy Racing. Dave Gowland has been instrumental in rebuilding the program, and RER has doubled its staff in recent years. 
This brings us to Ryan Sipes. Known by his team as "America's Favorite Redneck," because of his slow, southern drawl, Sipes has been on the professional scene since 2005. A veteran in the 250 class, Ryan has had the talent to win titles, but the Kentucky rider has never been injury-free. Sipes was not on the must-have list of any factory-supported teams for 2013; it was thought that his time had come and gone.
So why did Rockstar sign him? Jamie Ellis said, "Who doesn't love Ryan Sipes? He's a good addition to our team because he's a seasoned veteran. We also have a place for Ryan if he wants to step up and race the 450 class later. I believe that every team needs a rock—someone who can hold the team together if all else fails. He has been instrumental in testing, and we would love to see him progress into a 450 ride."
Unfortunately, Rockstar Racing's faith in Ryan was tested immediately when Sipes broke his hand and was sidelined again. Fortunately, with Sipes' hand in a cast and his race bike collecting dust, the MXA wrecking crew saw an opportunity to test Ryan Sipes' Rockstar Energy Racing RM-Z250.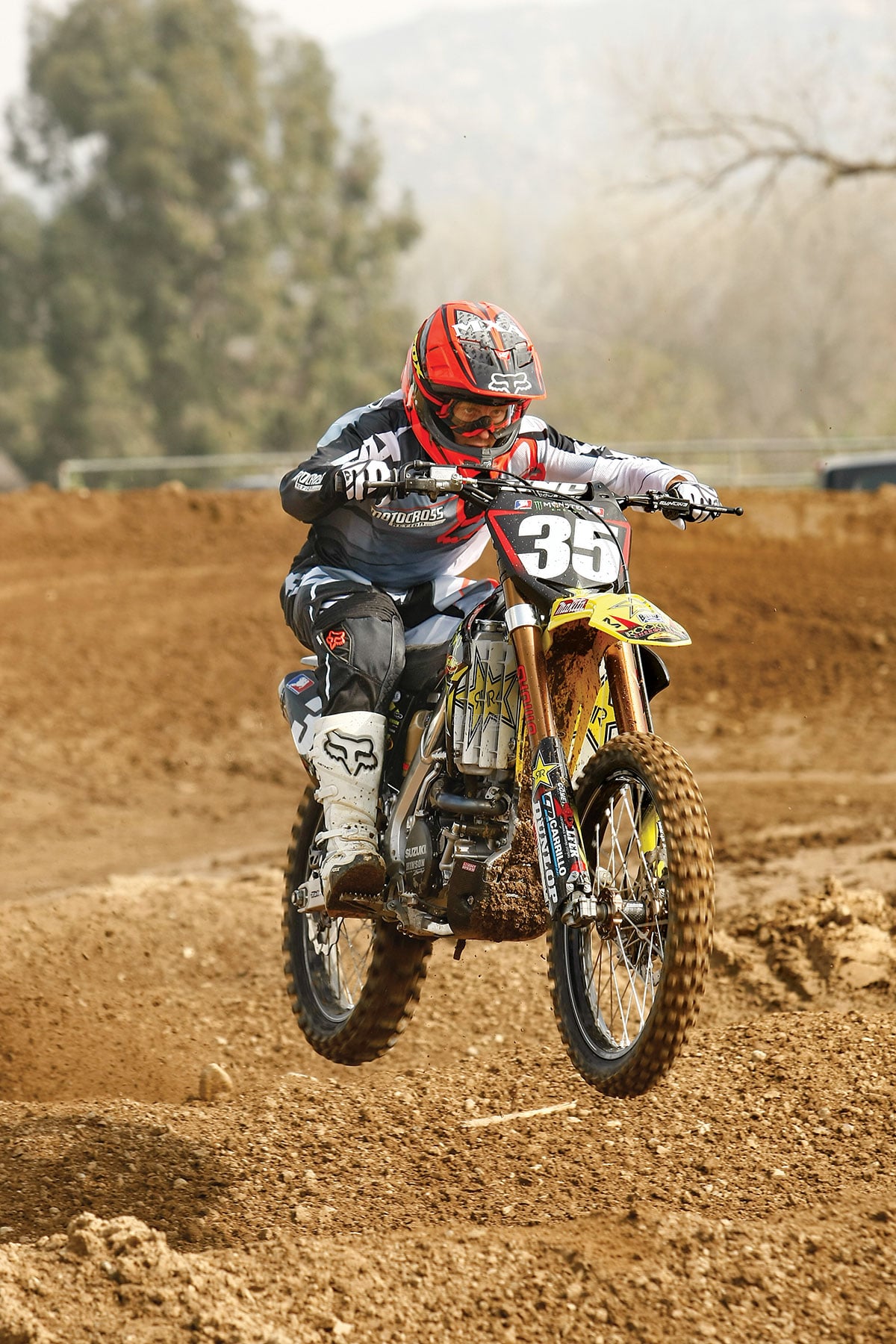 There are many components to Ryan Sipes' Rockstar Energy Racing Suzuki RM-Z250. Here is a breakdown of those key areas.
Engine. CP Carrillo, Cometic and Millennium Technologies are the key players when it comes to Sipes' powerplant. CP Carrillo provides specialized pistons and rods. As Jamie Ellis states, "I deal with Scott Kuhn. He's an engine specialist, and he makes all of our ideas become realities. The valve train is a very important part of the bike, and we confide in him. As for Millennium Technologies, we send out brand-new cylinders to them so that they can re-coat them and do the specifications that we need. We like to keep very tight tolerances, and in my opinion, their plating is second to none. 
"Ryan wants the engine to hit hard. He likes to snap the throttle and have the engine really take off; however, he wants the throttle to feel connected to the rear wheel instead of the back end being overpowered by the engine. Different exhaust and intake cams, as well as a Moto Tassinari Air4orce intake tract, made a big difference for him. Ryan said that the Rockstar Energy Racing RM-Z250 is one of the most fun bikes that he's raced."
The team relies on Bel-Ray chemicals, DT1 air and oil filters, and a complete Hinson clutch, including plates and fibers. RER uses a Moto Tassinari Air4orce intake system. They have their own custom velocity stack developed from rider feedback. Fortunately, Suzuki RM-Z250 owners will benefit from the trickle-down effect of the team's testing. Sipes also uses an FMF Factory 4.1 RCT exhaust with a MegaBomb titanium header. The transmission gears are tumbled, polished and RIM-finished (the stock transmission is used). Final gear ratios are changed per rider specifications. 
ALTHOUGH ELLIS WAS SECRETIVE, MXA BELIEVES THAT SIPES' BIKE IS USING A 44MM KTM THROTTLE BODY WITH THE AUSTRIAN'S PROPRIETARY INVERTED INJECTION NOZZLE.

Mapping. Jamie Ellis works very closely with Vortex for its ignition and mapping needs. Of all the areas on Sipes' RM-Z250, mapping is the most attended to. Since the team is able to control every aspect of the bike, they are constantly refining the mapping, electronic fuel control and Launch mode (more on that below). Vortex gave Ellis all the tools that he needs to plug a computer into the motorcycle and digitally change whatever he wants. Jamie adds, "The mapping of our bikes is something that is very rider-specific. We have the ability to control and set up the maps personally for each rider. It's a major benefit. If the bike isn't properly mapped, then we're not going to benefit from the engine work, exhaust pipe or any other performance item." 

Throttle body. MXA noticed that Ryan Sipes' bike doesn't have the stock RM-Z250 throttle body, so we asked James Ellis about it: "We are using a different throttle body because we found some performance advantages with it. Granted, we never would have been able to achieve this without completely customizing the mapping. This is not just a bolt-on part that you could get performance out of. That's as much as I'd like to say about the throttle body." 
Although Ellis was secretive, the MXA wrecking crew's espionage division believes that Sipes' bike is using a 44mm KTM throttle body with the Austrians' proprietary inverted injection nozzle. 
Race fuel. The Rockstar Energy Racing team has put its trust in Renegade fuel after months of dyno and track testing. James Ellis says, "If Renegade calls and wants to test fuels, then I'll make my day available so that we can try different fuels out on the dyno. What works on the dyno doesn't always show what the riders like when racing. But, if the fuel has positive results on the dyno, then we will try it out on the track." 
Forks. You might be surprised to learn that Ryan Sipes doesn't use Showa air forks, but Sipes instead relies on traditional Showa A-kit suspension. Why? In a word, development. The coil-spring-equipped A-kit has been around so long that the team has zeroed in on very good settings. Jamie says, "We have a really good feeling and direction with the standard A-kit forks." 
Shock. As for the shock, Sipes typically runs a standard-length shock shaft. The team has the ability to change shock-shaft length and linkage lengths to suit the conditions. Most Supercross riders elect to have their subframes cut down to lower the bike's rear for blitzing the whoops, but not Ryan Sipes. He's taller than the average 250 Supercross racer, so he prefers the standard-height subframe. Additionally, Sipes' J27 titanium footpegs are set in the stock position. 
Gearing. Ryan Sipes prefers a 13/51 combo, and he rarely deviates from it. When he wants different gearing, the team does extensive testing on the correlation between rear-wheel position, gearing and suspension performance. If Sipes wants different gearing, then Jamie Ellis will try to adjust the rotating mass of the engine before touching the sprockets. 
SPECIFIC TO THE KAWASAKI KX450F, ROCKSTAR ENERGY RACING HAS FIGURED OUT HOW TO INCORPORATE LAUNCH CONTROL INTO ITS BIKES.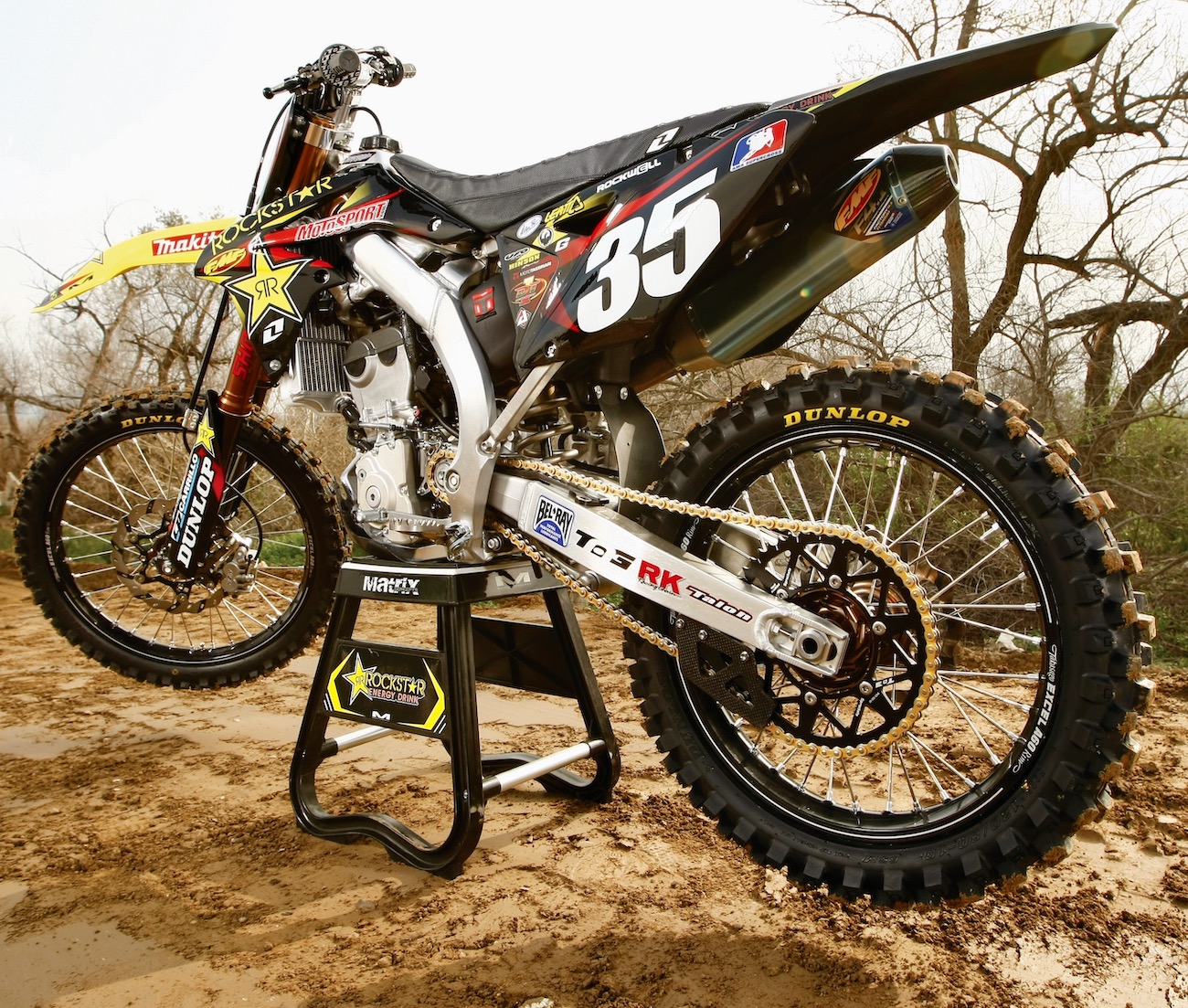 Launch mode. Specific to the Kawasaki KX450F, Rockstar Energy Racing has figured out how to incorporate Launch Control into its bikes. It's a commendable feat. Jamie Ellis explains, "Launch mode is something we developed with Vortex Australia. In truth, it's only as good as the guy programming it. We spend a lot of time with each individual rider to figure out his approach to starting and then tailor our Launch mode to his specifications. Some guys want less traction behind the gate, while others want more." Launch mode deactivates once the bike is shifted into third gear. 
Weight. Ryan Sipes' bike is very light, thanks to having Matt Simmons from J27 devote hours to machining lightweight fasteners and parts. Additionally, Think Technologies builds Rockstar an ultra-light seat foam to help trim the fat. 
Works parts. RER doesn't receive any support from Suzuki, thus they have to make their own one-off parts. "A factory part is only a part designed by someone and intended to make the bike better. Applied Racing has the machining capabilities to allow us to build and design our own parts. They are a big player for the Rockstar Energy Racing team." 
Sipes has tested many Applied triple-clamp-offset and linkage options. Sipes uses a magnesium ignition cover on his race bike, as well as a custom cam-chain tensioner. Many of the parts created by Ellis and his crew are the direct result of working with Applied. 
Aftermarket parts. It wouldn't be possible for the team to race without the support of a plethora of loyal companies. Ellis sums it up well: "We don't change vendors every year. We try to have long-term relationships with the people we work with. I believe that we are finally beginning to see the benefits of having these deep relationships." Vendors such as Galfer (brakes), LightSpeed (performance carbon fiber), UFO (plastics), Dubya (Excel A60 rims with Talon carbon fiber hubs and Dubya wheel lacing), Motion Pro (cables, rear brake snake and tools), Dunlop (tires), Tag (XT-1 James Stewart patented anti-vibration handlebars with half-waffle medium compound grips, grip donuts and sprockets), Sunline (clutch lever and forged front brake lever), RK (chain), One Industries (graphics and seat cover), CV4 (gas tank heat shielding and radiator hoses), Rockwell (watches), Works Connection (holeshot device) and Matrix (bike stands) are on the bill. 
Once on the track, the MXA test riders noticed Ryan's handlebar and lever settings. They were neutral, and we felt comfortable right away. Since Sipes' bike was freshly built, it took time to properly break in the suspension and chassis. As one tester said, "At first I thought the bike was twitchy. Once the bike started to break in, the engine smoothed out and the suspension started to feel more plush." Initially, the RM-Z250 was a handful, but then it became considerably more pleasant and welcoming.
The RER powerplant put the stocker to shame. Strong from the bottom to the top, the engine didn't flatten out when hitting over-rev. In fact, we had trouble getting the engine to wind out. We discovered that the best way to maximize the powerband was by keeping the rpm humming in the midrange. If mistakes were made and we fell off the pipe, we could instantly get power to the ground by blipping the throttle, even if we were a gear too high. Our testers could ride most of the Supercross track in second gear, shifting up to third only when entering the whoops. 
It's intimidating to ride a full-blown Supercross track. Jumping peaked triples, navigating rhythm lanes and blasting through jagged whoop sections is no simple task. Having suspension that is capable of handling those obstacles is critical to the rider. Finding comfort in every area of a Supercross track is like hitting a moving target. Sipes' suspension techs are excellent marksmen. The Showa suspension soaked up everything, no matter the situation. MXA's test riders were able to push hard into jump faces and stay low. The forks ramped up well in transitions of rhythm sections, and the suspension was confidence-inspiring. How do we know? At one point we overshot a triple. Coming down from lunar orbit and landing flat, the suspension soaked up the monumental impact and transferred very little load to the rider's body. The test rider said afterward, "Normally, I would have folded my wrists and slammed my face into the bars. It would have been ugly. I'm certainly glad that I was on Ryan's bike when this miscue happened."
We can tell a lot about a rider's tastes by the way he prefers to run his front brake. Ryan Sipes' oversized Galfer front brake rotor is the equivalent of Baby Bear's porridge. We absolutely loved it. We respected the front brake, but it wasn't so reactive that we felt like we were going to go over the bars if we squeezed too hard. It was just right.
What Rockstar Energy Racing has managed to accomplish is an impressive feat. The team lacks factory support, yet it hasn't slowed their progress towards the podium. Ryan Sipes' RM-Z250 is a prime example of the team's mantra—build a super-competitive bike, develop one-off parts if need be and hire the best racer possible. It shouldn't come as a surprise that they are doing well, because success comes from hard work. Being the underdog, Rockstar Energy Racing doesn't know anything other than working hard. It shows.