MXA RETRO TEST: WE RIDE RYAN VILLOPOTO'S MXDN-WINNING PRO CIRCUIT 2007 KX250F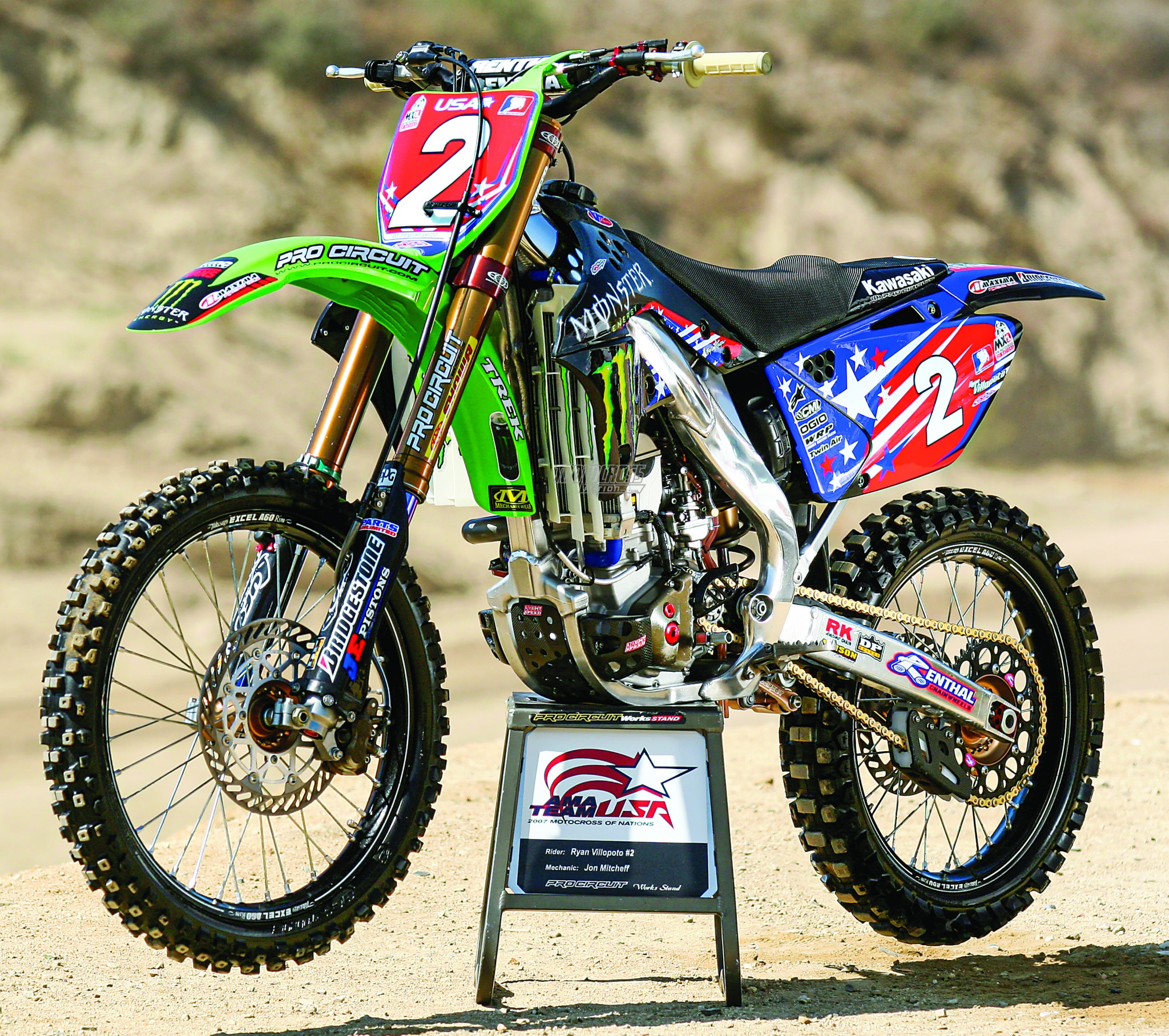 We get misty-eyed sometimes thinking about past bikes we loved and those that should remain forgotten. We take you on a trip down memory lane with bike tests that got filed away and disregarded in the MXA archives. We reminisce on a piece of moto history that has been resurrected. Here is our test of Ryan Villopoto's 2007 MXDN-winning Pro Circuit KX250F.
"They are too fast. It is unfair. They are too good. Something has to be done about those Pro Circuit bikes." Amazingly, there are people who believe that the Kawasaki KX250Fs coming out of Pro Circuit's Corona, California, race shop should be handicapped, banned or forced to race in the 450 class. Poppycock! Does anyone really believe that the Honda Motor Corporation needs protectionist rules to save it from the might of a local race shop? 
MITCH TURNED HIMSELF FROM A RACER INTO THE GREATEST MOTOCROSS
TUNER IN THE HISTORY OF THE SPORT.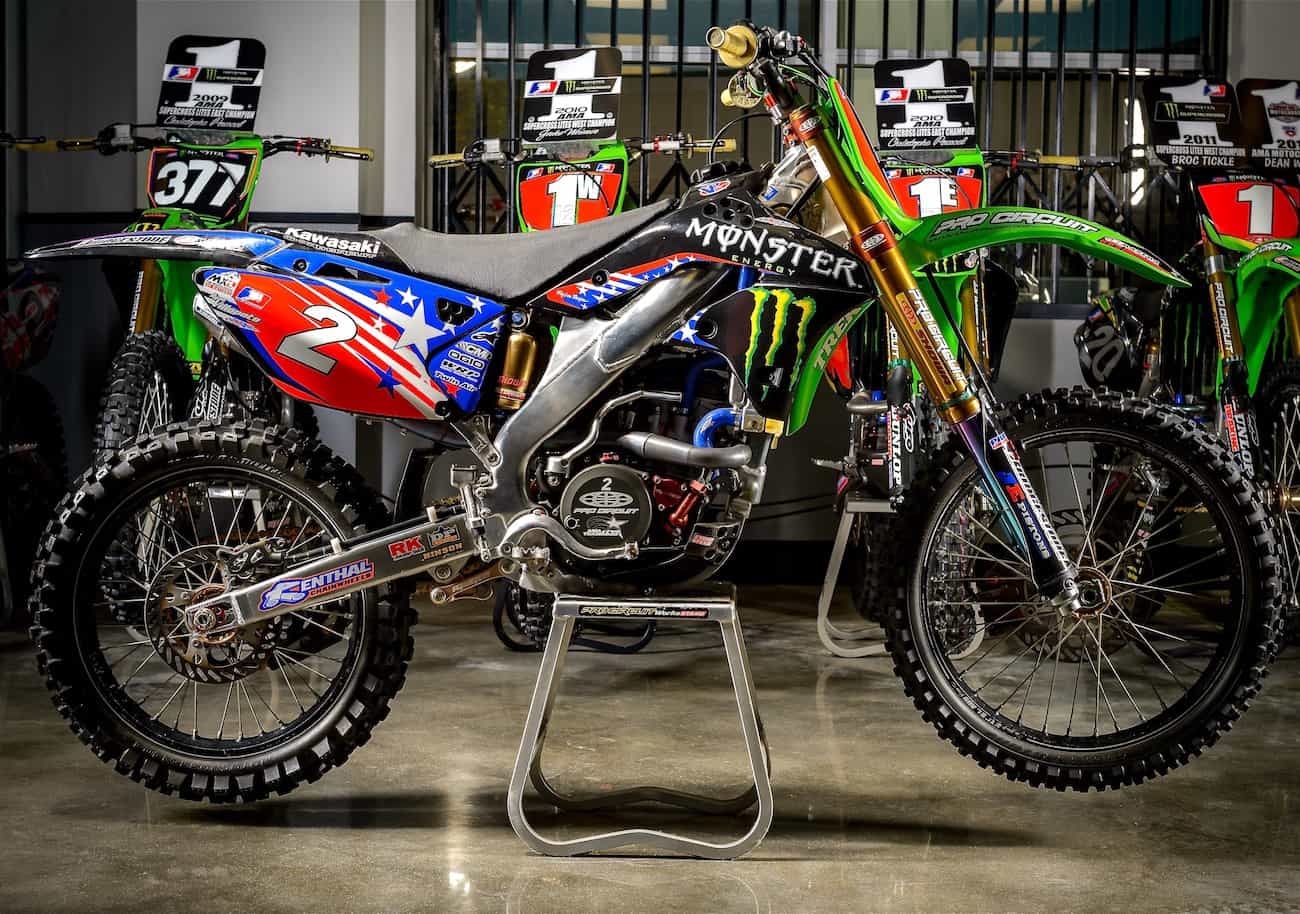 Pro Circuit has achieved all of its success the old-fashioned way; they earned it. Started in the late '70s as a tiny little Husqvarna shop (housed in an old dry cleaners building), Pro Circuit has doggedly pursued excellence for 30 years. There have been no changes in management, no years off, no weakening of the spirit and no compromises in those three decades. Pro Circuit isn't a "check book" race team. There is no sugar daddy behind the scenes. It started from scratch. Pro Circuit has been the most professional race team on the AMA circuit since 1991' when it literally invented the team concept (matching gear, team helmets, consistent branding and one leader).
When Mitch Payton started Pro Circuit, he was a teenage desert racer fresh out of rehab from a career-ending back injury. With the help of his blue-collar parents, a small cadre of friends, and the ambition to make it in the motorcycle world, Mitch turned himself from a racer into the greatest motocross tuner in the history of the sport.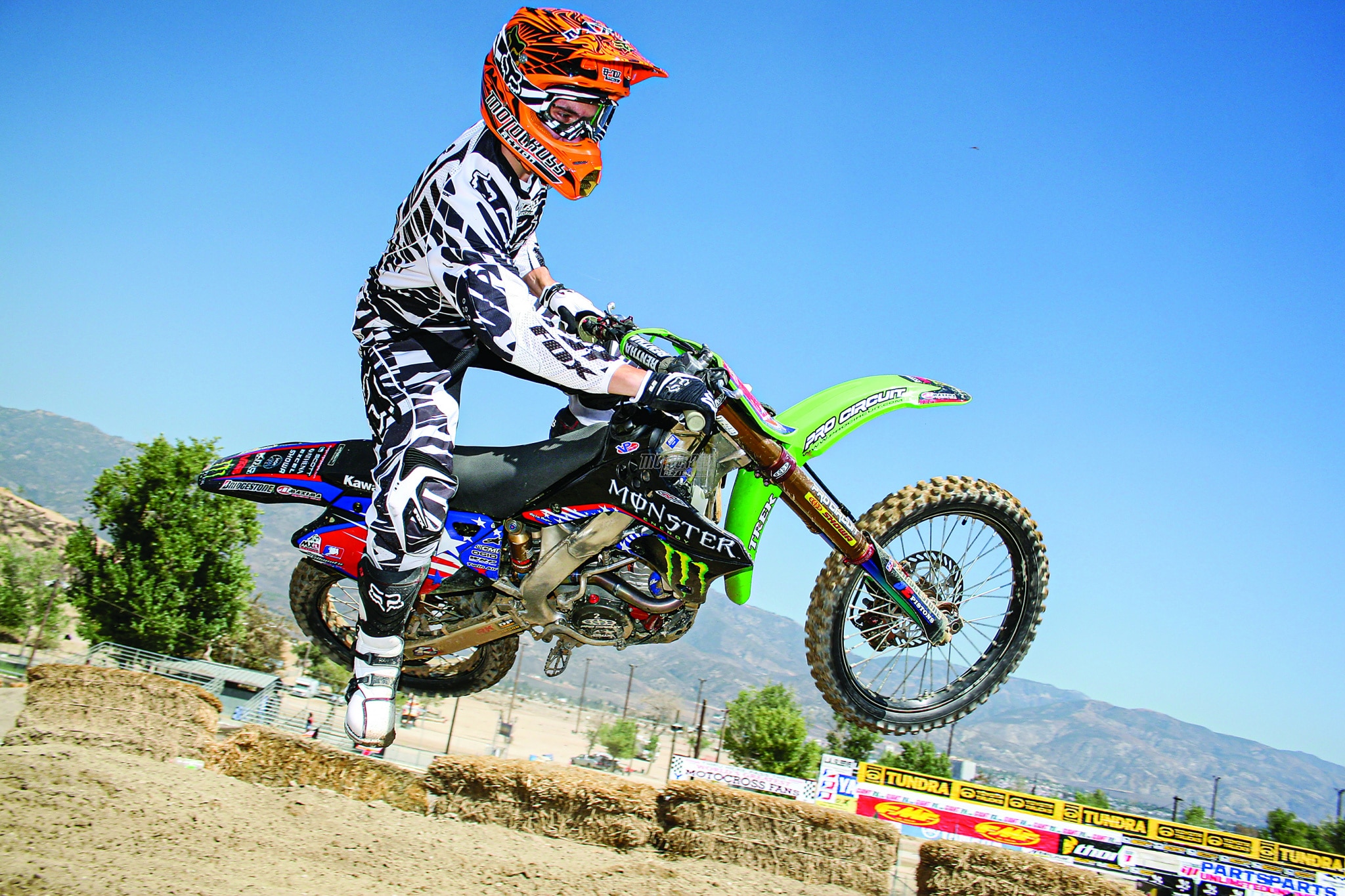 Pro Circuit doesn't need confirmation that it is the most powerful team in motocross, but if it did, the performance of the Pro Circuit KX250Fs this season would be it. Not only did Ryan Villopoto and Ben Townley engage in a two-man war for the 250 National Championship, the Pro Circuit team of Villopoto, Townley, Metcalfe and Stroupe swept the National podiums and even turned in the first-ever 1-2-3-4 sweep by riders on a single team (Steel City National). 
Villopoto put the icing on the cake when he went to the 2007 Motocross des Nations and became the first small-bore rider in history to win both the 250/450 and 250/Open classes overall (which means that Ryan beat not only all the other 250F riders but also the big-bore World and National Championship riders from every country on the planet).
The MXA wrecking crew got to ride the exact bike that Ryan raced at the MXDN; it still had the Budds Creek dirt on it.
THE ONLY WORKS PARTS THAT THE PRO CIRCUIT TEAM CAN GET FROM KAWASAKI ARE
THE ONES THAT CAN BE BORROWED FROM STEWART'S AND FERRY'S KX450FS.

 
SHOP TALK: WHAT IS IT ALL ABOUT? Ryan Villopoto's bike is a cyborg machine crafted from a mix of production parts, Team Kawasaki works parts, Pro Circuit over-the-counter parts and one-off parts from the bowels of the Pro Circuit brain trust. The synthesis of all of these parts is melded into a meticulously prepared machine. 
WHICH PARTS ARE WORKS? As a Kawasaki-supported race team, Pro Circuit has access to all of Kawasaki's KX250F works parts. Guess what? There aren't any. Kawasaki leaves all of its KX250F development up to Mitch and the boys. The only works parts that the Pro Circuit team can get from Kawasaki are the ones that can be borrowed from Stewart's and Ferry's KX450Fs. That means that the works parts on Ryan Villopoto's KX250F are limited to KHI (Kawasaki heavy Industries) hubs, oversized radiators, a close-ratio transmission and brake calipers. Amazingly, the works hubs aren't even cast from magnesium; they are aluminum. Additionally, the close-ratio gearbox, which has second gear moved closer to third, was a part that Pro Circuit offered for sale to the public a few years ago, but there weren't enough takers at $4000 each to order them in quantity.

HOW MANY PARTS ARE PRODUCTION ON RYAN'S KX250F? The list of production parts that Ryan uses is even shorter than his list of works parts. The only stock KX250F pieces that aren't massaged are made from plastic. Every other piece gets attention from the race team, be it the hump seat, 2.15-width rims or the swingarm off of a KX450F (it is 7mm longer). 
COULD YOU BUY RYAN VILLOPOTO'S KX250F? Yes. Virtually every part of Ryan's bike can be purchased from Pro Circuit. And that includes his works Showa suspension, titanium valves, 22mm offset triple clamps, valve springs, clutch, rising-rate linkage, exhaust system, engine covers, Beryllium valve seats, bars, grips, suspension valving, clutch perch, water pump and titanium axles/pivot bolts. But, there are some limits. While you can buy the same Pro Circuit-designed piston, camshaft and porting, you have to understand that Ryan Villopoto's parts are two or three generations beyond the normal parts. That is how the beast gets better—by having the race team test the new stuff before it goes on sale to the public.
WHAT ARE THE TRICKEST PARTS OF VILLOPOTO'S BIKE? We hate to say that everything is trick, but that is the truth. Ryan's subframe is cut down 3mm. His footpegs are raised 5mm. His muffler is sound tested every week before he leaves for the races. His tires are works Bridgestones (equipped with mousses front and rear). His axles are Ti. His bars are Renthal 998s (moved back 15mm). His KX250F comes with a remote oil cooler (powered by an internal pump). His clutch is a complete Hinson unit (basket, pressure plate and inner hub). His chain guide is made by Lightspeed, and his front brake rotor is 270mm. If push came to shove and we had to pick just one piece of exotica that stands out as the trickest, we'd go with the Pro Circuit top-end. It's jewel-like.
TEST RIDE: HANG ON AND PRAY Before we tell you what it's like to ride, we want to tell you that this is the fastest 250 four-stroke we've ever ridden (and we've ridden all of Pro Circuit's previous race engines, plus the works bikes of Honda, Suzuki, KTM and Yamaha). 

HOW FAST IS IT? If you were blindfolded while on Ryan's KX250F, you'd swear you were on a KX450F—not just because of the power, but because of the sound. There is no lightweight buzz coming out of the Pro Circuit exhaust. It rumbles. It roars. And, it has a heavy vibrato that belies its 250cc displacement. It should be noted that Pro Circuit's muffler was 96 dB at Budds Creek (of course, that was at the 5000-rpm FIM sound test levels).
IT WAS ADEPT AT BOTH, AND THAT MEANT THAT THE MXA TEST RIDERS DIDN'T ALWAYS HAVE TO PLAY GUN-AND-RUN.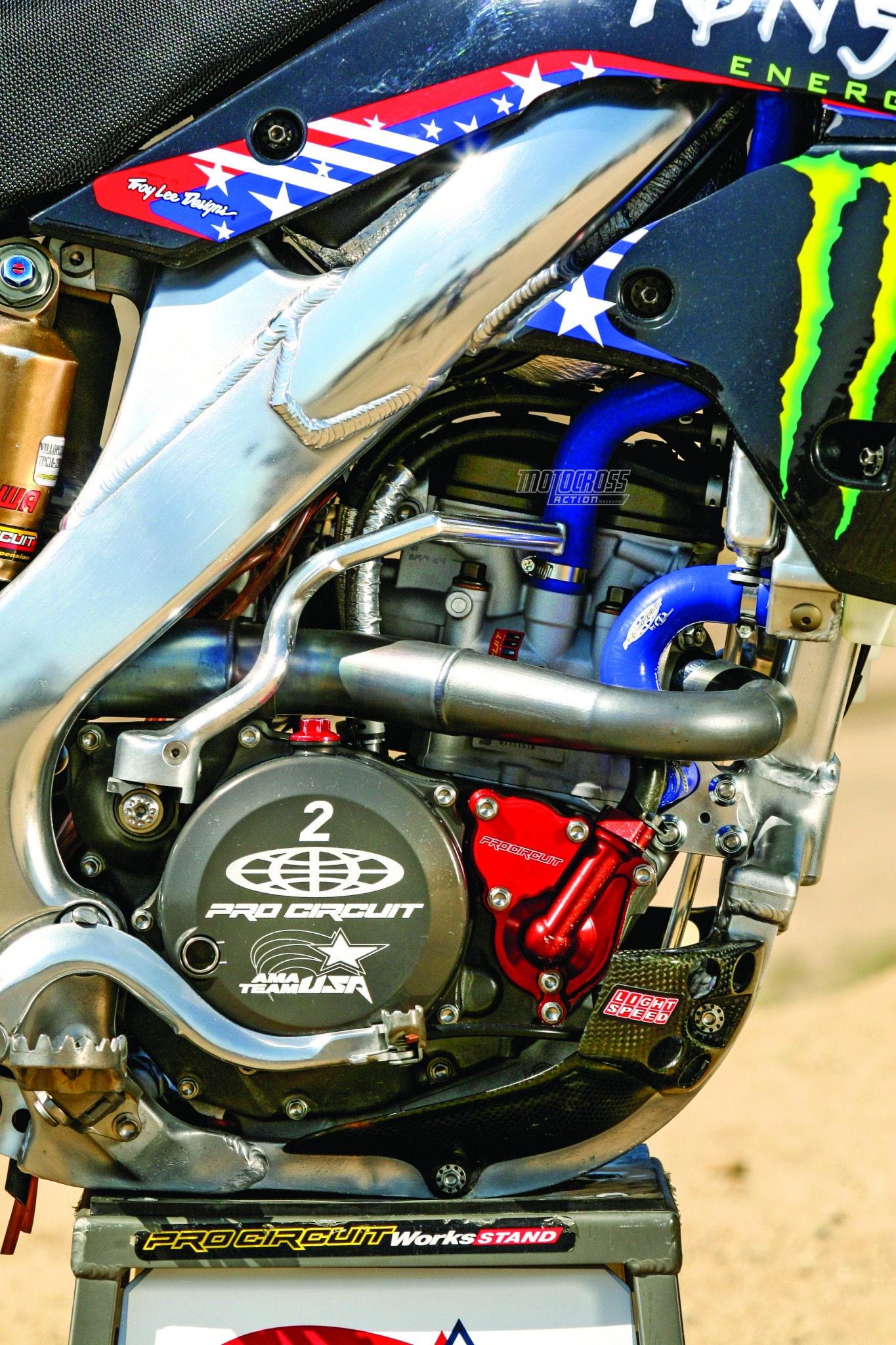 What is it like to ride? Like no other KX250F we have ever been on. When ridden in anger, it hits hard, pulls hard and revs so far that we didn't always have the nerve to wring its little heart out. No sweat! Mitch Payton says that it actually revs less than his previous engines, but that the power is metered out so consistently that the existing revs just seem longer. We'd guess that the rev limiter was close to 13,700 rpm. Although it has impressive hit, that isn't the Pro Circuit KX250F's greatest attribute. The hit is nice, but you don't need it. MXA test riders could roll the throttle on and ride a wave of power that was almost diesel-like from low-to-mid. Power comes tumbling out of Ryan Villopoto's engine from the lowest rpm all the way until glass breaks.
We could lug it in the corners in third and ride it like a 450, or we could put the hammer down and live life in the high-rpm lane. It was adept at both, and that meant that the MXA test riders didn't always have to play gun-and-run. We had throttle solutions to tricky situations. We didn't have to wait to pull the trigger. The Pro Circuit engine could run at quarter throttle, half throttle or full throttle. That is a potent weapon for a full-race 250 four-stroke to have.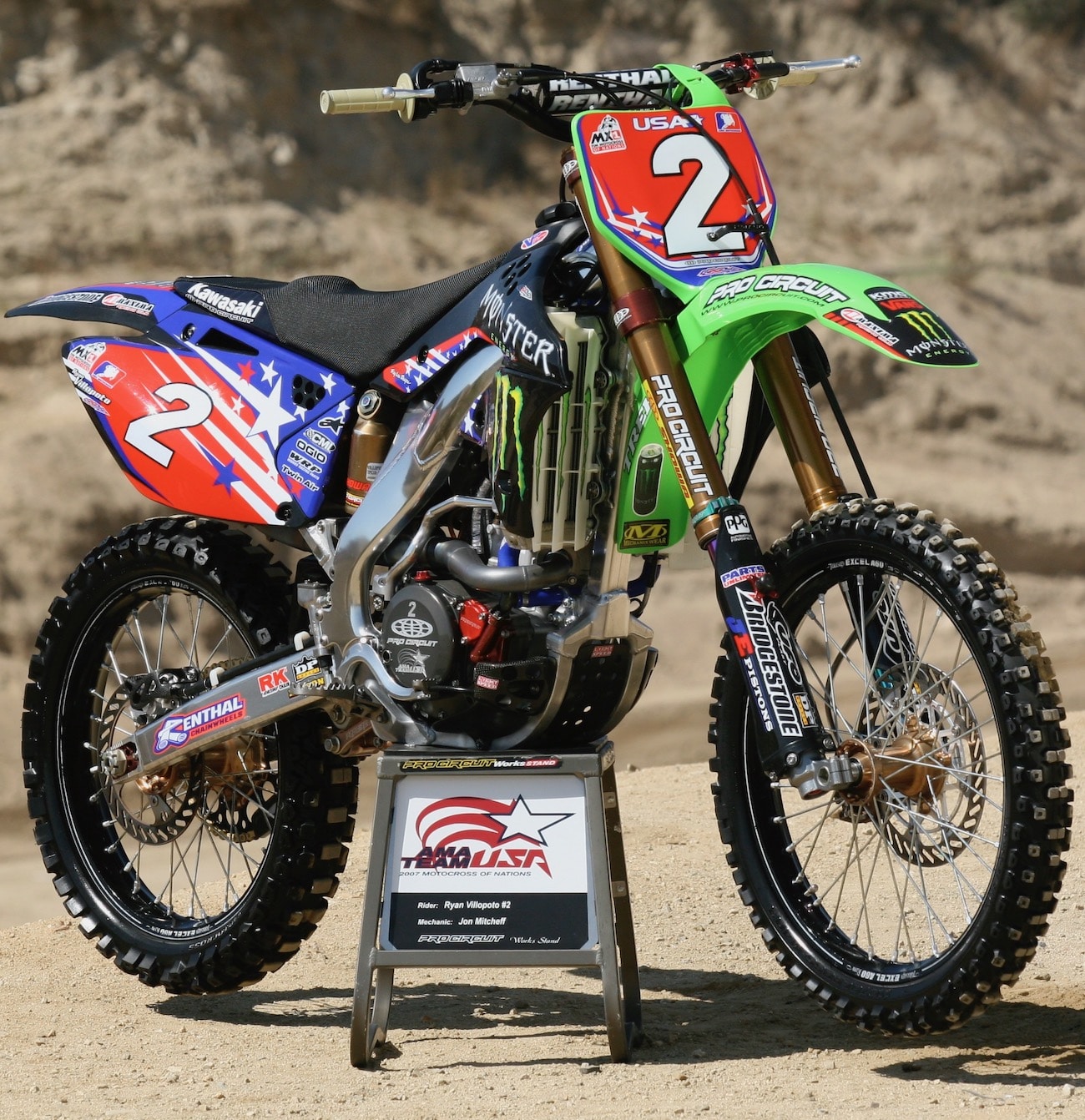 HOW WERE THE ERGONOMICS? Ryan's setup is not designed for anyone in the NBA. Characterized by very high footpegs, a very low saddle (with a hump that is way forward on the seat), moved-back bar mounts and laser-level levers, this bike is custom-made for Ryan. If you are short, it's sweet. If you are over 5-foot-9, you will feel like you are the third guy in the back seat of a VW Bug. 
HOW WAS THE WORKS SUSPENSION? Ryan Villopoto's suspension was very good. MXA test riders raved about his Showa works forks. We think that Ryan's forks would work for local riders, largely because they are valved for his small stature, which makes them one of the few sets of works forks that work for full-size MXA test riders. His shock wasn't as good for average folk. It demanded a full-out attack mode. Pro Circuit outfits Ryan's bike with its proprietary shock linkage, which lowers the rear end by a 1/2 inch and helps hold it higher in the stroke on compression. MXA runs this link on our test bikes. It works. But, when combined with Ryan's cut subframe, the result is a very low rear end (perhaps as much as 1 inch lower than stock).
VERDICT: WHAT DO WE THINK? We know that Ryan Villopoto could win on a YZ250F, CRF250, 250SXF or RM-Z250, but it wouldn't be as easy. Last year MXA built a MaxPower KX315 that we outfitted with Ryan's cut subframe, shock linkage, 22mm triple clamps, camshaft, porting and exhaust. It was a great bike. But, even the full-race 315cc engine wasn't anywhere near as fast as Ryan's MXDN engine.