MXA RETRO TEST: WE RIDE TIM FERRY'S MXDN CHAMPIONSHIP KAWASAKI KX450F
We get misty-eyed sometimes thinking about past bikes we loved, as well as ones that should remain forgotten. We take you on a trip down memory lane with bike tests that got filed away and disregarded in the MXA achieves. We reminisce on a piece of moto history that has been resurrected. Here is our test of Tim Ferry's MXDN Championship-winning Factory KX450F.
To say that Tim Ferry's 2007 outdoor season was a roller-coaster ride would be a serious understatement, but everything about Timmy's career has a tinge of Mr. Toad's Wild Ride about it. Ferry was a late bloomer who didn't exactly charge out of the Amateur ranks in the same way that Villopoto, Stroupe, Hill and Dungey have. Tim worked at his craft. It came to him over time. A decade ago, Tim Ferry was on the verge of achieving stardom after winning the 1997 AMA 125 East Supercross Championship. Immediately after that emotional high, the roller coaster took a plunge when the AMA announced that Timmy had pointed out of the 125 Supercross class. With little or no 250cc experience, Tim's career took a major step backwards. He was unceremoniously dropped from Team Suzuki but found support from both the Noleen and Chaparral teams until he got back on the factory bandwagon with Team Yamaha in 1999.
After a string of knee and wrist injuries in 2004 and 2005 that left him on the sidelines, Team Yamaha dropped him. Back as a privateer, and 30 years old, Tim ended up on the MotoXXX team for the 2006 season. He had a decent year in 2006, but nothing to write home about. Then, suddenly, Team Kawasaki came calling. Michael Byrne had reportedly asked for too much money, and Kawasaki decided to bring in a veteran to replace him. Tim Ferry was back on the roller-coaster ride.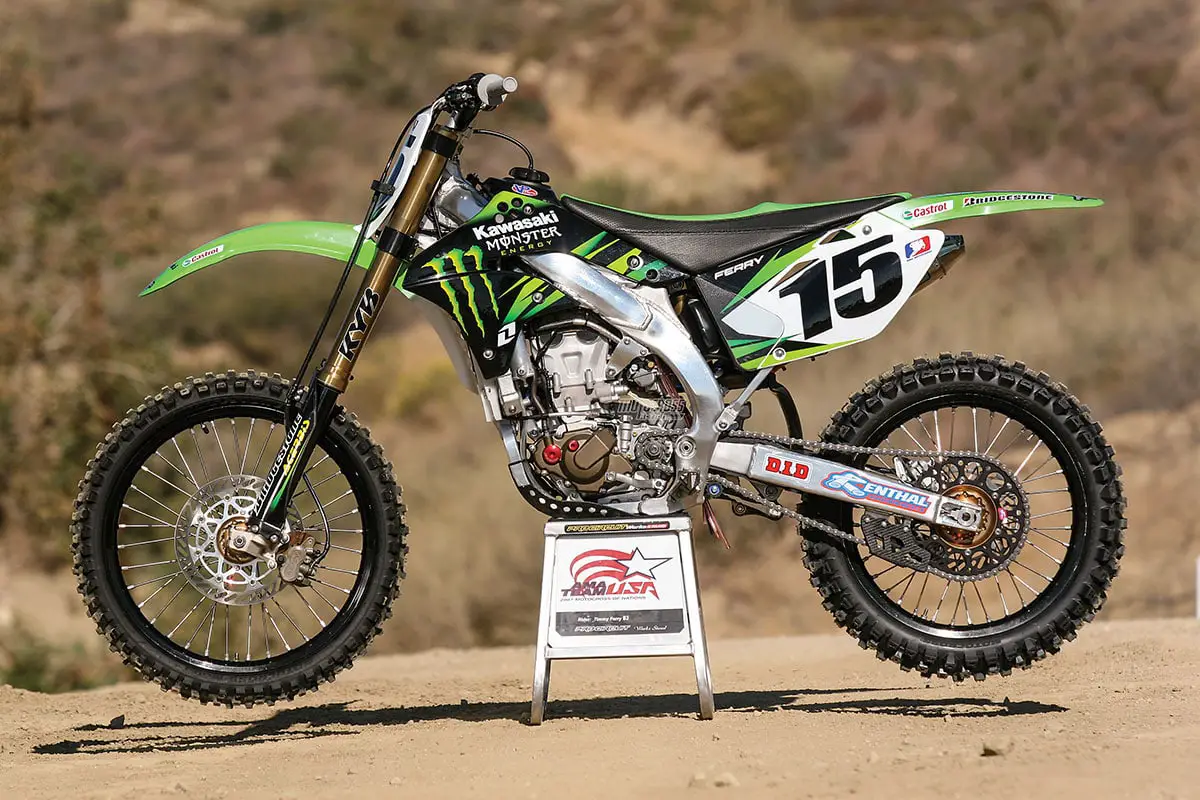 Tim made the most of his Kawasaki deal and was in the chase for the 2007 AMA 450 National title right up to the Glen Helen finale. A fan favorite, "Red Dog" might not have won his long sought-after National Championship, but he has no reason to hang his head. After all, he finished out the year healthy and with newfound confidence, knowing that he is more than capable of winning races and championships. We're pretty sure that having a factory Kawasaki ride for next year doesn't hurt his chances, either.
A large part of Ferry's job as James Stewart's teammate was to provide technical feedback to the team. Tim was Team Kawasaki's doctor. He diagnosed the ills of the KX450F and tested the remedies. Now it was the MXA wrecking crew's chance to delve into Tim Ferry's personal race bike.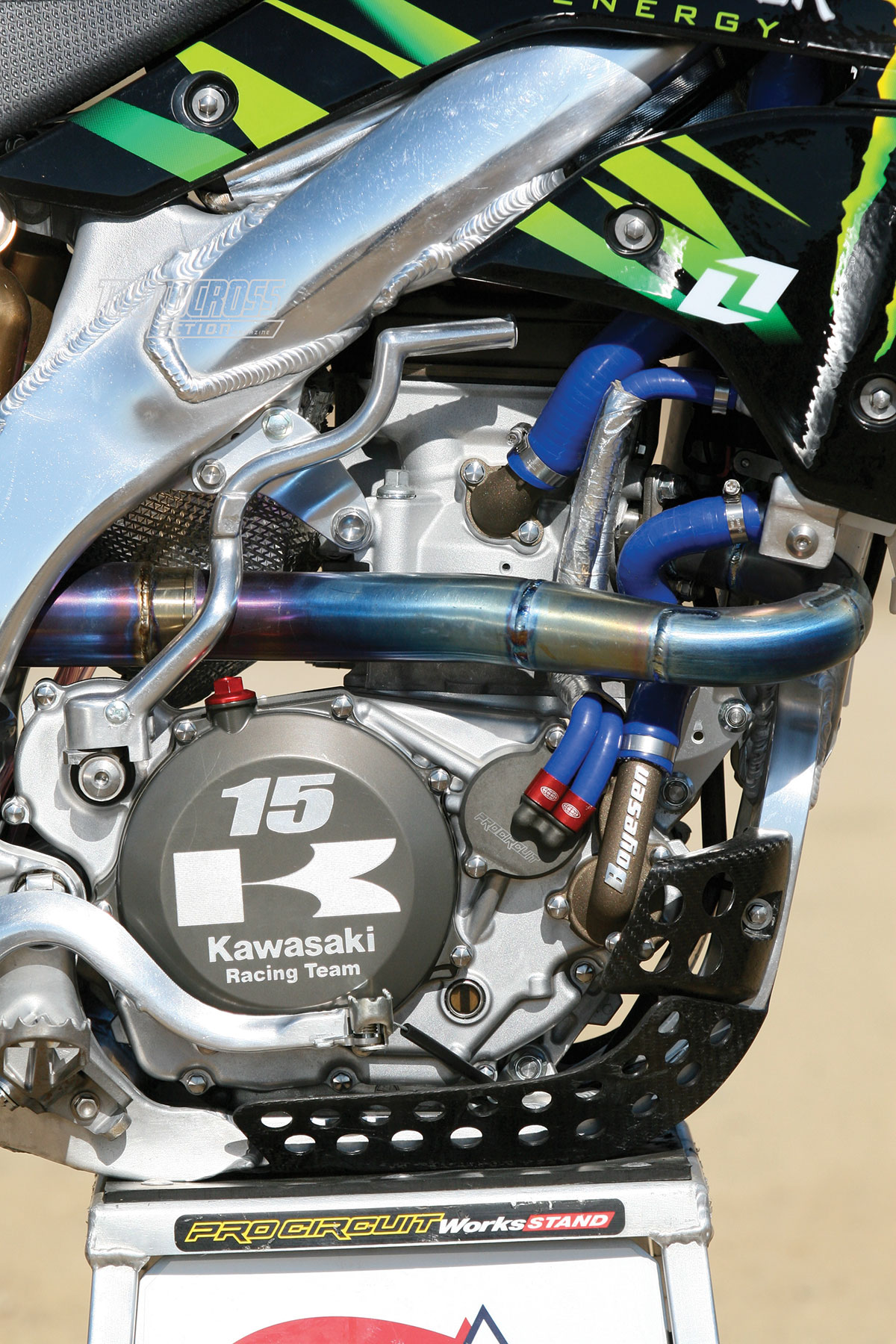 SHOP TALK: WHAT IS IT ALL ABOUT? At first glance, Tim Ferry's KX450F is as eye-catching as Farrah Fawcett in "Charlie's Angels." Although not blonde, the bike is still beautiful. With its black rims, green and black plastic, color-coordinated Monster Energy/Kawasaki graphics, polished aluminum frame and factory parts, it makes your head spin.     
WHAT PARTS ARE WORKS? The boys at Kawasaki shuffled their feet in the dirt and looked at the ground when we asked them what parts were factory specials, but they finally agreed to answer the question. The hubs, brakes, rotors, suspension, clutch case, triple clamps, shock linkage, titanium hardware, radiator recovery tank, transmission, radiators and head either come from KHI (Kawasaki Japan) or KMC (Kawasaki America).
WHAT PARTS ARE PRODUCTION? This is one of the only true-to-life works bike on the AMA circuit. It only has the production parts needed to meet the AMA rules. Here's the short list: frame, castings, swingarm, subframe, ignition, crank and carburetor.     
WHAT IS THE COOLEST THING ON TIM FERRY'S KX450F? There are a few parts that really stand out on Ferry's Kawasaki, most notably the Pro Circuit-designed oil cooler, factory water recovery tank, factory gas tank under-tray and 49mm Kayaba works forks. Of all the parts, the radiator recovery tank had the biggest wow factor. Unlike some catch tanks that simply hold excess radiator fluid (that has to be poured back into the radiator after every moto), Kawasaki's factory recovery tank forces the fluid run-off back into the radiator as the radiator cools. It returns the radiator fluid level back to normal without the mechanic ever having to worry about it. Talk about self-service!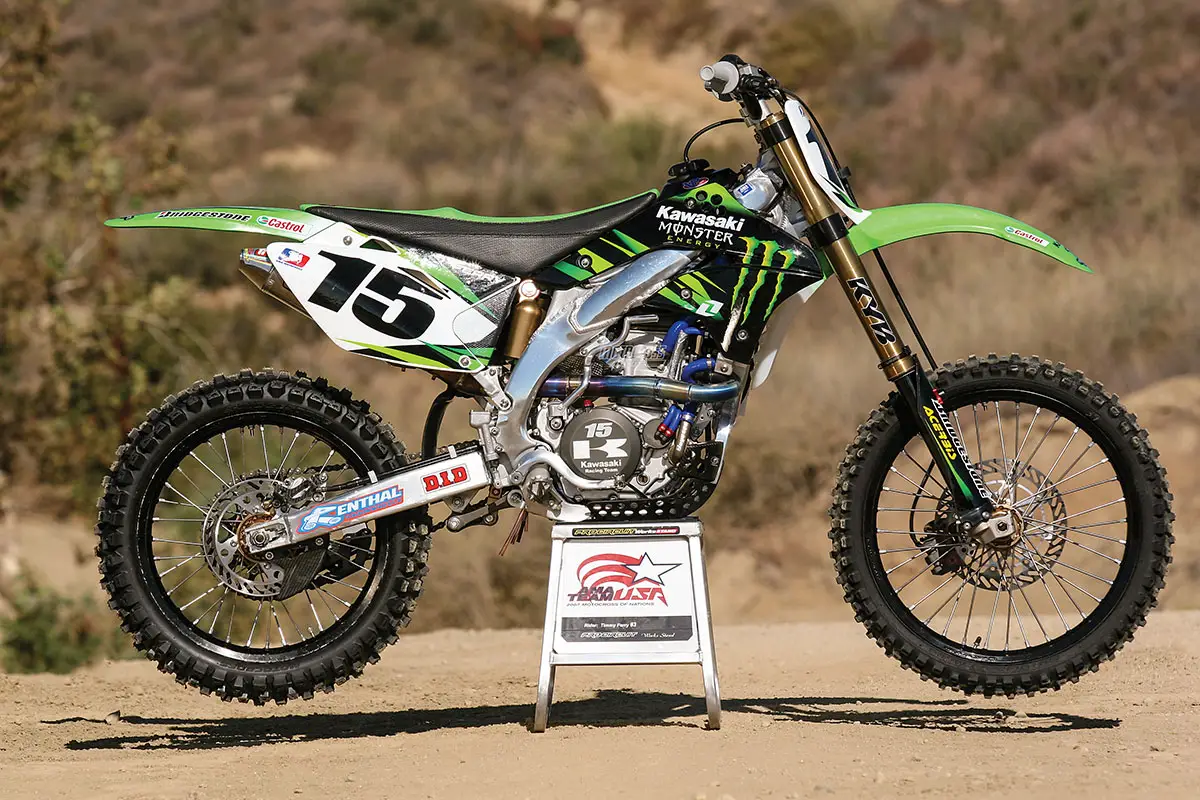 HOW MUCH DOES FERRY'S KX450F WEIGH? We had to twist Kawasaki's arm in order for them to give us a ballpark weight, but after badgering for quite some time, they spit out a number—228 pounds. That is light, thanks in part to the carbon fiber skid plate, chain guide, disc cover, factory rims, aluminum works hubs, titanium front spokes, Pro Circuit Ti-4 exhaust system and factory triple clamps.
TEST RIDE: HANG ON AND PRAY. If you thought that riding Tim Ferry's KX450F would be identical to riding James Stewart's bike, think again. While the two are teammates, their bike setup couldn't be more different. While each bike is customized to the rider, the Kawasaki technicians stated that Ferry's bike would work very well in the hands of any top local Pro- or National-caliber rider, which by inference probably means that Stewart's KX450F is a little more temperamental. We couldn't wait to find out if they were right. Here is what Ferry's fourth-place-overall 450 National bike was like to ride.
HOW FAST IS IT? In the horsepower department, Tim Ferry's KX450F spits bolts of lightning. It doesn't exactly have a meaty powerband that oozes off the bottom-end, pulls through the mid and rips up on top. Instead, it is mostly a mid-and-up powerband. It reminded many MXA test riders of a four-stroke version of a hot-rod two-stroke. It's a potent engine that was designed for a rider who constantly attacks the track, never lets off and has an aversion to lugging the engine. As every MXA test rider found out, success came from twisting the throttle hard. This engine rewarded fearlessness. Chop the throttle and you'll have to shift down and get the bike back into the heart of the powerband. Pro-level MXA test riders heartily embraced Ferry's engine, nearly refusing to get off the bike after their test session was over. Novice and Amateur riders came back white as sheets, shaking like leaves in a tornado, all because they held the power on down straight-aways like they never have before. Tim Ferry's KX450F engine wasn't for the faint of heart.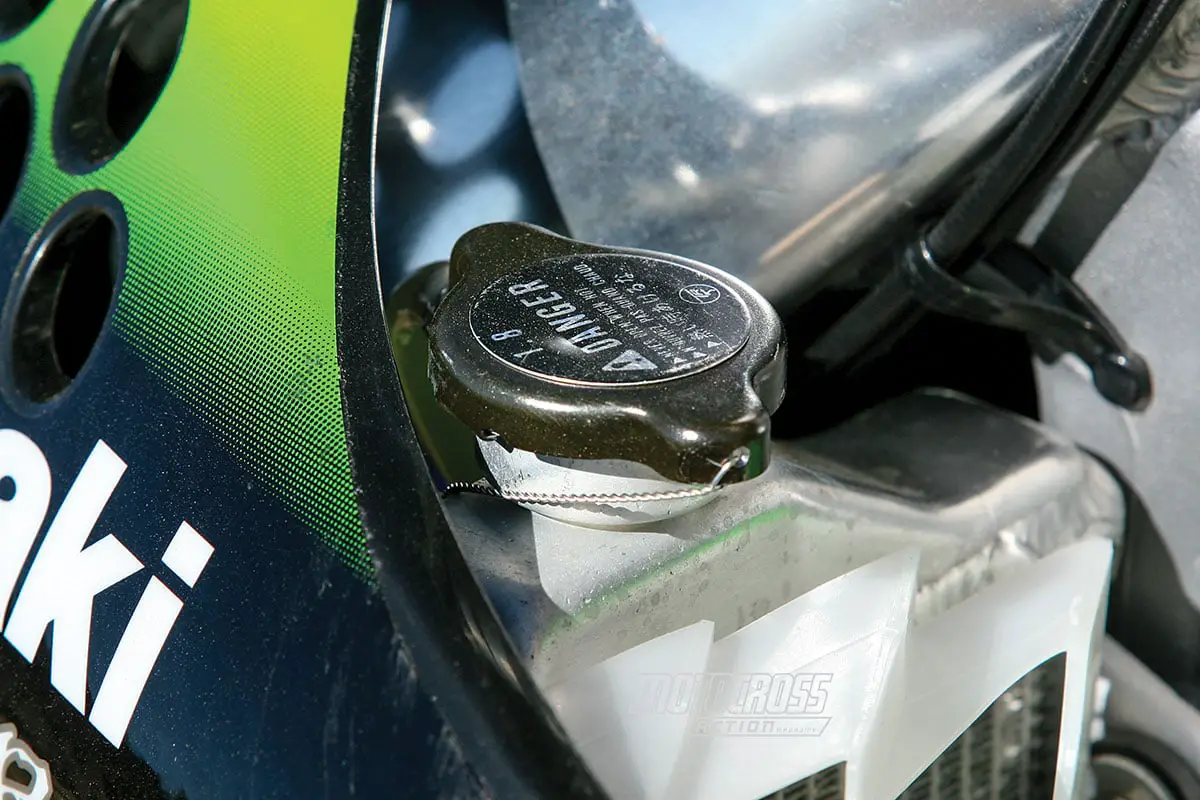 HOW WAS THE SUSPENSION? The 49mm Kayaba fork units were blissful for National-level riders. Although they were a little stiff, the forks were not harsh. The Kayabas were predictable over jumps, through braking bumps and in tricky off-camber corners followed by chop. At 49mm, the fork tubes were stiffer than what most MXA test riders are used to, but they still offered enough flex on big impacts. The forks tracked straight.

With valving changes, Ferry's 49mm Kayaba forks would suit any level rider, but keep dreaming if you think that you're going to get your hands on this factory suspension, and that includes the Kayaba shock. The shock itself was too stiff for all but top Pro riders, but was well-balanced with the forks.
HOW WERE THE ERGONOMICS? Tim Ferry's KX450F was extremely comfortable. His levers were in a neutral position, his rear brake was horizontal with his right footpeg, and the Renthal 971 bars felt as familiar as the couch in our living room. There wasn't anything goofy on Ferry's bike. The only problem that test riders had, which is more of personal preference than a complaint, was the hump seat. The seat foam was stiff enough, but the hump was farther forward than we felt comfortable with. Tim primarily employs the hump seat on starts and then rides in whatever position he feels like afterwards. Overall, the ergonomics on Ferry's Factory KX450F were among the most comfortable that we have felt on a factory bike.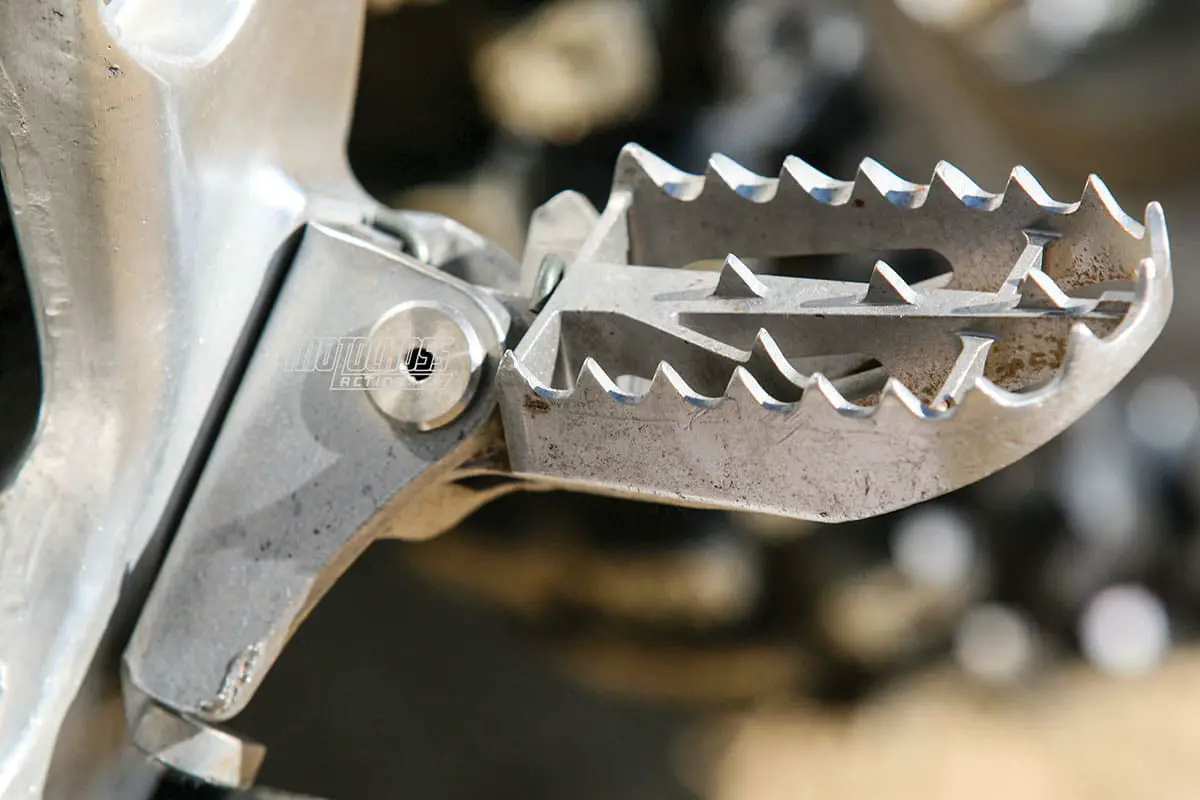 WHAT WAS THE RIDE HEIGHT LIKE? At Ferry's request, Kawasaki cut the subframe 5mm in order to drop the seat height (about a half-inch lower at the rear of the seat). Why? Tim Ferry has a big heart, but he has short legs. According to Kawasaki, "Red Dog" wouldn't have been able to reach the ground without a shortened subframe (and using starting blocks in the 450 class is taboo). The lowered subframe also keeps the rear end of Tim's bike from slapping him on his leathers. This was very noticeable according to test riders who enjoyed the fact that the KX450F didn't feel like a bucking bronco. Does this mean that shorter KX450F owners should cut their subframe 5mm? Not exactly. Keep in mind that Ferry runs a completely different shock setup, including a factory linkage that makes the shock stiffer all the way through the stroke. Local riders can achieve the same basic setup with Pro Circuit's aftermarket shock linkage.
HOW WAS THE GEARING ON FERRY'S KX450F? We expected Tim Ferry's bike to have five gears, considering that Kawasaki tacked on a top gear on the production KX450F for 2007. Think again! Ferry didn't see any use for a fifth gear, so he opted for a 2006 KX450F four-speed gearbox. As for the gear ratios, they were not touched. The stock 2006 gearing was left alone on Ferry's 2007 KX450F.
VERDICT: WHAT DO WE THINK? We liked Tim Ferry's bike. It was extremely works, but at the same time very personal. Pro-level test riders loved the engine and suspension, and immediately felt comfortable on Ferry's KX450F. Lower-level riders couldn't quite come to terms with the engine, but loved the overall setup and feel of Tim's bike.
It should be noted that Tim Ferry is night-and-day faster than any local rider in the world, but he knows the importance of proper setup. Unlike most factory riders, Tim has ridden the roller coaster to the top and to the bottom several times. He knows good from bad, works from production, and factory from privateer, because he's been there and done that. Tim knows his factory KX450F is the machine that can keep the coaster climbing.