MXA RETRO TEST: WE RIDE TIM FERRY'S THREE-SPEED 2002 YAMAHA YZ426
We get misty-eyed sometimes thinking about past bikes we loved, as well as ones that should remain forgotten. We take you on a trip down memory lane with bike tests that got filed away and disregarded in the MXA archives. We reminisce on a piece of moto history that has been resurrected. Here is our test of Tim Ferry's 2002 Yamaha YZ426.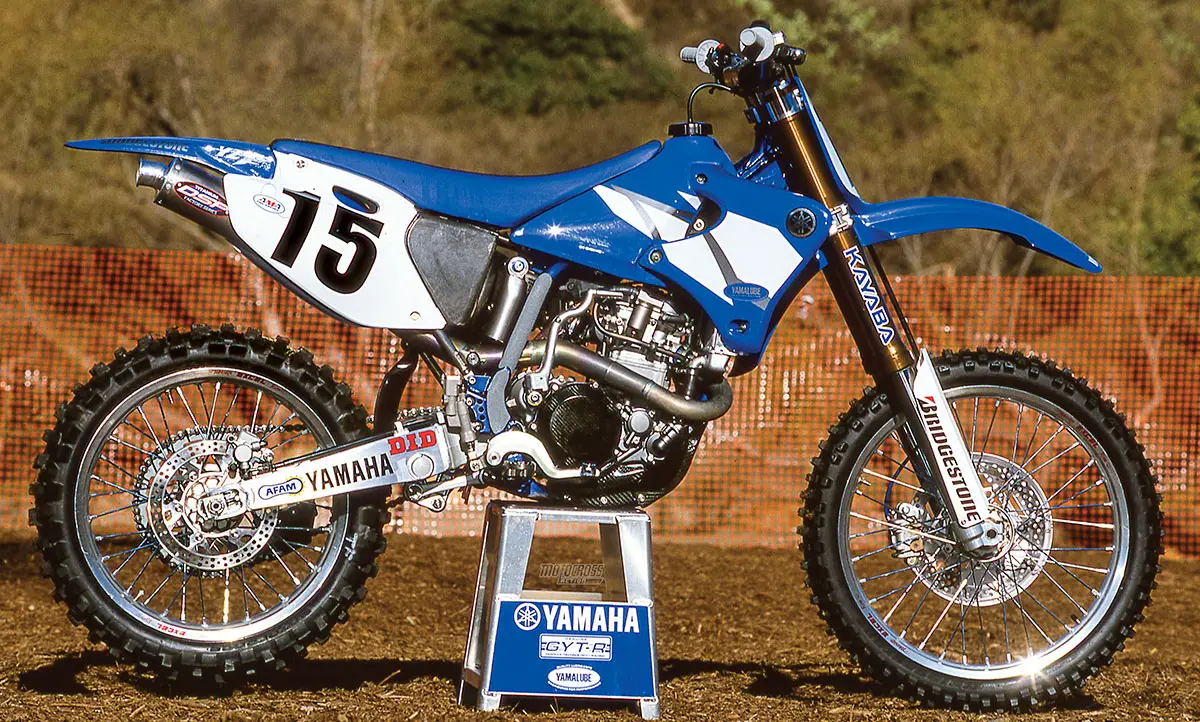 As we drove down Santiago Canyon Road towards the new Saddleback track to test Tim Ferry's YZ426, we could only dream about how well the current crop of four-strokes would have worked at the original Saddleback Park with its blue-groove corners and rock-hard dirt. The extra traction of the every-other firing stroke would have hooked up like tacky glue. Unfortunately, the new four-strokes showed up about 17 years too late for Saddleback Park.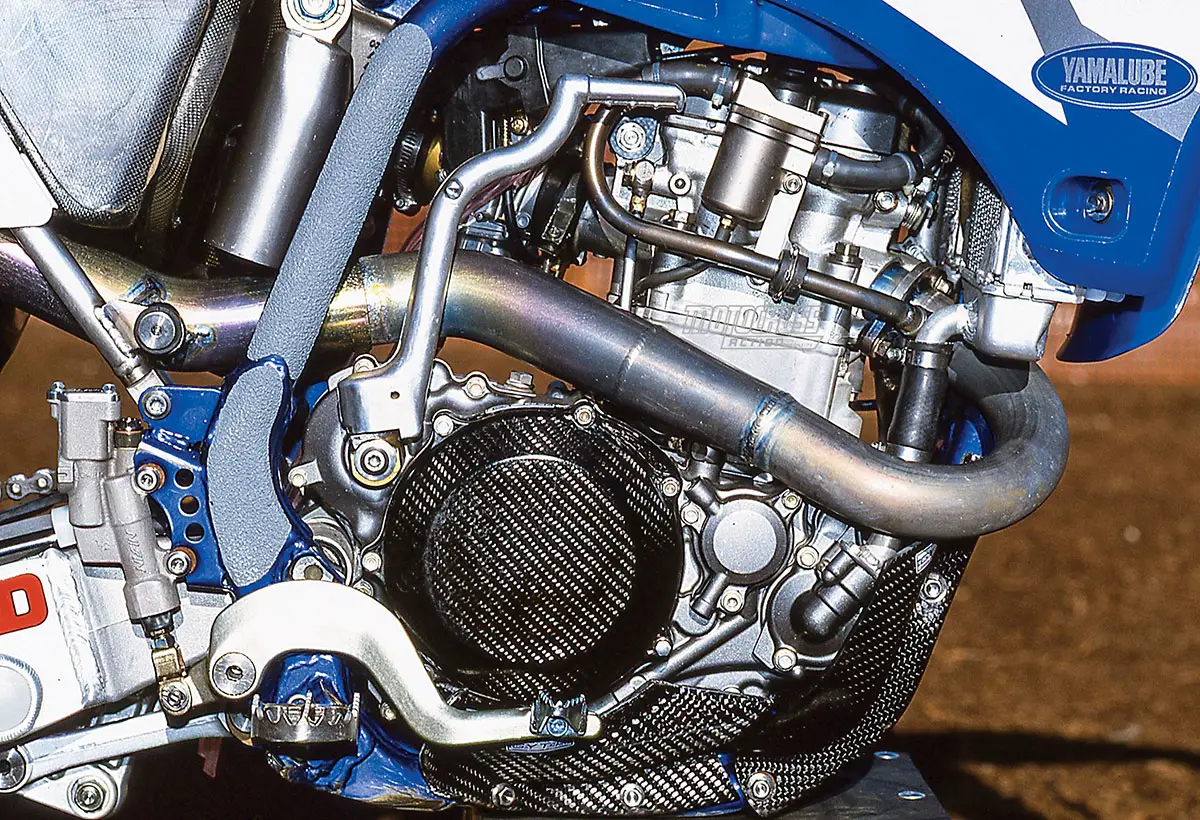 When the production rule was put into effect before the start of the 1986 season, many factory racers wept openly. While it was true that only the factory heroes got to race works bikes, the rest of us got to drool over them—and, of course, MXA test riders could always convince the factory bigwigs that letting us ride their wonder bikes would bring them tons of publicity. The demise of works bikes in the USA was a sad day for factory racers.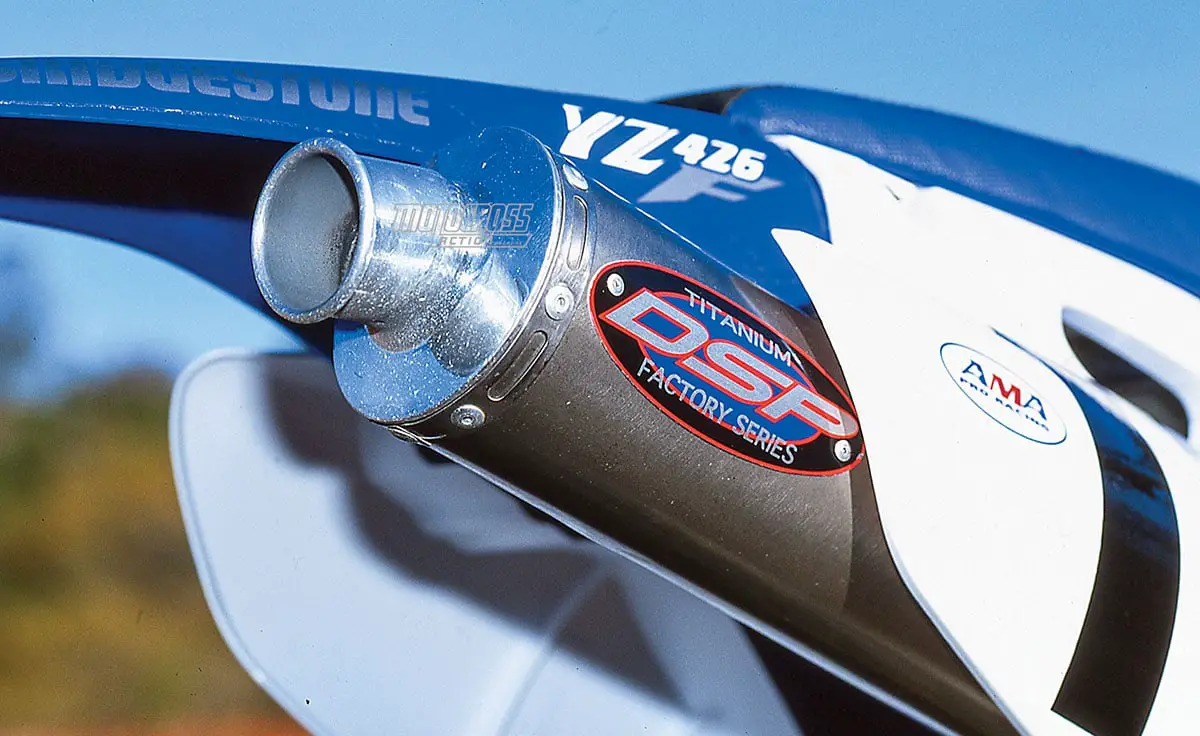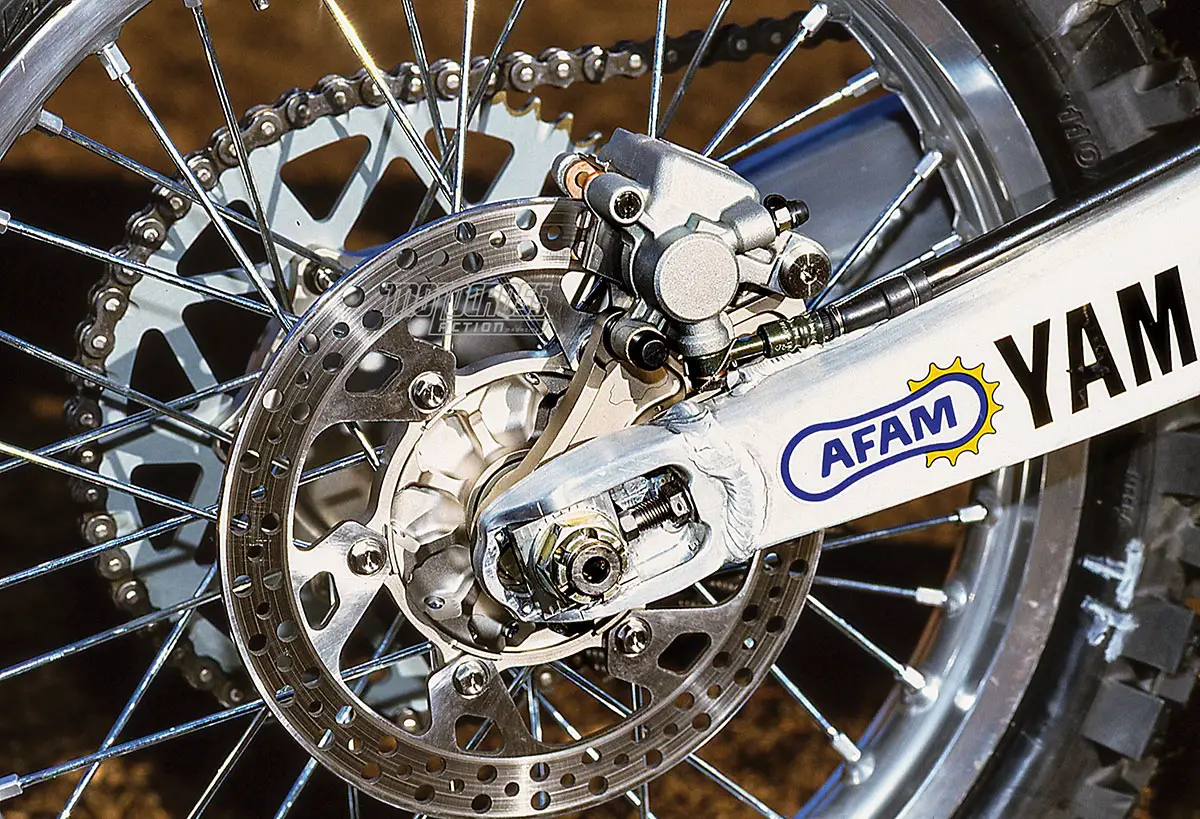 But, we have a little secret to tell you. Tim Ferry's production-based Yamaha YZ426 is as trick as any works bikes of old. Forget about the hand-pounded aluminum gas tanks of two decades ago. A works bike isn't skin deep; it's works to its core. And let us be the first to tell you that Ferry's YZ426 has a core that is light years different from a stock YZ426.
WHAT'S IT WEIGH?
Out of the crate, a stock YZ426 weighs a hefty 250 pounds. Ferry's bike tips the scales at 225 pounds (or 102 kilograms for those of you who switched to the metric system back in 1974). That's a weight savings of 24 pounds. Unbelievable! 
With an unlimited budget, "Joe Racer" would be hard-pressed to find enough lightweight parts to even come close to 226 pounds. So, how did Yamaha do it? 
(1) Carbon fiber. Anything that can be made out of carbon fiber is made out of carbon fiber, and this includes the airbox, ignition cover, clutch cover, motor mounts and chain guide. 
(2) Titanium. Yamaha broke out the titanium bolts, shock spring, valve springs, axles, exhaust system and footpegs. 
(3) Magnesium. The hubs are made out of magnesium, not to mention almost any part that stood still long enough for a mag version of it to be milled.
(4) Wet sump. Yamaha turned the dry-sump YZ426 engine into a wet sump. In the process, Yamaha got rid of a bunch of oil lines, oil and the oil spout on the frame.
(5) Paint. Yamaha of Japan doesn't paint the race team's swingarms. You'd be amazed at how much paint weighs.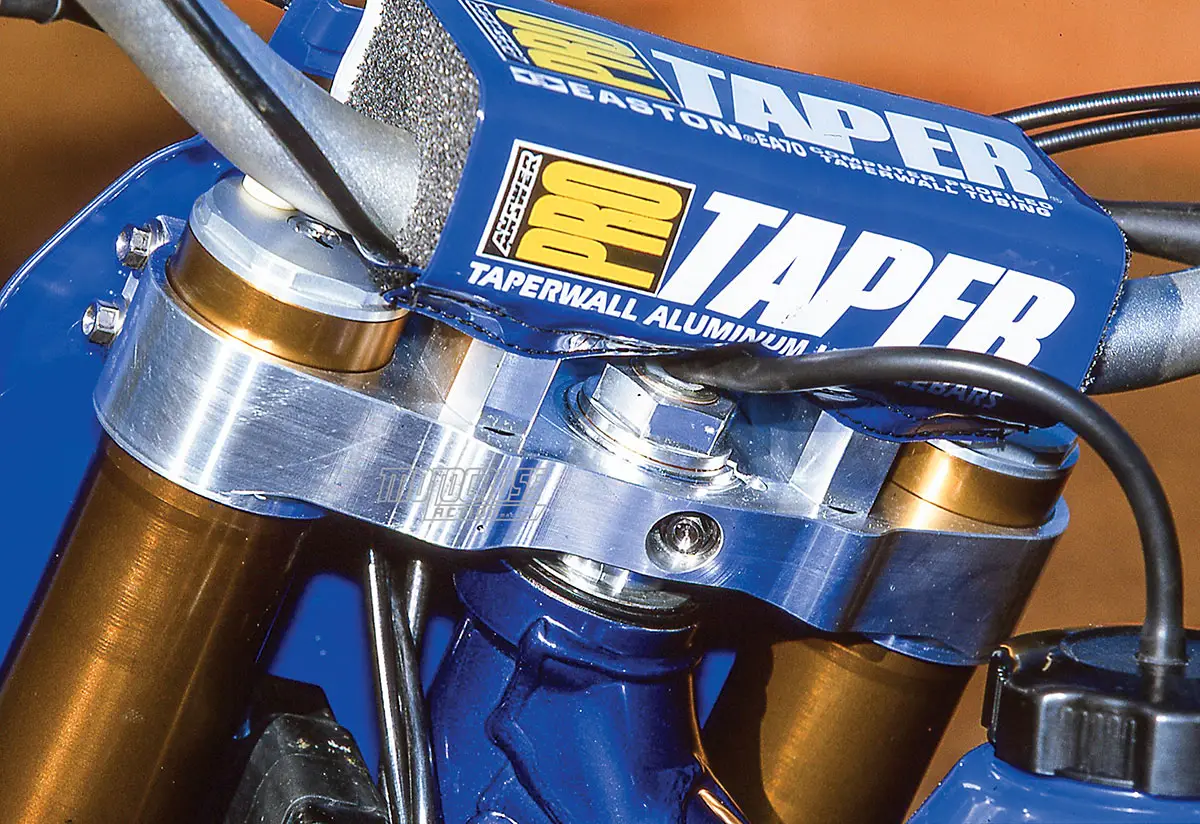 WHAT'S THE POWER LIKE?
In its fifth year on the circuit (even when the bike was a YZ400, Doug Henry raced a 426), Yamaha has almost perfected the works YZ426 engine. The engine has remained relatively unchanged from a structural point of view, but the powerbands have been constantly massaged to suit the rider. Doug Henry was a low-end-grunt kind of guy. Jimmy Button wanted nothing but top end. And Tim Ferry lands somewhere in between. 
Ferry's power selection would be perfect for any experienced four-stroke rider (while neophytes might lean to the Button side of the scale). Ferry's powerband has an answer for every question. If you want to lug Ferry's bike, it is more than willing to chug along. If revving is your thing, the rev limiter has been raised a few hundred rpm so it can shriek if it has to. If you want to feel the brunt of the power, just keep Ferry's bike right in the middle. All it takes is a tap of the clutch out of corners and one shift to send the power climbing up the scale.

If you are wondering why we purposely said "one shift," you are astute. No matter how hard the MXA test riders tried, the most they could get out of Ferry's YZ426 was two shifts. Why? It's a three-speed. It only has first, second and third gears. Yes, under the AMA production rule it would be illegal to change the number of gears in the tranny, but it is not illegal to block them off.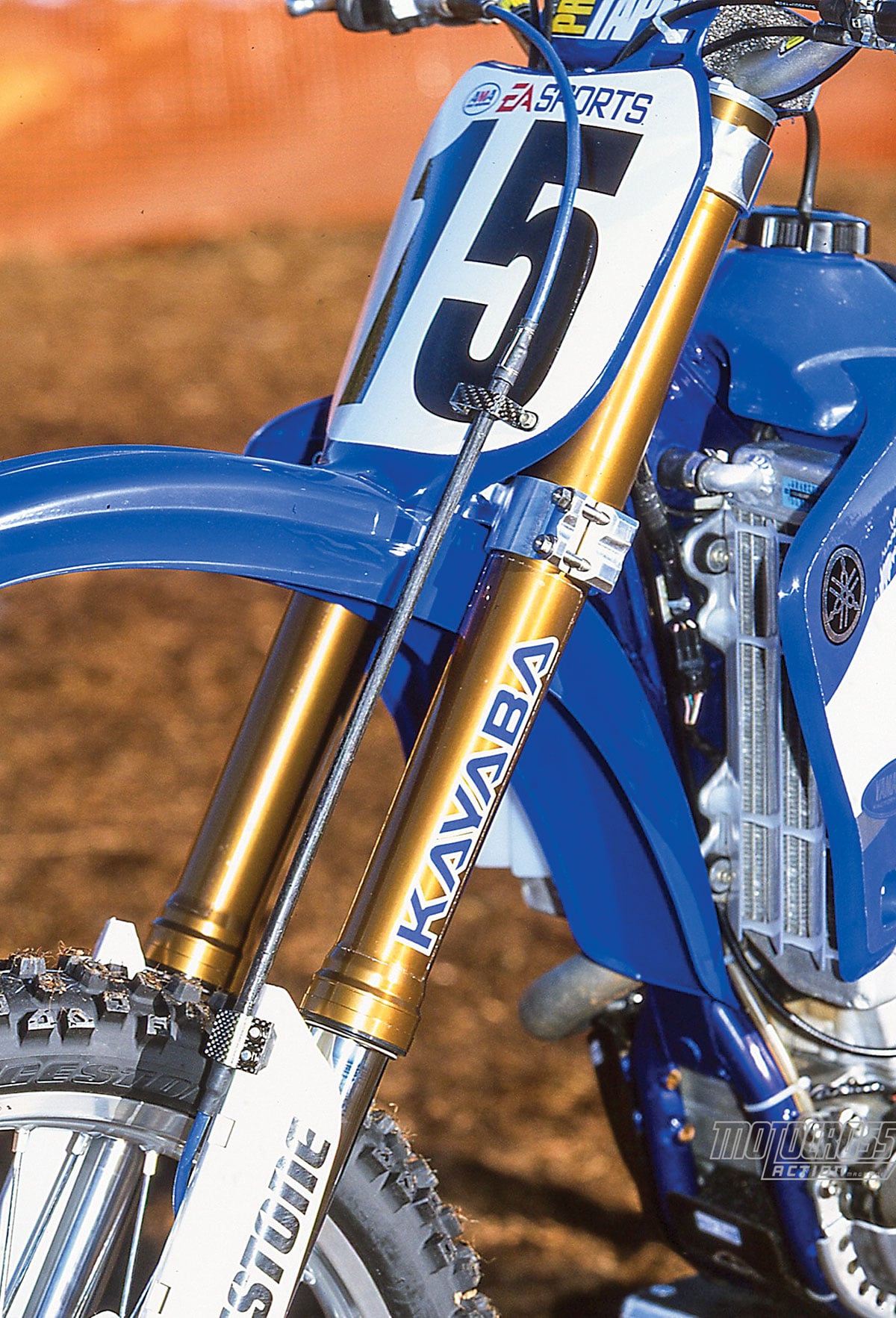 HOW DOES A THREE-SPEED WORK?
We never had to use first gear, so in essence, Ferry's bike is a two-speed. We used second and third the majority of the time (and, of course, we tried unsuccessfully to shift to fourth every once in a while). 
We thought that the three-speed tranny was Ferry's Supercross setup, but not so. Yamaha technician Steve Butler told us the only thing they do differently for the outdoors is throw on a smaller rear sprocket. We believe it. With the works ignition and uncorked rev limiter, Ferry's bike would pull forever.
Ferry's three-speed YZ426 could be the best-running engine we've ever ridden. It doesn't matter whether you're fast or slow, the power is accessible at all times and in whatever amount you desire.
HOW DOES IT STOP?
Most MXA test riders consider themselves to be knowledgeable four-stroke riders, but it only took two turns for us to stall Ferry's bike. It wasn't really our fault; nobody told us that Ferry's bike has absolutely no compression braking. We went into a turn hot, expecting the engine to help us stop, and ended up blowing through the berm. 
How does Yamaha get rid of the compression braking? Yamaha uses a very expensive (and secret) slipper clutch that lets the bike freewheel when coasting (Honda tries to achieve the same thing by offsetting the crankshaft in relationship to the cylinder bore). Why are they so afraid of decompression braking? Yamaha isn't, but the two-stroke-bred riders are (and a factory team gives its riders whatever they want). After a few laps, we got used to the new feel and started to love it, but we have a feeling the reaction would be a little different if Yamaha added back the 24 pounds they took off Ferry's bike. Freewheeling a heavy bike isn't the same as freewheeling a light one.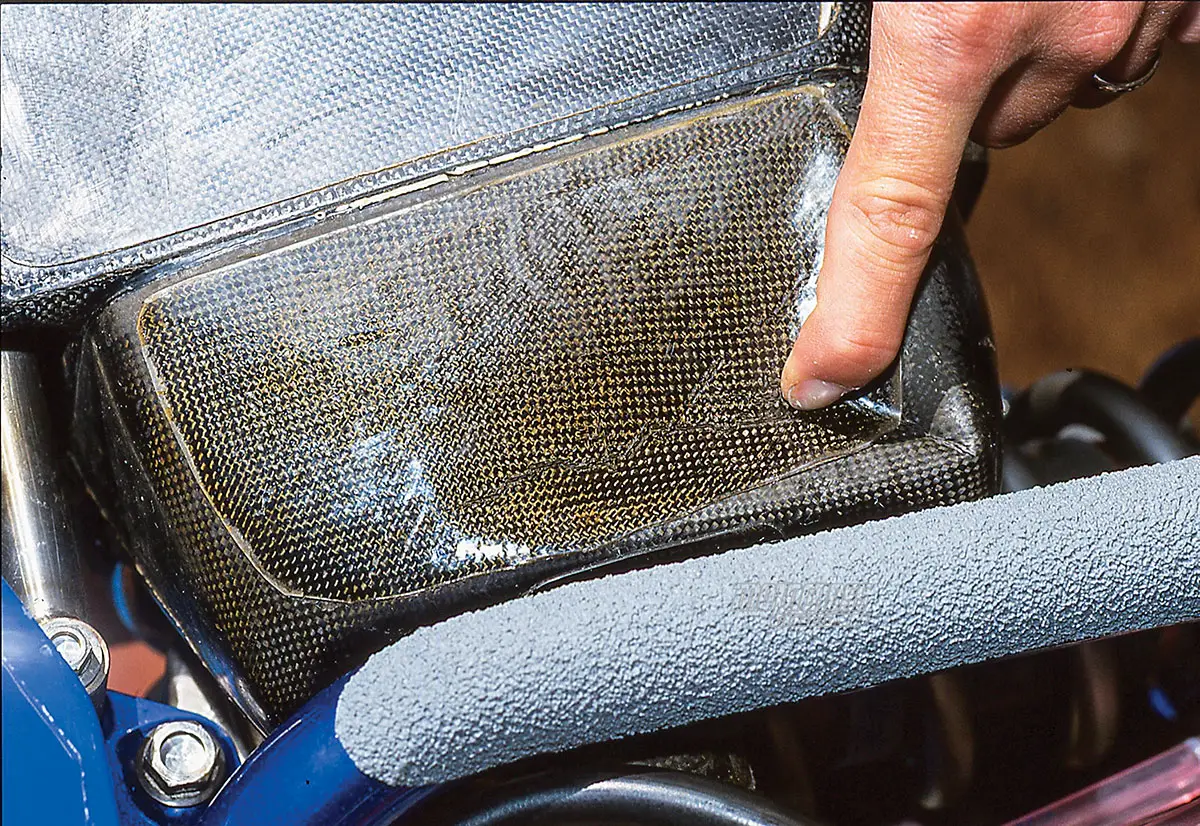 WHAT ABOUT THE WORKS SUSPENSION?
MXA test riders have a lot of experience with works suspension. We have ridden the works bikes of every rider who matters—most of them several times. But, Ferry's suspension had us shaking our heads. It's no secret that most Supercross stars run their suspension so stiff that you can barely ride across a smooth parking lot without feeling the jolt of pebbles. Ferry is just the opposite! Ferry's Supercross suspension was so plush that it could be used by any rider on any type of track, which we proved by testing Tim's Supercross bike on an outdoor track.
The front and rear suspension on Ferry's bike are as unbelievable as his engine. How Yamaha gets the Supercross suspension to be so supple initially and not bottom under the harsh conditions of a Supercross track is a mystery.
WHAT ABOUT THE CONTROLS?
Tim Ferry is average, at least when it comes to his controls. His ProTaper bar bend was as normal as his handlebar position. The works clutch perch was machined out of a chunk of solid aluminum and used a slightly modified version of the stock quick-adjust barrel. Ferry uses the stock decompression lever, although he runs it under the clutch perch.
There is nothing stock about Ferry's front brake. Both the reservoir and the master cylinder are oversized. Ferry runs his brake line Honda-style and his rotor is a whopping 270mm. The feel at the lever is strong but not touchy.
The rear brake reservoir looks similar to what comes stock on the 2002 Hondas, but the reservoir has a greater fluid volume to cut down on overheating. The power and feel of the rear brake are good, and after a 30-minute moto there was no loss of pedal feel.
Ferry's footpegs are practically perfect, and thanks to the folks at DSP, you can get the same footpegs for your bike, regardless of whether it is a YZ or not.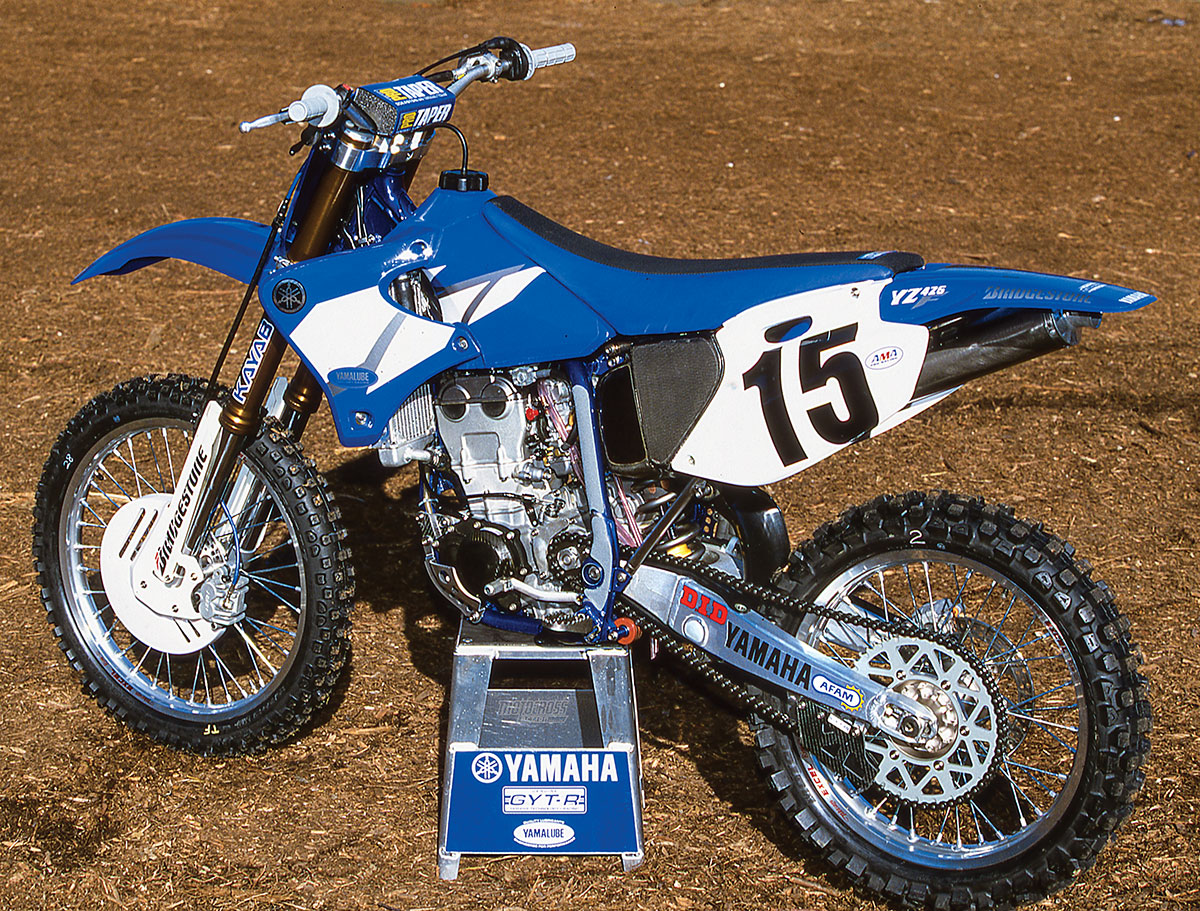 WHAT DO WE REALLY THINK?
If Yamaha wants to gun down the four-stroke competition, all they have to do is make a production version of Tim Ferry's YZ426. If there was a way to bottle the excitement of riding a bike that is 24 pounds lighter than stock (and 10 pounds lighter than a CRF450), we'd sell it. There is absolutely nothing about this bike that we'd change. Our only question? Can they make it by next week?