MXA RETRO TEST: WE RIDE TRAVIS PASTRANA'S 2003 FACTORY SUZUKI RM250
We get misty-eyed sometimes thinking about past bikes we loved, as well as ones that should remain forgotten. We take you on a trip down memory lane with bike tests that got filed away and disregarded in the MXA achieves. We reminisce on a piece of moto history that has been resurrected. Here is the exact test of Travis Pastrana's 2003 Factory Suzuki RM250 as it appeared in the May 2003 issue. 
Not everyone gets to ride the exact same RM250 that Travis Pastrana used to pass Ricky Carmichael at Anaheim. It is also the same RM250 that caused RC to get booed. So, when the MXA wrecking crew got a shot at riding Travis Pastrana's bike, we jumped at it. (After all, he won't be using it until the Nationals start.)
Suzuki RM250s are fabled on the National and Supercross circuit. They rip. The hottest tuners know that the Suzuki engine responds to hop-ups better than any other engine. No other 250 two-stroke on the track has the same throaty sound that is emitted from the Factory RM250's Pro Circuit silencer.
We've been dying to get our hands on Travis' machine. We could have gone the replica route (Pro Circuit engine, Showa works suspension, RG-3 triple clamps), but we wanted the real deal and nothing less. So, we asked Team Suzuki's Roger DeCoster and he said yes. Suzuki agreed to meet us at Glen Helen for a personal test session. Roger DeCoster, Hideaki Sezaki and Ian Harrison would handle all the details. All they needed to know was the weight of our test riders.
Suzuki showed up with the real deal and more. Not only did they bring Travis Pastrana's bike, which Roger said had a highly personalized setup, but they brought Sebastien Tortelli's setup as well (just in case we wanted to try that; it was lower in the rear). We kindly said no. After all, we came to ride Travis' personal bike and that would be enough for one day.
THE BIKE THAT TRAVIS RIDES
The only compromise that Team Suzuki and MXA made to Travis' bike was in the suspension. Even though we were in the midst of the Supercross series, we asked Suzuki to put on Pastrana's outdoor suspension, since we were going to test the bike on the Glen Helen National track. 
As for the personal touches that Roger was concerned about, the only one we really noticed was the extra-tall seat foam, which is why Roger brought along Tortelli's cut-down subframe and lower seat. After some initial discomfort, we got used to Travis' seat, and in short order we really began to like the extra seat foam. It goes without saying that Travis' bike was equipped with his trademark hand guards.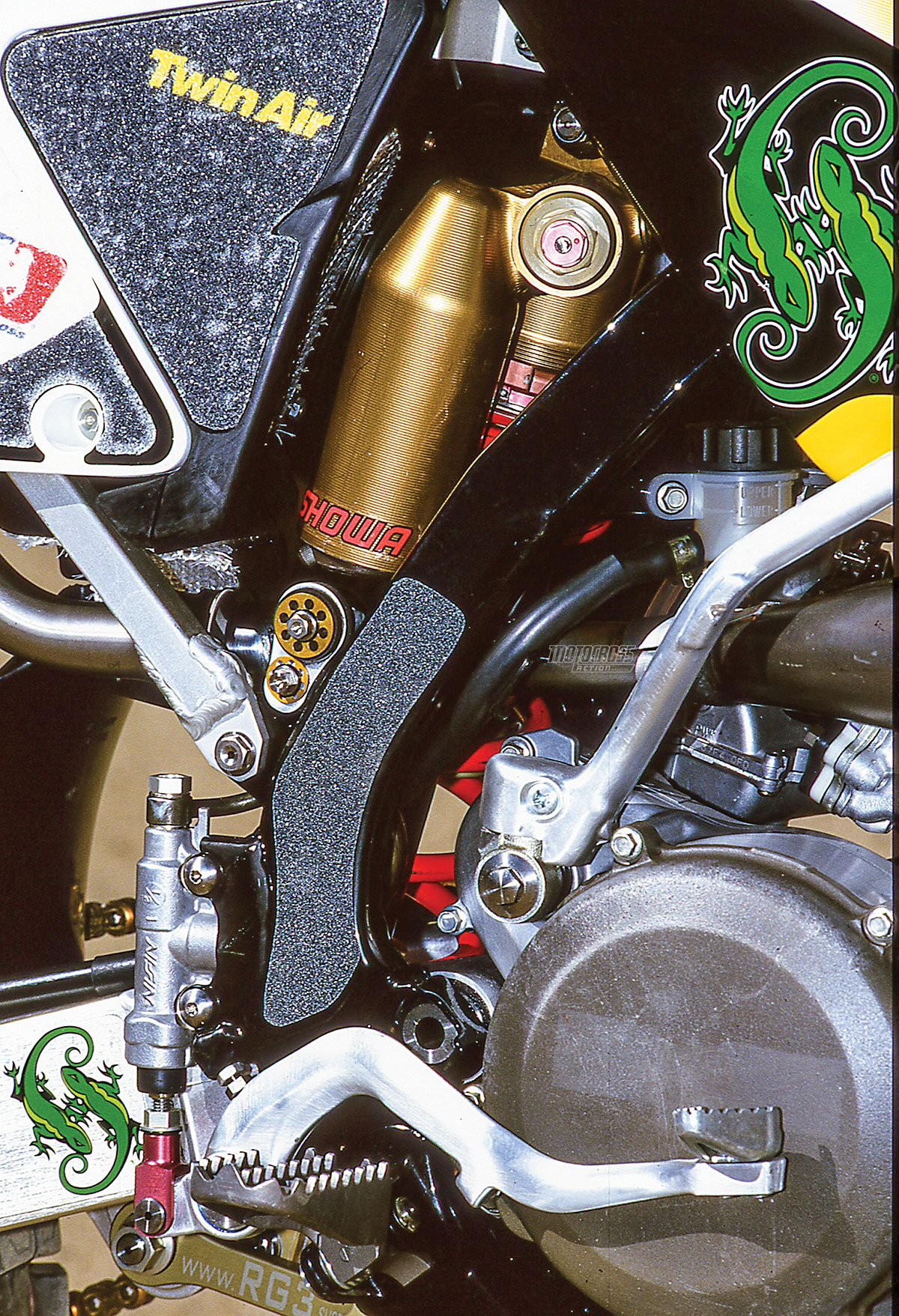 Being a full-on works edition, Pastrana's bike sported a bundle of goodies that the public won't ever get to try: bottom triple clamp, ignition, magnesium hubs, clutch perch, front brake, works forks, works shock, race-spec tires and factory shift lever. Another benefit of being a full-blown works bike is that Pastrana's steed tips the scales within an ounce of the AMA's 216-pound weight limit. Occasionally, Suzuki has to add a heavier skid plate just so its bikes won't be under the AMA limit.
As for the parts you can get, the list is as follows: Pro Circuit pipe and silencer, Pro Circuit engine mods, Carbon Factory carbon fiber, Pro Taper bars, Nutec racing fuel, RG3 top triple clamp, Acerbis handguards and ARC levers.
WHAT DO WE REALLY THINK?
This is a fact! Team Suzuki's RM250 is the best race bike we've ever ridden' without a doubt. How can we make such a bold statement? First, we've ridden almost every works bike made in the last 20 years—and that includes Ricky Carmichael's CR250—and nothing comes close to the integrated package of Travis' bike. We could do anything we wanted with the engine. It revved. It could be short-shifted. It hit like a mule. Whatever you want it to do, it will do with ease. 

The suspension was absolutely perfect, thanks to Roger's willingness to give us Showa's outdoor settings instead of the stiff-as-a-board Supercross stuff. Bottoming was nonexistent, and we never felt most small- and medium-sized bumps, either. We got so comfortable with the suspension that we stopped looking for smooth lines and focused on going around the track as fast as humanly possible. Suzuki's oversized brakes kept us from getting in over our heads at the end of long straights.
When it came time to wrap up the test, we didn't want to leave. If Glen Helen had lights, we would have ridden into the night. If Suzuki's works bikes are any indication of where the production bikes are going, Suzuki won't stay on the second rung of the shootout ladder for long.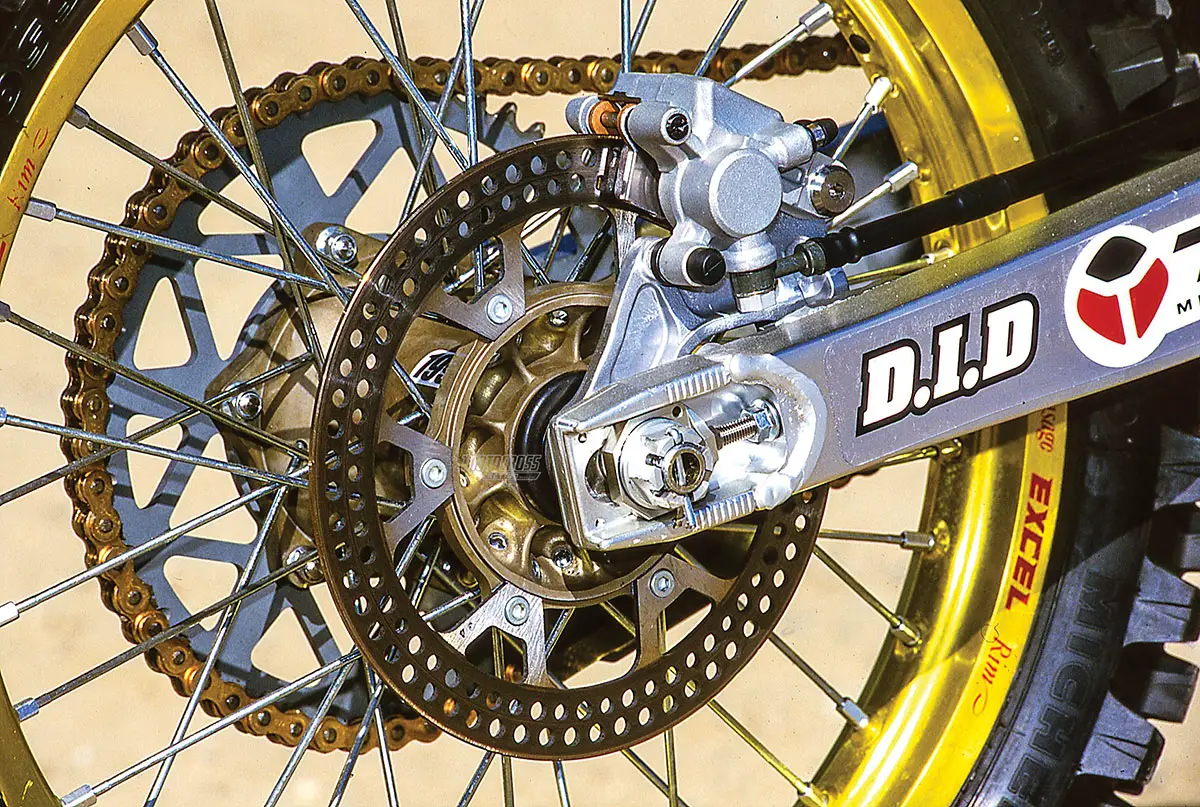 TRAVIS PASTRANA
It's been a long couple of years since Travis Pastrana leapt onto the scene, stole the heart of almost every motocross fan and won his 125 National title. Yes, Travis has won countless Freestyle gold medals since then but has yet to fulfill his motocross potential. Why? Injuries. They plague the ever-likable kid from Maryland. Every time he gets healthy enough to make a decent run at a motocross title, he crashes and puts himself out of competition. 
Will it always be this way with Travis? We know Suzuki hopes not. Travis has more than enough speed to hang with both Reed and Carmichael, but we won't get another chance to see that happen until the 250 Nationals start in May. Pastrana plans to sit out the remainder of the Supercross series so that he will be 100 percent by the time Glen Helen rolls around. We know we'll be there to watch.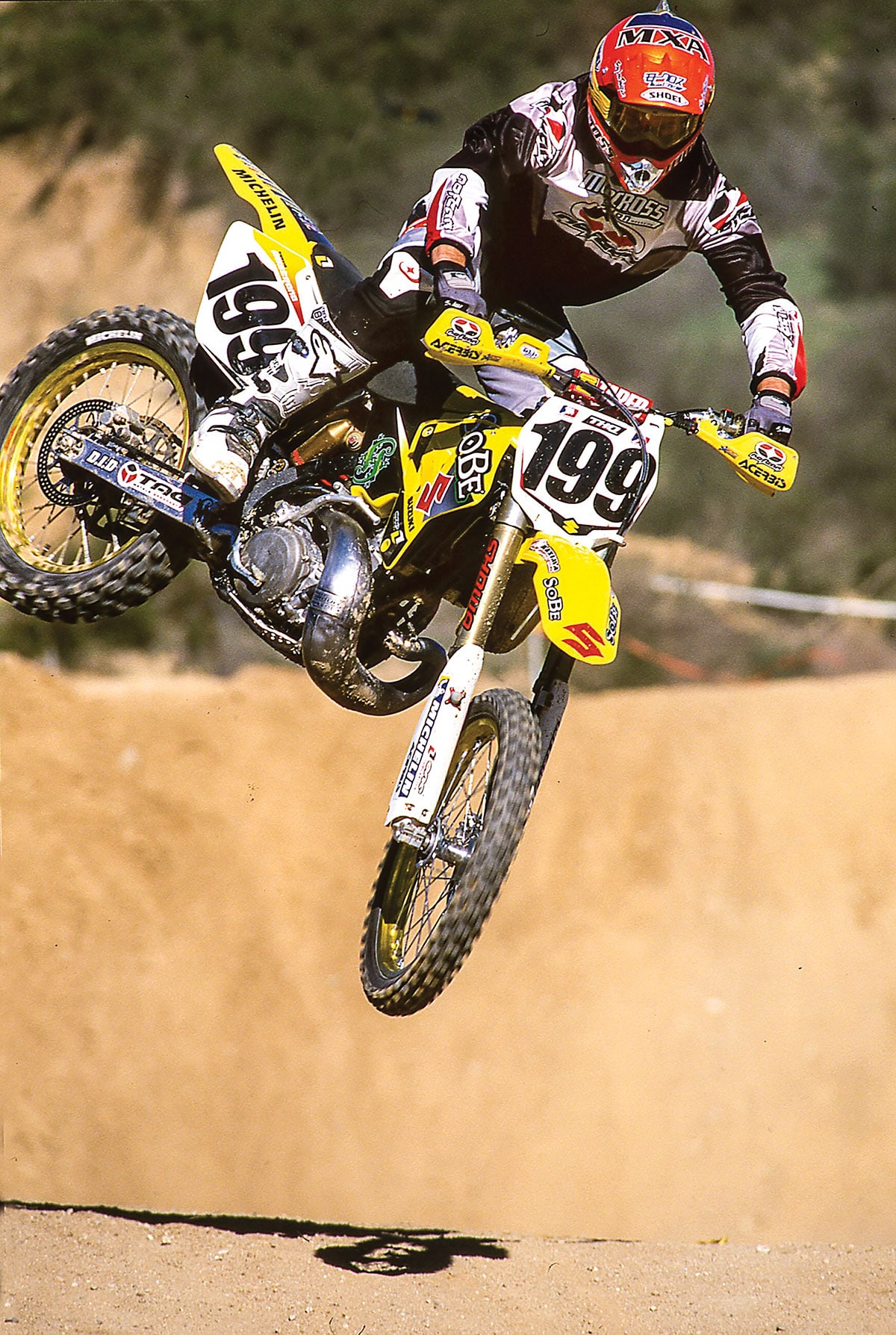 THE ENGINE?
It's a little bit Japanese and it's a little bit of good-old U.S. of A. A few years ago, Team Suzuki was hurting in the horsepower department. Roger DeCoster took the brave step of rejecting works engine parts and going to Mitch Payton at Pro Circuit to build him a fast RM250. Mitch found several horsepower in the first week. Since then, Suzuki depends on Mitch for its basic engine spec. Mitch does the grinding, but that hasn't stopped Suzuki of Japan from getting into the mix with special works parts. On top of the work Pro Circuit does inside the Team Suzuki engines, Suzuki also runs Pro Circuit pipes and silencers.
What's the engine like on the track? A thing of absolute beauty. We've never ridden a 250 that runs this well. Besides putting out some serious ponies, the powerband on the works RM250 is too good to believe. Most MXA wrecking crew members like broad powerbands with a little bit of bottom, mid and top. We had no choice but to love Pastrana's engine because it had tons of bottom, mid and top. 
How did Team Suzuki get the perfect engine? Beaucoup hours in front of a dyno and a zillion laps around the test track. Roger DeCoster is zealous about testing. No part gets overlooked, no matter how marginal the performance gains might be. 
WHAT'S IT LIKE TO RIDE?
An absolute blast. Our smiles were so wide that our cheeks hurt after a few minutes. Getting to ride works bikes is a treat that MXA test riders never take for granted' but that doesn't mean they're always good. Believe it or not, sometimes a works bike is such a personal statement that it can only be ridden fast by the man it was built for. Not so with Pastrana's RM250. The first thing we noticed out on the track was the weight. Pastrana's 250 feels as light as most 125s. Once you add in the phenomenal horsepower, you get a 250 that bends to your every whim. The addition of works suspension produces an equation that is absolutely amazing.
There wasn't a single aspect of Pastrana's bike that wasn't righteous. The clutch action was smooth and solid. Shifting is very positive. You will never hit neutral by accident, because Suzuki made the detent so small that Travis will never accidentally hit it on the track again (like he did at Anaheim last year).
It's a great bike. Too bad it must sit and wait for its great rider to heal up.