MXA RETRO TEST: WE RIDE TREY CANARD'S 2010 GEICO HONDA CRF250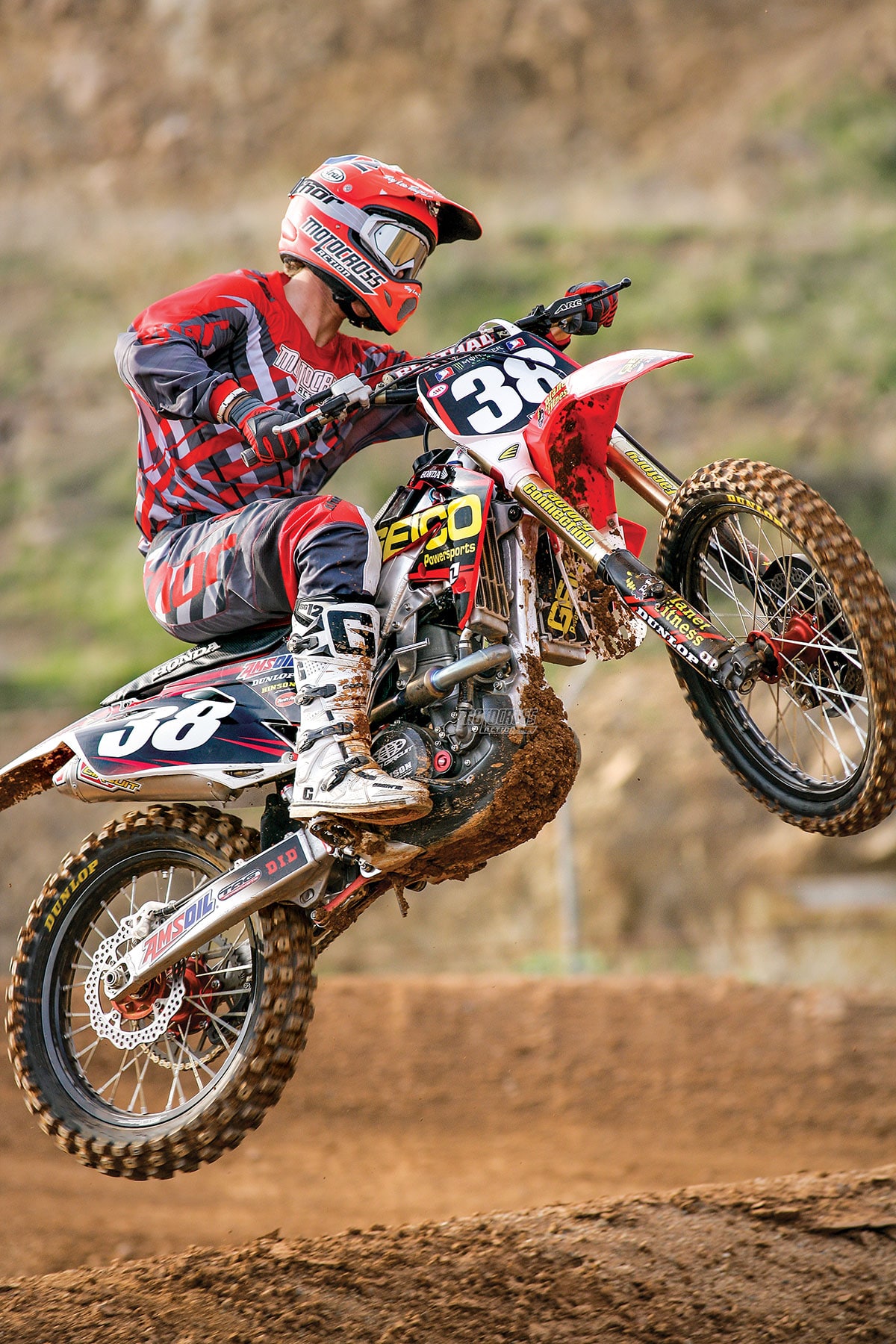 We get misty-eyed sometimes thinking about past bikes we loved, as well as ones that should remain forgotten. We take you on a trip down memory lane with bike tests that got filed away and disregarded in the MXA archives. We reminisce on a piece of moto history that has been resurrected. Here is our test of Trey Canard's 2010 Geico Honda CRF250. 
Testing a factory-level motocross bike is always special for the MXA wrecking crew. We can't help but admire the passion and effort that factory teams invest in their bikes. Every square inch of the machine is checked, changed, strengthened or massaged before every race. It's taxing work, but it's done for the sake of winning. To think that an engine alone takes over a day to rebuild, not to mention entirely stripping the bike down to the frame between race weekends, is mind numbing in terms of time and commitment.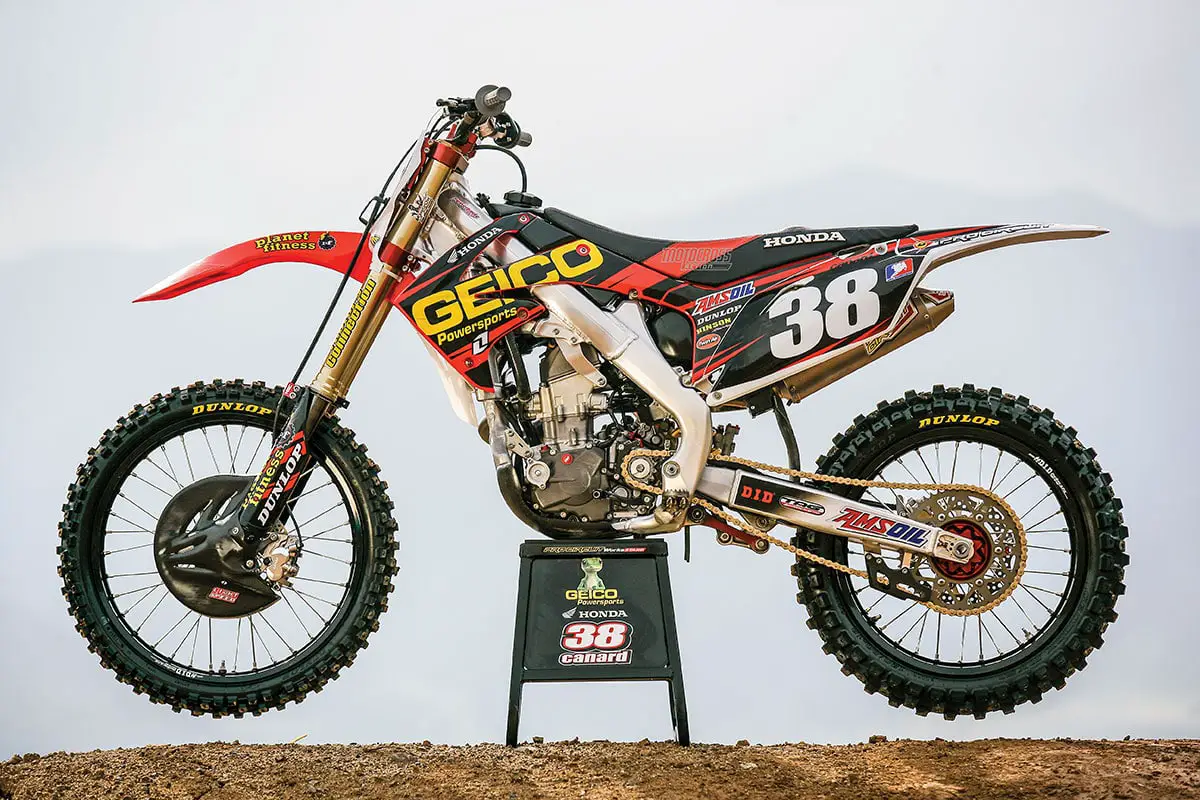 The MXA wrecking crew has a reputation for telling it like it is in regards to bikes, products and professional motocross racers. Far too often, in racers as well as products, we see a lack of competitive spirit, heart and the will to put the time in. It may not be popular to say, but it's a crying shame that prima-donna racers are continually offered big-dollar contracts, only to put in dismal efforts with even worse results. It pains us to see high-dollar racers waste the hard work of their mechanics, team managers and sponsors. 
The point of this diatribe is that when we find a product, bike or racer that goes the extra mile, he or she deserves all the credit we can give. That is where Geico Honda's Trey Canard comes in. He is a dedicated 19-year-old who is a student of racing, a consummate professional, a determined individual and a rider who strives for success. 
Trey's first major professional success came in his rookie year of Supercross when he beat Ryan Villopoto for the 2008 AMA 250 East Supercross title. 
Growing pains and bad luck have derailed Canard since that time. He broke his femur at the Washougal National in 2008, crashed out for most of the 2009 250 West Supercross chase (although he did win the Salt Lake City round), and broke his wrist in a violent crash at the High Point National in 2009. With plenty of time on the sidelines, Canard was itching to get back on track in 2010. He re-signed with the Geico Honda team and raced the 250 West series. It hasn't been easy, because Trey met stiff competition in the form of Monster Energy Pro Circuit's Jake Weimer. At times, Trey has shown flashes of raw speed that his competition can't match, but the consistent Weimer played spoiler through the first part of the 250 West campaign. Still, Trey Canard proved himself a winner again when he won the San Francisco 250 West Supercross. 
It should be noted that the MXA test crew considers itself lucky. Two days after Canard's San Francisco win, we pulled into Team Honda's private test track to meet with Geico team manager Mike LaRocco and Trey Canard. Our assignment? To test the very bike that Trey won on. In fact, it still had some of the San Francisco mud on it (no need to rebuild it until after we had messed it up royally). 
SHOP TALK: DISSECTING THE GEICO BEAST
Trey Canard's Geico Honda CRF250 has all of the bells and whistles that we expected to find, including a race engine, factory Honda works parts, titanium hardware and abundant aftermarket products. Below, we break down the essential parts of Canard's factory-backed race weapon.
Suspension: Trey Canard doesn't run factory suspension. Why? The AMA rule book states that 250 racers cannot run works suspension' but there is a loophole that allows works-style kit forks (under a certain price). Amazingly enough, Trey Canard's suspension isn't works and it isn't A-kit stuff. Instead, Factory Connection uses the stock OEM fork tubes. Why? Because Factory Connection wants to be able to sell the same basic setup that Canard uses to the public. But don't think that Trey Canard is running low-buck suspension. He isn't. His Factory Connection setup costs a pretty penny and includes titanium nitrate-coated forks and a larger shock shaft diameter that might be overkill for all us local yokels but is de rigueur for professional Supercross racers.
Geico Honda foregoes beefy Showa A-kit suspension as a matter of pride, to cut costs, and due to the belief that they don't need overly rigid suspension. With the proper spring rates, oil height, valving and clickers, Factory Connection believes they can achieve a very good setup for a rider of Trey Canard's abilities. 
When we mentioned that you can buy the exact suspension that Canard uses, we weren't lying. It will cost you dearly ($3133.45 to be exact), but it just might be worth it if you're a Supercross privateer. What do you get for three grand? The biggest upgrades are in the 18mm shock shaft, special shock preload ring and bearing, works shock remote reservoir, hard-anodized axle lugs, Anatech carbon Raptor DLC coating on the fork slider tubes, and customized re-valving. According to Factory Connection owner Rick "Ziggy" Zielfelder and Trey Canard, these aftermarket suspension modifications are worth every cent. 
It should be noted that the team switched to a larger shock shaft before the Supercross series started. Why? During preseason testing, Kevin Windham put such a tremendous load on the shock when seat bouncing obstacles that he bent the stock Showa shock shaft. Factory Connection replaced the stock diameter shaft with a larger 18mm shock shaft.  


Engine: If it wasn't public knowledge before that Pro Circuit does the engine work for the Geico Honda team, it is now. Pro Circuit-backed riders have won every round through the first six races of the 250 West Supercross series. Clearly the dynamo company knows a thing or two about producing race engines. Pro Circuit supplies the piston, camshaft, cylinder-head modifications and valve train components; however, the Geico Honda team doesn't just drop its engines off at Pro Circuit to have them serviced and then stick the engines in their race bikes. Once Pro Circuit does the labor, Geico Honda's chief engine technician, Kristian Kibby, tears each engine down and makes his own secret modifications to the CRF250 powerplant. He reworks the lower end and goes through the whole engine with a fine-tooth comb. Kibby also installs a manual cam chain tensioner.
Aiding in the engine department is an Injectioneering-tuned 50mm throttle body. When the MXA wrecking crew tested the Injectioneering throttle body mod last year, we immediately fell in love with it on our Honda CRF450. We were elated to hear that Injectioneering had a hand in the performance of Trey Canard's CRF250. 
The Geico Honda team works closely with Vortex to create different ignition maps to get the most out of its high-performance engine. While these settings are tuned specifically for the race bike, we would hire James Bond to crack the safe on the team's highly secret settings. Be warned, Geico Honda! 
The 2010 Honda CRF250 clutch isn't as prone to burning up as the CRF450's, but under heavy loads the CRF250 clutch can still slip. Geico partnered with Hinson to attain a bulletproof clutch. Hinson supplies the complete clutch, apart from the OEM Honda fibers. As for the transmission, the gear ratios are standard, but Geico massages the tranny for better performance and smoother shifting. 
Works parts: Geico Honda is the official factory-backed 250 Honda team, so it should go without saying that the team receives a small number of factory parts. At the top of the list is the pressurized radiator cooling system. With it the team is able to make incremental changes to the pressure inside the radiators. It is a self-contained unit that doesn't bleed excess radiator fluid when hot (and the boiling point is determined by how much air pressure is injected into the system). The radiator system was created through a joint project with the factory Honda race team. 
Also on the list of works trickery is a Nissan front brake caliper with a 260mm oversized rotor and steel braided brake hose. In the past, the team has used 280mm front rotors, but the gargantuan rotor was prone to bending because of its huge size. Other performance parts include CNC-machined triple clamps (stock offset), a shift lever, holeshot device, oil caps, brake line cover, and chain adjuster blocks. A prime example of Geico Honda's commitment to building a trick bike is found on their aluminum transponder holder that attaches to the top triple clamp. Why do they have a special transponder holder? The unit replaces the ugly zip-ties that otherwise hold the transponder on to the fork leg. Talk about attention to detail!
Other details: Close inspection reveals a plate on the spark plug wire that is used to prevent the wire from popping off the engine head. Shields have also been welded on the footpegs to prevent mud from building up in the brackets. Canard uses a seat hump that, while not very obtrusive, reminds Trey to stay forward on the bike. Since he is rather short at 5-foot-7, Canard had the subframe lowered slightly and the footpegs raised and moved rearward. The team wouldn't comment on the exact numbers, but they did admit that it was a significant amount. Also, a bracket was placed behind the right side panel by the exhaust system to prevent Canard from pushing the plastic paneling into the exhaust with his leg. The solid bracket provides a more consistent rider/bike interface. The bevy of small changes create a more durable and better performing bike. 
Accessories: Trey Canard's Geico Honda CRF250 wouldn't be possible without the help of several key aftermarket companies. Renthal provides the 997-bend TwinWall handlebars and medium-compound half-waffle grips. Tag Metals takes care of the sprockets, while D.I.D. covers the chain and DirtStar black rims. Stronger TCR hubs are used, as are Cycra plastics, One Industries graphics, Twin Air air filters, LightSpeed oversized titanium footpegs and carbon fiber products throughout. Brembo takes care of the progressive front brake, while an ARC clutch lever and perch are used. Dunlop has taken over as the tire sponsor for most of the race teams in 2010, and Canard usually prefers a works-spec MX51 front tire and 120/80-19 MX51 rear tire. To lighten up the bike, Met-Tek titanium bolts and fasteners are used throughout Canard's CRF250. The axle and swingarm pivot bolt are titanium, but for rigidity purposes the team uses steel bolts in the linkage. Finally, Renegade Racing fuel is the official go-fast juice of the Geico Honda team.   
TEST RIDE: WINNER, WINNER, CHICKEN DINNER
After throwing a leg over Canard's bike, we were reminded what a thrill it is to ride a championship contender's bike. Just sitting on the stand, the CRF250 felt like the perfect package. As odd as it might sound, Trey's bike felt even newer than a production CRF250 would feel straight off the assembly line. All of the weird intricacies of the stock 2010 Honda CRF250 were addressed, right down to the footpegs. 
Canard's levers were up in the modern riding position (almost parallel to the ground). The handlebars were in line with the fork tubes, and the seat hump was located in a somewhat far back position. Every MXA test rider was taller than Canard, and due to the repositioned footpegs, the cockpit felt somewhat cramped. Still, we adapted to Trey's setup and felt comfortable in no time at all. 
Different speed test riders rode Canard's bike—fast Pro riders with Supercross experience and semi-fast Novice riders with very minimal Supercross experience. Guess what? The Pro riders loved the Factory Connection-tuned suspension and stated that it was amazing at soaking up landings, hitting precise marks through rhythm sections, and tracking well in bumps. The slower riders thought the forks were too stiff, but that's the primary feature of Supercross suspension. Both skill levels agreed that the shock rebounded extremely fast. Canard likes to seat bounce jumps, and he puts a heavy load on the shock, so it's necessary for the shock to rebound fast enough for his riding style. Factory Connection did a tremendous job of creating specifications in line with what Pro-level Supercross riders need. MXA has tested plenty of factory suspension that didn't hold a candle to how Canard's Factory Connection suspension performed. 
Of course, the Geico Honda CRF250 engine was fast. That should go without saying. What does need mentioning is the breadth of the powerband. Thanks to the Injectioneering throttle body, the throttle response was instantaneous and scary good. The bottom-end power hit harder than Buster Douglas with cement gloves on and carried strong through the top end. Even more surprising was how the bike didn't give up the ghost, even when being over-revved to the moon. We could lug the engine or whine it out and find satisfaction in both methods of riding.
It was a practice in patience to find neutral on Trey Canard's bike. In many situations we would stir endlessly through the tranny trying to get in neutral, but we suspect that this is Kibby's modification to make sure that Trey doesn't find a neutral by accident over a big triple. 
CONCLUSION: WHAT DO WE REALLY THINK?
Trey Canard and the Geico Honda team are a perfect match. Canard is one of the hardest-working riders on the circuit, and his team does its part to keep Trey at the front of the pack. His bike is a mishmash of factory parts, creative upgrades and products that consumers can purchase. We admire Trey Canard's desire to succeed as a professional racer and Geico Honda's devotion to provide the best Honda CRF250 that money can buy (almost).