MXA RIDE DAY, UPDATE ON JEREMY SEEWER & MORE | MID-WEEK REPORT
TWO-STROKE SPOTLIGHT: 1995 HONDA CR125 
Before. 
"I'm way to big for this 1995 Honda CR125.I am 6 foot 2 inches 200 pounds and 62 years old, but these sure are fun to race in the vintage MX races. Below is a list of what I did to restore it."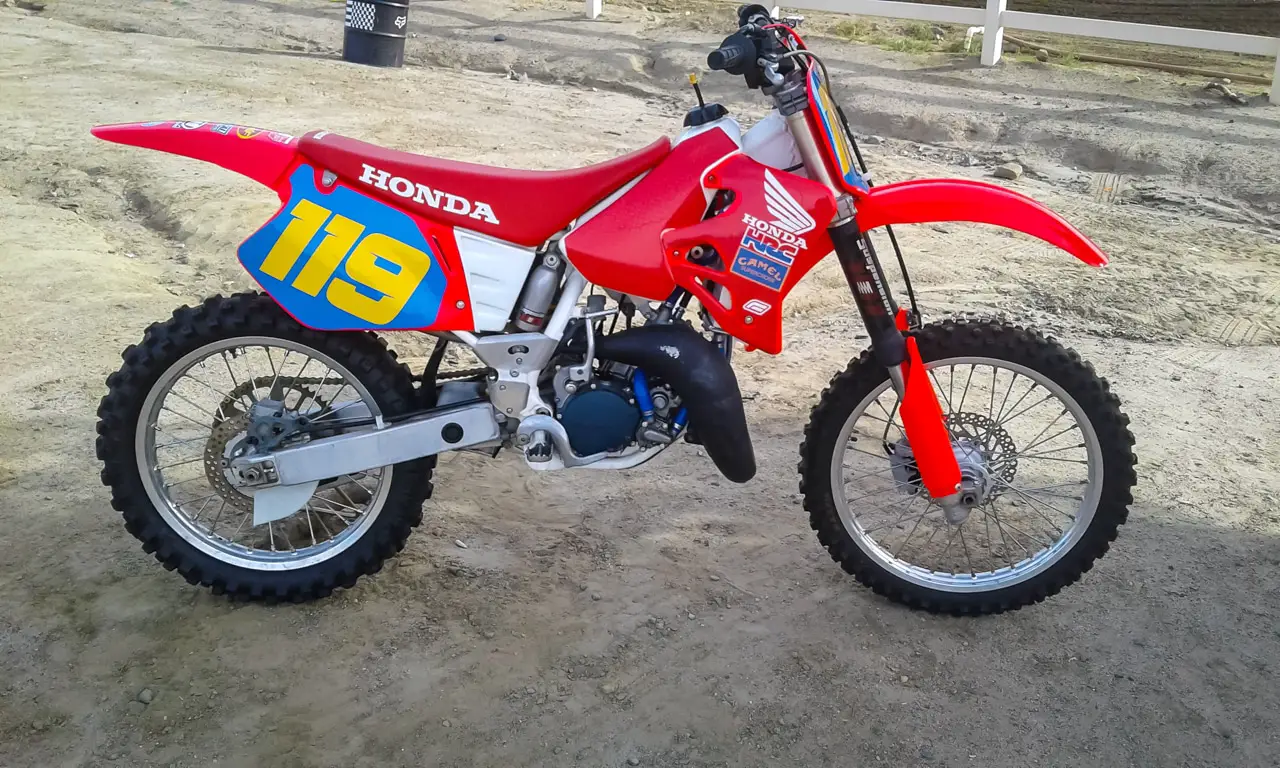 After the restoration.
Frame: The frame was powdercoated by San Diego powder coating,
Suspension: Suspension 101 in Alpine Ca.
Plastic: Maier for the gas tank, UFO for the plastic in the correct nuclear red.
Graphics: Fastlane MX and DeCal MX.
Seat cover: EBAY, installed, Jims upholstery in San Diego.
Engine: Piston, Namura, Reed block, Vforce. Barnett clutch plates and springs.
Bearings and gaskets: All Balls and Athena.
Cylinder re plated: Millenium Technologies.
Pipe: FMF Fatty w PC 304 shorty silencer.
Drivetrain: Vortex chain and sprockets.
Braided steel brake lines: Clairemont cycle.
Hardware: Specbolt or replated
Wheels: Stock wheels and hubs with new bearings.
Misc: Pro taper bars, MSR controls, Honda cables and Tusk pegs.
Oils: Maxima
Thanks,
Mike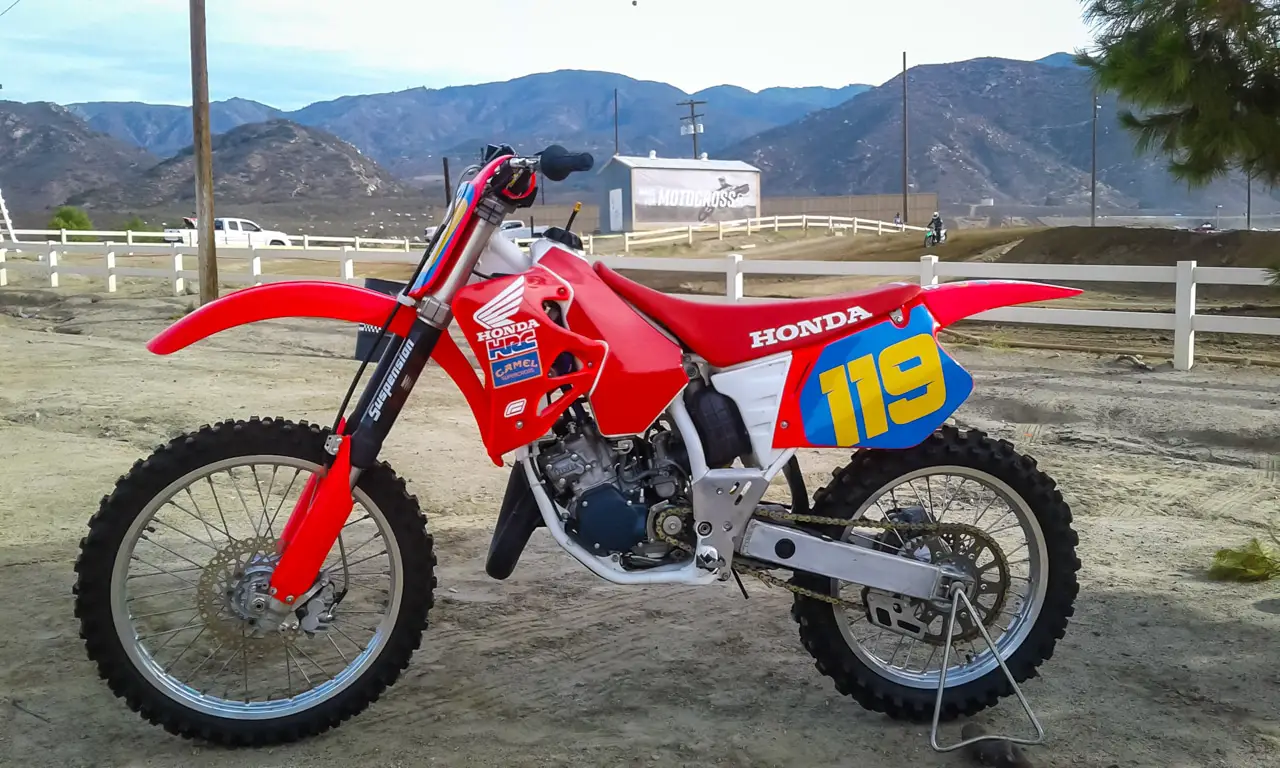 EDITORS NOTE: Please keep those submissions coming. If you would like your bike to be featured in the "Two-Stroke Spotlight," please email me at [email protected]. All I ask is that you give a breakdown of your bike and a detailed description of the build. Please also send a few photos of your steed. By submitting your bike for the "Two-Stroke Spotlight," you agree to release all ownership rights to the images and copy to MXA. Please don't email me spam or try selling me Taylor Swift concert tickets or email me spam. I already celebrate T-Swizzle's entire collective, and there will be "bad blood" if you send me junk mail. See what I did there? Happy submitting your smoker.
#WHIPITWEDNESDAY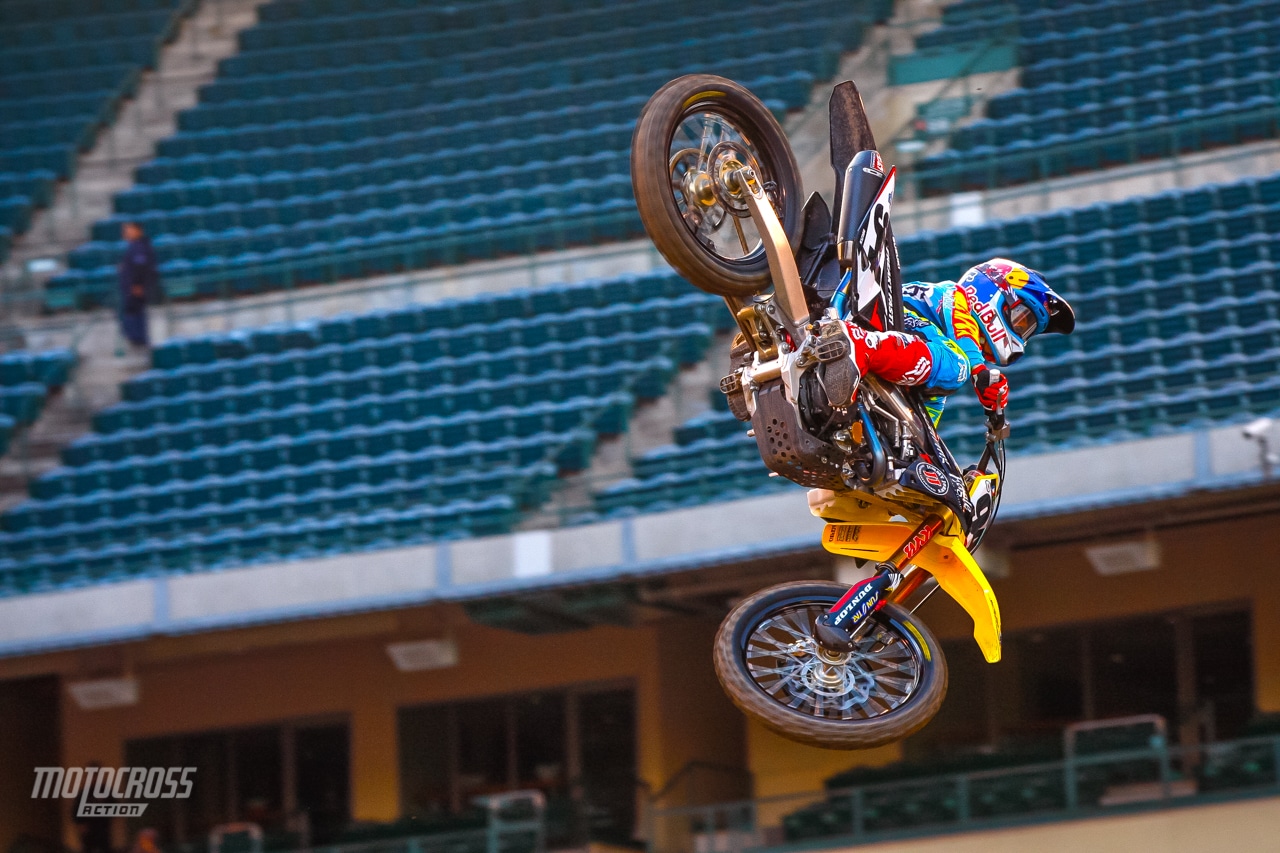 Rider: Ken Roczen
Focal length: 300
Exposure: 1/320 sec
F-stop: f/4.5
ISO: 640
Photographer: John Basher
6TH ANNUAL KURT CASELLI RIDE DAY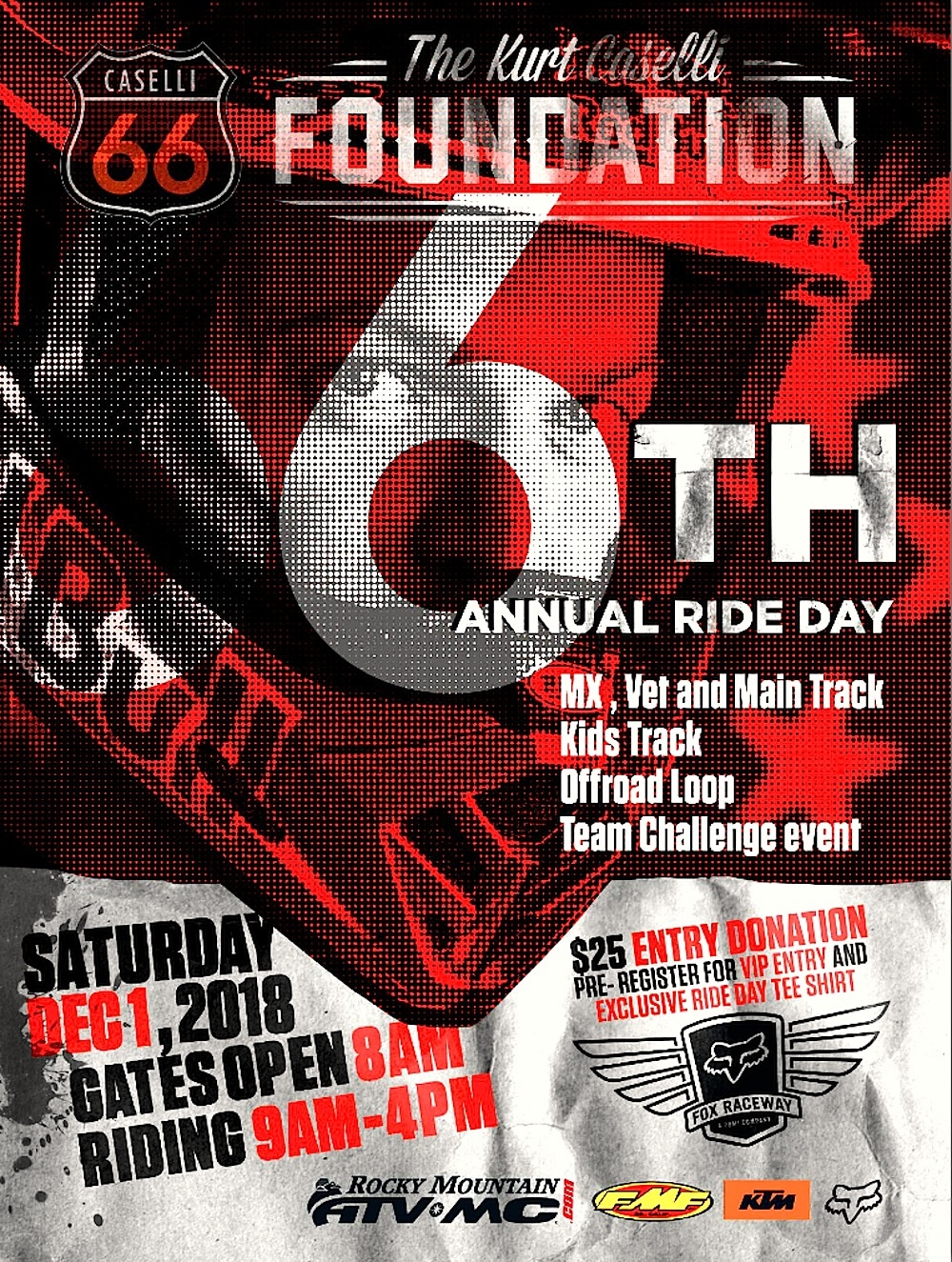 MXA | MOTO | TRIVIA
Who is this rider and what year is it.
MXA INTERVIEW | JEREMY SEEWER
Swiss rider Jeremy Seewer had a rude awakening when factory Suzuki announced its World motocross team was folding after the 2017 race season ended. Not only had Seewer finished 2nd in the MX2 championships in 2016, and 2017, he was slated to race the factory Suzuki RM-Z450 in 2018 MXGP. Fortunately Yamaha recognized talent in Seewer and signed him to a two-year deal. His debut on blue was with the privateer Wilvo Yamaha team where he would ultimately finish 8th in the MXGP standings. Rewarded for his efforts, Jeremy will move the Rinaldi (Monster Energy Factory) Yamaha team for 2019, where both rider and team have high expectations.
BY JIM KIMBALL
JEREMY, YOU FINISHED 8TH IN MXGP DURING YOUR FIRST YEAR WHILE OFTEN FIGHTING FOR TOP 5'S. HOW DO YOU FEEL? It has been a solid year. I was really consistent on many tracks, whatever the conditions there were. Of course, I always want more, especially after the last two years finishing 2nd in MX2. You get used to feeling of being on the podium. I knew that this was not likely going to happen this year, just because the competition is high. Also, I changed my team, and I changed the bike. This was a huge challenge to accept and to make it work again. I mean I am happy, but I want more at the same time. Many races I have finished maybe 6th or 7th and I might have had a better start or no mistakes there and then I would have finished 5th or 4th. I think it is a process and building up thing and I am looking forward for next year.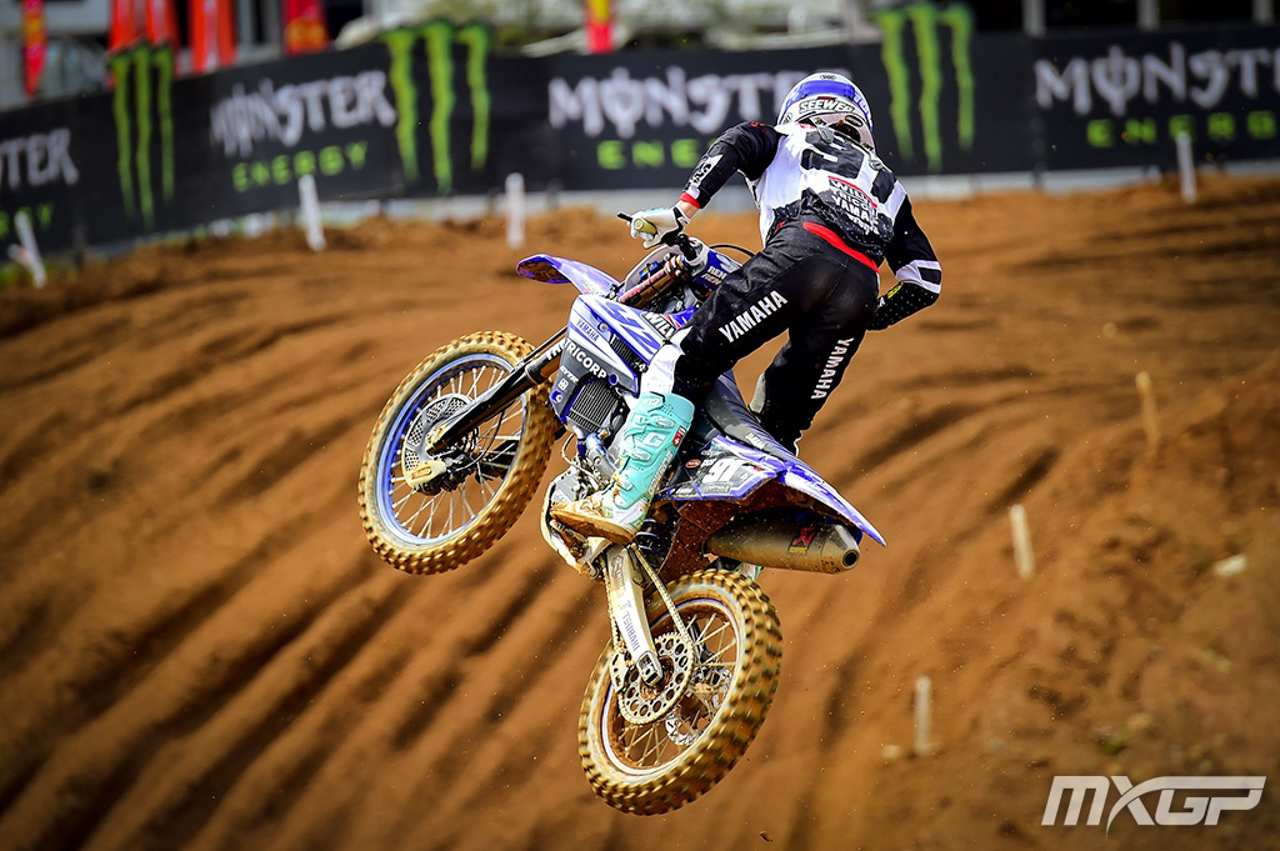 YOU SAID IT, JEREMY. THE DIFFERENCE FROM A SUZUKI 250 TO THE YAMAHA 450, IS HUGE. Yes, it is. Plus, the biggest fact also is the team. There are different mechanics, different team boss, different people you are surrounded with that you have to trust in. With Suzuki, I had been there for many years, so you build a great relationship. You build up your confidence, and you build up your trust with the team. You build your group around you to make it work, and then you move to a different team and start from zero. This is a big thing, plus the bike also. The Yamaha is just so different, you know?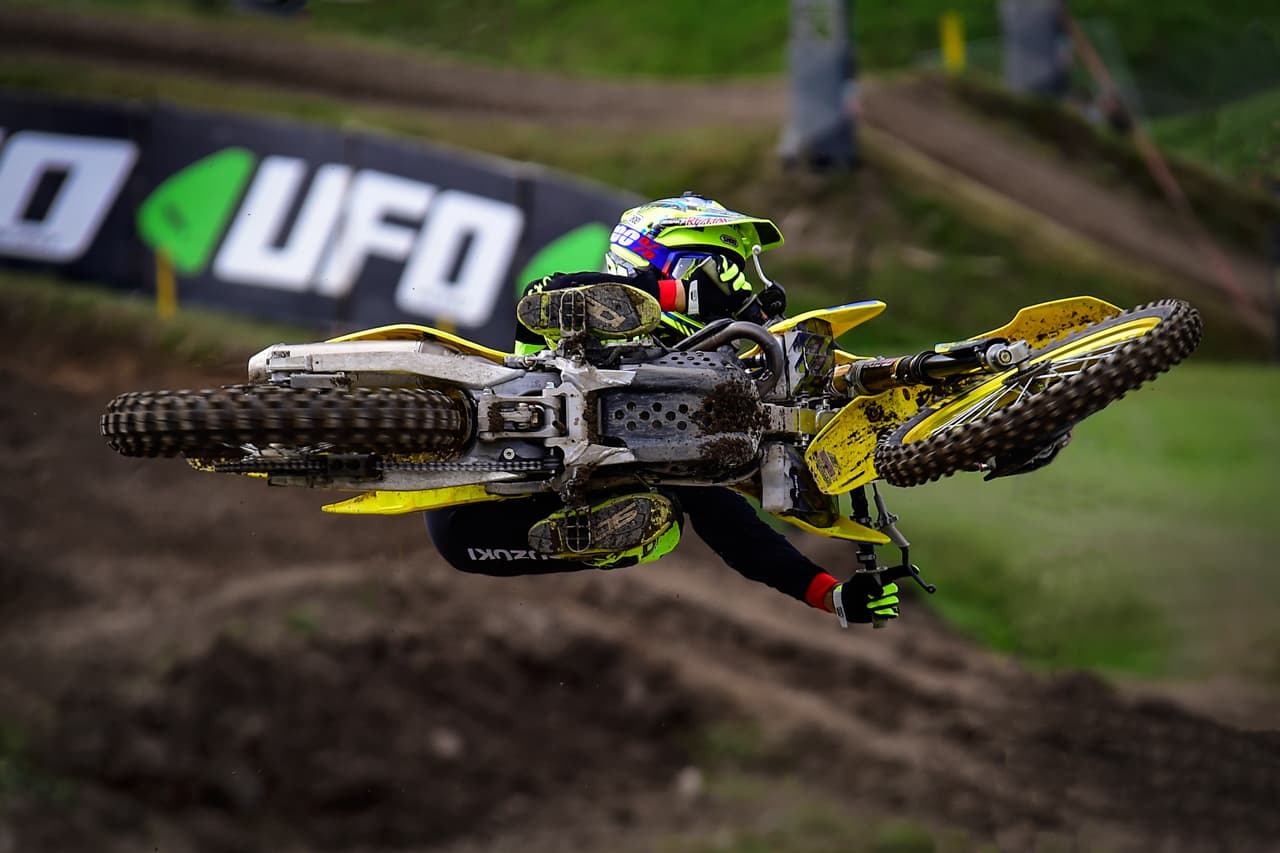 YOU WERE SLATED TO RACE THE SUZUKI 450 IN THE 2018 MXGP CLASS. DID YOU HAVE SOME FEELING OR HINTS THAT THE SUZUKI MIGHT SHUT DOWN? I had a deal for two years with Suzuki for the 450's, signed already, and then last year at the GP at Jacksonville, they announced that the 250 team would pull out. But, no one was talking about the 450's and it was all going good. We had actually really no idea the 450 team would fold. I do not know if Stefan (Everts) knew it or not, but we did not know until just after the last race before the Motocross of Nations, which was a big impact. But we did well after all, I am here with Wilvo Yamaha and I am now having a factory deal next year again, and this is the important thing of my story.
CAN YOU TALK A MORE ABOUT HOW THE WILVO YAMAHA TEAM IS DIFFERENT THAT THE MONSTER ENERGY YAMAHA TEAM? The Wilvo Yamaha is basically a private team. Privately owned with a little bit of factory support. We have good parts, good suspension, Factory KYB, plus other high-end parts. But (Monster Energy) Yamaha is their main team, which is the Rinaldi Monster Energy Factory Team. I signed last year for a two-year contract with Yamaha Europe, originally for Wilvo. But now made the decision to put me to the factory team for next year, which is amazing. I think it's a good step in a good direction.
YOU GOT ADJUSTED TO THE YAMAHA THIS YEAR, AND NEXT YEAR YOU WILL BE ON THE SAME BIKE, BUT THE TRUE FACTORY BIKE. You know the bike is maybe really similar and stuff. There are some different parts, of course, some different ideas, but I think what the point is, is that the factory team have more possibilities and a lot of experience. They have been in the business for 30-40 years. They have the main guys and the main mechanics, and the good people. I am not talking bad about the team I am on now, it is a great team. I have good mechanics around me and they try hard to be better and better, but you can't compare the two teams because that team that I am on now (Wilvo) has existed for only 2 years. They just don't have the experience from several years. It is just normal, you know? It is not bad, but I think this is going to be a plus point going to the factory team with all their experience.
LOOKING AT THE 2019 MXGP CALENDAR THE TRAVEL LOOKS CRAZY. Yes, traveling is a very big part of the sport now. This year it was actually not too bad going overseas only three times, but next year will be a lot busier, so it will be tough.
GET A FREE 10 YEAR ANNIVERSARY T-SHIRT WITH PURCHASE OF FASTER USA WHEEL SET
TUCKER POWERSPORTS ADDS GREG BLACKWELL IN NEW SALES AND MARKETING ROLE
Press Release: Tucker Powersports announced the hiring of Greg Blackwell to the new position of Senior Vice President of Sales and Marketing. Blackwell adds 30-years of powersports experience with industry leaders, such as KTM North America, Lemans Corporation, Metzeler Motorcycle Tire North America, and most recently as President of MTA Distributing. Tucker Powersports is a division of Motorsports Aftermarket Group (MAG).
Noting MAG's strategy of hiring candidates with aftermarket or powersports credentials, Mike Buettner, board member and Interim CEO said "We are aggressively hiring the best industry talent and we're thrilled to add Greg to our team. With his experience, he'll hit the ground running and have an immediate impact. The velocity of change we are executing is necessary in this rapidly transforming industry. And we are not done yet."
Blackwell joins industry veterans John Potts and Greg Heichelbech, who were recently added to the leadership team at MAG.
The new role will be focused on building relationships, achieving Tucker's sales and revenue goals, delivering an outstanding experience to dealers and growing market share through strategic partnerships. Kenan Ikles, current Vice President of Sales and Customer Support, will continue in his role and will report to Blackwell. In the new organizational structure, marketing will become a separate functional group in order to better serve Tucker dealers.
"I'm really impressed with the Tucker's desire to grow their business and support their dealers," said Blackwell. "My initial focus will be on meeting with key dealers, preparing for the January Dealer Show and planning programs that benefit Tucker dealers. The future is bright for Tucker and our partners."
Blackwell is a passionate and accomplished street and off-road motorcycle rider. He joins the company on Monday, November 12, 2018. The Tucker Show takes place in Dallas TX, January 21 to January 25, 2019.
2019 ELECTRIC START TM 300MX TWO-STROKE VIDEO
ROUND 3 OF THE AME AMATEUR MX
Round three of the AME Amateur SX saw points tighten up in multiple classes as new rivalries formed at the newly constructed Amateur SX track at Glen Helen Raceway.
Dane Morales, son of ASV inventor, Bob Morales was on a mission winning arguably the two most difficult classes: the 85cc Open and always super competitive Super Mini class. But Morales found himself a tough little competitor in the 85cc 7-11 class in the form of Kelana Humphrey!
Humphrey battled Morales hard in every turn diving low and pushing high trying to fight off the advances of Morales. Sparks flew (literally) when the both collided into one another with both going down in a cloud of dust. Morales remounted to come back to fourth while Kelana suffered a leg injury and was carried off the track. In the end cool heads prevailed as storm hawk watched the combat go down from a safe distance behind and waited for the two to tangle. And tangle they did as hawk went on to post the main event win with new race tech mini marvel Lawson dye and Seth Nemec rounding out the podium.
Dye had quite a race of his own later in the day with another former race tech mini marvel winner Alexis Dunn in the 85 Novice class.
Dunn took advantage of a fat holeshot in the 85cc novice ranks while dye was a bit trigger happy and hit the gate and got stuck in the gate leaving him dead last.
Dye was ripping and was passing riders at will trying to catch Dunn.
Near the end of race dye was on the back wheel of Dunn and the battle was on! Dye was pushing hard and went off course in a rhythm lane but re entered safely but lost ground.
On the last lap dye caught Dunn again and battled was rekindled.
Dye sent it through the roller section before the finish line but went into an out of control spiral sending him off the side of the finish line jump. Dye missed the following turn completely and re entered behind Dunn.
The two battled to the finish line with Dye getting a wheel in to capture the checker flag first. In the end Dunn was awarded the win when race officials penalized dye 5 seconds for missing a turn on the track and gaining an advantage.
Degan Palmer and his fly racing Shoei helmet XPR MCR Honda took control of both 250 Non Pro and Amateur All Star classes. Josh Varize was super smooth today in route in 2nd and a third and may have been a winner in the 250 Non Pros but a slide out cost him any chance he might have had.
Great racing at round three and Glen Helen round four will take place at Milestone MX park the Saturday after thanks giving.
COBRA MX 270mm OVER-SIZE RACE ROTOR
Press Release: The new CobraMX 270mm over-size race rotor kits feature the same unique pedigree as our established AXIS roadrace series full-floaters. The system is optimized to provide greater stability for use in the OE calipers yet allows for radial expansion under thermal load. Superior design is significantly lighter than similarly large fixed mount monolithic type. Available in kit form with special Ferodo ZR Racing brake pads or rotors alone.
Additional features include:
• Patented Floating Architecture for greater assembly strength and durability
• Completely re-buildable*
• Cryogenic treatment for improved wear characteristics & consistent performance
• Bobbin color choices: red, blue & black (and KTM orange)
• Kit includes billet aluminum caliper relocation brackets (as required)
• Kits cover nearly all later model MX'ers
FMF'S THE DROP | SUBSCRIBE AND CONQUER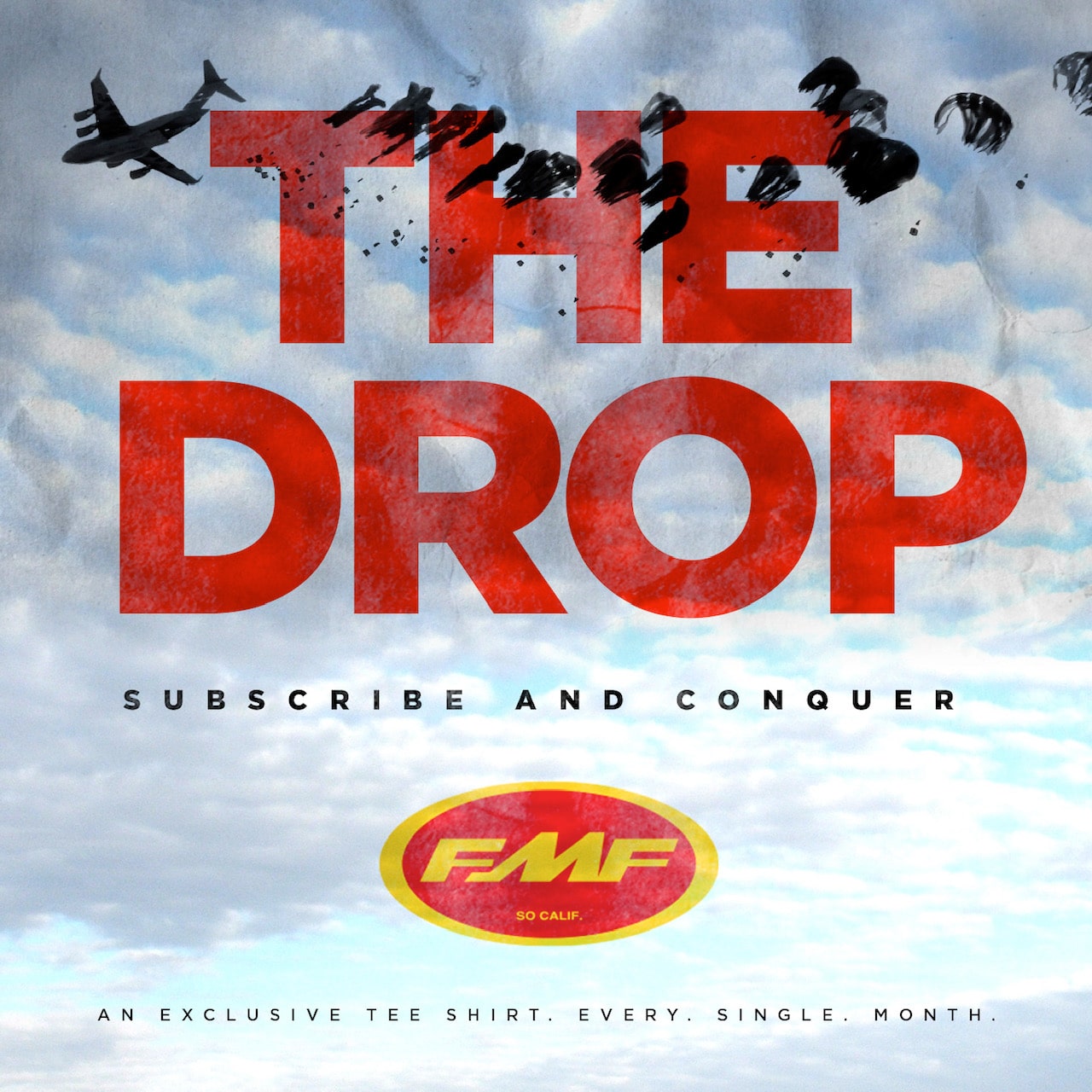 Press Release: FMF Introduces THE DROP- A first of its kind subscription service. An Exclusive Tee Shirt. Every. Single. Month. As part of the ultra – exclusive FMF DROP SUBSCRIPTION you will receive FMF Tee's that WILL NEVER be released to the general public, that's right, NEVER! Get stoked each month when FMF DROP's a special delivery at your doorstep and inside each month will be an additional surprise in every box. Limited Edition stickers, autographed memorabilia, or accessories.
How It Works
– Visit www.fmfracing.com and go to the apparel section and select FMF DROP TEE
– Choose your size or your custom made to order FMF Tee
– $29.99 (plus tax if applicable)
– Rock the exclusive shirts that are built just for you
– Early Roost special in the month of Oct will receive FREE SHIPPING for the life of your membership!
– It's super easy to cancel or skip a shipment with just a click of a button in your account page.
Please Note- We currently DO NOT accept any returns on The DROP subscription as each item is custom made to order.
FIRST RIDE VIDEO | 2019 KAWASAKI KX250
TALK MOTO WITH MOTO MINDED PEOPLE. JOIN MXA'S FACEBOOK GROUP CHAT

We love everything moto and want to bring all moto junkies together into one place to share their two cents, ideas, photos, bike fixes, bike problems and much more. To check it out first you must need to or already have a Facebook account. If you don't, it isn't much work and you could even have an alias so nobody knows it is you. To join click HERE. After you request to join we will accept your request shortly after.
JOIN MXA'S SNAP CHAT FEED
If you are a Snap Chat user then add us to your stories. Get sneak peaks of everything moto. Our Snap Chat name is motocrossaction. Or just take a Snap of the picture above and it will add MXA automatically to your feed.
LOST BUT NOT FORGOTTEN | 1991 KAWASAKI KX125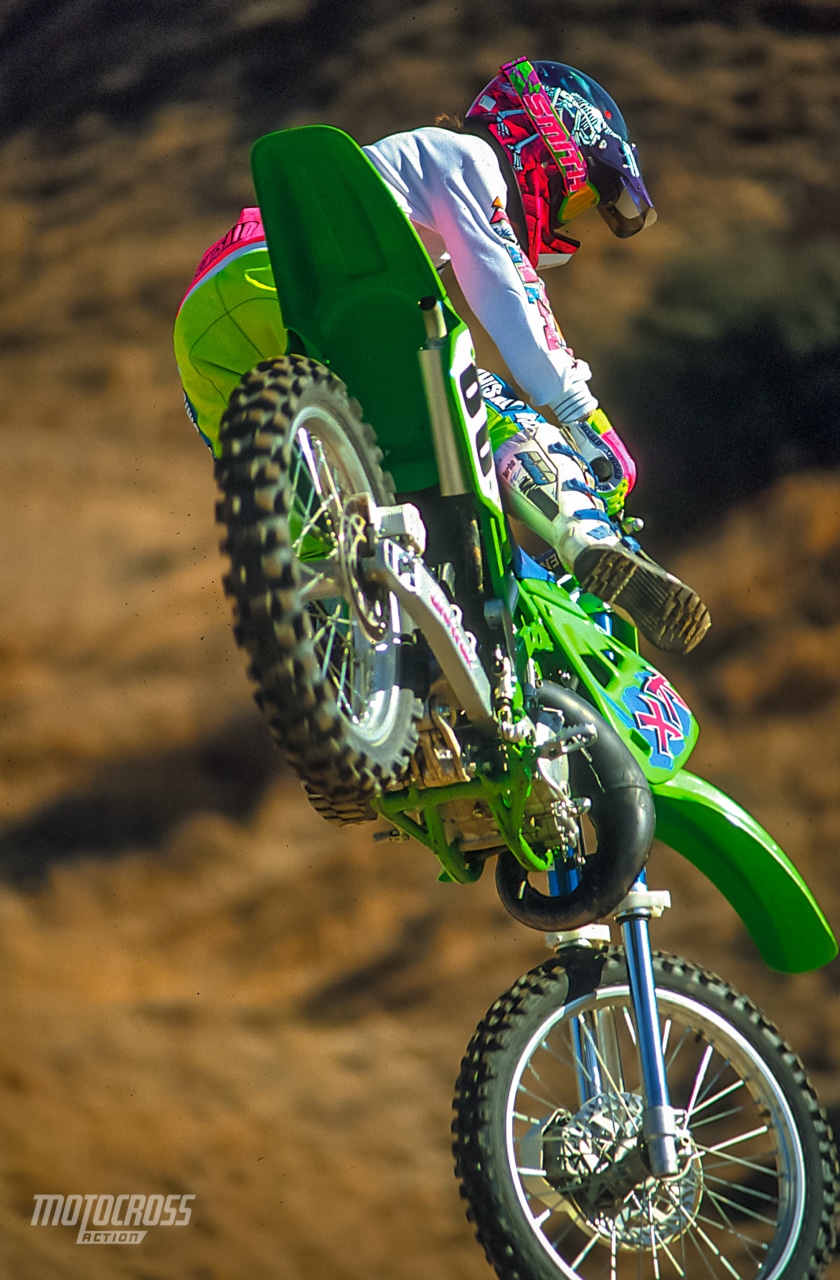 EVS SPORTS ACCEPTING RESUMES 
CLASSIC PHOTO
Kevin Windham ripping up a factory Honda CR250 two-stroke.
MXA RIDE DAY | PHOTO BLAST
MXA QUESTION OF THE WEEK ANSWER
What year and displacement is this KX? The answer is a 1988 Kawasaki KX125. The winner of the contest is Bret Leef.
---
Moto Trivia answer: Nathan Ramsey from 2000.