MXA RIDES MX-TECH'S KTM 125SX PROJECT BIKE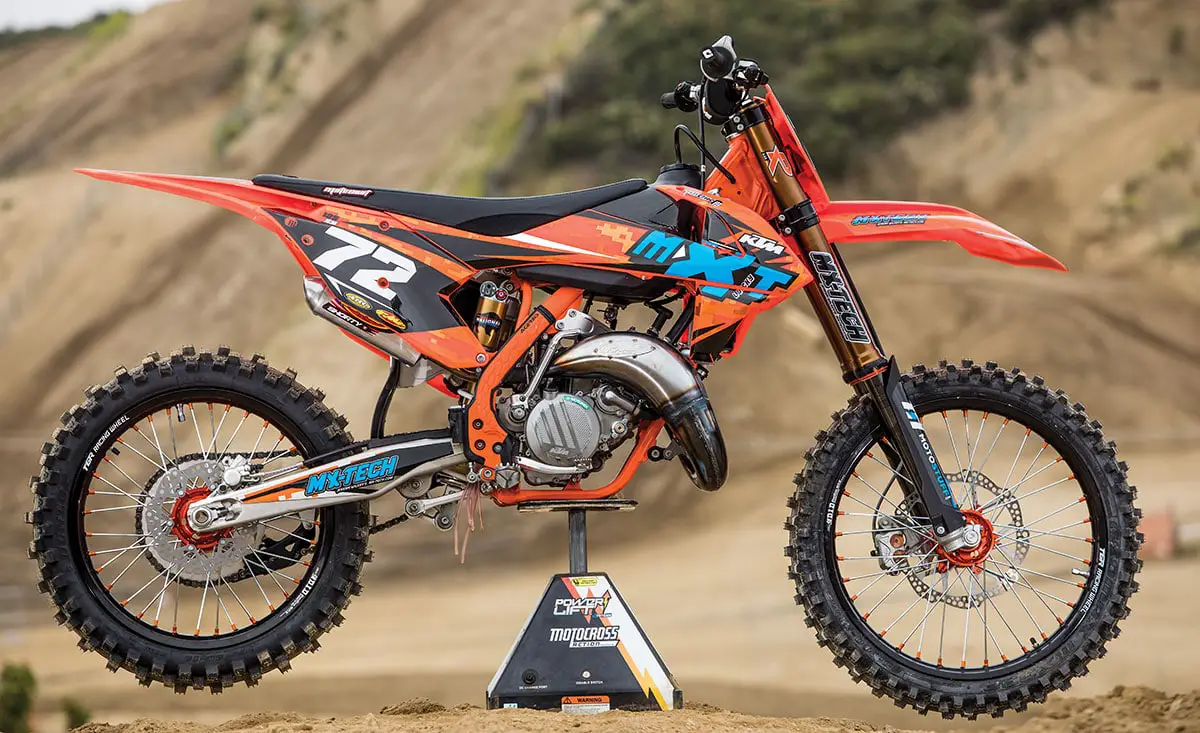 What do Airstream trailers, Volkswagen Beetles, vinyl records and two-strokes have in common? They were all once popular with the pubic but were pushed to the side by the next wave of trends and technology; however, in each case there were hardcore loyalists who refused to let go of their Bugs, Iron Butterfly albums or smokers. They understood the uniqueness of what was. These are the people who keep the past alive for the rest of us. Thanks to them, it is possible for the next generation to see where we came from—and perhaps ignite the same spark from decades ago. And so it is with two-strokes.
WE LOVE IT WHEN A GUY COMES UP TO US AT A RACE AND SAYS, "I CAN'T BELIEVE HOW MUCH FUN IT IS TO RACE A TWO-STROKE."
Back when two-strokes were king, it was hard to understand their uniqueness, since everybody had one. They were the norm. Back then, four-strokes were the odd men out. And honestly, they still should be. Whose idea was it to allow 250cc four-strokes to race head to head against 125cc two-strokes anyway? Oh, yeah, the AMA's. You gotta wonder whose bread they were buttering. They had to know that double the displacement for thumpers would kill smokers. Why were they so shortsighted?
You can tell that we have a bitter taste in our mouths. We were among those hardcore loyalists who kept two-strokes close to our hearts. We were the only motorcycle magazine that kept testing two-strokes during the four-stroke revolution. Over the last few years, two-strokes have regained popularity and the bitter taste has sweetened.
Everybody loves a rags-to-riches story—and the explosion of two-stroke builds, project bikes and two-stroke racers warms the cockles of our hearts. We love it when a guy comes up to us at a race and says, "I can't believe how much fun it is to race a two-stroke."
This brings us to the birth of MX-Tech's KTM 125SX project bike. The guys at MX-Tech loved this bike so much that they threw it in a van and drove from Illinois to SoCal to show us what they had been working on. In fact, they stuffed eight bikes in their Sprinter for us to ride. One by one, they pulled bikes out of the back of the van. Each one offered something unique, but the KTM 125SX was their pride and joy. We wanted to hear the story behind this bike.
"We can't believe we forgot the feeling of riding 125 two-strokes," said MX-Tech's Jeremy Wilkey. "It all started when we went to Denmark to visit our Danish importer. They asked us to go riding with them on a farm track that had green hillsides and perfect dirt. They had a plethora of bikes but suggested that we all ride 125 tiddlers. 'When in Rome,' we thought. We hadn't ridden 125s in years, but we weren't about to turn down a chance to go riding in another country on prime terra firma. We spent the day railing the 125s around (at least that's what we felt like we were doing) on the small but fun track. It was an epic day, made all the more exciting because we were on bikes that had been off our radar for years. At that moment, we were hooked. When we got back from Denmark, we went out and got some 125s for the MX-Tech shop, which led us to build this MX-Tech KTM 125SX.
"As weird as it sounds, this is actually our favorite bike to ride. Not because we go the fastest on it, but because the thrill factor is off the charts and reminds us why we love motocross."
THE MX-TECH CREW DID NOT GO OVER THE TOP WITH THIS BUILD; ALTHOUGH, THEY DID GO OVER THE TOP WITH PARTS OF THE BUILD.

The MX-Tech crew did not go over the top with this build; although, they did go over the top with parts of the build. They like top-quality products, and they pride themselves on premium craftsmanship. The KTM 125SX's wheels were built in Japan by TGR. The rims are D.I.D Dirt Stars with TGR hubs and SKF seals and bearings. These are super-strong and light wheels that were hand-built by master Japanese wheel builder Tucci. They run about 109,000 yen, or close to $1000. The KTM 125SX engine got mild exhaust porting and a single-ring piston for better kinetic efficiency. An FMF pipe and silencer were the go-to bolt-ons. To make the engine happy, it ran on a 50/50 blend of pump gas and VP C-12.
It goes without saying that the WP suspension components were massaged by MX-Tech. MX-Tech produces its own custom-built rear shock called the MXT National shock, which retails for $2400. It is a lot of dough to replace a shock that is already good, which is why the MX-Tech shock is for the few, not the many. It is over a pound lighter than the OEM WP shock. It offers the most dynamic range of adjustability of any shock currently available, and it's made in the USA from the best materials and coatings money can buy.
The stock WP AER 48mm air forks offer one air chamber to adjust pressure. It is simple and easy to use. They are the best air forks to ever come off a production line. The downside of air forks is their hyper-progressive nature. Every test rider and suspension guru knows that coil-spring forks offer a much more progressive stroke due to the consistency of springs when they are compressed. Jeremy and the boys at MX-Tech wanted to get a coil-spring feel out of air forks. To achieve this, they developed the MXT A48-R kit. This kit features a separate high-pressure compression chamber. This chamber only comes into play when the main air chamber's pressure ramps up at the end of the stroke. As the pressure in the AER air chamber reaches its max, it pushes against the floating piston in MX-Tech's separate high-pressure air chamber. As the piston moves upward under the rising pressure, it increases the fork's volume to slow the rate of gain and produce a more progressive feel without the normal ramp-up harshness that air forks are known for.
On the MX-Tech forks, we started at 130 psi in the main chamber and 205 psi in the high-pressure compression chamber. Initially, this was too soft for our faster testers. We found our sweet spot at 140 psi in the main chamber. Once we got a feel for the forks, we found that they tracked the ground much better than traditional air forks. We also got a better and more stable feel from the ground underneath. This gave the MXT A48-R kit forks an A-Kit spring fork feel. Once we got down into the stoke, the forks held up better than normal air forks with the benefit of less harshness. After we softened the compression and slowed the rebound a touch, we were more than happy. These forks got us close to a spring feeling without having springs.

As for the MXT National shock, it took some time to set up. We started off at the recommended 115mm of sag. We thought it would be too low, but we are always open to trying new things. The low sag made the front end feel light, and in the process the KTM lost its cornering prowess. We reset the sag to 105mm so that the rear felt balanced with the front. At this point, the National shock felt stiff and harsh. It wanted to step out on square-edge braking bumps. To fix this, we softened the low- and mid-speed compression significantly and stiffened the high-speed compression to help keep the shock higher in its stroke. This fixed the flaws and made the KTM 125SX work very well. We were impressed that the National shock had such a broad range of adjustability. As the day progressed, we were able to fine-tune until it felt like something off of a factory bike.
The small engine mods that the MX-Tech crew made really livened up the KTM powerband. It had improved bottom and a mid-range kick that could slingshot you out of corners and over jumps. The increased power made the little 125 run through its gears faster, which demanded more shifting. The MXA test riders didn't mind; it was all part of the game. We loved slamming through the gears and trying to make each shift indistinguishable from the side of the track. This thing was fun, really fun. We understand why this KTM 125SX was MX-Tech's favorite bike to ride.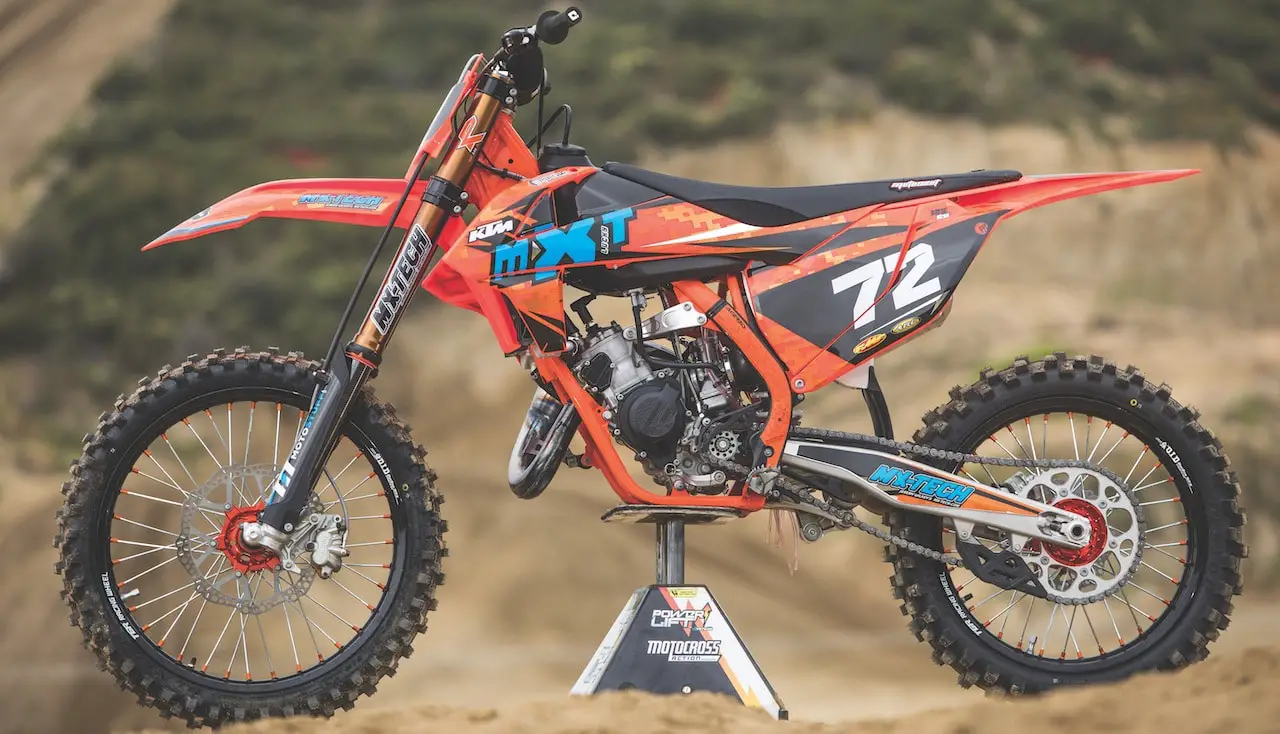 WHAT DID WE REALLY THINK?
Most of us never take the time to hear the natural sound of Van Morrison when played on vinyl, or enjoy careening down PCH at 45 mph in a Volkswagen bus, or spend the night at Doheny State Beach in an Airstream trailer, but riding a 125 two-stroke—whether new, old, classic or a beater—is easily within reach. The MX-Tech KTM 125SX was a great bike. We didn't want to stop riding it.