MXA'S WEEKEND NEWS ROUND-UP: 2015 KTM SPIES ARE EVERYWHERE
GERMANY IS FULL OF SPIES: 2015 KTM SPIES
KTM has always had trouble with leaks from their dealer network in Europe and 2015 is no different. Reportedly, a German dealer released spy photos of the bike and the tech sheet from the 2015 dealer book. This info was picked up by European media outlets and others as far away as Australia. It has spread world-wide. Tthus, we are showing it to you to keep you even with riders from Munich and Sydney. Apart from the graphics, most of the visible changes are directly off of the 2014 450SXF-FE Factory Edition.
This technical bulletin is for European models and, since Euro models and American models differ quite a bit, you can't take this for the gospel (if you read German). The list of changes are the same as on the Factory Edition III—new offset at the fork dropout lug, smaller front axle, smaller steerer tube, new fork guards,  longer shock with longer linkage and new bellcrank from the Factory Edition III, black Excel rims, Dunlop MX52 tires, new forks (although the Euro bikes and American bike swill not have the same forks and the orange frame.
There are no guarantees in the spy photo world, but this bike is right out of a crate (note the lever protectors and the missing footpegs).
MXA'S WEEKEND SCOREBOARD: WHO DID WHAT WHERE
Clement Desalle.
SPANISH GRAND PRIX RESULTS: 450 CLASS (FIRST MOTO)
1. Clement Desalle (Suz)……………….1-
2. Jeremy Van Horebeek (Yam)……..2-
3. Steven Frossard (Kaw)……………….3-
4. Kevin Strijbos (Suz)……………………4-
5. Evgeny Bobryshev (Hon)…………….5-
6. Tony Cairoli (KTM)……………………..6-
7. Xavier Boog (Hon)………………………7-
8. Tyla Rattray (Hus)……………………….8-
9. Joel Roleants (Hon)…………………….9-
10. Shaun Simpson (KTM)……………….10-
11. David Philippaerts (Yam)……………11-
12. Davide Guarneri (TM)………………..12-
13. Jake Nicholls (KTM)…………………..13
14. Matiss Karro (KTM)……………………14-
15. Rui Goncalves (Yam)………………….15-
23. Tanel Leok (TM)………………………..23-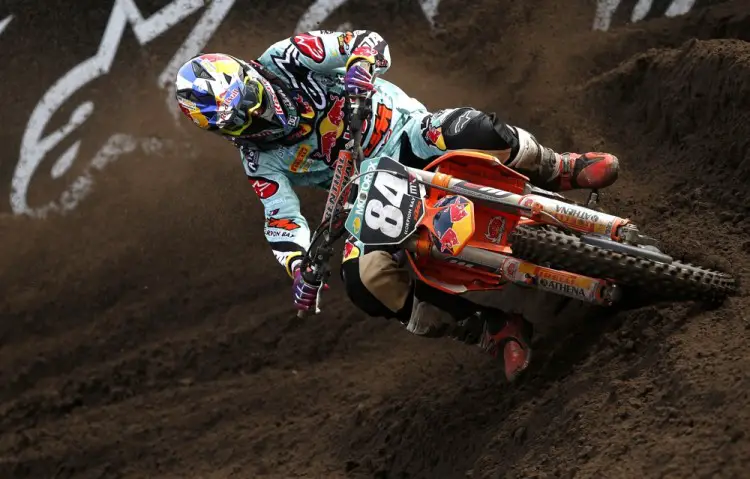 Jeffrey Herlings.
SPANISH GRAND PRIX RESULTS: 250 CLASS
1. Jeffrey Herlings (KTM) ……………1-1
2. Dylan Ferrandis (Kaw)…………….3-3
3. Arnaud Tonus (Kaw)………………2-5
4. Romain Febvre (Hus)……………..5-4
5. Jordi Tixier (KTM)…………………..4-9
6. Jose Butron (KTM)………………….8-6
7. Tim Gajser (Hon)…………………….17-2
8. Julien Lieber (Suz)………………….6-11
9. Petar Petrov (Yam)…………………9-10
10. Christophe Charlier (Yam)…….12-8
Other notables: 12. Valentin Guillod; 13. Damon Graulus; 15. Aleksandr Tonkov; 7. Luke Styke; 16. Harri Kullas; 21. Thomas Covington
ALL-JAPAN 450 NATIONAL CHAMPIONSHIP: HIROSHIMA
1. Makoto Ogata (Hon)………..1-2
2. Yoshitaka AtsutA (Suz)……2-3
3. Hiroaki Arai (Kaw)………….5-1
4. Akira Narita (Hon)………….3-5
5. Takuya Mihara (Kaw)………6-4
6. Koh'ichi Fukaya (Hon)…….4-6
7. Yui Hoshino (Hon)…………..7-7
8. Yutaka Hoshino (KTM)……10-8
9. Yuta Ikegaya (Suz)…………..9-9
10. Yohei Kojima (Suz)………..8-10
ALL-JAPAN 250 NATIONAL CHAMPIONSHIP: HIROSHIMA
1. Takeshi Katsuya (Kaw)…………1-1
2. Toshiki Tomita (Hon)…………..4-2
3. Chihiro Nohtsuka (Kaw)……….3-3
4. Takashi Okano (Suz)…………….2-5
5. Jun'ya Takenaka (Suz)………….9-4
6. Nozomu Yasuhara (Yam)………6-9
7. Kouhei Ueda  (Suz)………………8-8
8 . Lucas Santana (Hon)…………..11-6
9 . Yusuke Watanabe (Yam)……..7-11
10. Shota Ueda (Kaw)……………….15-7
Lewis Gregory.
EUROPEAN 300 TWO-STROKE CHAMPIONSHIP RESULTS: SPAIN
1. Lewis Gregory………….Yam
2. Marco Maddii………….KTM
3. Toms Macuks………….KTM
4. Samuele Bernardini….TM
5. Kenny Vandueren…….KTM.
6. Miguel Gaboleiro………Yam
7. Stephane Watel…………KTM
8. Txomin Arana…………..Yam
9. Michele Cencioni………KTM
10. Bence Szvoboda……….KTM
MXA PRODUCT SPOTLIGHT: STEELMAN 24 ART PIECES WITH NUTS AND BOLTS

Steelman metal figures are elaborately handcrafted and made in Germany. Each individual piece is unique and these small pieces of art are made from pieces of steel, copper, nuts and screws that are are coated with a transparent nontoxic film to preserve its luster and shine.

Steelman offers an incredible range of metal sculptures in every thing from baseball to soccer to horseback riding to military figures and a small collection of motorcycle sculptures.
Although there weren't any motocross pieces, there was collection of street bike, Harley and chopper art. We did find freestyle, road race and mechanic art that was very unique. Prices vary from $69 to $109 depending on complexity. For more info go to www.steelman24usa.com 
THIS WEEKEND'S POINTS STANDINGS RESULTS: ALL IN ONE PLACE
Jeffrey Herlings.
250 WORLD CHAMPIONSHIP POINTS STANDINGS
(After 7 of 18 races)
1. Jefffrey Herlings……………294
2. Arnaud Tonus……………..267
3. Romain Febvre……………232
4. Dylan Ferrandis……………225
5. Jordi Tixier…………………..215
6. Glen Coldenhoff…………..176
7. Tim Gajser………………….171
8. Aleksandr Tonkov………..170
9. Jose Butron…………………159
10. Valentin Guillod………….153
Tony Cairoli.
450 WORLD CHAMPIONSHIP POINTS STANDINGS
(After 7 of 18 races)
1. Tony Cairoli……………………304
2. Clement Desalle…………….280
3. Jeremy Van Horebeek…….276
4. Kevin Strijbos…………………182
5. Gautier Paulin………………..205
6. Max Nagl……………………….166
7. Steven Frossard…………….142
8. Evgeny Bobryshev…………136
9. Joel Roelants………………..134
10. Xavier Boog………………….134
ALL-JAPAN 450 NATIONAL CHAMPIONSHIP POINTS STANDINGS
(After 3 of 9 races)
1. Akira Narita………………..131
2. Makoto Ogata…………..…119
3. Hiroaki Arai…………….…….107
4. Yoshi Atsuta…………….…101
5. Takuya Mihara………….…94
6. Yui Hoshino………………..91
7. Koh'ichi Fukaya…………..79
8. Yohei Kojima…………….…71
9. Masanori Itoh……………..66
10. Seiji Numata………………59
ALL-JAPAN 250 NATIONAL CHAMPIONSHIP POINTS STANDINGS
(After 3 of 9 races)
1. Takeshi Katsuya……………143
2. Toshiki Tomita……………….124
3. Jun'ya Takenaka……………..103
4. Chihiro Nohtsuka……………100
5. Takashi Okano………………..98
6. Masami Tanaka…………..…75
7. Nozomu Yasuhara…………..72
8. Shin'ichi Inque…………..……66
9. Gota Ohtsuka……………………62
10. Kouhei Ogawa………………56
Samuele Bernardini.
EUROPEAN 300 TWO-STROKE CHAMPIONSHIP POINTS STANDINGS
(After 2 of 7 rounds)
1. Samuele Bernardini….88
2. Marco Maddii……………85
3. Toms Macuks…………..80
4. Lewis Gregory………….72
5. Bence Szvoboda………61
6. Stephane Watel………..54
7. Michele Cencioni………51
8. Txomin Arana ………….51
9. Jean Loup Lepan……….40
10. Martin Vanleeuw……..38
MXA PRODUCT SPOTLIGHT: HINSON FOR HUSKY

Hinson Clutch Components is excited to announce that our Billetproof lineup is now available for 2014 Husqvarna two- and four-stroke models. Used by Team Red Bull IceOne Husqvarna Factory Racing, Team Wilvo Nestaan Husqvarna Factory Racing, Team Bel-Ray Husqvarna Factory Racing and Team Red Bull Husqvarna Factory Racing, the durability and performance that Hinson offers is sure to hype up your bike's performance.
Each Billetproof component is precision machined from billet T-6 aircraft quality aluminum and hard coated. This coating ups the surface strength for five times the wear resistance of stock and our high-end tolerances allow for a truer spinning clutch inside your engine reducing heat fade significantly. For more info go to www.hinsonracing.com
TAKE A LAP OF SPAIN'S TALAVERA GP TRACK WITH RUI GONCALVES & JOSE BUTRON

POURCEL & KEHOE TEAM UP FOR THE 250 NATIONALS
Valli Motorsport's Chad Lanza, with the help of Yamaha Motor Corporation, is back in the motocross world with the most interesting rider in the 2014 AMA 250 Nationals—Christophe Pourcel. "When I came to America I had one goal and that was to win the AMA 250 Motocross National title. I came so close, but never realized my goal. That fire still burns, and the minute I had the opportunity to make another run at the title, on a bike as good as the 2014 YZ250F, I jumped at it," said Christophe Pourcel.
As another ace in the hole, Valli Motorsports has hired Erik Kehoe to be the team manager. Although Kehoe was the Honda team manager for many years, he has long history with Yamaha as a racer and as the team manager at Yamaha of Troy. Erik said, "Some of my best years as a team manager were with Yamaha. They gave me my first shot at being a team manager and I remember quite fondly Ernesto Fonseca winning that first championship in his rookie year and then following it up right after with the then-revolutionary YZ250F. I think we can recapture that magic with Pourcel and the 2014 YZ250F."
10 TAKE-AWAYS FROM THE 2014 SUPERCROSS SEASON

(1) RYAN VILLOPOTO
Ryan Villopoto joined an elite club—it's only other member is Jeremy McGrath—when he won his fourth straight AMA Supercross Championship. Strangely, he wasn't happy about it. In fact, he told Jeremy McGrath that he didn't get any joy out of racing. You would think that he would at least crack a smile about a 17-race series that allowed him to bank about $4 mil. Brett Metcalfe is smiling because he will replace Villopoto at Team Kawasaki while Ryan sits out the 2014 Nationals to have his knee fixed.

(2) JAMES STEWART
James Stewart has been as joyless as Ryan Villopoto, but suddenly, in 2014, he started to enjoy himself again. Okay, he's not the friendly Bubba of old, but he isn't the isolated, insulated and aloof James of the last four years. Joy is what racing is all about—and there is little doubt that when his Suzuki didn't have mechanical issues or he wasn't lying on the track, James was the fastest guy out there. No one could believe how quick he was in Toronto, when he came from 14th to first. Stewart also moved to second on the all-time win list with 50 Supercross Victories. Jeremy McGrath has 72.

(3) KEN ROCZEN
Ken Roczen made news twice during the Supercross series. (1) He won A1 and repeated again in Atlanta. For the first half of the season he was at the front of the spear, making moves and challenging for the lead. (2) Halfway through the series the wheels came off his orange wagon. He had a couple mechanical issues and looked over-trained. He was still up front in the beginning of every race, but faded after lap 10. This was not unexpected. He signed on to Aldon Baker's training regimen and it wore him out. No problem! When he was good, he was very good and everybody knew that he simply got over-trained. The potential he showed made him the must-have guy in the silly season sweepstakes. With a new $1 million a year Red Bull contract (for a reported 7 years) and a rumored $3 million deal at RCH Suzuki for 2015, Roczen is very happy that he got out of Europe when he did.

(4) CHAD REED
Watching Chad over the last five years has been like "The Real Housewives of Florida." He burned bridges with Yamaha, Suzuki and Kawasaki and was forced to privateer it on a Honda. He did well enough on his own that Honda gave him works bikes for 2013—which he then badmouthed. And he was forced to privateer it again—this time on a Kawasaki (only after KTM wouldn't let him run Showa works suspension on their bike). But, just like the good ladies of reality TV, he rebounded to be the "Good Chad" again (he had previously been the "Good Chad" in 2012). When he won A2, he was a true-to-life hero. What is a true-to-life hero? A true-to-life hero isn't just a guy who wins, but someone that the crowd wants to win. When Reed crashed at San Diego—the 2014 season lost its spark.

(5) MIKE ALESSI
Make no mistake about it, it's tough to be the odd man out. Mike has been on the outside looking in for several years. He can't get any serious help from the factories, because he's been there and done that already. The circumstances of his relationship with the industry and his family, force him to ride for what is essentially an outcast privateer team. His crying jag after winning a heat race this year made people worry for his mental health. His T-bone of Broc Tickle in Atlanta got him fined $4000 and put on double-secret probation. He is the only rider that pop star Pink ever tweeted about, when she said, "If I was as slow as Alessi I'd have to take people out too." And then, he announced that he was leaving the United States to race the Canadian Nationals this summer. Odd!

(6) JUSTIN BARCIA
Just like Chad Reed before him, Justin Barcia wants off of the Honda CRF450. How much does he want off of it? He is leaving Honda to ride Yamaha—which is the bike that James Stewart wanted off of so bad that he broke his three-year JGR contract to ride a Suzuki. That's as strange as when Chad broke his two-year Kawasaki contract to go to Honda and then left them to become a Kawasaki privateer. The fortunes of war shift with the changing face of the battlefield. Word is that JGR had to spend a pretty penny to get Barcia in blue—and that doesn't leave them enough money to keep a second top-flite guy (top-flite means high salary).

(7) DAVI MILLSAPS
Davi has been missing from the scene since May of 2013—undergoing operations on his legs and fixing things that have been twisted up in the meantime. Amazingly, while sitting on the couch, he became a player in the silly season. He hasn't even ridden his Rockstar KTM in anger yet, but looks like he has a front row seat to go to either Team Kawasaki or Chad's Kawasaki team. Davi looks like he will sign a new deal for 2015 before the 2014 Nationals start.

(8) JOSH HILL
In this sport if you do something stupid, it takes a long time to recover from it. Josh Hill was a young up-and-coming rider. Nice kid. Good parents. A bright future. But, he chose a different path, got linked to the wrong people and then upped the anted by trying to do a backflip. Why he wanted to be apart of the ears-in crowd is a mystery. Josh's backflip attempt ended as badly as possible and he still lives with the consequences. In this business people always remember your wasted youth. Hill got a second chance at RCH Suzuki, largely because they strike the tone of an ears-in team. But, they don't want him for the 2014 Outdoor Nationals and replaced him (and the injured Broc Tickle) with Weston Peick and Ivan Tedesco.

(9) RYAN DUNGEY
Nothing has happened to Ryan Dungey. He is as fast as he ever was. His bike looks good, but never as good as Ken Roczen's. He is healthy. He heads into the Nationals as a contender along with Stewart, Roczen, Barcia and Millsaps. And his strategy will remain unchanged. He will try to finish on the podium at every round and wait for disaster to befall his main competitors. This strategy has worked in the past, but it doesn't work when he is the rider with the bad day. His tortoise and the hare approach is conservative, but it has merit (and he has the titles to prove it).

(10) DEAN WILSON
Amazingly, Dean Wilson is still eligible for the 250 Supercross class next year, but just like in the past—he wants to be a 450 guy. He came close with the Jeff Ward team, including getting an $825,000 offer, but it was all smoke and mirrors. It fell through. Even though his buddy Chad Reed tried to get Honda to fund a program for Dean on Chad's 2013 Honda team—that didn't work out either. So, Dean went back to the 250 West for his trusty Pro Circuit team (they did lend him to Chad for four 450 rounds this year when the 250 West was on hiatus—the best of which was a 7th at Daytona). For 2015 Dean will be making his full-time 450 debut—on Roger DeCoster's KTM team.

(BONUS ROUND) WALKING WOUNDED
You know that it is a weird year when Trey Canard heads into the AMA Nationals as the healthiest rider around. The walking wounded currently include Ryan Villopoto (who will skip the Nationals to have his knee scoped), Broc Tickle, Wil Hahn, Justin Brayton and Eli Tomac (above). Some will heal up in time and some won't.
MXA PRODUCT SPOTLIGHT: MOTOREX SPORT MAX 10W40

Motorex's new Sport Max 4T oil completes its lineup of lubricants with a premium quality, mineral-based formula aimed at the price-conscious street and off-road motorcyclist. Blended with premium mineral base stocks, Sport Max is highly shear stable, temperature stable and JASO MA certified so it is approved for use in wet clutch applications. Sport Max comes in 10W/40 for cooler weather or smaller engine applications and 15W/50 for warm weather or heavy duty use. For more info go to www.motorexusa.com
A FATHER'S LOVE: TOM AND BRAD WHITE
Tom White has led an interesting life. He started his racing career as an AMA Grand National dirt tracker, racing against the likes of Kenny Roberts, Dick Mann and Gene Romero. After breaking his arm severely, he retired from dirt track and started the White Brothers Cycle Specialties. Over time Tom built a distributing empire that sponsored racers and attached its name to major events. All that changed in 1997 when Tom's 18-year-old son Brad hit a chain that had been strung across a parking lot while riding his motorcycle. Brad suffered brain injuries from the lack of oxygen when the chain crushed his larynx. Brad was paralyzed and blinded in the accident.

The Ural engine dates back to WWII.
Tom has since dedicated his life to caring for Brad. Tom sold the White Brothers to have more free time. He started the "Early Years of Motocross Museum" to continue the restoration work that he and Brad had shared in happier times (www.earlyyearsofmx.com). He gives generously to head injury charities and donates all the income from his museum to the High Hopes Head Injury Program (www.highhopes.ws). But, Tom missed going to the races with his son and knew that Brad missed riding.

Tom and Brad share a happy moment.
This year Tom saw an ad for a Russian Ural sidecar motorcycle and decided that this would be the perfect bike for Brad and he to go riding again. The Ural is a 750cc, two-wheel drive, boxer twin that has roots back to the Second World War. It weighs 750 pounds. Once Tom ordered his Ural he invested in a hydraulic hoist and harness system to lift Brad from his wheelchair into the sidecar. Tom is still working out the five-point seat belt system and various supports, but MXA was there when Tom took Brad for his first motorcycle ride in 17 years. It was a short jaunt, but you could see the smiles on both their faces as they tooled around together.
UPCOMING RACES & THEIR POSTERS
For more info go to www.glenhelen.com
For more info go to www.remsatmx.com
For more info go to www.worcsracing.com
For more info go to www.motoclubtalavera.com
For more info go to www.hangtownmx.com
MXA PRODUCT SPOTLIGHT: THOR MX PRO CIRCUIT GEAR

THIS WEEK'S BIRTHDAY BOYS: BRIAN DEEGAN IS 39

May 9…Brian Deegan 1975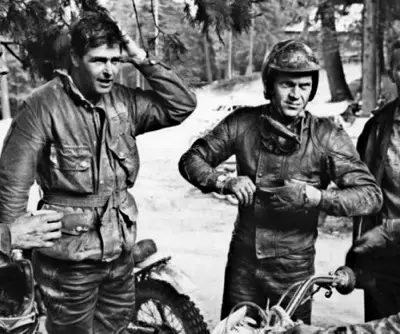 May 10…Bud Ekins 1930
May 10…Jason McCormick 1975

May 10…Edison Dye 1918
May 11…Jeremy Martin 1992

May 11…John van den Berk 1967
May 13…Billy Whitley

May 14…Kyle Regal 1991
May 15…Joe Oehlhof 1976
May 15…Jackson Esselman

May 15…Warren Johnson 1968
May 15…Kyle Loza 1986

May 15…Daniel McCoy 1984
CANADA COMES TO SoCAL…OR SoCAL GETS READY FOR CANADA

2015 AMA SUPERCROSS CHAMPIONSHIP SCHEDULE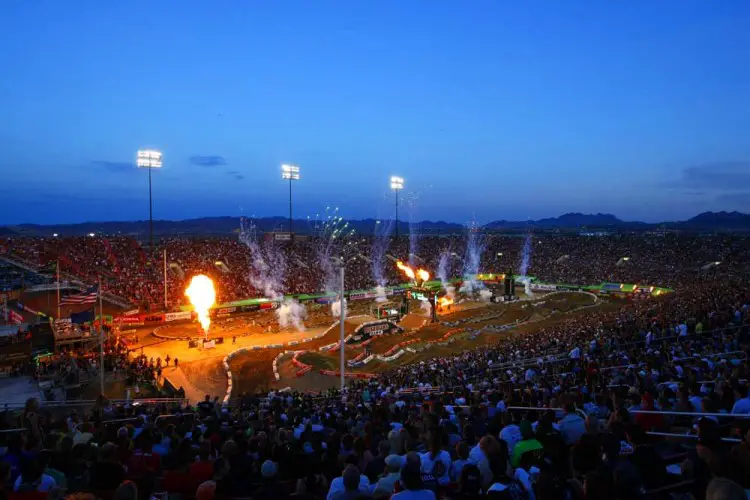 Jan. 3………………….Anaheim, CA
Jan. 10…………………Phoenix, AZ
Jan. 17…………………Anaheim, CA
Jan. 24…………………Oakland, CA
Jan. 31…………………Anaheim, CA
Feb. 7………………….San Diego, CA
Feb 14…………………Arlington, TX
Feb 21…………………Atlanta, GA
Feb 28…………………Atlanta, GA
March 7………………..Daytona, FL
March 14……………..Indianapolis, IN
March 21……………..Detroit, MI
March 28……………..St. Louis, MO
April 11………………..Houston, TX
April 18………………..Santa Clara, CA
April 25………………..East Rutherford, NJ
May 2…………………..Las Vegas, NV
THIS ISN'T MOTOCROSS, BUT YOU WILL WANT TO SEE IT ANYWAY

Photos by Yamaha, Ray Archer, Geico, Kawasaki, Pro Circuit, Thor, John Basher, MXGP, Suzuki, Massimo Zanazani, John Ker, Jody Weisel, Honda