MXA TEAM TESTED: 2022 FASTHOUSE ELROD GEAR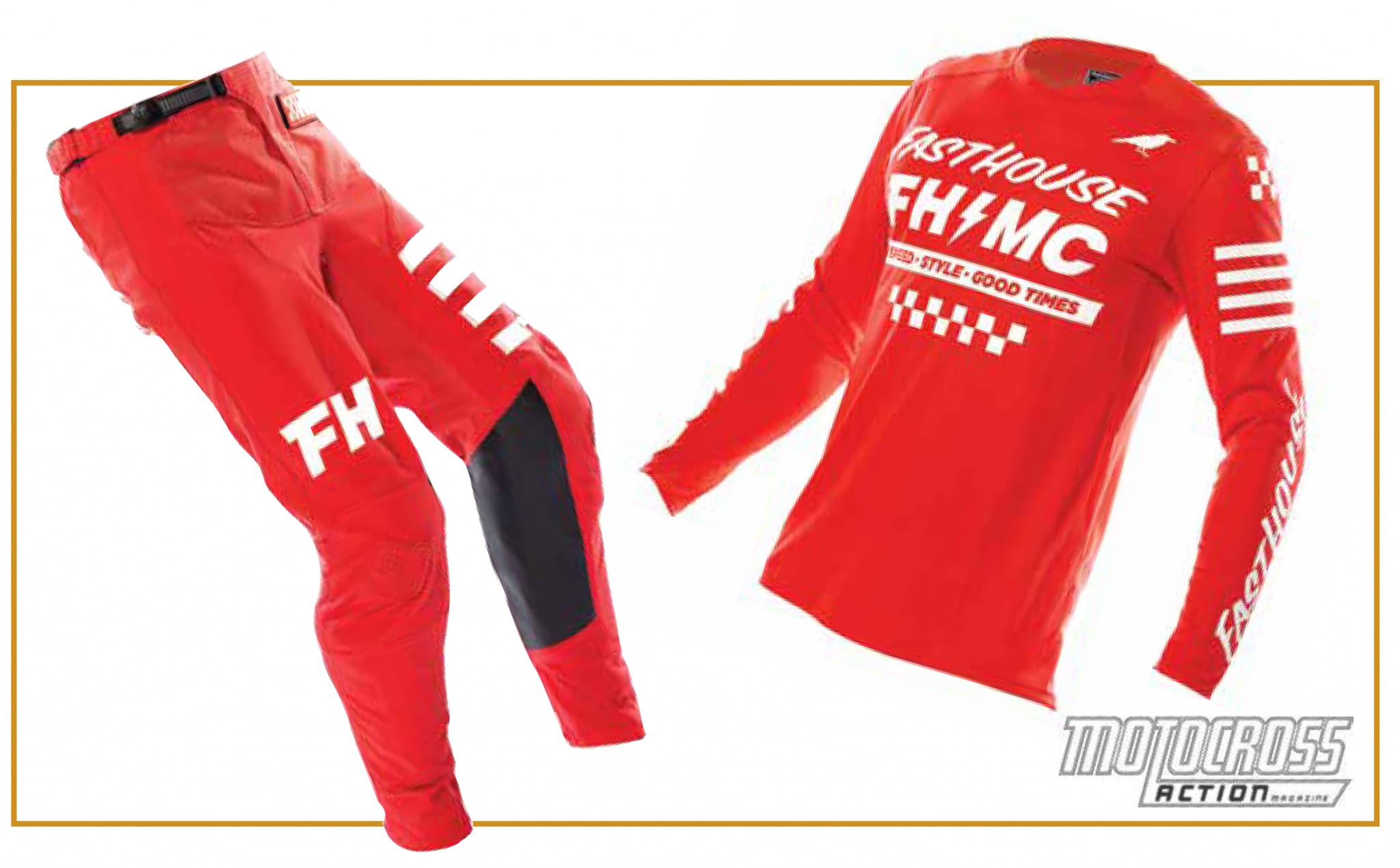 WHAT IS IT? Fasthouse is a lifestyle brand based in Southern California with a focus on all things motorcycle. With multiple tiers of motocross gear, the Elrod line is the company's high-end, athletic-fit offering.
WHAT'S IT COST? $75.00 (jersey), $190.00 (pants).
CONTACT? www.fasthouse.com or (661) 775-5963.
WHAT STANDS OUT? Here's a list of things that stand out with the Fasthouse Elrod gear.
(1) Jersey. The Fasthouse Elrod jersey is comprised of 96-percent polyester and 4-percent spandex. Utilizing FastDri materials, it has a vented mesh back panel and under sleeve with overlock stitching at the seams. The collar is V-shaped, and there are seamless cuffs for a comfortable and clean fit. The simple yet bold designs are silk-screened into the jersey, which is a durable and vibrant way to make the graphics stand out. Plus, the tail of the jersey extends 3 inches, so it stays tucked in. 
(2) Pants. The Fasthouse Elrod pants are made with a four-way-stretch construction that fits snugly around your legs and knee braces. The stretch materials work together with 450-denier reinforced panels in key areas and a 600-denier material in the saddle for added durability. The leather inner knee panels are made with full-grain leather and are 12 inches at their tallest and 5 inches at their widest. The pant also has a ratchet-type waist closure, a heavy-duty zipper and Velcro sans-a-belt fasteners at the hips to give you a tailored fit. The Velcro straps allow up to 5 inches of adjustment at the waistband.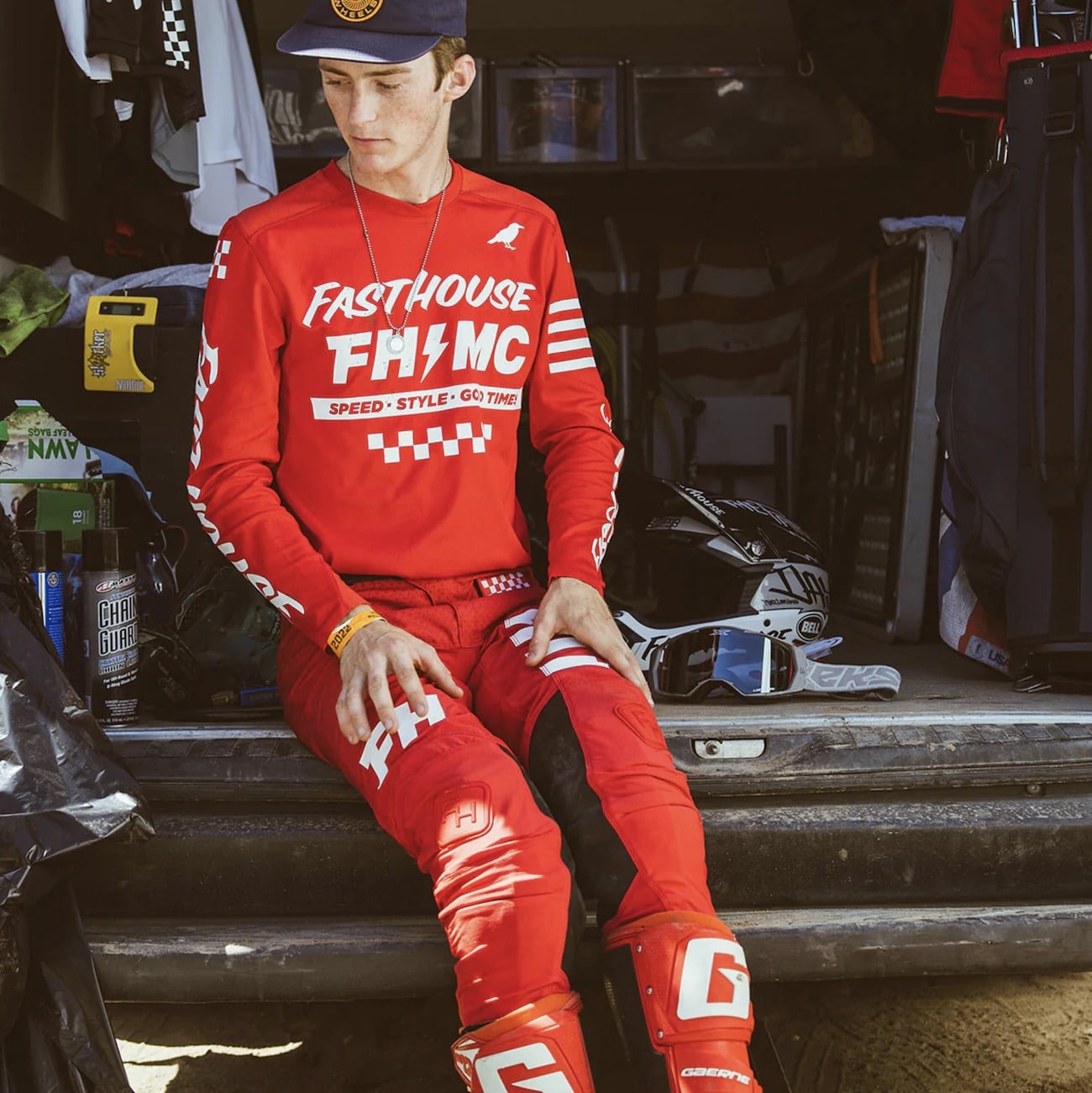 (3) Fit. The Fasthouse Elrod pant and jersey both have an athletic fit, meaning they fit great on riders who have the body of an athlete. The jersey and pants are slim and form-fitting around your legs, arms and torso; however, the fit could catch you by surprise. If you're buying from a dealer, you can try the gear on. If you're buying from the Fasthouse website, they state plainly in red letters that you should order the gear one size up if you are between sizes, prefer a relaxed fit or are wearing under-jersey protection and big knee braces. 
(4) Durability. At first glance the leather knee panels look big and seem like they wrap around your knees a little too far, but it pays off. The leather panels do a great job of increasing durability. The four-way-stretch material on the pants did fray slightly after being roosted, but it held up well in comparison to many other athletic-fit lines of gear. 
(5) Performance. The Elrod gear breathes exceptionally well and is comfortable to wear in the pits and on the track. The keys to a good set of gear are durability, mobility and breathability; however, it's hard to hit all three marks. Increasing durability usually means using thicker materials, which can restrict movement. Thicker materials also mean less ventilation; however, there's a formula that includes using the right materials in optimal places to make gear that is comfortable and non-restrictive while also being strong enough to last longer than 10 hours. The Elrod gear is both comfortable and durable!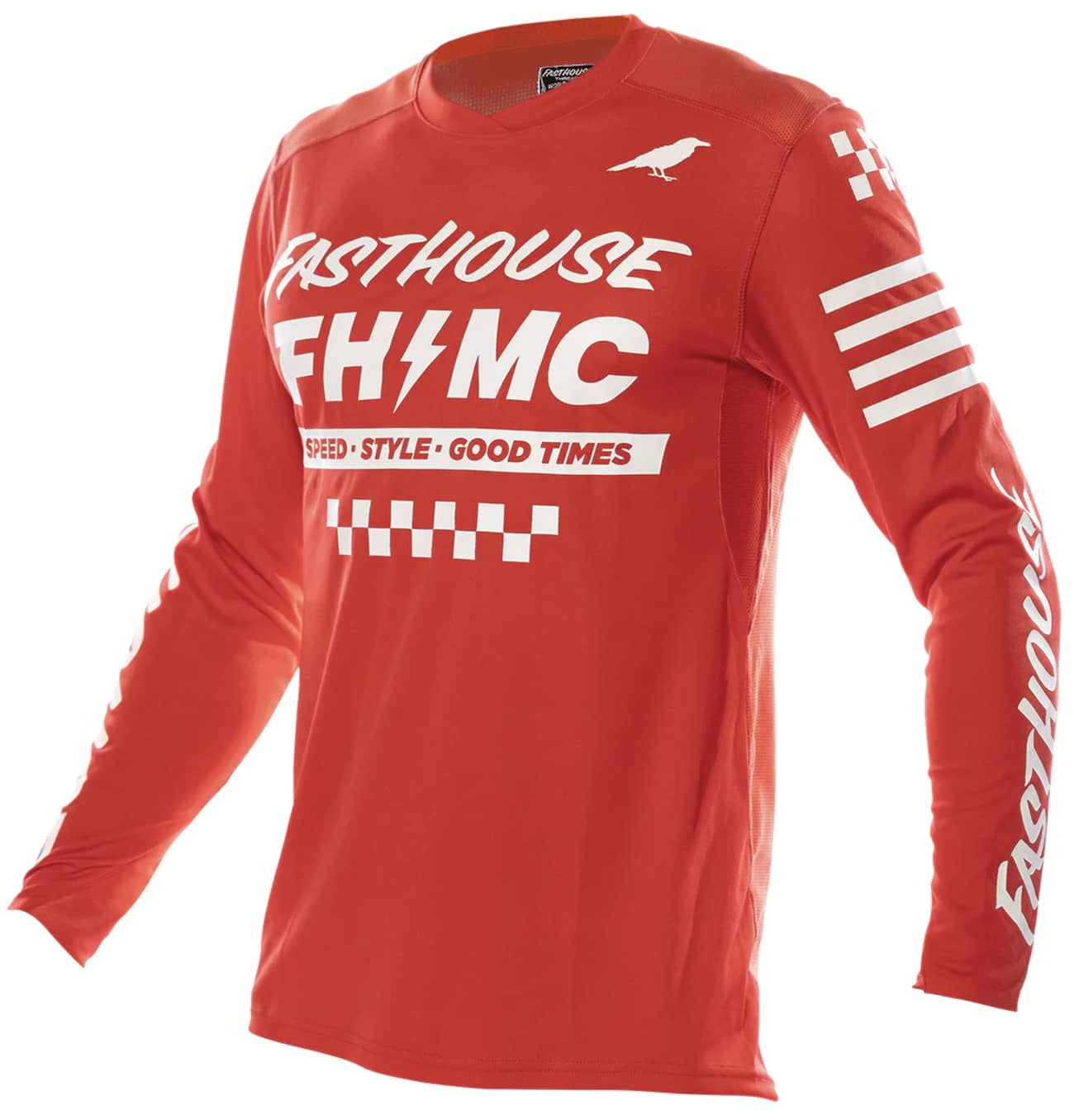 (6) Options. The Fasthouse Elrod gear comes in six different color options, with jerseys in size small to triple extra large and pants available in 28- to 44-inch waists. 
WHAT'S THE SQUAWK? If you don't like slim, athletic-fitting gear, you won't like the Elrod gear. Also, this gear is more durable than that of other athletic-fitting brands but not as durable as Fasthouse's heavy-duty gear.  
MXA RATING: The Fasthouse Elrod gear offers a generous dose of ventilation and durability. It breathes well, is comfortable to wear and holds its own against roost. Plus, we like the simple and bold design options.