MXA TEAM TESTED: 2023 THOR MX PRIME GEAR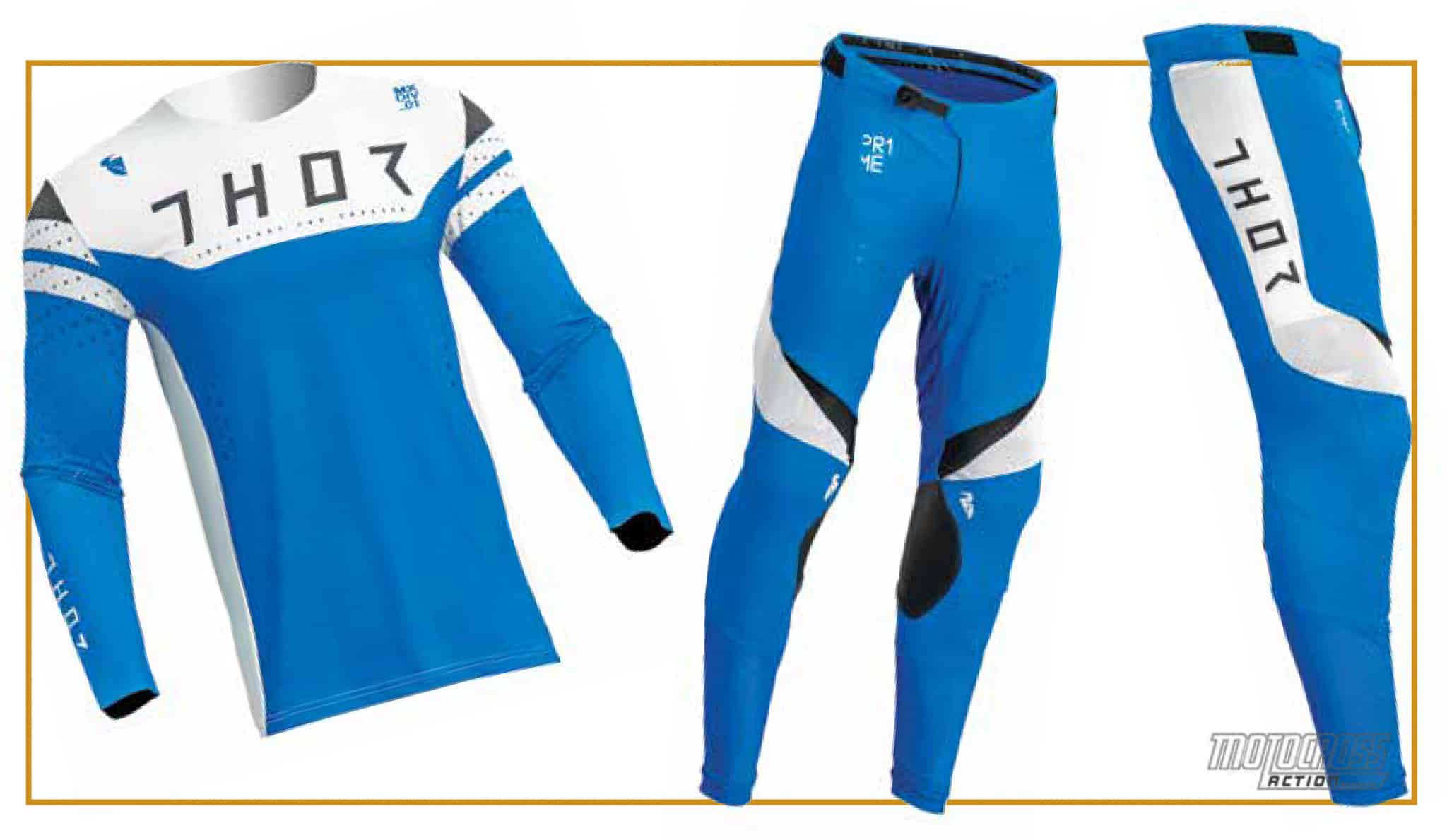 WHAT IS IT? Thor's 2023 MX Prime gear was created with Pros in mind. It features lots of stretchy spandex material and an ultra-slim, athletic fit. MXA has tested the Prime gear many times since its inception in 2014, and it has evolved with each generation.
WHAT'S IT COST? $64.95 (jersey), $169.95 (pants).
CONTACT? www.thormx.com or (858) 748-0040.
WHAT STANDS OUT? Here's a list of things that stand out with the 2023 Thor MX Prime gear.
(1) Jersey. The jersey's four-way-stretch polyester is lightweight and breathable. The jersey's tail extends 2-1/2 inches into the pants and has silicone printing on it to keep it tucked in. The sleeves have a set-in style with tapered cuffs. They boast laser-cut perforation holes to keep you cool on the track. The chassis of the jersey has flat-stitched seams to make the jersey extra comfy. 
(2) Pants. The Thor Mx Prime pants have a pre-curved chassis that conforms to the bend of your legs, ensuring that they don't bunch up or hinder movement on the bike. The material's make-up consists of lightweight stretchy fabric, strong heat-resistant synthetic fibers on the knee panels, and translucent mesh fabric on the sides to promote airflow. There are full-grain leather inner knee panels, and there is a high-denier fabric on the seat of the pants. 
(3) Fit. The Prime gear perfectly embodies the term "athletic fit." If you're slim and trim, it will make you look like Adonis. If you're not svelte, it will expose your less-than-athletic build. The jersey sticks to your body like a Lycra road-cycling jersey. The tight-fitting pants don't slide around underneath you on gripper seats. There is a ratchet-type buckle with Velcro sans-a-belt closures on each hip; however, Thor's sans-a-belt cinches don't offer as much adjustment as some other pants on the market.
(4) Durability. The premium-grade leather knee panels offer a great connection to the bike when gripping, but they did show signs of wear after a few hours with our toughest gear testers. The spandex/polyester jersey stretches exceptionally well, but it isn't as strong against abrasion as Thor's regular jersey material. If you plan to ride off-road or on private tracks that brush up against bushes, buy the Thor MX Pulse gear. It is more durable against roost and snagging bushes. 
(5) Performance. The Prime gear offers a fit that delivers a high-performance feel. The large, vented mesh panels down the legs really help on a warm day, and the jersey's moisture-wicking polyester/spandex material breathes well, too. The four-way stretchable material won't hinder you in any way when moving around on the bike. 
(6) Options. Thor continues to impress us with its variety of optional sizes. Jerseys range from small to 4XL, and the pants go from 28- to 48-inch waist sizes. 
WHAT'S THE SQUAWK? It is obvious that the high-end motocross gear manufacturers are battling for the title of the most form-fitting and lightest gear on the market. This is good for performance, but it sacrifices some durability. Our strangest complaint is that the pants don't offer much discretion in the zipper area. 
MXA RATING: MX Prime gear fits like stretchy skinny jeans—you'll either love it or hate it. None of the MXA test riders would be caught dead in skinny jeans, but they have no problem wearing tight-fitting gear on the track. It's lightweight, breathable and moves well with your body.
\