MXA TEAM TESTED: 6D ATR-2Y YOUTH HELMET
WHAT IS IT? The youth version of the 6D ATR-2 helmet is the spitting image of the tried-and-true adult version with some small, necessary internal changes to accommodate the needs of a growing child's developing brain. 
WHAT'S IT COST? $449.00.
CONTACT? www.6dhelmets.com or (714) 772-2121.
WHAT STANDS OUT? Here's a list of things that stand out with the 6D ATR-2Y Youth helmet.
(1) Kids. Naturally, kids have more energy and are less fearful than their parents. They learn the hard way by falling over, crashing and running into things. Maybe they aren't moving as fast as their dad on the track yet, but the kid's precious head is still growing and developing. 6D started with its proven 6D ATR-2 and made it into a kids' helmet. Many parents don't think their child needs the protection of a $450 helmet. On the other hand, what if they do? We applaud 6D for making a helmet for youth riders that parents can rely on and believe in. Yes, it is a lot of money for a parent to drop, given that little Johnny will grow out of it in a few years, but you will know he is protected by the safest thing money can buy. 
(2) Cool tech. You may notice that 6D helmets look bigger than most on the market, and they are, but there is a good reason. Inside 6D's shell is what 6D calls its Omni-Directional Suspension system, or ODS for short. This system embodies a fully active, in-helmet suspension system. Suspension in a helmet sounds strange, but it makes perfect sense. These ODS shocks are called Elastomeric Isolation Dampers, and there are many in each helmet. Their hourglass shape provides a progressive spring rate that manages low and mid-threshold accelerations. Plus, they allow the inner EPS liner to move in every direction inside to displace and shear away rotational energy. The 6D name even came from its ODS technology, as its suspension capability provides "six degrees of freedom."
(3) Youth vs. adult. The only difference you will find between the adult 6D ATR-2 ($695) and the ATR-2Y Youth model ($449)—other than the size of the shell—is the softer foam liners that are combined with a more aggressive and freer uncoupling carrier system. These changes were made to increase the safety of kids' heads versus adult heads.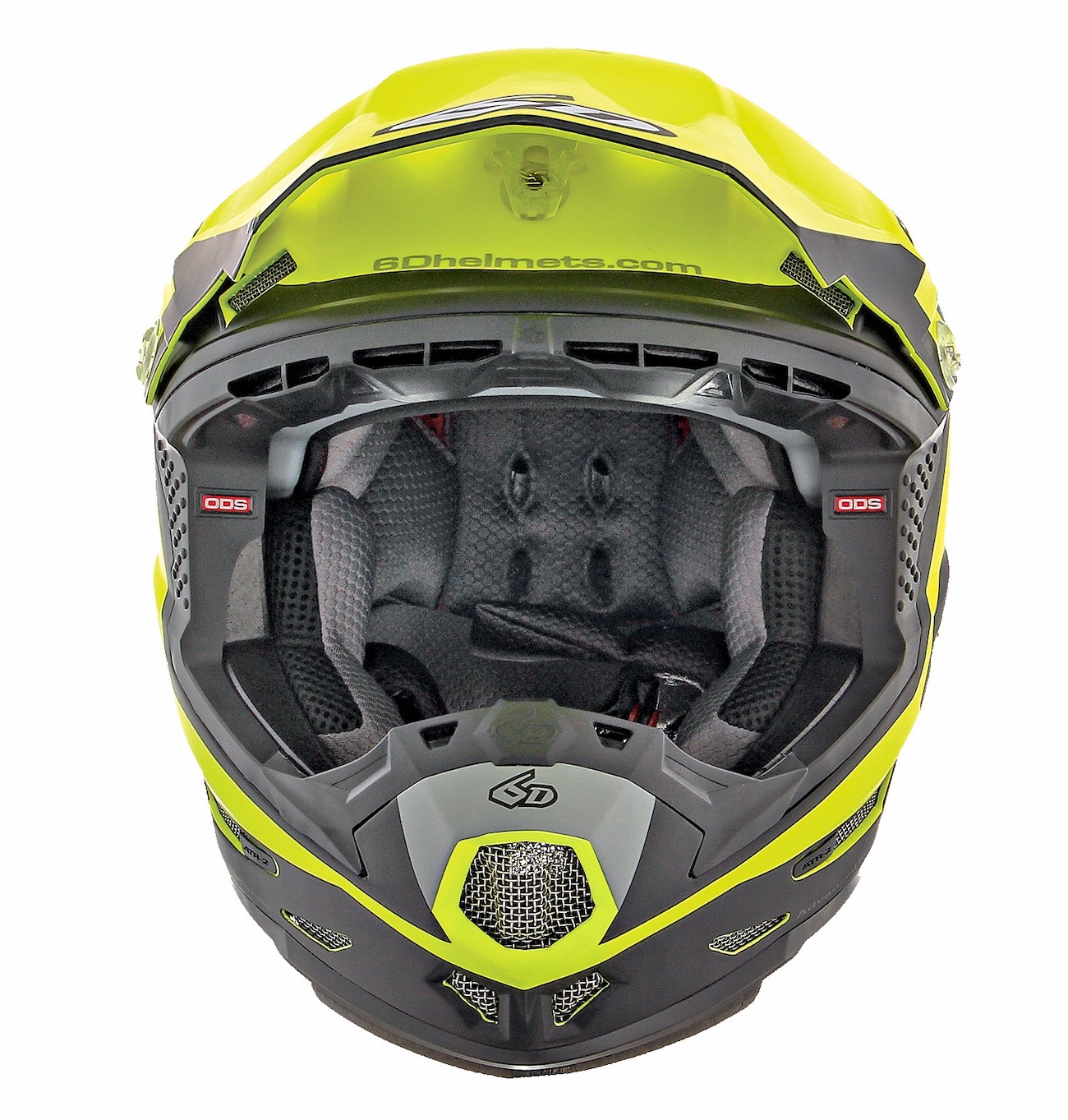 (4) Rebuild. Unlike the ATR-1, the ATR-2 is easily rebuildable with a replaceable inner EPS liner. The entire helmet can be inspected post-crash to determine if the helmet is safe for continued use. The inner EPS liner is the first layer of defense and a very important component of the ODS design. 6D's dual-liner design is effectively a helmet within a helmet. Inside the in-molded PVC (Polyvinyl Chloride) outer shell are two liners, the ODS units (in their own special carrier), and two different densities and types of foam. To rebuild the inner EPS, 6D charges $125.
(5) Options. The 6D ATR-2Y helmet comes in four different sizes. They range from a youth small to youth extra large. It is always best to try one on before ordering online. 
WHAT'S THE SQUAWK? The fit of the 6D ATR-2Y Youth helmet isn't as plush on your head as some of its competitors. 
MXA RATING: The 6D ATR-2 is the best insurance policy you can buy to ensure little Johnny's noggin stays safe.