MXA TEAM TESTED: AHM 2023 HONDA 450 FORK & SHOCK RE-VALVE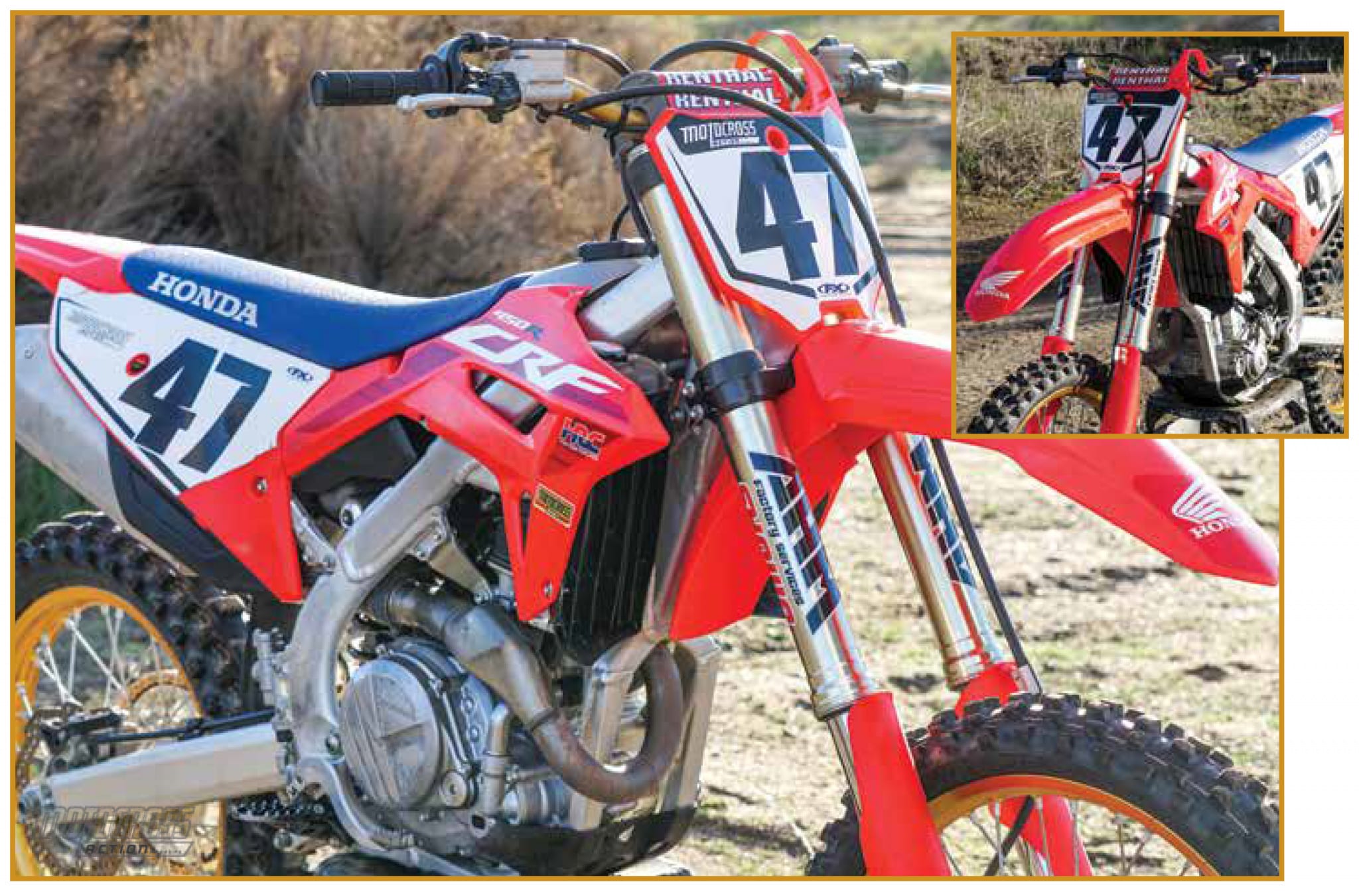 WHAT IS IT? Every production motocross bike comes set up for a target rider's weight and skill level. This target setting varies with each manufacturer. Sometimes the manufacturer hits the mark and the majority of riders are satisfied, but many times the manufacturer drops the ball and everyone is sending out their suspension to get it re-valved and re-sprung. The 2023 Honda CRF450 seems to flip-flop its settings each year. For 2023, the Honda CRF450 rear shock has a slow valving feel, making the action feel as though it is stagey through its travel. In response, Honda stiffened the crust of the Showa fork to hold the fork higher in its stroke; however, it bottoms out under hard braking or landing from jumps.
WHAT'S IT COST? The basic AHM re-valve runs $800, not including wear items or special parts.
CONTACT? www.ahmfactoryservices.com/contact or (714) 692-2795
WHAT STANDS OUT? AHM is known for plush off-road settings along with class-winning Baja settings. For the 2023 Honda CRF450, the MXA wrecking crew was looking for a more consistently plush feel, especially when the track became rough. The AHM crew delivered a well-rounded base setting that a wide variety of skill level riders could enjoy. Most notable was that it delivered improved handling and improved reading of where the forks were in their travel as they moved. Faster riders were sensitive to fork height and pushed the fork height flush with the fork caps. The stock Honda position is 5mm up, but virtually every test rider slid the forks down to 2.5mm or less. They could get away with sliding the forks down because the 2023 CRF450 does not have a turning problem. 
AHM's starting race sag on the CRF450 shock was 105mm, but we ended up setting the shock sag to 102mm with quicker rebound to get the rear wheel on the ground to help with acceleration.
WHAT'S THE SQUAWK? The 2023 Honda 450 is definitely an improvement over the 2022 model, largely in the powerband. The Honda CRF450 demands that the rider keep a notebook to track every clicker setting, fork height and track condition. You can't wing it with the CRF450.
MXA RATING: AHM was able to give test riders more comfort and rideability, which went a long way towards making the CRF450 less loose feeling at speed.
\