A TALE OF THREE ALPINESTARS BOOTS: TECH 8 RS, TECH 5 & SUPER VICTORY
Alpinestars makes six different styles of motocross boots for 2015: the Tech 10, Tech 8 RS, Tech 7, Tech 5, Tech 3 and Super Victory. When you include the special editions, women's and kids' boots, the model number grows to over 13 unique versions of Alpinestars boots. If the MXA wrecking crew set out to test every Alpinestars model, we would be at it for months on end. But, since the MXA gang has to ride and wear boots at the same time, it was no problem to ask the test riders to pick whichever 2015 Alpinestars model boot they wanted and give it a whirl.
Daryl Ecklund selected the $499.96 Tech 8 RS boot. John Basher went for the affordable $269.95 Tech 5. And Jody, to no one's surprise, elected to race in the all-leather $329.95 Alpinestars Super Victory boot.
ALPINESTARS TECH 8 RS BOOT BY DARYL ECKLUND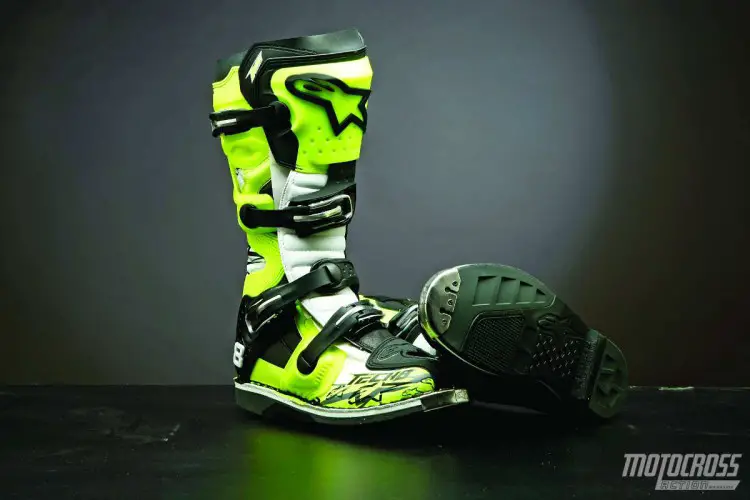 When I was growing up, the Tech 8 was the boot that all my superheroes wore. Guys like Jeremy McGrath and Ricky Carmichael dominated the sport while wearing Tech 8s. At that time, the Tech 8 was Alpinestars' marquee boot. It was way ahead of its time. There was no Tech 10 in the 1990s. The inner bootie and gel inserts immediately sold the boot to people, including my parents. Alpinestars did not make Tech 8s for kids, but as soon as my feet could fit into them, I was begging my parents for a pair. Naturally, the boots had to be white, because that was the cool color back in those days. Most parents opted for black, as white tended to fade and look beat up rather quickly. I didn't care. Having said that, the biggest downfall I remember was cleaning them. You had to take the inner bootie out, as well as the sole and gel inserts. Dirt fell out from everywhere!
Everybody who owned the Tech 8 boots when Alpinestars went to the reverse buckle still has nightmares about trying to get the buckles closed. I always brought a hammer along in my gear bag just so that I could close the buckles. That didn't lessen my love for the boots, though, because the Tech 8s were the coolest and best boots on the market.
These days, the Tech 8 still has the same reputation, but Alpinestars has a lot more competition to deal with. The Tech 8 has been refined throughout the years, but it still holds the same appeal it did when it was first introduced. Alpinestars' latest version is the Tech 8 RS. Sharp looks, bright colors and small refinements have brought the boot even closer to perfection.
I often ride with the Tech 8 boot because of its durability and protection. The first thing I noticed with the new Tech 8 RS (4-1/2 pounds, size 9) was the bright highlighter yellow color. The last "new" version of the Tech 8 was the Light version, which reduced weight by skeletonizing the inner bootie. Now, the Tech 8 RS comes with a bigger swath of fabric, which increases confidence in hard landings. For my level of riding, neither the Super Victory nor Tech 5 boot offer enough overall support. It is not that I like the stiffer and heavier boots, but I feel that the solid structure helps protect me from injuries.
I think that most Vet and Novice riders can get away with a slimmer, sleeker and lighter boot, but for hard-crushing Supercross landings, I like the durability and mass of the Tech 8 and Tech 10.
ALPINESTARS TECH 5 BOOT BY JOHN BASHER
I was drawn to the brand-new Alpinestars Tech 5 boot for several reasons. (1) Price. There are boots on the market that cost close to $600—notably the Gaerne SG-12, Alpinestars Tech 10 and the Sidi Crossfire 2 SR—that is too expensive for many riders. If I didn't have a job where I was given motocross boots, then I would be in this category, because it would take some serious convincing to get my wife to let me spend a month's grocery money on a pair of boots. The Alpinestars Tech 5 has an attractive retail price of $269.95. (2) Weight. My 33-year-old knees are starting to feel the effects from years of riding motocross. The less my boots weigh, the better my knees feel at the end of the day. I like that the Tech 5 only tips the scales at just shy of four pounds (size 11). Alpinestars offers the boots in adult sizes 5–13 (whole sizes only). (3) Look. Let's face it, motocross riders are vain. We want to look cool. The Tech 5 exterior is sneaky, because it looks very similar to a higher-priced Tech 7 or even a Tech 10. Note that the Tech 5 has the same buckle pattern as the Tech 7. Additionally, the Tech 5 comes in black, white/black, and red/white/blue combinations—colors that are also available in the more expensive boots.
On the track, I was impressed with how light the Tech 5 was. My feet usually live in Gaerne SG-12s, Alpinestars Tech 8s or Fox Instincts. All of these boots are quite a bit heavier than the Tech 5. My knees were happy that they didn't have to swing the added heft around when entering corners or walking through the pits. It's nice that Alpinestars recently updated its buckle system, because the new design makes it easier to snap the buckles closed.
I did have several issues with the Tech 5: (1) Since Alpinestars revised its boot lineup, I've learned that the sizing is slightly larger than it was in the past. Hence, I had to drop down a boot size. I suggest trying these boots on first. (2) I have chicken legs, and my calves are tiny. Even with knee braces on, I found that the top of the boot was open. (3) Boots that fall in the upper echelon of the price range typically break-in much easier. That's because of a hinge system that's often built into these boot. The Tech 5 doesn't have a hinge system.
Overall, I was impressed with the Alpinestars Tech 5 boot. It was competitively priced for what the boot offers. Considering the less-than-$300 price, I don't have much room to complain.
ALPINESTARS SUPER VICTORY BOOT BY JODY WEISEL
I don't expect young riders who have grown up with Tech 10s or SG12s to see the benefits of a lightweight, flexible, all-leather boot. I probably wouldn't, either, except for two things.
(1) I started racing in an era when all-leather boots were the only choice. Over my career, I have worn Full Bore, Hi-Point, Esprit, Scott and Alpinestars leather boots.  Today, I wear all-leather boots. After all, that is what Roger DeCoster, Bob Hannah, Tony DiStefano and Gary Jones wore. Even though I don't race vintage bikes, I like the feel and flexibility of cowhide. But, I wasn't always loyal to all-leather boots. I switched to Heckel boots in the early 1970s. They were the first plastic boots ever made. Later, I was an early convert to the original Scott plastic boot in the 1980s, along with Bob Hannah. But, between spurts of trying to be too hip, I always returned to leather boots.
(2) When I hurt the medial collateral ligaments in both of my knees in the late 1980s, I started wearing Alpinestars Super Victory boots, which many Americans knew as Hi-Point Champions. What drew me back to old-school boots? Weight. An Alpinestars Super Victory boot weighs 3 pounds. That is 2 pounds less, per leg, than a high-tech, modern, plastic, hinged boot. Simply stated, the more mass an object (boot) has around the axis (knee), the more torque it needs to start or stop the movement. I don't know about your knees, but mine don't like to be torqued. Less mass (weight) equals less knee strain.
A few years ago Alpinestars stopped importing Super Victory boots, but recently brought them back, most likely to satisfy the demands of vintage bike racers. I'm not a vintage bike racer, but I am a racer with vintage knees.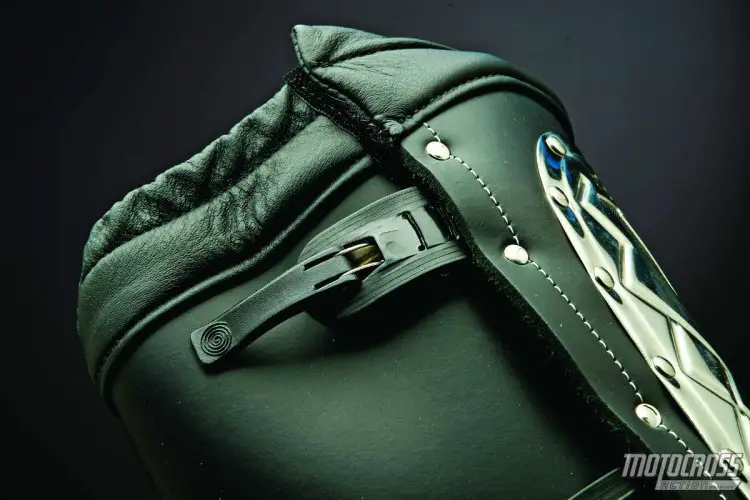 Other racers always marvel at the slim, sleek and narrow silhouette of the $329.95 Alpinestars Super Victory boots, but the number one question is, "Don't you think they are dangerous because they are so minimal?" My answer is that every pioneer in the sport of motocross, from the 1960s to the 1980s, raced in leather boots. They suffered no more leg injuries than today's plastic-clad racers. To my way of thinking, Alpinestars Super Victory boots are the willow to the Tech 10's oak.
The Super Victory boot allows your ankle a full range of motion to absorb blows—not true in plastic-clad boots. The biggest factor to wearing leather boots is mind over matter. You have to believe that you don't need a Brinks truck on each foot.