MXA TEAM TESTED: APPLIED RACING RM-Z450 IGNITION COVER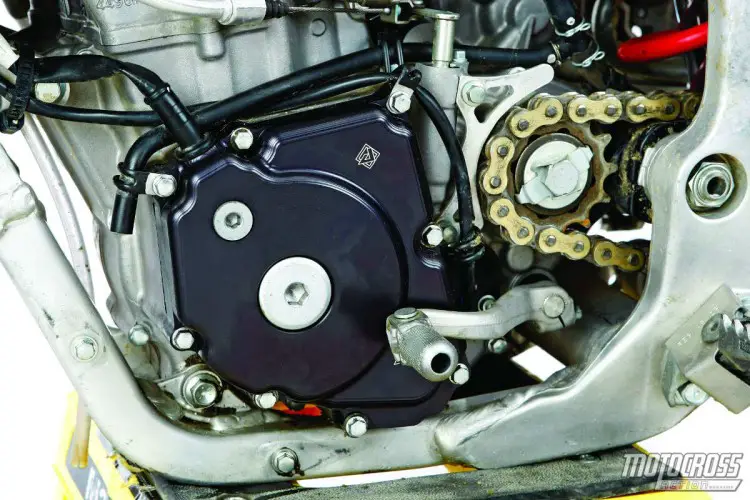 WHAT IS IT? The Applied Racing ignition cover is the solution to a common and costly problem inherent with the stock Suzuki RM-Z450 and RM-Z250.
WHAT'S IT COST? $299.95.
CONTACT? www.appliedrace.com or (800) 853-0555.
WHAT STANDS OUT? Here's a list of things that stand out with the Applied Racing Suzuki RM-Z450 ignition cover.
(1) Problem. Suzuki owners should keep an eye on their stock ignition covers. They can and do break. The MXA wrecking crew broke two in the last three seasons. Why do they break? Suzuki hollowed out the interior of the cover in an effort to reduce weight, but the lack of material compromises the cover's effectiveness at sustaining impacts and handling engine vibration. The cast piece is particularly susceptible to failure near the stator mount. The first Suzuki cover we broke was on an RM-Z250, and it failed at the stator mount. The second time it was on an RM-Z450, and the cover was damaged by a rock. We could have avoided these situations by using the Applied ignition cover.
(2) Applied cover. Applied Racing took special care in developing a superior Suzuki ignition cover. It is CNC-machined out of billet aluminum for greater strength than the stocker's porous cast aluminum. The inner radiuses have been beefed up for durability, particularly around the stator mount and inspection plug. The Applied cover is akadized to give it a hard coating that protects against heat, corrosion and cracking.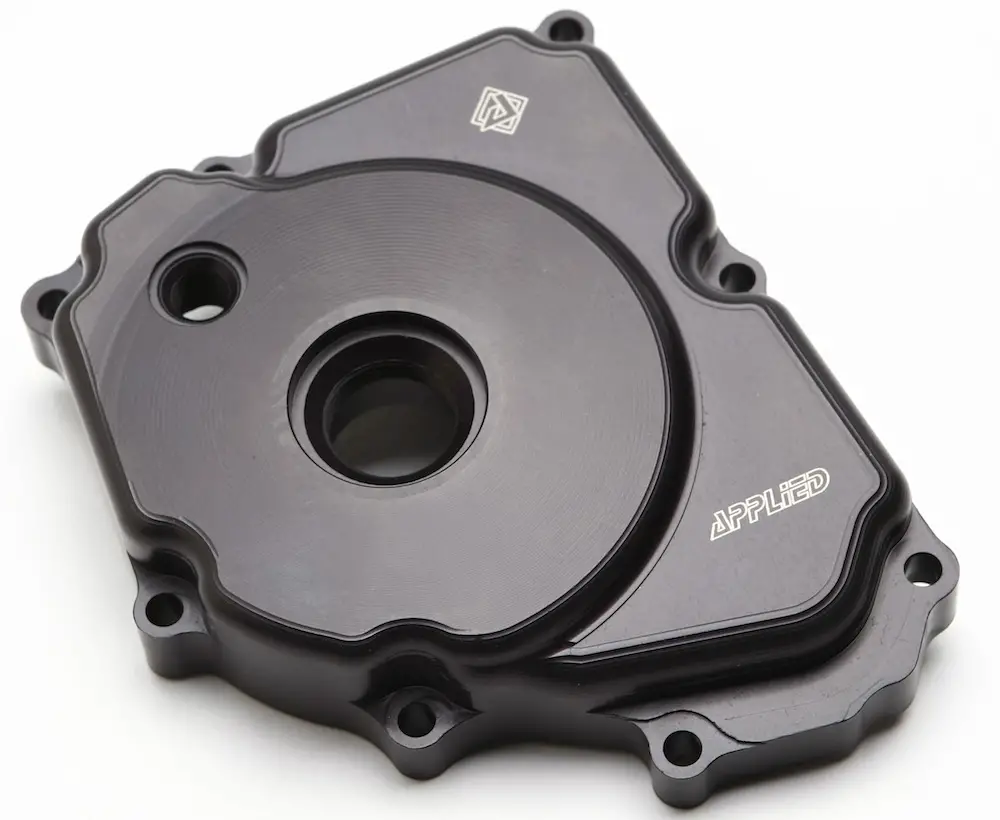 (3) Installation. Anyone with basic mechanical know-how can easily replace the ignition cover. The job is as simple as removing the old cover, unbolting the stator and guard, and installing them on the Applied ignition cover. Finally, feed the electrical wiring through the rubber grommet at the top and reinstall the ignition cover onto the engine. We didn't encounter a single fitment issue.
(4) Performance. It would be easy to overlook the Applied Racing Suzuki RM-Z450 ignition cover because it isn't a performance product. It is, however, a smart investment for any serious Suzuki owner. The $299.95 price tag is far cheaper than having the engine damaged by broken pieces, a wayward stator or loss of oil.
WHAT'S THE SQUAWK? No complaints. This isn't a performance product; it's a reliability product.