MXA TEAM TESTED: ARAI VX-PRO4 STANTON HELMET
WHAT IS IT? Arai's latest motocross helmet is the VX-Pro4. This Japanese-made helmet is hand-assembled in Hirotake Arai's workshops and offers the highest quality of any helmet available today. 
WHAT'S IT COST? $749.95 (Stanton edition).
CONTACT? www.araiamericas.com or your local dealer.
WHAT STANDS OUT? Here's a list of things that stand out with the Arai VX-Pro4 Stanton helmet. 
(1) Concept. As with its helmets, Arai adheres to its R75 concept as an integral aspect of protection. Each hand-built Arai helmet shell incorporates a continuous curve radius of at least 75mm. This is what contributes to an Arai helmet's roundish egg shape. There are no exaggerated edges or protrusions that could catch on the ground and twist the helmet violently, even the air scoops and vents are made of frangible plastic that breaks off in a crash.
(2) Shell. The outer shell is made of proprietary Super Fiber, which costs up to six times more than standard fiberglass but provides 30 percent higher tensile strength and increased penetration resistance. Arai's CLC (Complex Laminate Construction) method involves 20 individual pieces of Super Fiber cloth hand-laid in a time-proven pattern.
(3) Foam liner. Arai's EPS liners use different foam densities depending on the predicted location of an impact. For example, impacts to the top, sides and back are absorbed by softer foam because the impact is over a larger surface area. But, on the forehead the density and volume of the foam are greater because the impact is focused on a small area. There are five shell sizes and up to four different densities of foam in each helmet. Arai strives to use the softest densities whenever and wherever possible. The goal is to make the CLC shell stronger and the EPS foam softer to maximize protection. 
(4) Rotational energy. Absorbing rotational impact energy is important to Arai. At speed, a motocross racer generates many times more kinetic energy than tested for in the most stringent helmet tests. Arai believes that kinetic energy can be lessened by a helmet shape that is designed to glance off the ground rather than take a direct hit. Arai believes its R75 shape disperses energy before it impacts the internal foam liner.
(5) Comfort. The Arai VX-Pro4 is the plushest, quietest and most comfortable helmet made. It feels like a second skin. Some MXA test riders loved this feel; others thought it was claustrophobic.
(6) Performance. MXA, who has toured Arai's Japanese production facility, trusts that the VX-Pro4 is one of the best made and safest helmets in the sport. It features a smooth shell, CLC fiber cloth, a multi-density foam liner, emergency release system, frangible plastic screws and vents, and Japanese-quality construction.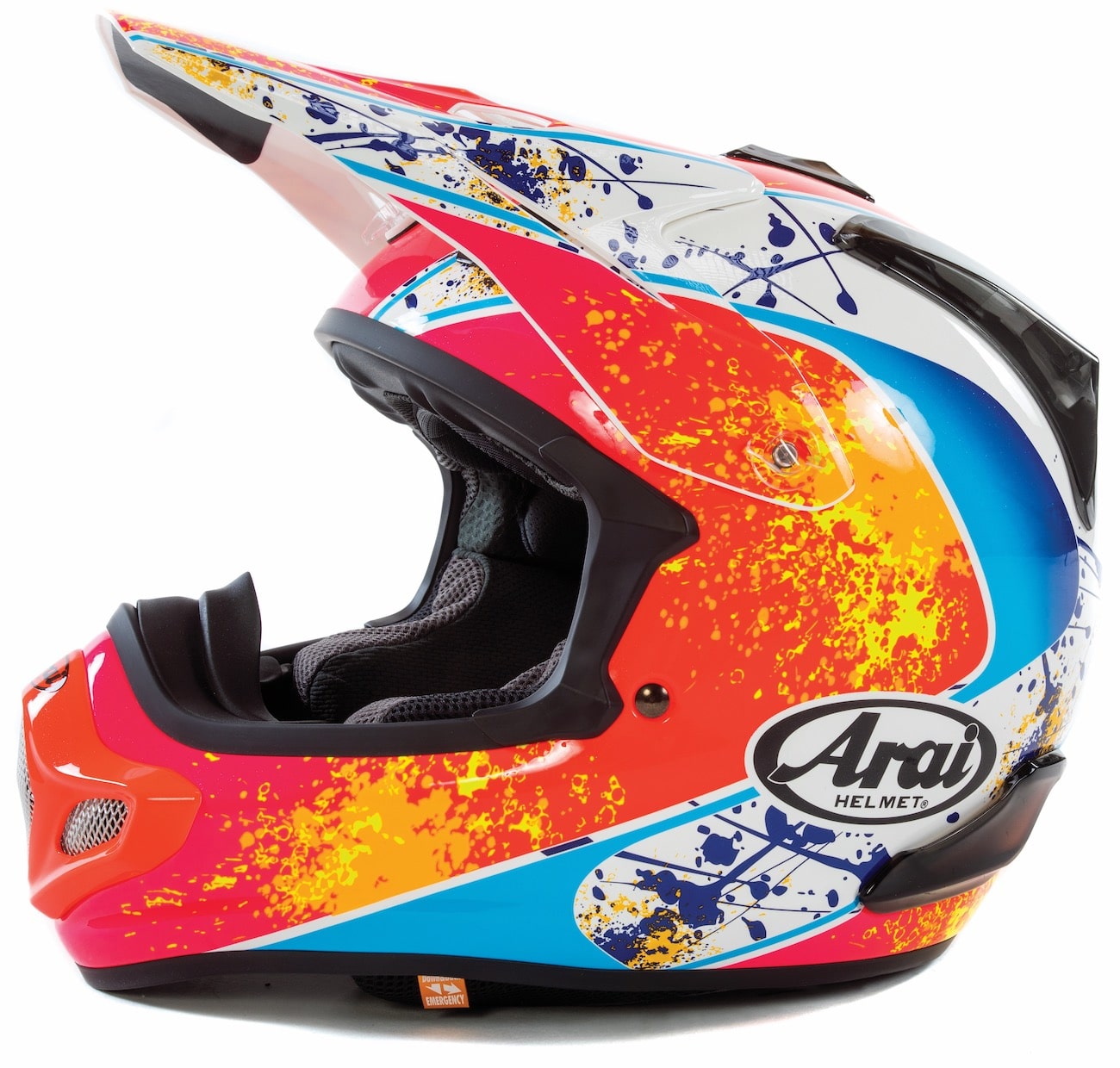 WHAT'S THE SQUAWK? We had three minor quibbles: (1) Price. You pay more for quality hand-made construction. (2) Weight. Arai could make it lighter with a single-density liner, but they are advocates of multi-density foam. (3) Style. The VX-Pro4 could be more stylish if they added wings, ridges and chin bars that stuck way out, but they won't compromise safety.
MXA RATING: We love this helmet. We don't love its price, looks or weight, but we feel safe in it.