MXA TEAM TESTED: BLACKBIRD RACING DOUBLE-GRIP SEAT COVER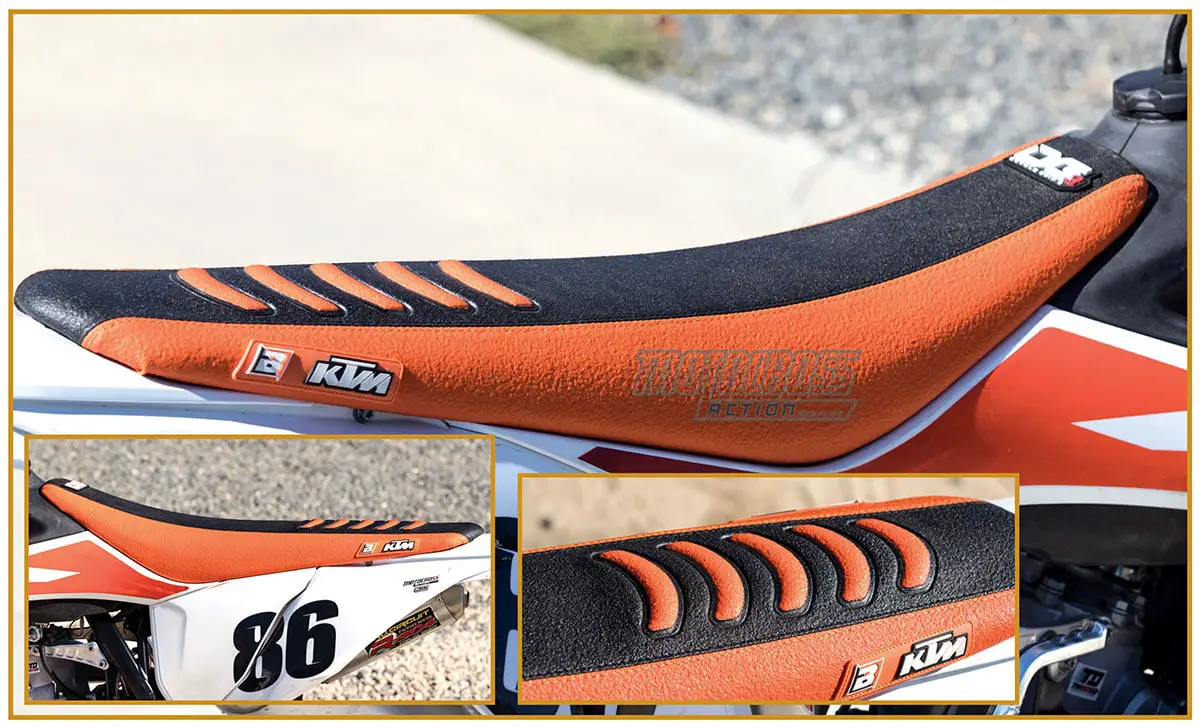 WHAT IS IT? Blackbird Racing is new to the American market, but has deep roots in Europe as one of the leaders in graphics and seat covers. It was founded in 1966, has 40 employees and is based out of Genoa, Italy. We tested Blackbird's Double-Grip seat cover. It is 100 percent made in Italy with water-resistant material, rub-resistant seams and traction stripes created by the high-frequency welding of three different materials.
WHAT'S IT COST? $49.95. 
CONTACT? www.blackbirdracing.com or (800) 749-2890.
WHAT STANDS OUT? Here's a list of things that stand out with the Blackbird Double-Grip seat cover.
(1) Fitment. The Blackbird Double-Grip seat cover was easy to install. After removing the original seat cover, we carefully inspected the foam and took the time to fix any damaged areas. We made sure all the staples were out of the seat base before installing the new cover. We started by stapling the cover at the front and back so that it would stay perfectly centered. If any wrinkles or folds developed, we applied a little heat with a hairdryer to make the seat cover fold over the edges smoother. Once the cover is installed, take a razor, knife or scissors and remove any excess material before you put the seat back on the bike.
(2) Durability. The MXA crew put the Double-Grip seat on different KTM test bikes and rode for a total of 30 hours. The non-slip material showed very little wear; it felt the same on hour 30 as it did on hour one—and the color did not fade. The water-resistant material was definitely effective, even after multiple bike washes. The seat foam held its shape and density; it did not have that sacked-out feel the foam gets after being water-logged a few times.
(3) Grip. A few riders commented that the Blackbird Double-Grip seat cover had the perfect amount of grip. It was just enough to keep you in place on the bike without pulling your pants down. There are five foam bumps that rise above the cover. They are noticeable under acceleration. These small bumps reminded our test riders of their position and kept them firmly in place while still allowing them to slide over the top of the bumps without any issues.
(4) Options. Blackbird's list of custom seat options is extensive. They offer everything from custom covers with your name printed on them to standard foam, tall seat foam and even seat-bump kits that can be added to any motocross seat.
WHAT'S THE SQUAWK? The special non-slip bumps are colored-coded to match the bike brand you are riding. We had to give the bumps a proper scrubbing every so often, as sliding over them made the seat look dirty. If you aren't into scrubbing your seat, you can order the bumps in a darker color.
MXA RATING: Blackbird Racing has helped many factory-level teams with their seat issues. If you're looking for a gripper seat cover without abrasive pyramids or pleats, the Blackbird Double-Grip seat cover offers great traction, good durability and a clean fit. We liked Blackbird's unique take on the gripper seat cover.