MXA TEAM TESTED: BOLT HARDWARE PRO PACK BOLT KIT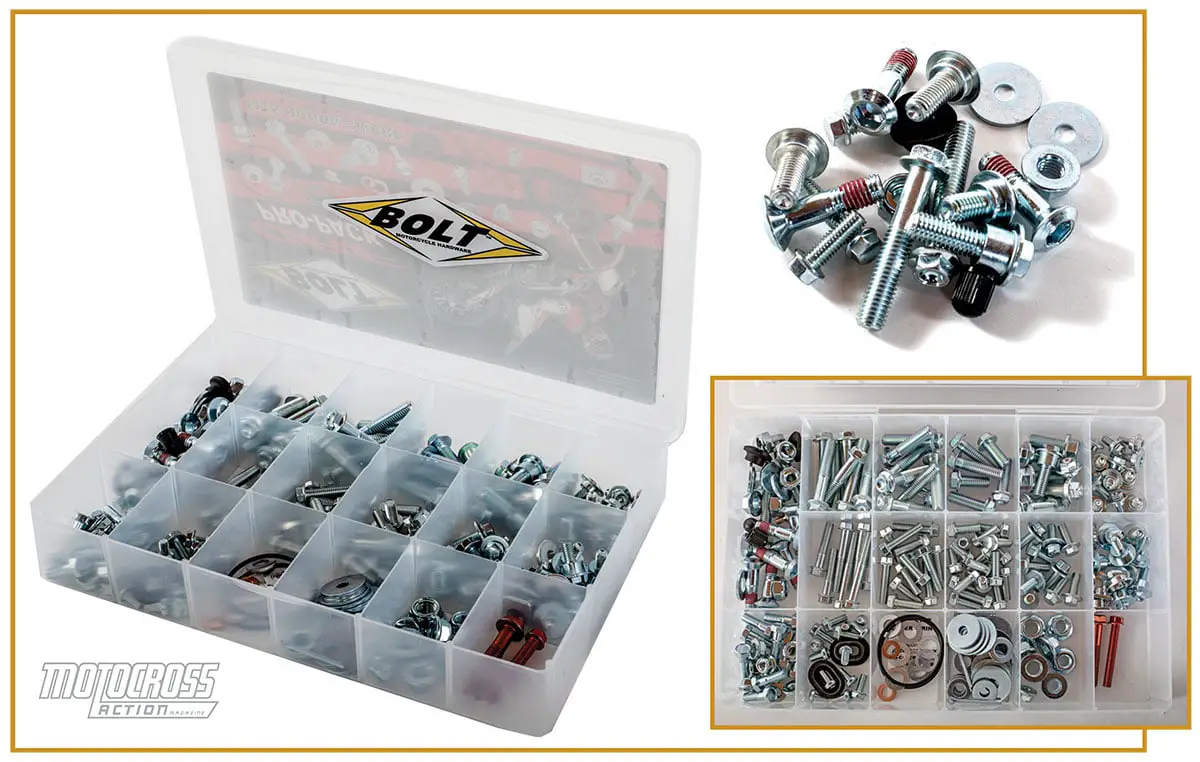 WHAT IS IT? A self-contained kit that stockpiles the most commonly used bolts for Honda, Yamaha, Suzuki, Kawasaki, Husqvarna and KTM offroad bikes. Each kit is specially designed to include specific bolts for each brand.
WHAT'S IT COST? $54.95–$64.95 (Pro Packs), $19.95 (56-piece Track Packs), $15.99 (bodywork only).
CONTACT? www.boltmotorcyclehardware.com or (805) 466-6686.
WHAT STANDS OUT? Here's a list of things that stand out with Bolt Motorcycle Hardware's Pro Pack kit.
(1) Honda. Bolt is the only aftermarket company to offer hardware in Honda's factory style and finish. This kit includes rotor bolts, shroud bolts, seat bolts, subframe bolts, fork-guard bolts, sprocket bolts and copper drain plug washers for Hondas from 2000 to 2019.
(2) Yamaha. Yamaha hardware has always been a little different from the other brands, with oval bushings and oversized flanges on some bolts. Bolt's YZ/YZF Pro-Pac fits all full-size Yamaha models from 2003 to 2019. The Yamaha hardware pack contains 190 pieces that cover everything you will need in an emergency.
(3) Kawasaki. The Kawasaki kit works on 2003-and-up models. The 170 pieces cover hex flange bolts with captured washers, a metal locking axle nut to eliminate the stock castle nut/cotter pin, seat bolts (for both new and old model styles), a full set of black sprocket bolts, chainguide hardware and drain plug washers.
(4) Suzuki. Bolt's Suzuzki RM/RM-Z Pro Pack fits 2001 to 2019 RM and RM-Zs. The 180 pieces include shroud bolts, seat bolts, sub-frame bolts, fork-guard bolts, rotor bolts, a full set of sprocket bolts, factory-style aluminum bushing for the bodywork drain plug washers and many more needed pieces..
(5) KTM/Husky/Husaberg. Bolt offers separate kits for KTM and Husqvarna, plus a special Euro Pack that handles KTM 50, 65, 85, 200 and 300 models as well. The KTM and Husky packs have over 145 pieces for 2003 to 2019 European machines.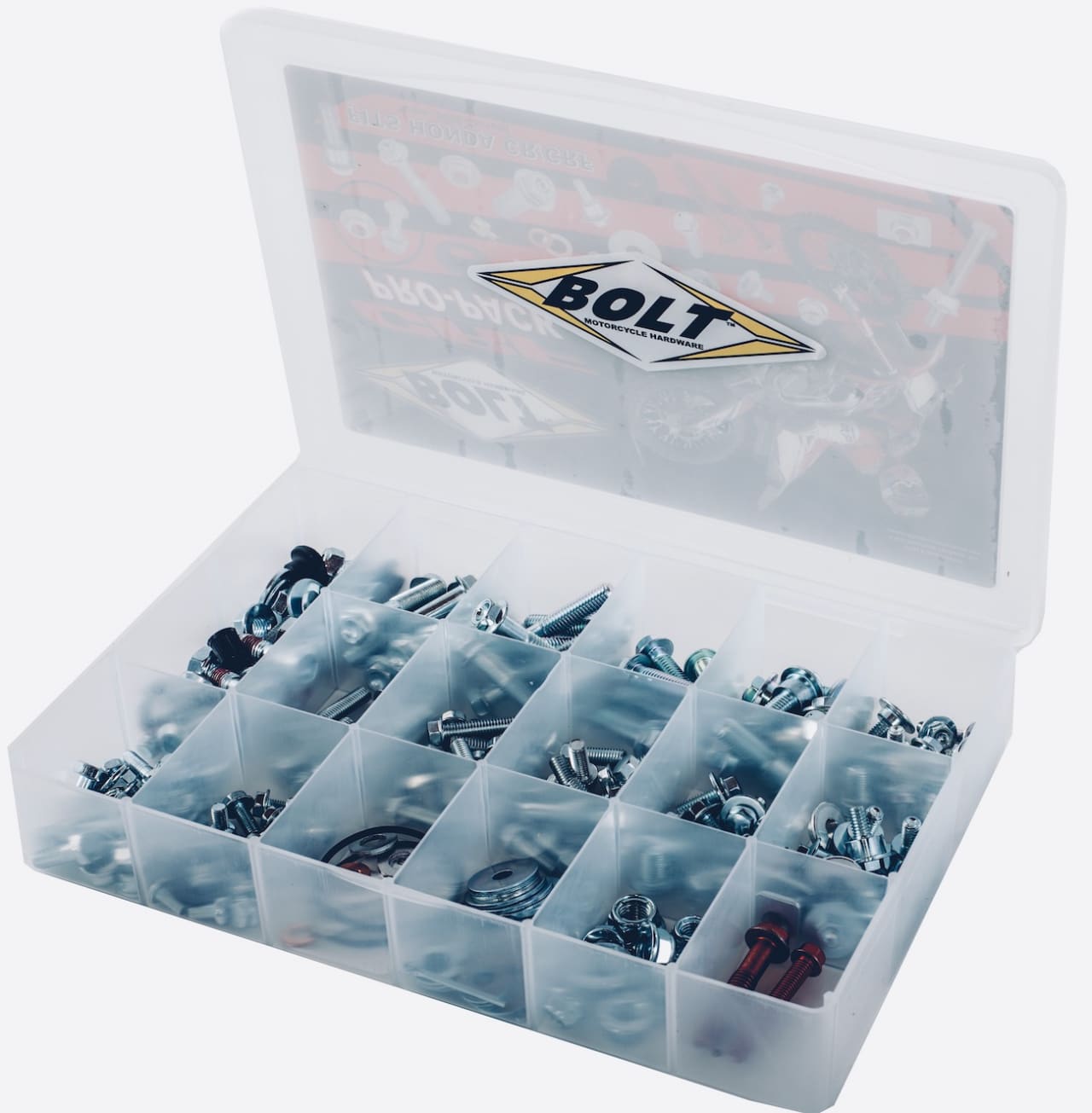 (6) Performance. Every bolt kit comes in an 18-compartment plastic box that slips easily under the front seat of a truck. What can we say about the performance of a bolt kit? It works.
WHAT'S THE SQUAWK? No $60 kit can include everything you'll ever need, but the Bolt Hardware Pro Pack will get you through a race day with ease. The biggest negative is that once your racing buddies know you have a Bolt Motorcycle Hardware kit, you will replace their friendly local dealer.
MXA RATING: "Neither a borrower nor a lender be; For loan oft loses both itself and friend." With a Bolt Hardware Pro Pack, you will never have to borrow another bolt at the track; lending is up to you.