MXA TEAM TESTED: DIRT TRICKS ZIRCONIUM STEEL SPROCKET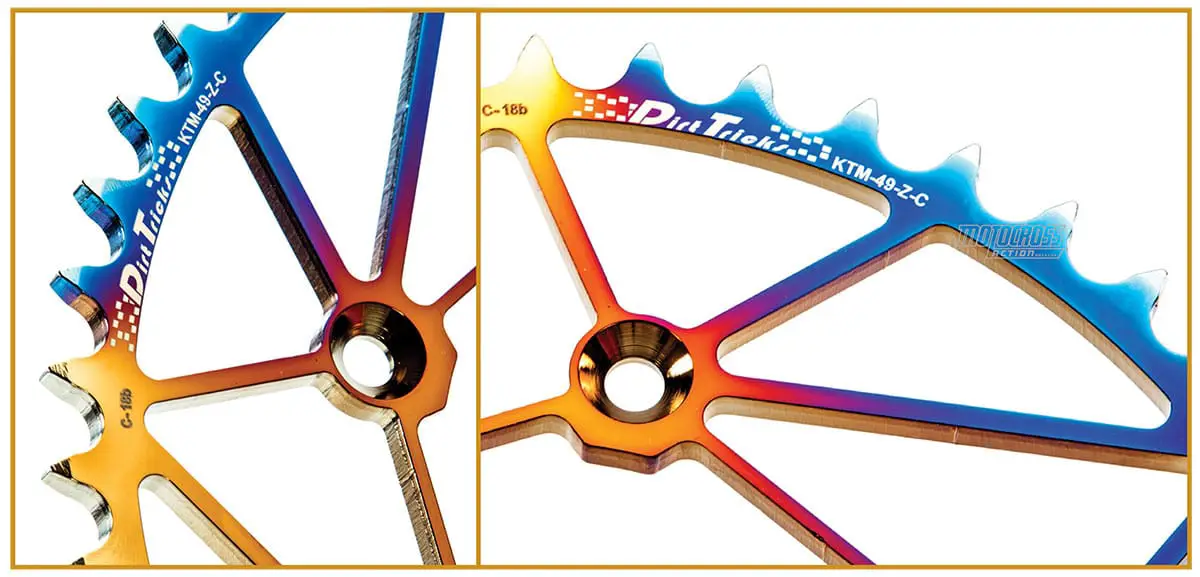 WHAT IS IT? The Dirt Tricks sprocket is a minimalist steel sprocket that weighs less than competing steel sprockets but still offers the durability of steel over aluminum.
WHAT'S IT COST? $109.00 (Dirt Tricks rear), $119.75 (zirconium rear), $8.95 (rear sprocket bolts).
CONTACT? www.dirttricks.com or (775) 267-6361.
WHAT STANDS OUT? Here's a list of things that stand out with Dirt Tricks' steel rear sprockets.
(1) The problem. If you ride a lot, your chain will eat the aluminum sprocket on your bike in short order. This is not an option; a steel chain lubricated with dirt will grind aluminum down, even if it is hard-coated. Not so with a Dirt Tricks steel rear sprocket. They are made from heat-treated, nickel/chrome-plated, chromoly steel and are 2.5 times stronger than stainless steel, three times stronger than 7075 aluminum and heat-treated to the hardness of a Snap-On wrench.
(2) Dirt Tricks chrome sprocket. The $109 Dirt Tricks chrome rear sprocket was originally designed in 2002 using aerospace steels, heat treatments and FEA stress analysis. The end result was a tough and long-lasting steel sprocket, without the weight penalty of most steel sprockets. Dirt Tricks' sprocket looks fragile, but thousands of race miles in WORCS, GNCC, Baja, Big Six and cross-country races prove how strong steel is compared to aluminum.
(3) Dirt Tricks Zirconium sprocket. The $119.95 Dirt Tricks zirconium rear sprocket is 2 ounces lighter than Dirt Tricks' chrome-plated design. The special coating on the zirconium sprocket reduces friction up to 50 percent, increases durability, and is offered in black or chromatic color schemes. Dirt Tricks backs the zirconium sprocket up with a two-year guarantee.
(4) Weight. Our 50-tooth Dirt Tricks Zirconium sprocket weighed 18.8 ounces  (one pound, 2.8 ounces). An aftermarket steel sprocket weighs 36 ounces (two pounds, 2 ounces) and a hybrid sprocket (aluminum inner and steel outer) weighs 25 ounces (one pound, 9 ounces). Because of its triangulated design, the Dirt Tricks sprocket is anywhere from a half pound to a full pound lighter than other steel sprockets. The catch comes when you compare it to a 12.5 ounce all-aluminum sprocket. In this case, the Dirt Tricks sprocket is 6.30 ounces heavier.
(5) Sprocket bolts. Dirt Tricks also sells a set of six class-10.9, silver-zinc-plated, steel sprocket bolts with factory-style metal-locking or "Fuji" nuts for $8.95 a set. Each bolt has medium-strength thread-lock patches already applied for a double lock. MXA recommends using new sprocket bolts when you change sprockets, so you will need these.
WHAT'S THE SQUAWK? We have three issues: (1) The price. At $109, the Ironman sprocket costs twice as much as a high-end aluminum sprocket. Luckily, the Ironman sprocket will last more than three times longer and make your chain last longer too. (2) Weight. It weighs a close to a half-pound more than an aluminum sprocket. That is unsprung weight that offers no performance value. (3) Chain tension. It is imperative that you have your chain properly adjusted, because if a steel sprocket does break, the hub will also.
MXA RATING: For the right person, this is the greatest sprocket on the market. The Ironman's extra durability means it is heavier than an aluminum sprocket, but if durability is more important to you than unsprung weight, this sprocket should be on your bike.