MXA TEAM TESTED: DRIFT HD POV VIDEO CAMERA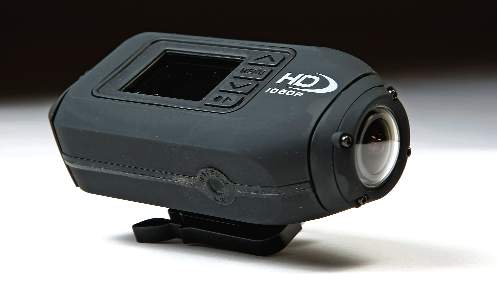 WHAT IS IT? Drift is the latest player in the first-person-point-of-view video-camera market.

WHAT'S IT COST? $369.00.
CONTACT? Visit www.driftinnovation.com to find the nearest dealer.
WHAT STANDS OUT? Here's a list of things that stand out with the Drift HD POV video camera.
(1) Lens. Like most first-person-point-of-view cameras, the Drift HD lens covers a wide, 170-degree plane. This perspective creates a fisheye effect that, while not favored by the video purist, does a commendable job of showing a large field of view. We were thoroughly impressed that the lens can be rotated. This feature is important for capturing footage properly, regardless of how the camera is mounted.  
(2) Playback. It's a must for POV cameras to have a built-in LCD screen. Why? It takes the guesswork out of mounting. In the past, we've struggled to record the desired angle simply because we didn't know if the camera was angled properly. Not anymore! The 1.5-inch screen is an excellent feature. Even better, after recording, we were able to immediately play the footage on the LCD screen instead of waiting to load the recorded file onto the computer.

(3) Options. While we preferred to shoot video in high definition (1080 pixels at 25 or 30 frames per second) on the Drift HD for maximum quality, it can also record in 720 pixels (at 25, 30 or 60 frames per second). Lowering resolution extends battery and memory-card life. The Drift HD also shoots a still photo every 2, 3, 5, 10, 30 or 60 seconds (at a file size of about 2.5 megabytes). Drift includes a remote control that works on radio frequency to record and stop filming. The remote can be mounted right on the handlebars and doesn't need direct line of sight to the camera to work. Very cool.

(4) Battery. The lithium battery is rechargeable and takes a few hours to fully charge. An included USB cable plugs into a computer and charges the camera. In 1080 resolution mode, we were able to get about 80 minutes of record time out of the battery. Note that the Drift HD accepts microSD cards with a capacity of up to 32GB. A 4GB card will record for 40 minutes (in 1080 mode). Drift also sells a long-life battery that boosts recording time to four hours.

(5) Mounting. We found it best to mount the camera on top (slightly behind the visor) or on the side of the helmet. Drift uses a mounting design similar to GoPro's, but without the option of tilting the camera up or down. Fortunately, the LCD screen makes it foolproof to properly mount the camera in a decent spot. Also included in the package is a goggle mount, universal clip, Velcro strap and spare rear cover. The Drift HD camera weighs 0.35 pound and is hardly noticeable when mounted atop a helmet.
(6) Performance. We were more than happy with the footage quality, especially in high definition. The camera did a superb job of adjusting to different lighting conditions, and we loved the wide, 170-degree view. Wind was an issue while riding at fairly high speeds, as it caused an annoying whirring sound. The remote-control option was a nice touch, as it allowed us to cut down on "dead time" (such as when riding from the pits to the track). The Drift HD is water-resistant, but not waterproof. A waterproof case is sold separately.
WHAT'S THE SQUAWK? We have a few issues: (1) Sound quality is poor and that isn't good for a motocross camera. (2) The camera isn't waterproof and that isn't good for a motocross camera, either. (3) At $369, it is $70 more expensive than the GoPro HD Hero2.

This camera has several great features that make it stand out among its competition, but it also has a few fatal flaws for motocross riders. Regardless, the Drift HD is our favorite first-person-point-of-view video camera not made by GoPro.