MXA TEAM TESTED: DUBYA CERAKOTE KTM WHEELSET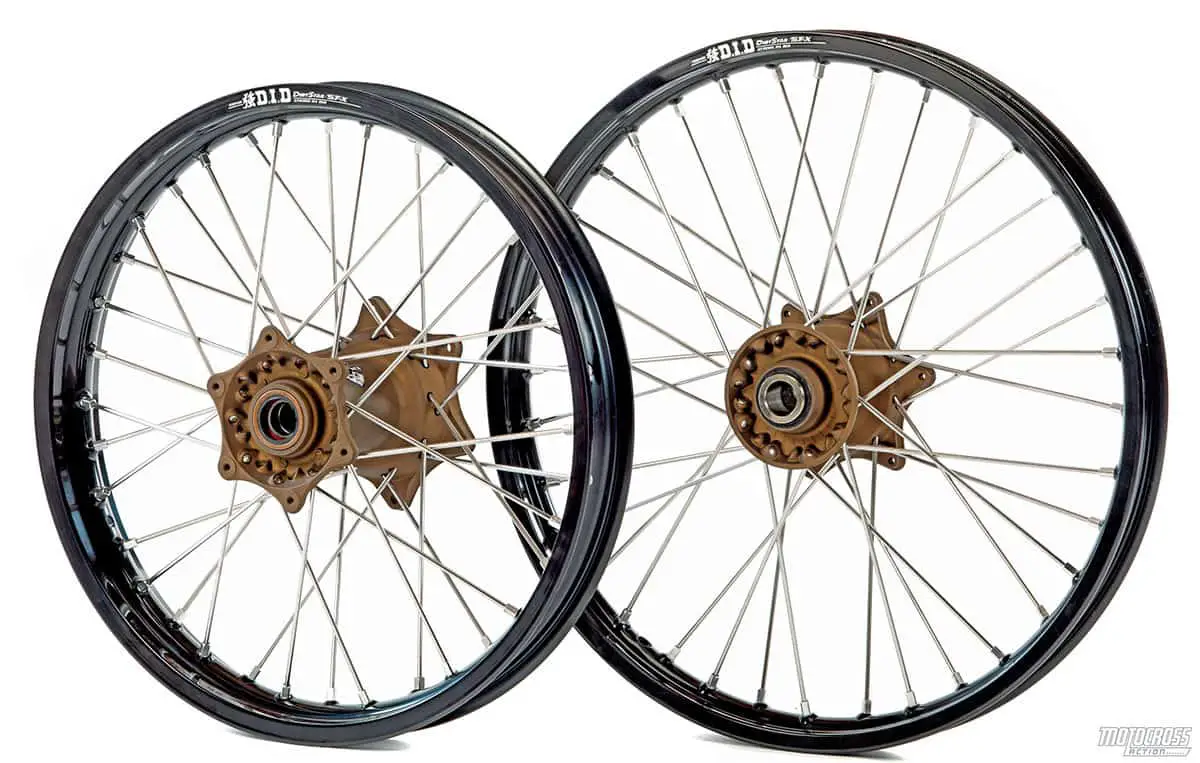 WHAT IS IT? It is a way to make your bike's hubs stand out from the crowd via a durable, corrosion-resistant coating that comes in four colors. Dubya USA can Cerakote your bike's hubs to suit your particular tastes or needs. Cerakote offers some of the visual effects of anodizing without the .002 build-up of material.
WHAT'S IT COST? $200.00 (Cerakote two hubs), $428.00 (two D.I.D. ST-X rims), $99.00/$95.00 (silver Bulldog spokes with spline drive or OEM aluminum nipples), $80.00 (lacing and truing).
CONTACT? www.dubyausa.com or (714) 279-0200.
WHAT STANDS OUT? Here's a list of things that stand out with Dubya USA's Cerakote wheelsets.
(1) Cerakote. What is Cerakote? Cerakote is a polymer-ceramic composite coating that can be applied to metals, plastics, polymers and wood. The coating enhances abrasion resistance, corrosion resistance, chemical resistance, impact strength and hardness. It is a spray-on compound that is applied in a sterile environment and baked in an oven between 250 and 300 degrees. There are two types of Cerakoting—H-grade and C-grade. Dubya uses H-grade, which is the most popular coating for firearms, knives, and other such items that require hardness and corrosion resistance. C-grade is generally used for high-heat applications. Cerakote creates a thinner layer than anodizing or powdercoating, which means that it doesn't change the tolerances of the bearing pockets; however, Dubya bead-blasts the hubs, removes the bearings and seals, and tapes off the hub's interior surfaces before applying the Cerakote. Additionally, unlike anodizing, which produces mixed results on cast aluminum compared to billet aluminum, Cerakote delivers a clean finish on cast hubs. It should be noted that Cerakote doesn't have the bright-dip look of shiny anodizing. The colors are more muted.
(2) Colors. Dubya can take your stock hubs and Cerakote them in magnesium, white, charcoal, titanium or desert sand colors. There are actually 90 different Cerakote color options, but Dubya specializes in the four that most racers request.
(3) Rims. Dubya USA offers Takasago Excel rims in black, silver, blue, yellow and gold, or D.I.D rims in black or silver. The MXA wrecking crew selected D.I.D ST-X rims in black. This is D.I.D's strongest rim. Dubya can build up your wheels in whatever combination of spokes, rims and nipples you choose. The Cerakoting is a service that is applied to your stock or aftermarket hubs to change their color.
(4) Spokes. MXA selected Bulldog spokes and traditional box-style nipples, but spline-drive nipples are available for the same price (although colored nipples do have an upcharge). Dubya USA uses full-length spokes that allow the threads to get a full purchase on the nipple. This reduces the odds of a nipple snapping at the stress riser caused by a short spoke.
(5) Performance. We would love to say that having our hubs Cerakoted added 2 horsepower and dropped our lap times by a full second, but that isn't what Cerakoting does. Although there are corrosion, abrasion, chemical and UV-light advantages to Cerakoting your hubs, there are no pragmatic reasons for doing it. The primary motive is that it makes them look more "factory."
WHAT'S THE SQUAWK? Every garage-queen project bike is outfitted with black rims. They look mean and aggressive, but they are really a very poor choice for a race bike. Why? Black rims are easily scratched by tire irons, salt-and-peppered by roost and look beat when silver rims still look new. So, why did we spec black rims? That's the only color that the D.I.D ST-X rims come in. As for the Cerakote hub? No complaints.
MXA RATING: Cerakoting your front and rear hubs is several hundred dollars cheaper than buying Talon or Kite hubs, but when you are done getting your hubs coated, rimmed, laced and spoked, what you have in the end is a fancy stock hub.