MXA TEAM TESTED: DUBYA USA EDGE COMPLETE WHEELSET
WHAT IS IT? Dubya USA is known for providing high-quality wheels that are trusted by the Rockstar Husqvarna team, Rocky Mountain KTM team, Star Yamaha team and lots of top Pro racers; however, Dubya USA also understands that not every rider needs to pay the price for Supercross-grade wheels. Now, with Dubya USA's Edge complete wheelsets, riders can buy high-quality wheels assembled by the same hands that build the race wheels for factory riders at an affordable price.
WHAT'S IT COST? $639.95 to $719 (fully assembled front and rear wheels). 
CONTACT? www.dubyausa.com or (714) 279-0200.
WHAT STANDS OUT? Here's a list of things that stand out with the Dubya USA Edge complete wheelset.
(1) Concept. When compared to Dubya USA's high-end wheels, the Edge wheels use slightly different materials to reduce cost for the customer while maintaining a high durability standard. The rims are made with a proprietary blend of aluminum material instead of pure aluminum, and the Edge hubs are comprised of forged aluminum instead of billet aluminum. The nickel-plated-steel nipples on the Edge wheels are also slightly heavier than the billet-aluminum nipples, with the same-sized wrench head as the billet ones on both the front and rear wheels. Like the highest-grade Dubya USA wheels, the Edge wheelset uses stainless steel Bulldog spokes in a cross-three pattern. 
(2) Updates. The Dubya USA Edge wheels previously came with Excel Notako rims. Now, after MXA put in a request, Dubya USA has traded the Excel-branded Notako rims for its own Dubya USA private-labeled rims, which are also made by Excel. These rims are the updated version of the Excel Notako rims, and they're only available through Dubya USA. 
(3) Durability. To ensure the highest quality, Dubya USA assembles everything on its Edge wheelsets in-house. Dubya USA's wheel specialists press in the bearings, and they install the seals and the center crush tube that goes in between the bearings. After many hours of riding with the Edge wheelset, our testers found that the rims held up well without blinking an eye. 
(4) Wheel spacers. Instead of using stock wheel spacers, the Edge wheels come with their own spacers specific to each bike. The benefit of Dubya USA hubs is that they extend the buyer's investment. Kawasaki changed its KX450 front axle size from 20mm to 25mm in 2019, and with that, all Kawasaki owners with stock hubs from 2018 weren't able to use their old front wheel on the new model. Not so with the Edge wheelset. Just as with KTM hubs, the axle on a Dubya USA wheel rides on the wheel spacers only. On other wheel manufacturers' wheels and OEM wheels, if the axle size changes, the hub has to change, too. Another example would be the Yamaha YZ125/250 two-strokes and YZ250F/450F models. The YZ two-stroke wheels can't be used on the YZ four-strokes and vice versa due to the different axle sizes, but, with Dubya USA wheels, all you need to do is swap the wheel spacers.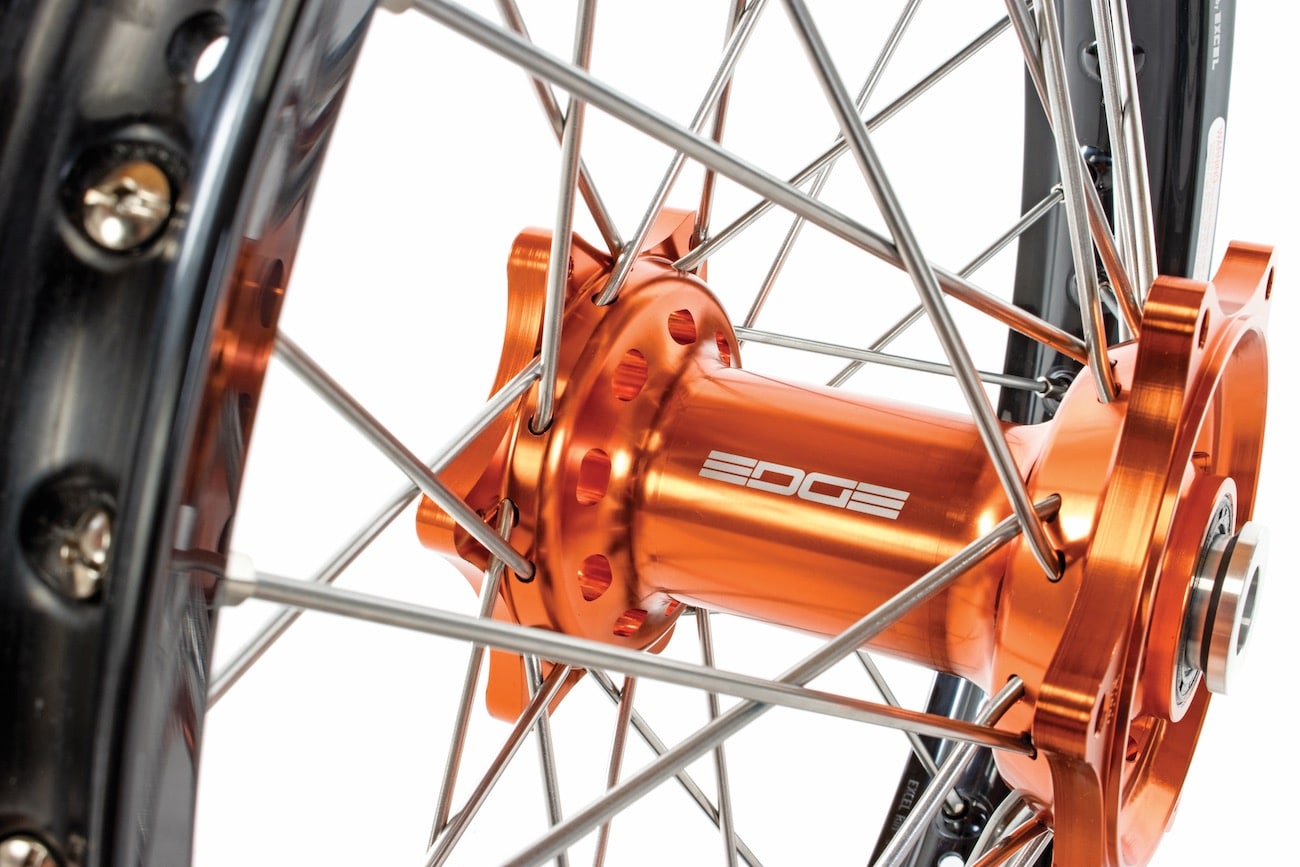 (5) Options. The Dubya USA Edge wheels are available with the standard front rim size 21×1.60, while the rear wheels come in 19×1.85, 19×2.15 or 18×2.15 rim sizes. As for colors, the rims come in either black or silver, and the hub color matches the brand it is made for. The only brands that can mix and match the Dubya USA Edge hub colors are KTM (orange) and Husqvarna (blue), since they are exactly the same. Also, Dubya USA currently doesn't offer its Edge wheels for Suzuki, but Dubya has aspirations to do so in the near future. 
(6) Add-ons. To fully complete the Dubya USA Edge wheels, you can pay an additional charge to finish off your wheels with new rim locks and bolts for the sprocket and brake rotors. Dubya USA also offers Galfer and Moto Stuff brake rotors or Talon rear sprockets. 
WHAT'S THE SQUAWK? Suzuki owners are out of luck—for now. 
MXA RATING: Motocross is expensive, and the market is hot for companies making high-quality parts for riders on a budget. MXA hasn't tested these wheels in Supercross, because Dubya makes high-end wheels for Supercross use. The Edge wheels are for regular motocross and off-road use, and they held up for the MXA wrecking crew at Glen Helen, Pala, Elsinore and Cahuilla Creek MX Park without any issues.