MXA TEAM TESTED: DUNLOP GEOMAX MX51 INTERMEDIATE TIRES: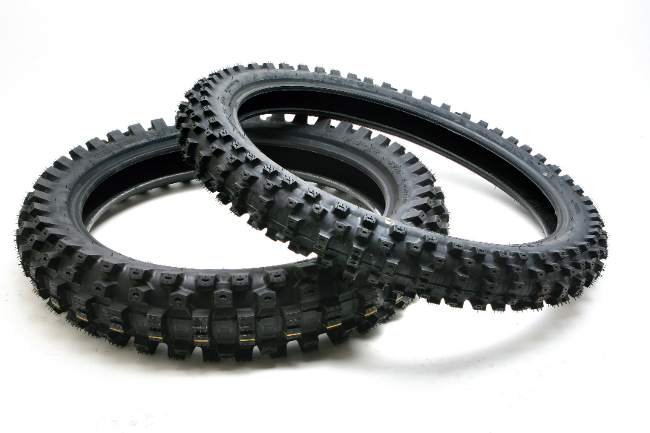 WHAT IS IT? The tire that Dunlop designed to replace the D756.
WHAT'S IT COST? $96.22 (110/90 front), $104.99 (100/90 rear), $109.57 (110/80 rear), $115.89 (120/80 rear).
CONTACT? www.dunlopmotorcycle.com or your local dealer.
WHAT'S IT DO? Dunlop took a chance on treading on thin ice with hardcore motocrossers. What did do to raise the ire of rank-and-file racers? They dropped the venerable Dunlop D756, 745 and 772 and replace them with the GeoMax MX51, MX71 and MX31. The last time a major company threw away their tried-and-true tires and came out with new names, it didn't go well (Bridgestone dropped the highly regarded M78 and replaced it with the ill-fated three-digits tires?601, 602, 401 and 402).
Dunlop, in all their wisdom, decided to revise their line and drop the 756, 745 and 772 (we don't care if they drop the 742, but losing the 756 is a major blow). The
MXA
wrecking crew was devastated by this news. Obviously, Dunlop was prepared for a backlash and tried to cover all their bases with the new GeoMax MX51. It has, in no particular order, a greater land/sea ratio, recessed biting edges, chiseled shoulder blocks, tie-bar connectors and a wider tread profile. The
MXA
wrecking crew couldn't resist the siren call of the MX51, but we stockpiled D756s just in case.
WHAT STANDS OUT?
Here's a list of things that stand out with the Dunlop GeoMax MX51 tire combo.
(1) Weight. According to the scales, a comparable GeoMax MX51 rear tire is one pound heavier than the D756 it will replace.


(2)
Sizes.
The MX51 rear comes in 100/90-19 (125cc two-strokes and 250 four-strokes), 110/80-19 (125cc two-strokes and 250cc four-strokes with 2.15-inch rims), 110/90-19 (for 250cc two-strokes and 450 four-strokes) and 120/80-19 (for 500cc two-strokes and 450 four-strokes). The majority of
MXA
test riders prefer to run the 110/90-19 on 450 four-strokes because it turns over quicker and rolls into corners better than the 120 width. The MX51 is also available in 110 and 120 sizes for 18-inch rims.

(3) Rear performance. We liked it?didn't love it, but liked it. The MX51 rear was very manageable in the transition from leaning over on the side of the tire to straight-line acceleration. It hooked up well off concrete and was predictable on hardpack. The GeoMax MX51 rear tire works best in good soil as opposed to the extremes?strange for a tire that was designed to bridge a wider gap than the intermediate-only D756. The rear MX51 is effective and predictable. It doesn't let go in a scary way. If we had to compare it to a 756, we wouldn't. We think it is closer to the 745 side of the scale. The MX51 works across a wider range of terrain than a 756 (although not as well as a 756 in the places where a 756 works best) and is at its best on the harder side of loam?much like a 745.
(4) Front performance.
We didn't like it (and wouldn't choose to run it?instead running the MX31 front tire). The MX51 front feels like a tire designed by a committee that never met. Although it doesn't lose traction completely or let go suddenly, it seems to be in a constant state of looseness. It leaves the feeling that the knobs are constantly rolling over?not completely, but just enough to make the test rider lose confidence. It's at its best on harder dirt, gets worse as the soil softens up and doesn't like loose dirt on a hard base. This is not a confidence-inspiring tire. It pushes a little bit all the time. It's better than a 742 in all conditions, but that's not a compliment. When the conditions favor the old-school 756 front tire, the 756 is considerably better than the MX51 front. The downside of the 756 is that it doesn't like shiny spots or hard dirt (and will step out quickly in these conditions), but it isn't bothered by wet spots, loose dirt on top of hard or good dirt. So, there is a trade-off of sorts. For our tastesm the MX51 front just never feels planted?it is always looking for something one inch off its center line.
(5) Air pressure. The MX51 tires are very sensitive to air pressure. If we were two pounds off in one direction or the other, the tire reacted negatively (something we never noticed with a 756).
WHAT'S THE SQUAWK? We understand marketing and the desire to build a tire for a wider range of soil conditions, but for racing applications on intermediate dirt, we choose to mate the MX31 front tire with the MX51 rear. This gives us more of the 756 sensation.


We give the rear Dunlop GeoMax MX51 four stars and the front MX51 three stars. If you are willing to give up a little performance in specific areas to get a more versatile tire, then the GeoMax MX51 rear tire is a decent choice. The front? Go to a MX31.