MXA TEAM TESTED: EKS BRAND LUCID GOGGLES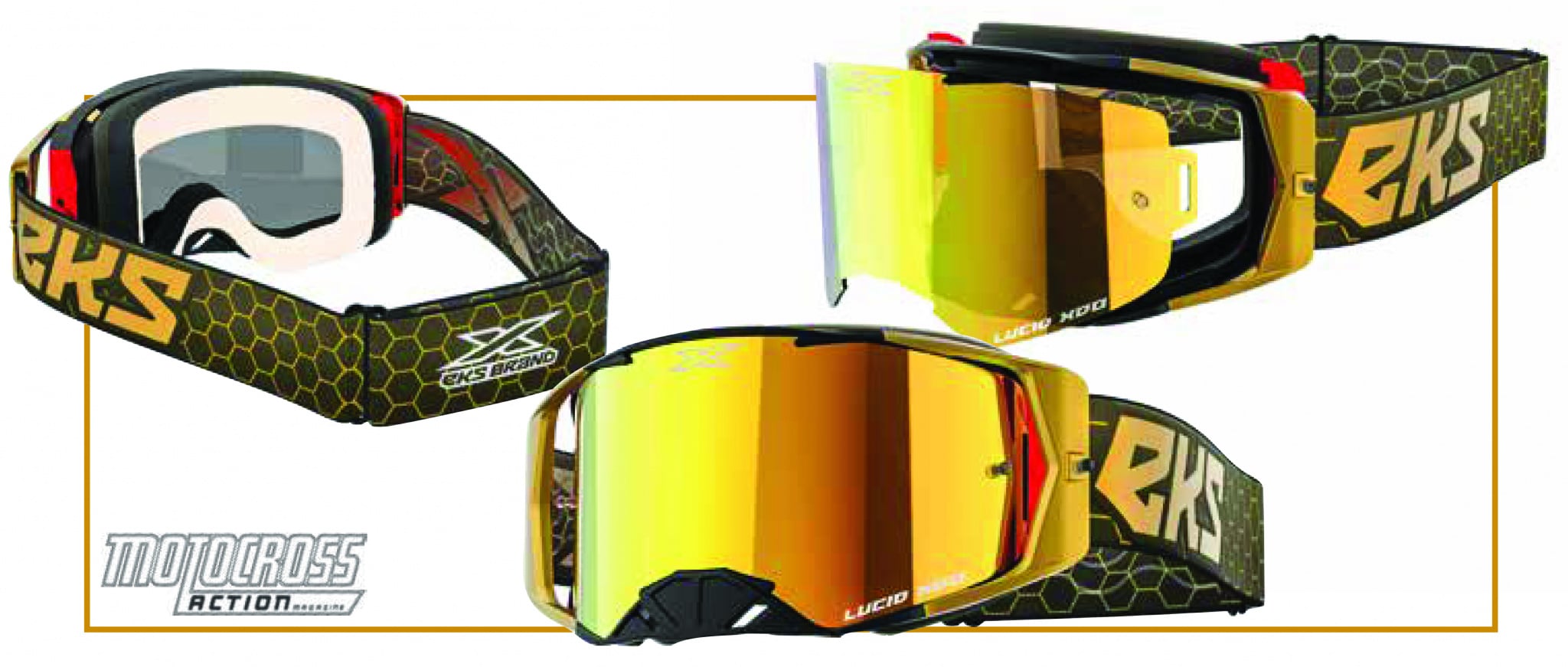 WHAT IS IT? After five years of development, EKS Brand's Lucid goggle is finally here to provide clear vision and ultimate goggle function for the most demanding situations of motocross and off-road racing. With over 35 years of experience in the goggle business, EKS Brand is a family owned and operated goggle company that specializes in top-level quality at a reasonable price point. 
WHAT'S IT COST? $89.00 (clear lens), $99.00 (mirrored lens), $25.00 (replacement lenses). 
CONTACT? www.eksbrand.com or (818) 706-1700.
WHAT STANDS OUT? Here's a list of things that stand out with the EKS Brand Lucid goggles.  
(1) Lens. The new Extreme Definition Optics (XDO) Lucid lenses are pre-curved, injection-molded, polycarbonate lenses that have greatly improved optical clarity over traditional flat lenses. The pre-curved lens is durable, impact-resistant, and is available in nine different tints and colors. The Lucid lens also has an anti-fog coating built into the plastic that makes it easier to clean and helps prevent dust from sticking to the inner goggle. Note: Refrain from cleaning any goggle lens with Windex, as polycarbonate is a strong material, but it's not designed to be used with any glass cleaner. 
(2) Auburn Afterburner lens. Similar to the Oakley Prizm lens that was designed to enhance contrast so you can see terrain in better detail, EKS Brand's optional Auburn Afterburner lens uses a special three-color tint to boost vision even further than with the XDO lens. The Auburn Afterburner lens uses a rose, grey and persimmon tint to enhance light on a cloudy day and brighten up shadows while also providing protection against harsh light. This technology originated in the skiing industry where cloudy days, bright reflections off snow and shadows are an everyday reality.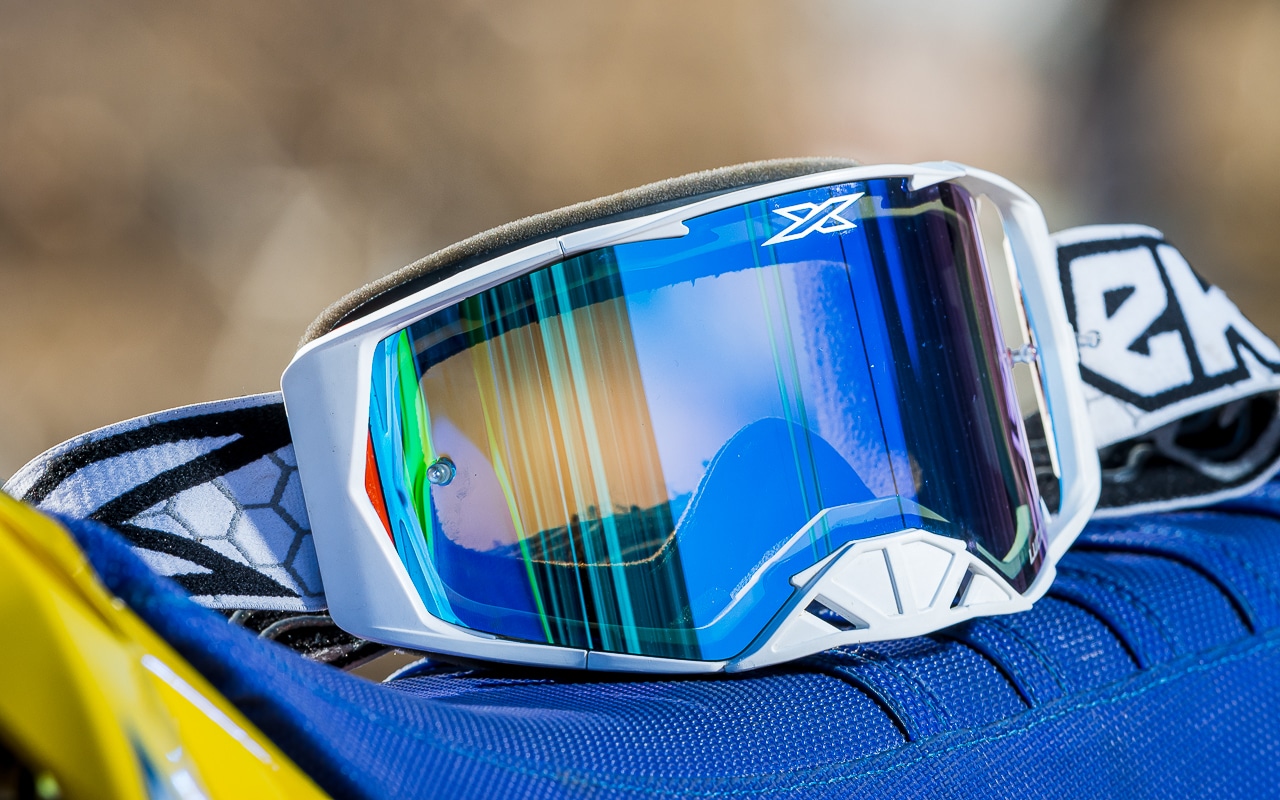 (3) Frame. The Lucid goggle is made with a stiff outer frame and a soft inner frame. The stiff outer frame is necessary for holding the thicker and heavier injection-molded lens. The soft inner frame works with added leverage from outriggers to help the goggle's foam seal to your face. Plus, the outriggers move the strap away from the goggle, allowing more airflow into the side vents. The frame features a removable nose guard and an impressively simple quick-change lens tab.
(4) Foam. EKS Brand tested many shapes and styles of face foam before landing on a wide, 20-mm-thick, three-layer face foam. Unlike most other face foams that are flat, the Lucid foam is 3D-molded and pre-shaped to fit your face for optimal comfort. 
(5) Tear-offs. The EKS Brand Lucid goggle can be used with standard tear-offs and stacks of  seven laminate tear-offs. The number of tear-offs MXA test riders use varies. In long motos where heavy roost is likely, they run up to 21 tear-offs in three stacks of seven laminates. Other less-picky testers use two to three standard tear-offs per race. Our testers liked the EKS Brand tear-offs and appreciated the integrated tear-off posts on the left outrigger, which made installing tear-offs easier. 
(6) Performance. We assigned our pickiest goggle testers to the EKS Brand Lucid goggle test. After racing in the Lucid goggles, there were three highlights that stuck out: First, the goggle's ability to keep sweat off the inner lens is impressive. There was still some splash, but the 20mm foam and inner sweat channel directed most of the sweat away from the eyes and lens. Second, the injection-molded Extreme Definition Optics (XDO) lens was  clearer than a traditional lens, even with multiple tear-offs over it. The Auburn Afterburner lens was an instant favorite for any riding condition, because it helped define rocks and bumps more distinctly in the shadows. Third, the Wavelatch quick-change lens system made changing lenses easy.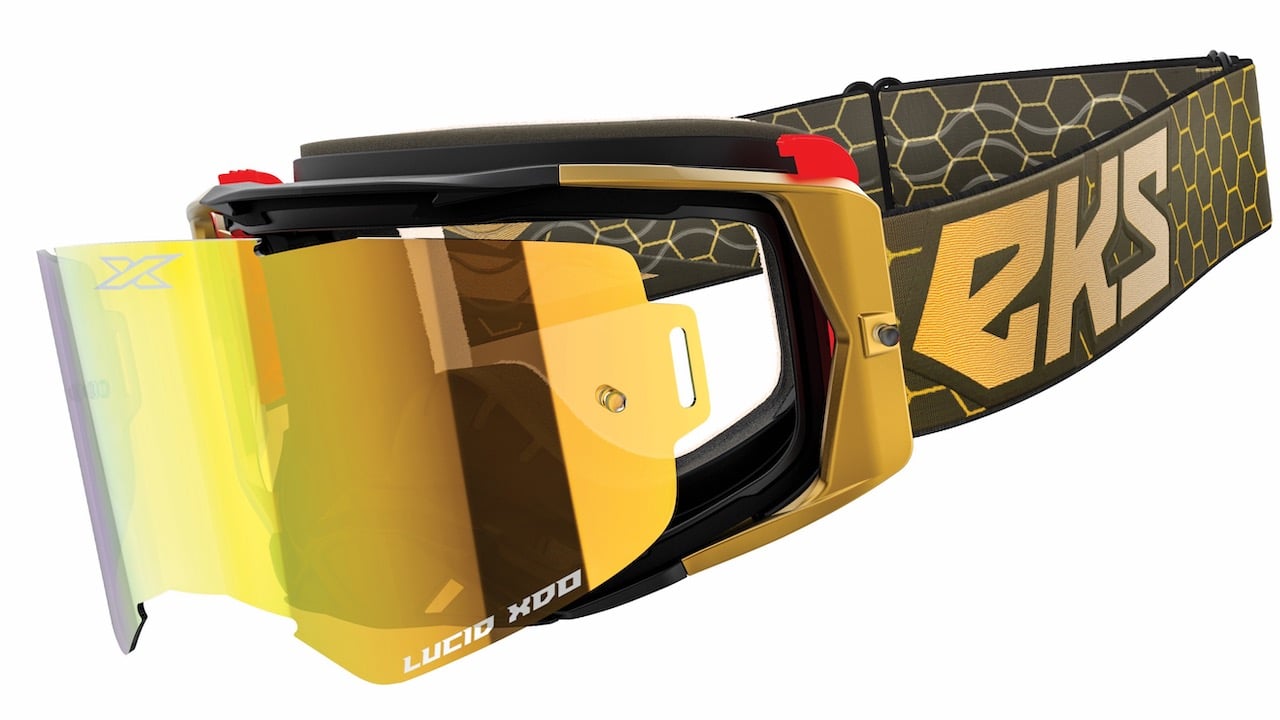 WHAT'S THE SQUAWK? Even with three-layer foam and sweat channels, our heavy sweaters still splashed on the inner lens. We've yet to find a goggle solution that completely blocks sweat from ending up there, but the Lucid ranked high in this contest.
MXA RATING: The rigid frame scared us initially; however, once we wore the goggles on the track, our worries disappeared as it conformed to our face. Plus, the injection-molded, pre-curved lens was noticeably better than any flat lens. We could see without distortion. This goggle battles with the best in the business in quality and beats them in price.