MXA TEAM TESTED: FOX RACING 360 GEAR

WHAT IS IT? Fox 360 apparel continues to be Fox's top-of-the-line, race-proven gear. Each year the gear shows steady progress in design, aesthetics and fit.
WHAT'S IT COST? $54.95 (jersey) $169.95 (pant).
CONTACT? www.foxhead.com or (888) 369-7223.
WHAT STANDS OUT? Here's a list of things that stand out with the Fox Racing 360 gear.
(1) Pant. Fox leaves no stone unturned when designing their pant. The pant is ergonomically constructed to fit best when the rider is in the attack position. An elastic panel down both legs allows the pant to contour to a moving body. Thanks to an elastic stretch belt, the Fox 360 pant has an inch of give to allow a size-32 pant to fit waist sizes from 31 to 33.
The Italian-style tailoring offers a very sleek fit. If you have tree trunks for legs or run bulky knee braces, the pant might be on the tight side, so try them on before buying. Inside, there is a 3/4-length mesh liner that is stitched all the way around so that the liner won't catch on your knee guards and bunch up.
(2) Jersey. The Fox 360 jersey is very minimal. There is a micro-mesh back panel for breathability, and both cuffs have a triangle patch of elastic that keeps them from restricting the rider's forearms. As with the Fox 360 pant, the jersey is tailored for slimmer riders. If you have broad shoulders or carry a little extra weight, opt for a size up.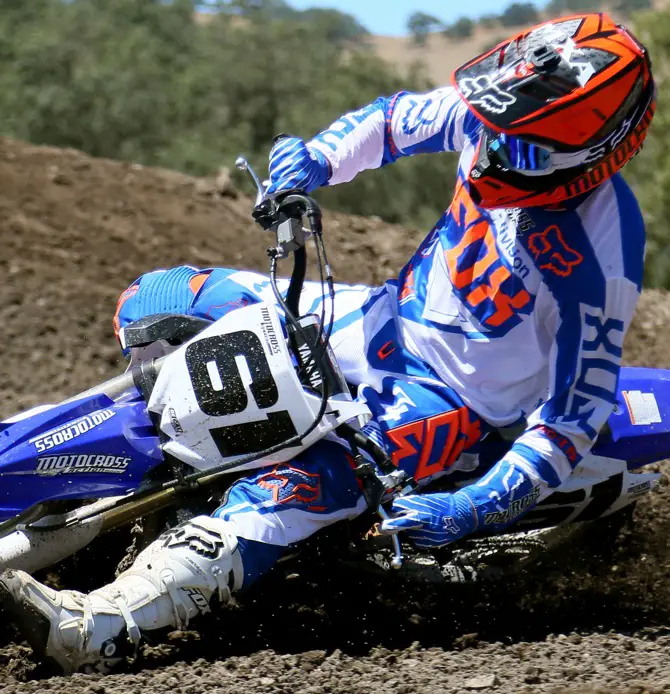 (3) Comfort. This is incredibly comfortable gear to wear. It is not restrictive, but be forewarned, if you prefer a loose fit, the Fox 360 gear is more form-fitting than typical race gear.
(4) Durability. The leather on the knees is well placed and long enough to protect you from your bike's exhaust. There is a hard rubber patch on the side of each knee that acts as a bumper to protect you from wearing through the knees in a crash.
(5) Options. The 2014 Fox 360 pant is offered in sizes ranging from 28 to 38, and the jersey is available in sizes from small to extra-extra-large.
WHAT'S THE SQUAWK? We have two quibbles. (1) The Italian-style tailoring isn't for beefy, bulky or big riders. (2) The jersey doesn't have any extra padding on the elbows.


For test riders with the right body type, the Fox 360 gear was a standout favorite.