MXA TEAM TESTED: HINSON KTM 450SXF INNER HUB/PRESSURE PLATE
Click on images to enlarge
WHAT IS IT? Hinson's billet-machined and akadized inner hub and pressure plate are designed to replace the stock KTM 450SXF parts.
WHAT'S IT COST? $499.99 (inner hub and pressure plate), $199.99 (clutch pack with Belleville washer), $169.95 (Hinson clutch cover).
CONTACT? (909) 946-2942 or www.hinsonracing.com. 
WHAT STANDS OUT? Here's a list of things that stand out with Hinson's KTM 450SXF inner hub, pressure plate and clutch pack.
(1) Stock clutch. The stock KTM 450SXF clutch is a thing of beauty. Not only is it hydraulically controlled, but KTM CNC machines the basket (with the primary gear milled right in) from billet steel. This means that you will never need to replace the stock clutch basket. It will never notch or suffer from excessive wear on the tangs. Additionally, the 450SXF diaphragm clutch is controlled by a 280 N/m Belleville washer. Unlike the six separate coil springs used on most bikes, the large-diameter Belleville washer applies pressure to the clutch pack evenly around its circumference. KTM has also built rubber bumpers into the basket/inner-hub interface to take the jolt out of aggressive clutch use and gear changes. Without a doubt, the KTM 450SXF clutch is a durable, long-lasting and self-adjusting clutch. KTM's clutch basket is so good that Hinson does not make an aftermarket replacement.
(2) Inner hub. If the KTM 450SXF clutch is so great, why are we replacing the inner hub and pressure plate? The Hinson parts aren't production units built in the thousands for the assembly line; they are racing parts made from T-6 aircraft-quality aluminum and hard-coated to resist wear. We feel that the tolerances are tighter with the Hinson inner hub, which pays dividends as far as the lifespan of the cush hub rubber bumpers. It should last five times longer than the stock inner hub, which is a long time. The bumpers do take a beating during motocross use and need to be replaced at regular intervals, but with the Hinson inner hub, they last considerably longer.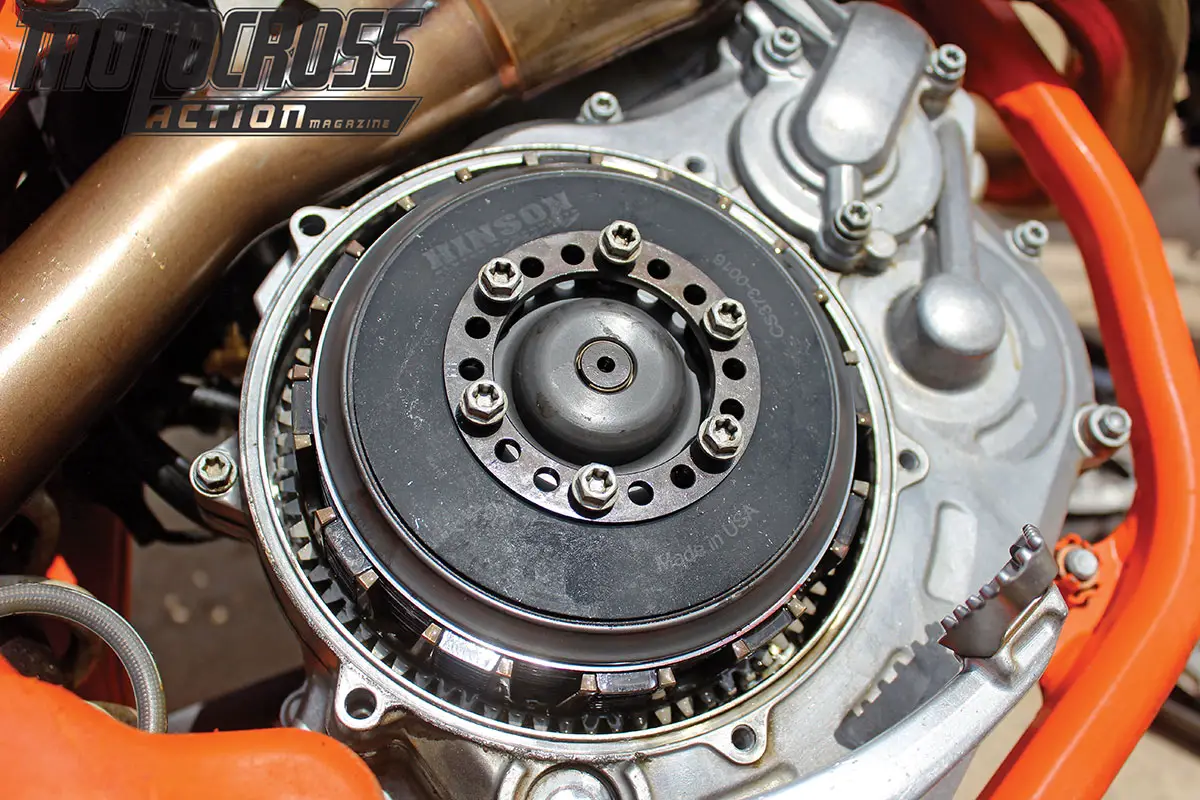 (3) Pressure plate. Hinson's KTM 450SXF pressure plate is machined from the same billet T-6 aircraft-quality aluminum and hard-coated for better wear. It works in conjunction with Hinson's inner hub to reduce friction and drag on the KTM clutch.
(4) Clutch pack. Hinson produces its own clutch plates and sells a complete kit for the 450SXF that doesn't just include the fiber drive plates and metal-driven plates, but a stiffer Belleville washer as well.
(5) Clutch tips. Here are some things to pay attention to: (a) It is very helpful to use a clutch holder tool to break the main shaft nut loose and to re-tighten it to 59 foot-pounds. The same holds true for a torque wrench that guarantees that the clutch is securely installed. You can jerry-rig a clutch holder, but Hinson sells an adjustable clutch holder tool that will work on every make and model of clutch. It retails for $150. (b) The KTM 450SXF clutch pack starts and stops with metal plates, unlike most other clutches. Additionally, the outermost and innermost steel plates are thinner than the metal plates that go in the center of the pack. Pay attention to this detail. (c) The steel plates have a sharp edge and a rounded edge. Hinson recommends installing every plate with the sharp edge to the outward side. (d) We also ran a $169.95 Hinson clutch cover, not necessarily because it is stronger, but because it looks cool.
(6) Performance. With the Hinson parts, the KTM clutch engages quicker, hooks up better and modulates with less effort. When you add in the durability of both the mechanical parts and the stock rubber bumpers, this is a win-win mod. It won't make the KTM 450SXF faster, but it will allow you to get up to speed or slow down faster by quickening clutch action. It works exceptionally well during starts.
WHAT'S THE SQUAWK? This isn't a game-changer, but it is one of those incremental improvements that go into building a better race bike.
MXA RATING: Would you be surprised to discover that these Hinson parts are found on the KTM works bikes of Ryan Dungey, Marvin Musquin, Davi Millsaps and Blake Baggett? It doesn't surprise us, because the Hinson inner hub/pressure plate and clutch pack are works parts for regular folk.