MXA TEAM TESTED: HOT?CAMS?SHIM?KIT/REFILL PACKS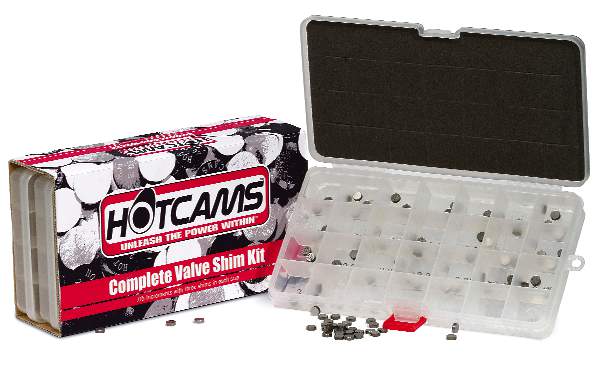 WHAT IS IT? After oil changes, checking valve adjustment is the next step in periodic engine maintenance. Hot Cams' kit is a convenient and cost-effective product for do-it-yourself engine maintenance.
WHAT'S IT COST? $59.95 to $89.95.

CONTACT? www.hotcamsinc.com or (515) 402-8005.

WHAT STANDS OUT? Here's a list of things that stand out with Hot Cams' shim kit.
(1) Material. Hot Cams' shims are manufactured from cold-rolled 4140 steel. Most engine builders report that KTM OEM shims wear faster than Japanese OEM shims. We have seen the KTM shims with dimples where the valve hits to prove it. Durability-wise, Hot Cams shims are on par with Japanese shims and superior to KTM shims.

(2) Kit breakdown. Different bikes need different-diameter shims, and there are four different Hot Cams shim kits that cover the Big Five bike brands. The 7.48mm kit covers all Japanese 250Fs, while the 9.48mm-diameter kit covers all Japanese 450s. Both of these kits offer shims from 1.2mm to 3.5mm in thickness in 0.05mm increments and cost $89.95 each. There is an 8.9mm-diameter kit for KTM 250s with shims from 1.72mm to 2.6mm in thickness in 0.04mm increments that costs $59.95. There is a 10mm kit for KTM 450s with shims from 1.85mm to 3.2mm in thickness in 0.05mm increments that costs $75.95.
(3) Cost. Dividing the cost by the total number of shims in the kit, each Japanese bike shim costs 57 cents. An OEM YZ250F shim, for example, costs $1.79 or $1.97, depending on thickness. The bottom line is that the cost savings with the Hot Cams kit is enough to make up for the extra shims you are buying, but may never use. For shops, the cost of a Hot Cams shim kit is about a third of the cost of an OEM kit, just as the individual shims are roughly a third of the cost.

(4) Replenishment. You're more likely to use certain size shims on your specific bike. So what happens when you run out of a particular size? Hot Cams offers shim-kit replacement packs, and there are two options. First, you can buy five shims of one thickness for $5.95. Second, you can replenish a row of shims in the box, receiving six sizes (five shims of each size), for $49.95.

(5) Convenience. Having a shim kit on hand means not having to make another trip down to the dealership or wait for shims in the mail. It can also be a point of pride in the workshop of a mechanically savvy motocrosser who can boast having a shim kit worthy of a professional shop.

(6) Valves. It's important to know when to shim and when to replace the valves. The titanium valves on modern motocross bikes can be a bit deceptive, because when they start to wear, they go quickly. During inspection, note the shim wear. If the valves are two- or three-thousandths of an inch out of spec and there is no visible shim wear, the valves should be replaced.
(7) Necessity. An average rider should inspect his valves after 35 to 40 hours on a 450 and 20 to 25 hours on a 250. An aggressive racer's valve lash should be inspected every 15 to 20 hours. If the valves are out of adjustment, it can cause excess heat, which means excess wear and loss of performance.

WHAT'S THE SQUAWK? In the kit, shims are 57 cents each, but in replacement packets, it works out to $1.19 per shim.


This isn't a product for the mechanically maladroit, but with a smidgen of know-how, you can adjust your own valves, save money and keep your four-stroke running longer and stronger.