MXA TEAM TESTED: HUNSAKER 5-GALLON FUEL JUG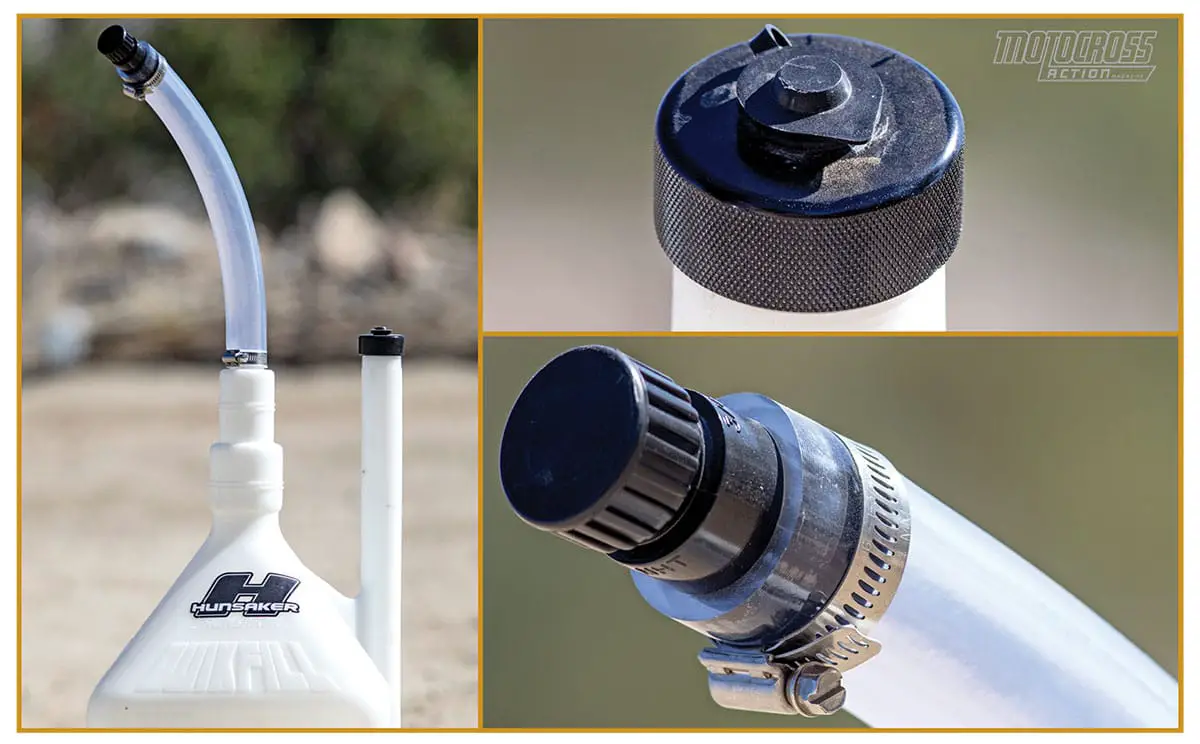 WHAT IS IT? Hunsaker Products is most famous for its 11-gallon quick-fill gas jugs used in off-road truck racing. Its 11-gallon jug with quick-fill hose is capable of dumping 11 gallons of gas in 8 seconds; however, Hunsaker also offers 5-gallon jugs for motorcycles and 8-gallon jugs for UTVs. All feature stepped pour spouts and Hunsaker's signature 1-3/8-inch breather tube that doubles as a handle and as the fill spout to put fuel in the can. Hunsaker offers several custom options, including a tapered spout, threaded spout and hose sizes from small to 3.0 inches in diameter.  
WHAT'S IT COST? $49.95 (5-gallon jug), $20.00 (1-1/4-inch x 3/4-inch hose kit).
CONTACT? (805) 650-2525 or www.hunsakerusa.com. 
WHAT STANDS OUT? Here's a list of things that stand out with the Hunsaker 5-gallon fuel jug.
(1) Concept. All Hunsaker fuel jugs feature stepped pour spouts that can be used with three different diameter hose kits to pour faster and faster. The stock 5-gallon fuel jug comes with a 1-1/4-inch threaded pour spout at the top of the neck (a threaded cap is included). If you want the fuel to come out faster, you can cut the threaded portion of the pour spout off and use the non-threaded 2-1/4-inch outside diameter neck with a large-diameter hose. If you are in a big hurry, you can cut the pour spout at the next larger diameter and clamp on a 3-inch diameter hose. We don't recommend anything larger than the 1-1/4-inch hose for motorcycles; the other hoses pour way too fast for a 2-gallon motorcycle fuel tank.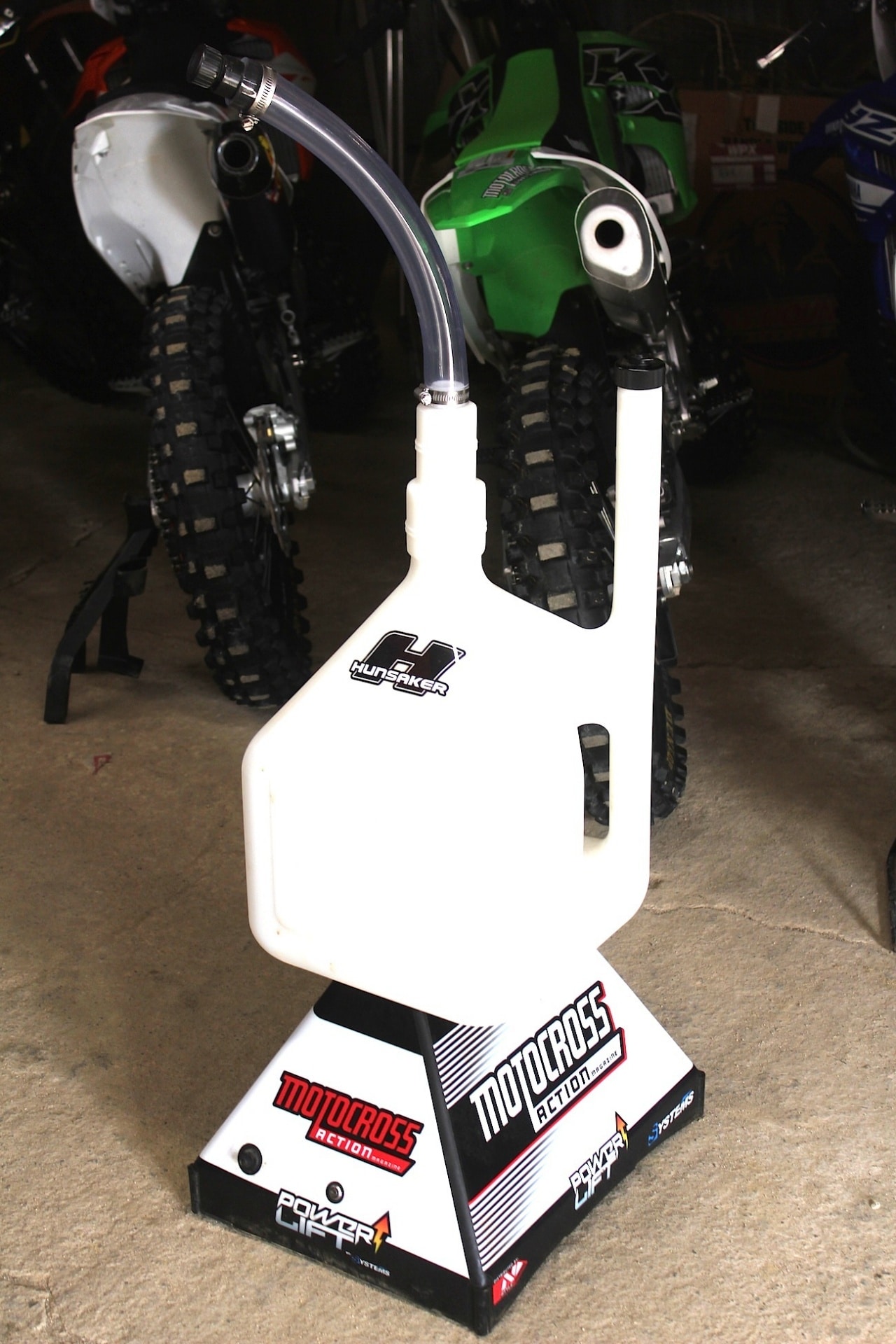 (2) The trick. How can the Hunsaker fuel jug pour so much faster than the typical gas can? The trick is the large 1-3/8-inch breather tube that doubles as a handle and also as the fill spout to put fuel in the can. The basic logic is that fuel can only come out as fast as air can get in. On a normal fuel can, there is a small air vent, typically 1/4-inch to 1/2-inch in diameter. The Hunsaker's large and long breather tube means that the fuel jug won't gurgle, chug or leak fuel out of the vent hole—it pours and it pours fast. You can slow it down by not taking the threaded cap off the breather tube and instead flipping up the tab on top of the cap to let less air in. Learning the tricks of the Hunsaker jug makes life easier. 
(3) Dimensions. The Hunsaker fuel jug looks ungainly with its secondary breather tube reaching the same height as the top of the pour spout, but it is only 24x12x12 inches. And, as odd as the air breather tube looks, it makes an excellent two-grip handle to help control the gas jug, which when full weighs over 30 pounds. All Hunsaker fuel jugs are made from very thick white plastic that is translucent enough to see how much fuel is in them. There are embossed gallon markers on the side of the jug.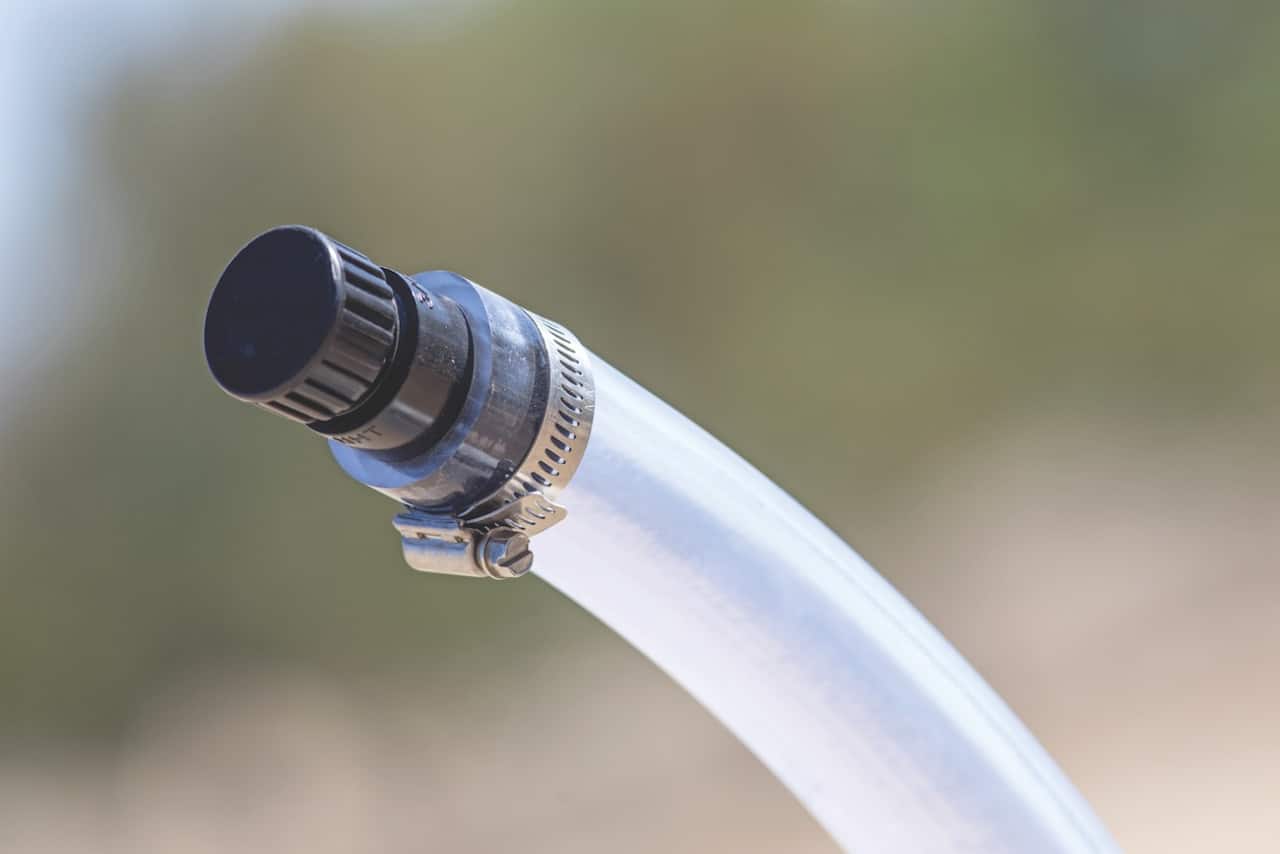 WHAT'S THE SQUAWK? Filling it is a hassle, when it is hot outside; the fuel bubbles up the vent hose and sometimes the vent doesn't vent well enough.
MXA RATING: It is hard to get bogged down in gas can technology, because it is fairly limited to a plastic or metal can with a cap, pour spout and breather hose; but, how you design those three items does make a big difference. Hunsaker put more thought into its design. It can pour very fast, fast or slow at your command.