MXA TEAM TESTED: KTM POWERPARTS 60-PIECE TOOLKIT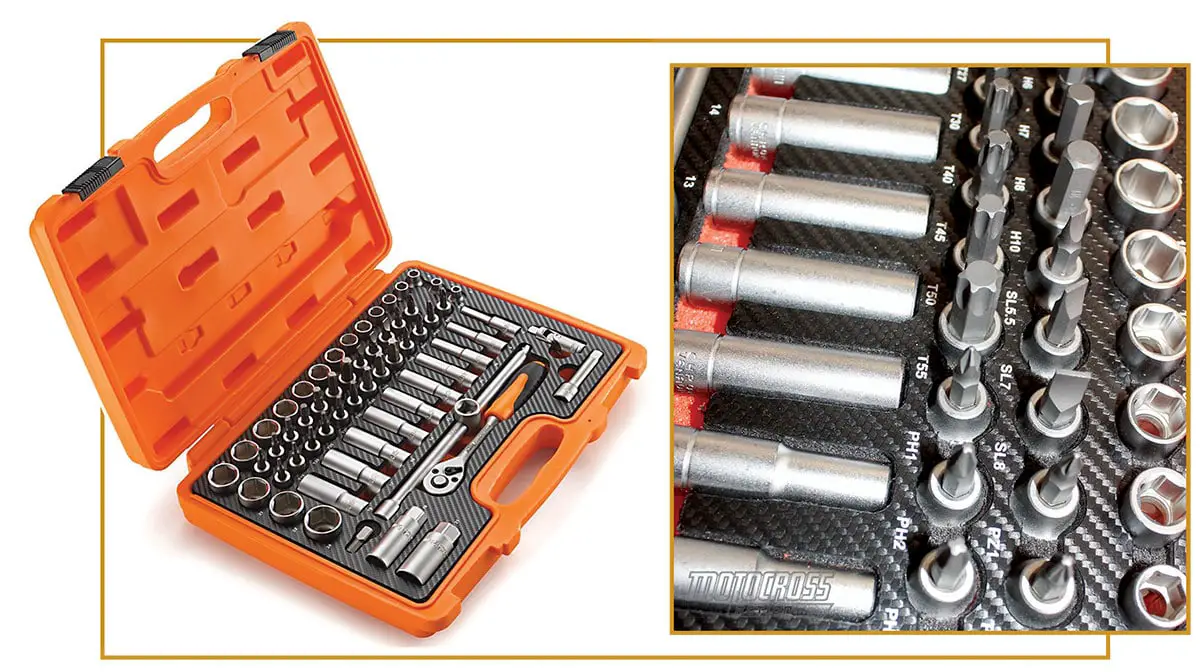 WHAT IS IT? There is no doubt that recent transfers from Japanese-brand motocross bikes to KTMs and Husqvarnas are confused by the different types and sizes of bolts used on the Austrian bikes. Most perplexing are the 13mm hex heads, 6mm wood screws on the plastic and the heavy reliance on Torx-style bolts. Most racers don't own a wide selection of Torx tools, and even if they did, it is unlikely that they would have a #45 Torx bit (for the subframe).
WHAT'S IT COST? $145.95 (60-piece); $74.95 (38-piece).
CONTACT? www.ktm.com or your friendly local KTM dealer.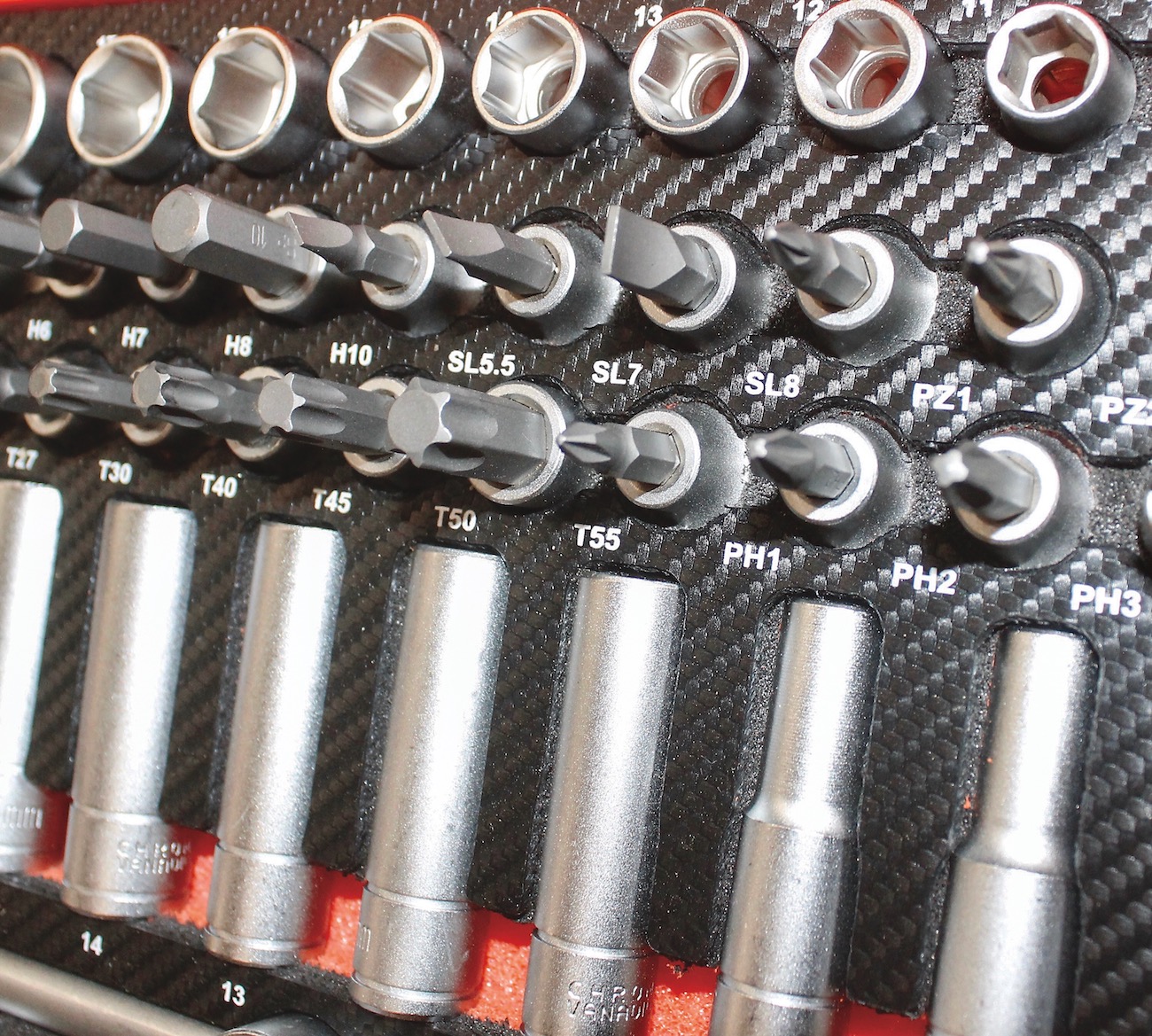 WHAT STANDS OUT? Here's a list of things that stand out with the KTM PowerParts 60-piece toolkit.
(1) Ratchet sizes. The sizes of the ratchets and sockets are referred to in terms of the size of the square hole that the two parts interface with. Tools come in three common "drive" sizes: 1/4-inch, 3/8-inch and 1/2-inch. Most mechanics, backyard or professional, prefer 3/8-inch drive tools because they have longer ratchets, can handle higher torque loads and, obviously, have more metal on both the ratchet and socket to handle heavy-duty jobs. There are bolts on a motocross bike that a 1/4-inch drive isn't strong enough to remove. The 1/2-inch drive is for very big jobs. 
(2) KTM 38-piece kit. KTM's smallest toolkit is the 38-piece model. It is handy but hampered by the fact that it has a 1/4-inch drive system. This kit isn't complete enough to work on every aspect of a KTM or Husky. The sockets range from 4mm to 14mm, but the kit is missing the important 17mm (front wheel) socket. There are six Torx bits in #10, #15, #20, #25, #30 and #40 sizes (but no #45 to remove the subframe bolts) and six Allen bits (3mm, 4mm, 5mm, 6mm, 7mm and 8mm). To make the Allen, Torx, Phillips and flat-bladed bits work with the included 1/4-inch ratchet, breaker bar and three extensions, there is an adapter to fit the bits to the 1/4-inch drive. It just doesn't have all the sockets and Torx bits that we need.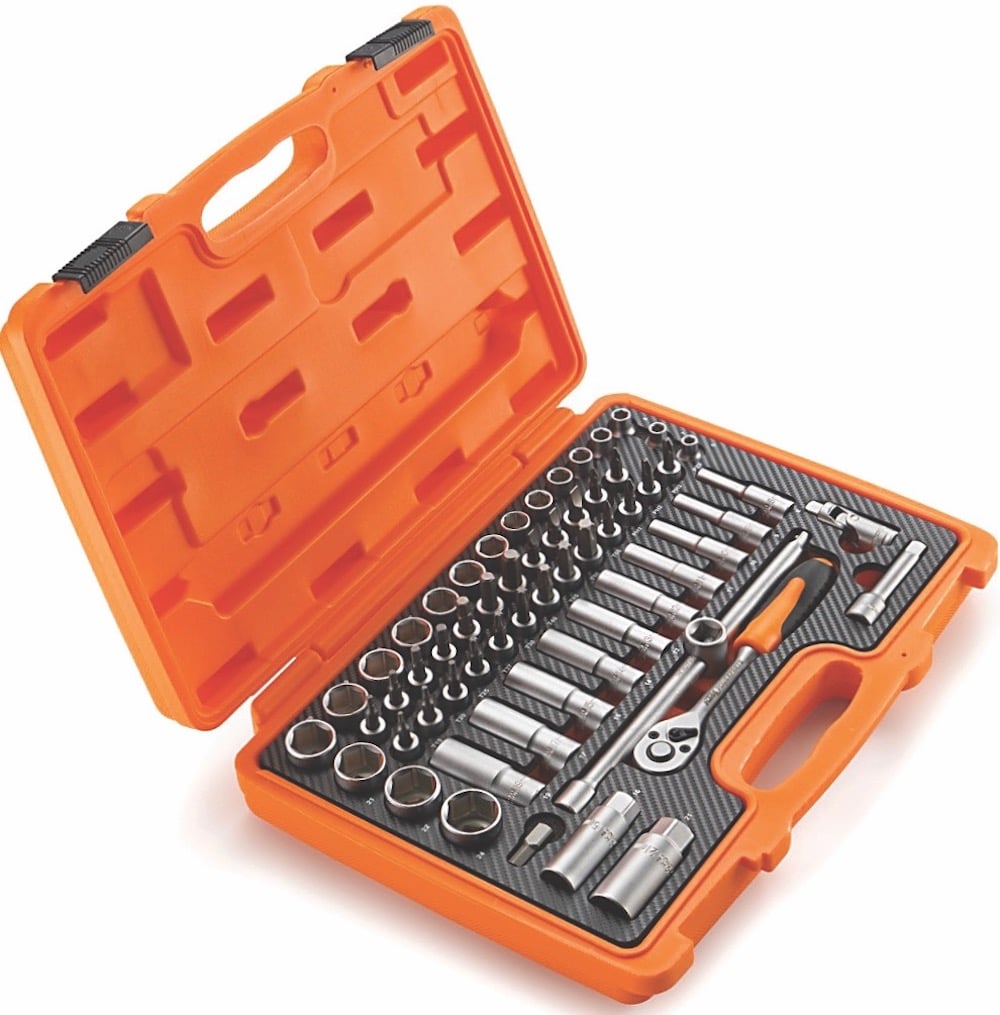 (3) 60-piece. Most important, KTM's 60-piece toolkit has a 3/8-inch drive, which means all of your existing sockets will fit on it. It is a comprehensive kit. It has eight Torx bits (#15, #20, #25, #27, #30, #40, #45 and #50). The sockets range from 6mm to 24mm, with 11 deep sockets (8mm, 9mm, 10mm, 11mm, 12mm, 13mm, 14mm, 15mm, 16mm, 17mm and 19mm). It has Allen sockets in 3mm, 4mm, 5mm, 6mm, 7mm, 8mm and 10mm. It contains 16mm and 21mm spark plug sockets, a selection of Phillips and flat-blade screwdriver bits, plus a 3/8-inch ratchet, breaker bar, 3-inch extension and swivel extension.
(4) Important tools. The #20 Torx bleeds the forks. The #15 Torx removes the clutch-side ODI grip. The #45 fits the subframe bolts. The 6mm socket handles most of the plastic parts, and the 17mm socket removes the front axle.
WHAT'S THE SQUAWK? It doesn't have a 32mm socket for the rear axle nut.
MXA RATING: We never liked the 38-piece kit, but the 60-piece kit has almost everything you need in one handy, plastic, 15×11.5-inch carrying case. It beats going through the pits trying to borrow a #20 Torx from the guy you borrowed it from last week, only to find that you forgot to return it to him.