MXA TEAM TESTED: LEATT 2.5 KIDS CHEST PROTECTOR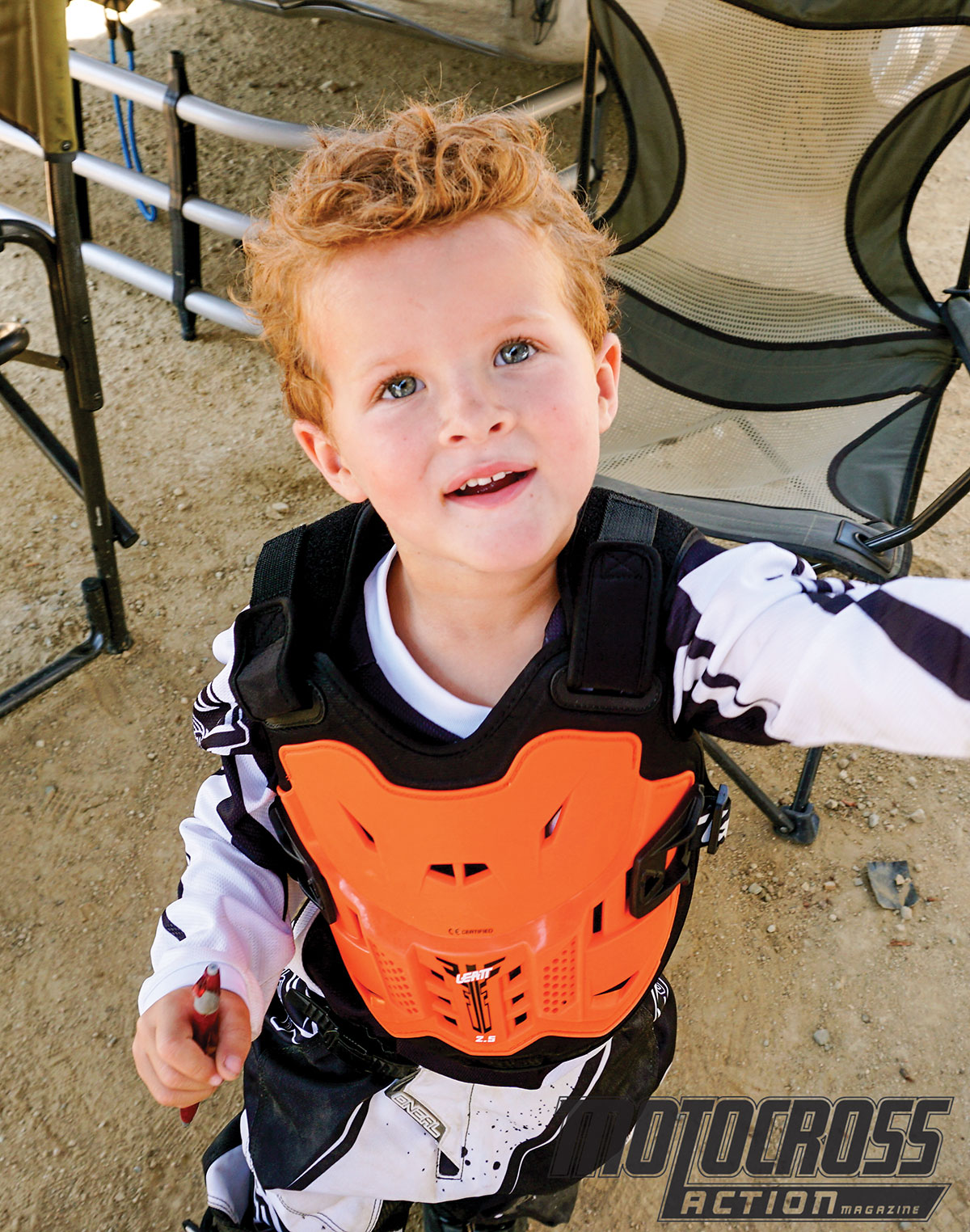 WHAT IS IT? Have you ever tried to find riding gear for little Johnny. We aren't talking about a 12-year-old with a mustache and tribal tattoo on his arm. Instead, we went looking for gear that would fit a 4- to 7-year-old kid. Virtually every helmet, boot, glove and chest protector was way too big. That's why we were thrilled to find the Leatt 2.5 chest protector. It's small—so small that it would barely fit on the thigh of an adult rider.
WHAT'S IT COST? $59.00.
CONTACT? www.leatt.com or (800) 691-3314.
WHAT STANDS OUT? Here's a list of things that stand out with the Leatt 2.5 chest protector.
(1) Design. Parents always want what is best for their kids, especially when it comes to safety. Leatt, most famous for its neck braces, has been expanding into body protection for several years and offers a wide range of upper-body protectors. The Leatt 2.5 chest protector is designed for riders who are between 3-foot-7 and 4-foot-5. It is CE certified as roost protection (EN 14021) and made from extremely tough HDPE plastic and washable biofoam. The clamshell-style Leatt 2.5 chest protector comes in black or orange.
(2) Protection. It is important that a chest guard fit snugly against the body. This not only allows for more movement, but keeps the plastic pieces where they should be in a crash. The Leatt clamshell does a great job of covering the chest and back of a small rider. Parents feel more confident with the addition of hard plastic protection over the flak-jacket style of upper-body coverage. The 2.5's clamshell offers very good wrap-around coverage—not just for the chest and back, but for the ribs also.
(3) Fitment. The Leatt 2.5 has adjustable shoulder straps, along with a waist closure to ensure that the 2.5 will stay in place. Although our 4- and 5-year-old test
riders preferred to wear the Leatt 2.5 over their jerseys, you could wear it under also.
(4) Performance. The Leatt 2.5 is the best chest and back protection that a parent could find for a small racer. It is a unique product because it meets the needs of an under-represented segment of the motocross market. The Leatt 2.5 chest protector is protective enough to calm the fears of a parent, but sleek and slim enough for a small child to want to wear.
WHAT'S THE SQUAWK? No complaints.
MXA RATING: When a kid is too small to wear readily available motocross gear, that doesn't stop him from wanting to ride. Leatt's 2.5 chest protector addresses a market that very few companies ever think about—4-year-olds.