MXA TEAM TESTED: LEATT PRE-COOL COOLING VEST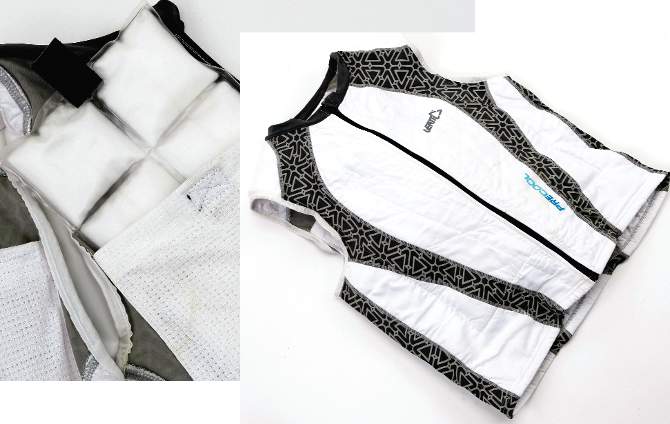 WHAT IS IT? Leatt, a company predominantly recognized for their neck braces, is branching out into the safety and performance segments of the market.
The Pre-Cool cooling vest is Leatt's latest venture and is designed to lower core body temperature using space-age technology.
WHAT'S IT COST? $349.00.
CONTACT? www.leatt-brace.com or (800) 691-3314.
WHAT STANDS OUT? Here's a list of things that stand out with the Leatt Pre-Cool cooling vest.

(1) Cooling properties. Heat is the enemy of all motocross racers. As the thermometer rises, so does the level of fatigue and the threat of heat exhaustion, hence the booming popularity of cooling vests among the motocross faithful. Most vests rely on windchill through water dissipation to decrease a rider's core body temperature during a moto, but Leatt has introduced a cooling vest that takes an alternative approach.
(2) Leatt design. The Pre-Cool vest is meant to be worn in the minutes leading up to each moto. Four specialized Cool Pax inserts, which first need to be frozen in a refrigerator, freezer or ice chest, line the vest and sit snugly against a rider's chest and back. These inserts freeze at 58-degrees Fahrenheit and can stay cold for several hours. Cool Pax are made using what is called a Phase Change Material. They activate after 45 minutes and don't require electricity to freeze. And, at a comfortable 58 degrees, you needn't worry about the risk of ice burn. Additionally, Cool Pax is 30 percent lighter than water-/gel-based packs.
(3) Operation. The vest is comprised of nylon with Hyperkewl and polyester mesh. It absorbs a significant amount of water after only a few minutes of submersion that, along with the Cool Pax inserts, aids in lowering core temperature. Note that the Pre-Cool cooling vest isn't to be worn while riding; however, the Cool Pax inserts can be removed, allowing a rider to wear the moist vest during a moto. Then, after the race, the inserts can be reinstalled for a post-moto cool down.
(4) Fit. The Leatt vest is a tight fit, and understandably so. It's imperative to have a snug fit so that the packs can rest against your skin for optimal cooling efficiency. Leatt offers the vest in sizes small/medium, large/extra large and double extra large. A youth version is also available and comes with two Cool Pax inserts instead of four. Note that the adult vest weighs 3.85 pounds, but this is inconsequential given the fact that the vest isn't to be worn while riding.
(5) Performance. If you suffer from heat exhaustion or live in a hot, dry climate, the Leatt Pre-Cool cooling vest is worth its weight in gold. Not only did it lower our core body temperature before our motos, but we noticed a spike in athletic performance while racing as a result. Additionally, the Cool Pax remained cold for several hours??even longer if the vest was stowed away in an ice chest when not in use. One tester wore the Leatt vest while mowing the lawn, another while standing outside in the heat for a long time. Both raved about the cooling effect and added comfort because of it.
WHAT'S THE SQUAWK? Price, and price alone. The reason for the exorbitant cost is the Cool Pax technology.


This is a five-star product for anyone who suffers from heat exhaustion, a four-star product for most everyone else, and a two-star product for a penny-pincher. The question is, which type of person are you?