MXA TEAM TESTED: MOTO-GATE TIE-DOWNS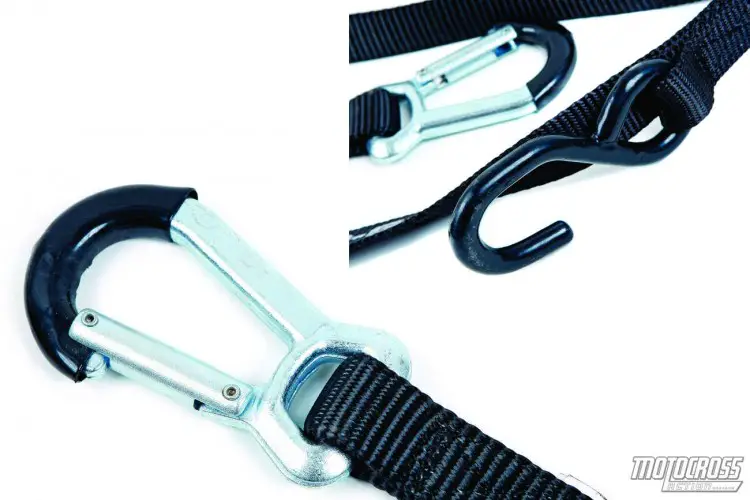 WHAT IS IT? Freestyle X Games gold medalist Lance Coury is a top freestyle rider and entrepreneur. His company, Moto-Gate, started with a stowage gate for truck beds but has expanded into work gloves and tie-downs.
WHAT'S IT COST? $29.95.
CONTACT? www.moto-gate.com or (877) 738-9327.
WHAT STANDS OUT? Here's a list of things that stand out with Moto-Gate tie-downs.
(1) Hooks. Moto-Gate rubber coats their tie-down hooks to prevent the metal hooks from rusting or digging into the handlebars. We discovered that the hooks weren't wide enough to fit on all oversize handlebars. We did get them on the commonly used Renthal FatBars, but for other oversize handlebars, you'll have to use the soft-tie straps, which handlebar manufacturers recommend anyway.
(2) Straps. Moto-Gate includes two tie-downs in each package. Moto-Gate tie-downs are the standard length, with a 1-inch-wide nylon strap. In a nice touch, Moto-Gate uses carabiner hooks on the truck end. The closed-loop carabiner ensures that the hook stays put. We'd like it if the carabiners swiveled to allow the straps to twist straight when loading a bike. Also, the carabiners are a bit small for our tastes.
(3) Performance. Tie-downs are a critical piece of motocross equipment. Much like a toothbrush or wallet, they are often overlooked until you need them. The MXA wrecking crew uses tie-downs to hold our bikes, tow hay bales around the track, or strap pianos in during a move. Moto-Gate tie-downs do a solid job of keeping your bike in place. Although they are missing a few conveniences of other tie-downs, they are a good product at a decent price. Nothing more, nothing less.
WHAT'S THE SQUAWK? We have a few minor complaints: (1) Some MXA test riders prefer 1-1/2-inch wide tie-downs instead of 1-inch ones. (2) With only Honda and Kawasaki still using 7/8-inch handlebars, it is imperative that Moto-Gate gets wider hooks. (3) It would be nice if the carabiners could swivel.


When it comes to tie-downs, there are three areas that determine the quality of the product. Are the hooks big enough? Are the straps long enough? Do the tie-downs secure a bike? Moto-Gate tie-downs meet two of the three criteria.