MXA TEAM TESTED: N2DIRT 2022 YAMAHA YZ250 SUSPENSION MODS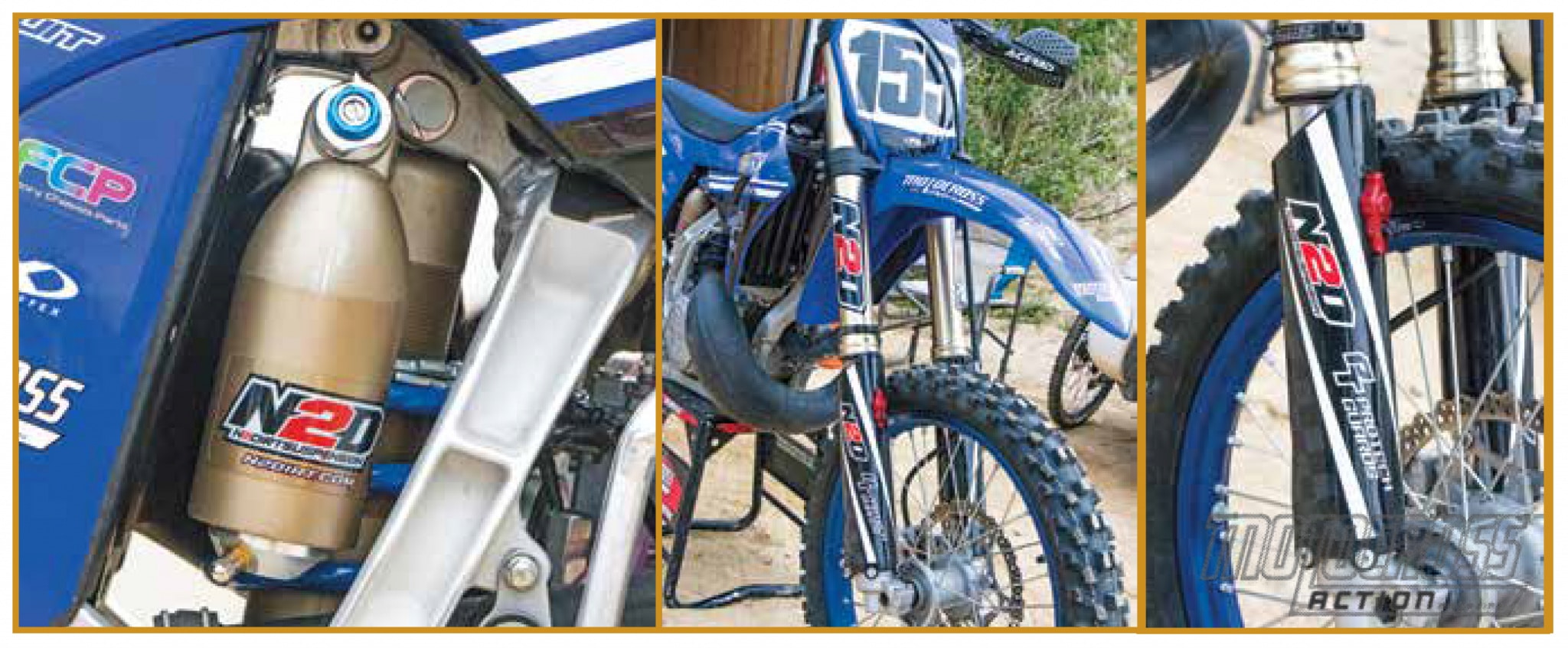 WHAT IS IT? N2Dirt is a SoCal motorcycle workshop specializing in motocross and off-road suspension and chassis updates. N2Dirt has over 30 years of combined industry experience, and they offer a unique suspension service guarantee that says if you're not satisfied with your suspension re-valve the first time, they will do another re-valve for free. 
WHAT'S IT COST? $649.00 (re-valve), $909.00 (re-valve with springs), $59.99 (ProTech fork guards).
CONTACT? www.n2dirt.com or (661) 252-0269.
WHAT STANDS OUT? Here's a list of things that stand out with the N2Dirt's 2022 Yamaha YZ250 two-stroke suspension mods.
(1) YZ250 updates. One of the main reasons the Yamaha YZ250 two-stroke is such a popular model is because the bike has stayed practically the same since Yamaha introduced its impeccable SSS (Speed Sensitive Suspension) fork technology in 2006. For 2022, Yamaha gave the YZ250 a makeover with new bodywork and stiffer suspension. In the past, Yamaha had different fork spring lengths for its two-strokes and four-strokes. No more! They both run the four-stroke springs. They also went from 4.3 N/mm fork springs to 4.4 N/mm, and from 47 N/mm to a 50 N/mm shock spring. Yamaha also added stiffer valving and enhanced the traditional coil-spring mid-valve with a leaf spring (also off the YZ-F line). 
(2) Stock setting. But all was not perfect with the Yamaha 2022 YZ250 suspension changes. When it came time for our intermediate test rider Josh Fout to race the stock YZ250, he struggled to find comfort for his 195-pound weight. Both the forks and shock moved through their stroke too quickly, knifing on corner entrance (due to the soft initial compression) and getting harsh in the mid-stroke, making the bike harder to ride at speed.  
(3) N2D setting. A key feature of the N2D suspension service is their online setup form. Each N2D customer is asked to enter his skill level, height/weight, goals for his suspension and more. To test the N2D setup system, we had Josh Fout submit the online form before they worked on his forks. Based on Josh's completed online form, N2D increased the fork spring rate to 5.0 N/mm and the shock spring to 5.4 N/mm. N2D also added custom valving per Josh Fout's terrain and skill specifications, which vary from motocross to cross-country to EnduroCross to hard enduros.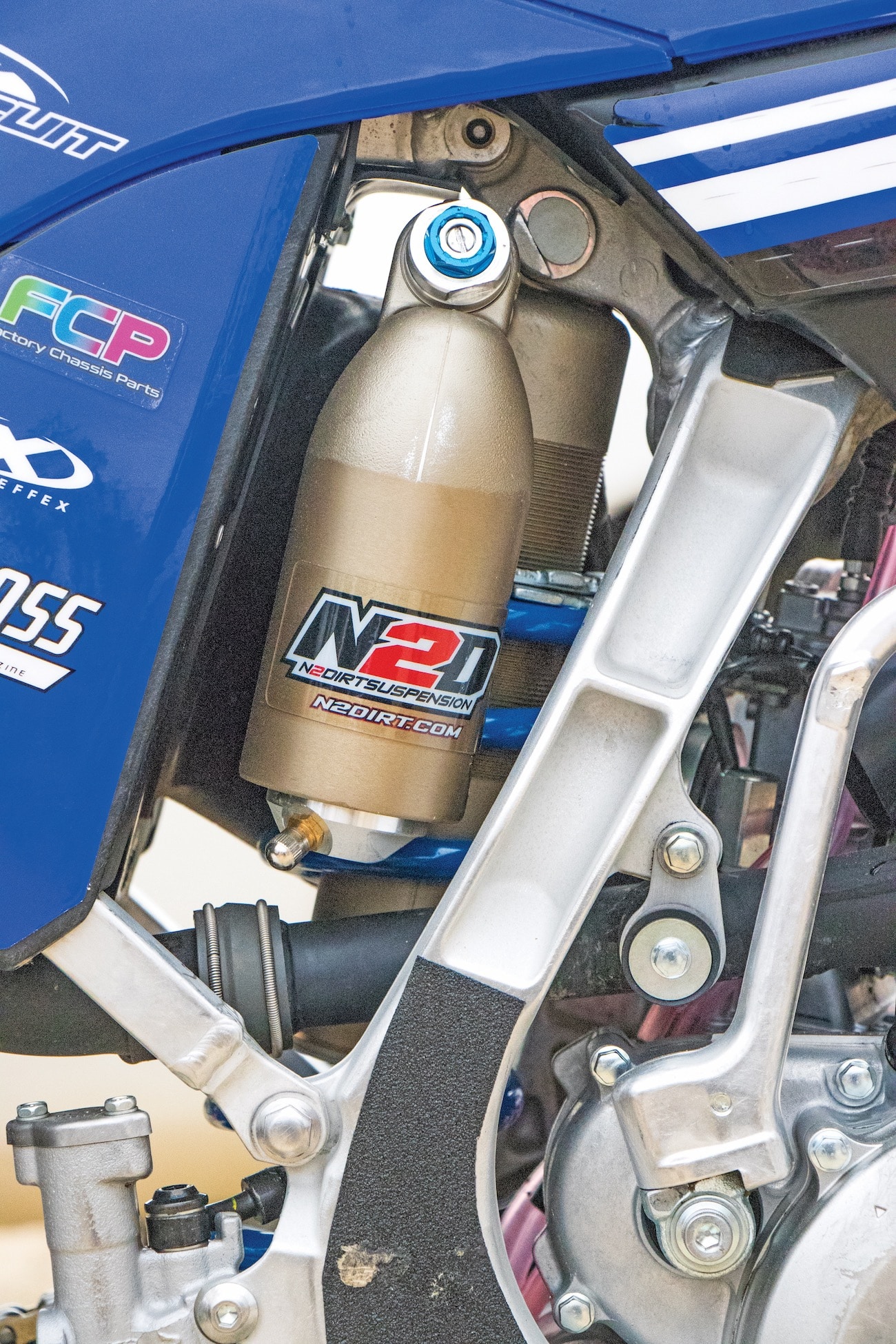 We went stiffer on the forks springs and shock spring…and then even stiffer on the shock spring.
(4) Performance. N2Dirt's goal was for Josh to enjoy stronger hold up while having a plush initial stroke both front and rear. N2Dirt recommended an hour of break-in for the new suspension components and, after the break-in period, Fout was happy with the stiffer springs and valving. At 195 pounds, he is on the heavy side for stock suspension, which meant that the increased spring rates alone would be a drastic improvement. Then, with stiffer valving in the shim stacks, the suspension could handle higher speeds and bigger hits without bottoming out. As always, we put a zip-tie on the fork legs to see exactly how far they compressed. When they stopped 1- inches from bottoming, we hit the sweet spot. 
Josh Fout found that the N2D setting was perfect for his first motos when the track was smoother with good traction. Then, once it got rougher and drier, Josh went out three clicks on compression to increase oil flow on compression coming into corners. He went two clicks in on the rebound to slow it down to the speed where the forks bounced back.
These British-made ProTech fork guards wrap almost all the way around the fork tubes to cut down on fork seal leaks.
(5) ProTech guards. Most leaky fork seals stem from minor damage to the fork tubes caused by rocks sneaking passed the fork guard. In addition to suspension service, N2D is a dealer for the British-made ProTech wraparound fork guards. They offer your fork leg up to 45 percent more protection than standard guards. These guards extend the life of your fork seals and chrome tubes. We hate leaky fork seals and love these fork guards.
WHAT'S THE SQUAWK? We didn't have any issues. And, if we did, N2Dirt would have re-valved our suspension for free. Who can complain about that?
MXA RATING: Although N2D isn't the biggest name in suspension, there's something to be said about a company whose owner races on a regular basis and is willing to work with you to make you feel comfortable on the track.