MXA TEAM TESTED: NK SFS AIR SUSPENDED TRIPLE CLAMP
WHAT IS IT? What is an air triple clamp? Good question. The NK SFS air triple clamp has tiny air shocks, with oil damping, hidden under the clamp to suspend the handlebar mounts. Ryan Dungey ran them last years and Justin barcia runs them this year.
WHAT'S IT COST? $731.95 (available for all modern motocross bikes).
CONTACT? www.nekenusa.com.
WHAT STANDS OUT? Here's a list of things that stand out with NK's SFS air triple clamp.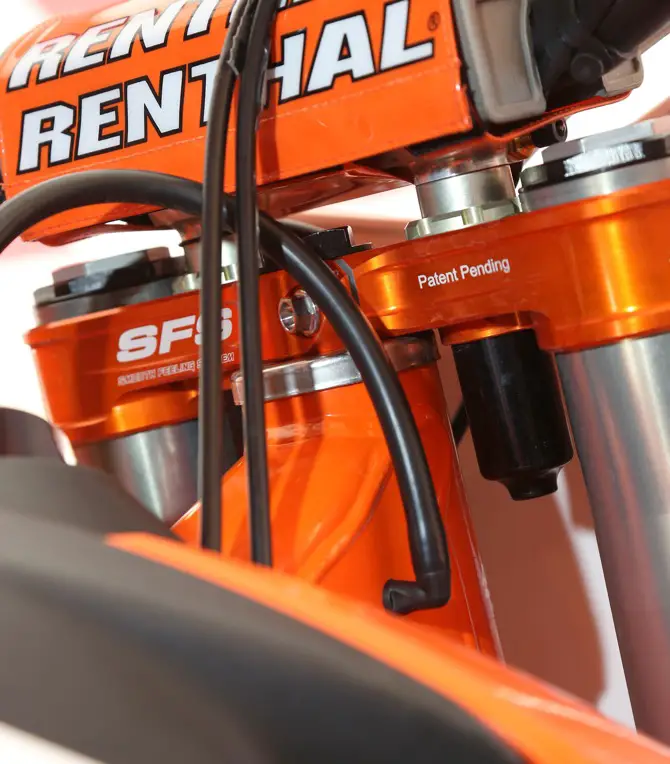 The visible shock shafts under the handlebar clamps are not part of the sealing surface—which is under the triple clamps.
(1) Purpose. Historically there have only been three reasons why racers change their triple clamps. First, to switch to solid or rubber bar mounts. Second, to mount oversized bars. Third, to change the offset. Now there is a fourth reason—to add suspension travel to the handlebars for more comfort in the chop.
(2) System. The NK SFS air triple clamps are totally unique. At first glance the NK top clamp looks conventional. But close examination reveals on Schrader valve on the side of the clamp. A closer look discloses that the steel threaded bar mount bolts have been replaced with miniature aluminum air shocks. The NK bar mounts have 10mm of adjustable suspension travel. You may have never heard of NK, but if you own a KTM you have been using NK triple clamps—NK is the acronym for Neken.
(3) Air pressure. The MXA wrecking crew tested with seven different riders, including Novices, Vets, Pros and factory stars. With each rider we would put 115 psi in the triple clamps so that the bars could not moved upon impact. After riding with this pressure, we lowered it to anywhere from 60 psi to 80 psi and sent the rider back out again. The difference between solid bars mounts, as imitated by the 115 psi, and the bar mounts with 10mm of travel was amazing. It is important to do this high-pressure test because when set up properly, you can't feel the bars move. Please note: It is only in comparison that you see the benefits. Every test rider loved the NK SFS triple clamps—and the factory rider went back to his team to get them to order five sets for the 2014 season.

The air pressure is routed to the twin shocks through the bar mount.
(4) Performance. The biggest surprise with the NK SFS triple clamps is how absorbent they were. We experimented with different air pressures and for fast riders or Supercross tracks we ran 75 psi, while slower riders or smoother tracks worked best at 65 psi. Amazingly most test riders reported not only less vibration and reduced chatter at the bars, but a more accurate feel in the front end because of the calmed-down steering response. Unlike handlebars that flex or rubber-mounted bar mounts, the SFS clamp combines the bars, clamps and air shocks into one unit. There is no rocking of the handlebars, no wiggling in the whoops and the bars move in unison as opposed to one side moving more than the other. Plus, the movement is adjustable via simple air pressure changes.
(5) Acronym. What does SFS stand for? We originally assumed that it would be some technical name like Statically Fluid Suspension or Secondary Fork System, but instead it was the rather pedestrian "Smooth Feeling System." In a nice touch, NK etches torque specs and other important info onto the gold anodized clamp to help the end user.
WHAT'S THE SQUAWK? Initially we felt that we were losing about 15 psi over a couple days. We expressed our concern to NK and they explained that what we thought was a 15 psi pressure loss was really caused by the small volume of the twin air shocks—and that the length of the air pump hose and size of the pump cylinder would cause an air loss when checking the air pressure. Thus, we saw an air loss when we went looking for one, but if we hadn't installed the pump to check the pressure there wouldn't have been any loss. Either way it turned out to be a non-issue because we simply set the pressure to our desired number on race day—and either went up or down from that number without worrying about what we thought was pressure loss.
MXA RATING
Given our druthers, of every top triple clamp made, this would be our first choice.