MXA TEAM TESTED: ODI PODIUM RC4 HANDLEBARS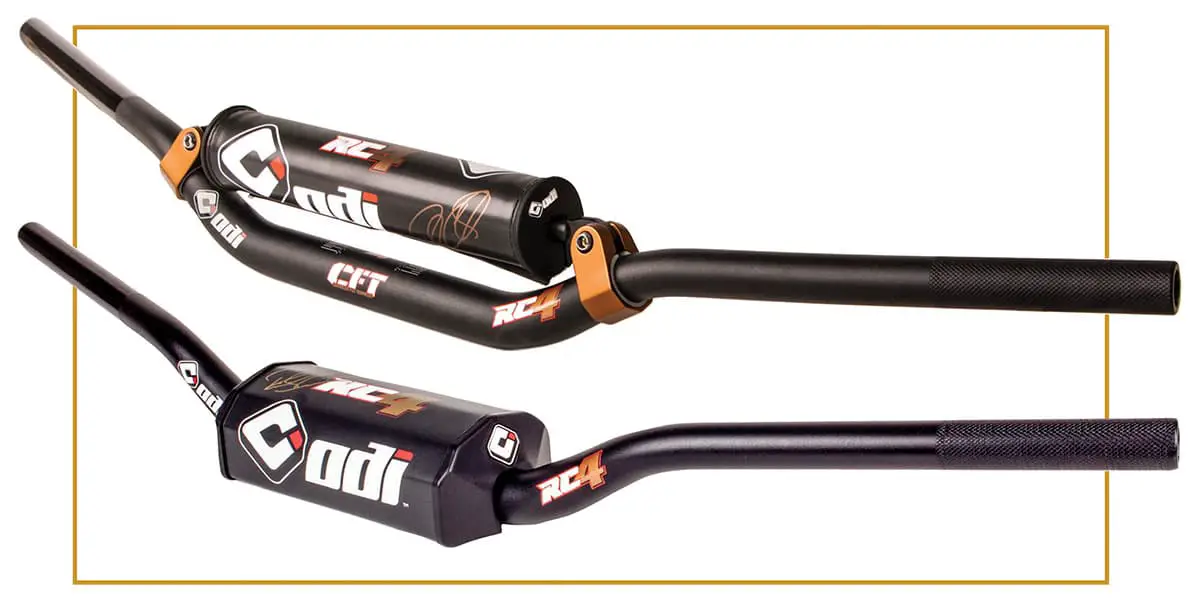 WHAT IS IT? ODI has partnered with another legend of the sport—Ricky Carmichael. ODI and Ricky put their heads together to come up with the RC4 Signature Edition MX handlebar. The newest ODI handlebar features the company's patent-pending CFT crossbar system. The main bar is constructed out of 2014-T6 aluminum, while the crossbar is made from softer 6061 aluminum to absorb impacts and reduce fatigue. ODI chose these materials to enhance the handlebar's strength and improve comfort. Of course, there is an RC4 Podium Flight bar without the crossbar system.
WHAT'S IT COST? $134.95 (ODO Podium CFT RC4 handlebar), $99.95 (RC4 Podium flight bar) .
CONTACT? (951) 786-4755 or www.odigrips.com.
WHAT STANDS OUT? Here's a list of things that stand out with the ODI Podium RC4 handlebar.
(1) Fitment. The ODI Podium CFT RC4 handlebar is a 1-1/8-inch oversize bar that will work with most stock bar mounts, save for the current Kawasakis  and pre-2020 Hondas, which still use 7/8-inch bars. MXA mounted these handlebars on our 2020 Husqvarna FC350. It is no secret that with the throttle housing, start button, front brake master cylinder, grips, kill switch, map switch and clutch master cylinder, there is very limited room on the handlebar, especially if you switch from a non-crossbar handlebar to one that has a crossbar. The ODI Podium bar is 200mm wide, which gave us plenty of room to mount all of our controls without having to sacrifice the perfect lever placement that some of our test riders prefer. Most MXA test riders run their clutch and front-brake perches farther inboard to increase leverage on the levers. 
(2) Design. Simple and clean are the best words to describe the overall look of the RC4 handlebars. They feature signature RC4 graphics and a high-density foam bar pad that look great on any motorcycle. Some MXA test riders like the look of a handlebar with the crossbar pad, but don't like the rigidity of it. With ODI's Controlled Flex Technology (CFT), you get the best of both worlds—a handlebar that features a crossbar but is also tuned to flex under a load.
(3) On-track performance. We weren't sure that we would be able to feel the flex of the CFT crossbar, but testers reported that the ODI handlebars flexed enough that there was a noticeable improvement in comfort. Equally important, the ODI bars didn't flex so much that the riders felt like they were chasing the bars when they moved. We also noticed reduced vibration. Riders with soft hands, sensitivity to bar vibration and arm pump will find these bars very helpful. Shorter test riders felt that the 54mm sweep of the RC4 bar allowed them to sit farther up on the bike to weight the front end better. Since these handlebars were tested, developed and designed by Ricky Carmichael, who is no giant, it was no surprise that MXA's shorter testers had no complaints about the 78mm height; however, our taller test riders thought the bar was almost too low for them.
WHAT'S THE SQUAWK? No complaints. A handlebar that brings added comfort and reduced vibration, allowing us to ride for longer periods of time, is something to celebrate. ODI is best known for it lock-on grips, including the Emig grip and OEM KTM and Husky grips.
MXA RATING: The stock handlebars from Renthal, Pro Taper and Neken are all quality bars, but because they are designed for mass production, there is no way they can suit every rider. The ODI Podium RC4 handlebar offers the discerning rider an oversized bar with a crossbar that doesn't have the added rigidity or vibration you would expect; in fact, it is noticeably flexible and reduces vibrations.A surprising handlebar.