MXA TEAM TESTED: O'NEAL HARDWEAR GEAR
Click on images to enlarge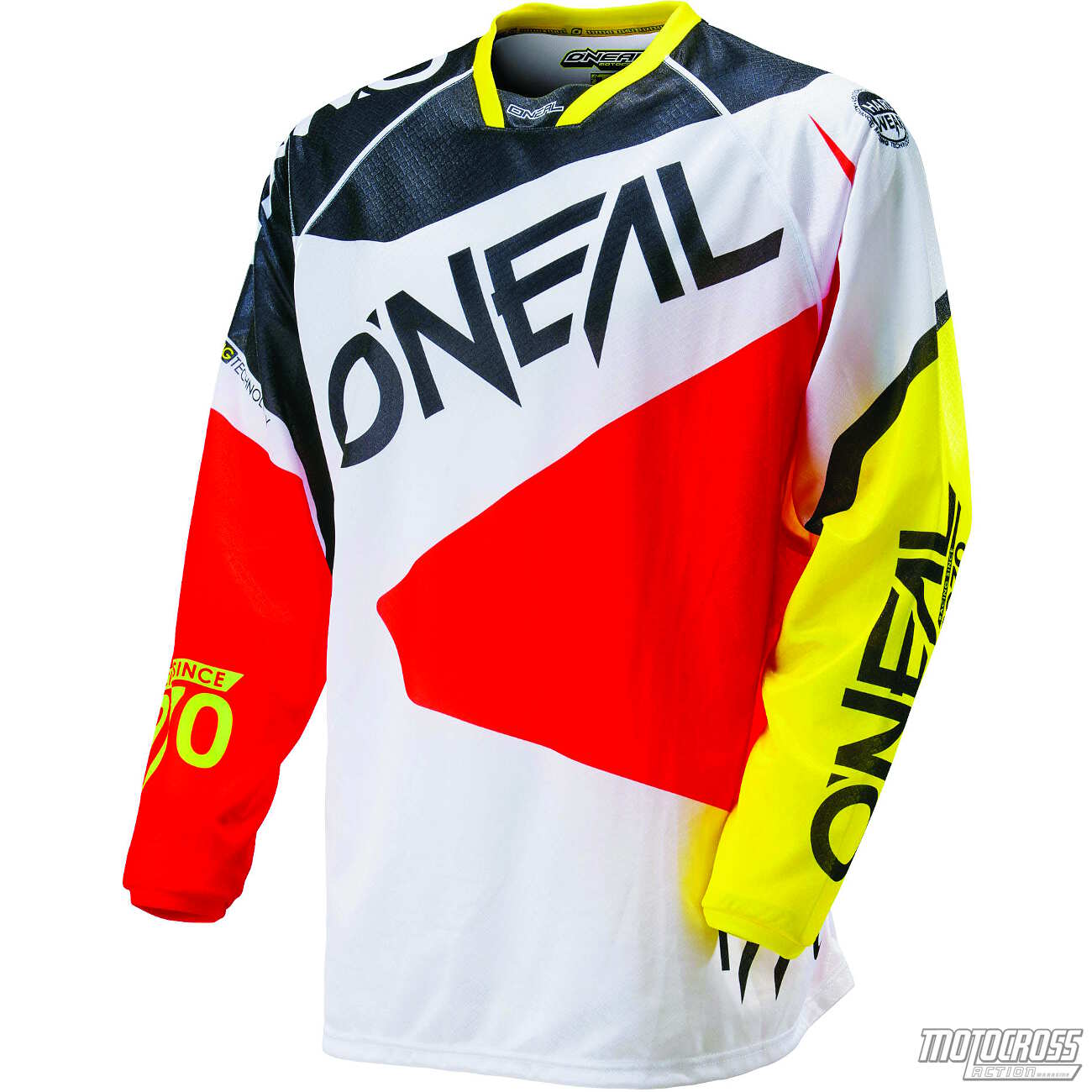 WHAT IS IT? O'Neal's Hardwear gear is designed to take a beating. It is handcrafted with extreme attention to detail to ensure the best protection possible. Blake Baggett is O'Neal's high-profile test rider.
WHAT'S IT COST? $54.99 (jersey), $169.99 (pants).
CONTACT? www.oneal.com or (800) 326-6325.
WHAT STANDS OUT? Here's a list of things that stand out with the O'Neal Hardwear gear.
(1) Pants. The Hardware pant is built like Fort Knox, with triple stitching and heavy-duty denier fabrics. Our test set of gear from last year still looks new. For 2016, not many changes were made to the Hardware pant, but why fix something that isn't broken? The Hardwear pant has a 360-degree adjustable Velcro belt that allows a size-32 pant to fit waist sizes from 30 to 34. This is a throwback to the good old days when leather racing pants came with belts. It allows you to cinch your pants as tight as you want. There is a full-length mesh netting inside that is a step up from many other brands. O'Neal takes care to stitch a soft material around the entire leg cuff. This material not only doesn't get stuck on knee brace straps, but it adds a touch of class.
(2) Pant colors. The 2016 Hardwear pants are only available in two colors—white/black and black/red. This may seem odd given the cacophony of colors that most gear companies throw at consumers, but there is method to O'Neal's madness. While there are only two colors of pants, O'Neal offers seven different Hardwear jerseys to choose from (four that match with white/black pants and three that go with the black/red). The concept is that black pants can go with any color jersey, so you can spend your money on less expensive jerseys instead of more expensive pants. We think it's a good idea, but not every color combination matched up perfectly with each set.


(3) Jersey. The Hardwear jersey features moisture-wicking material, an extended tail made of mesh with silicone print (to keep the jersey tucked in), and a flexible collar with a tag-less label. In years prior, O'Neal's Hardwear jersey had sewn-in elbow pads, which we liked because our elbows often looked like beef jerky after a moto. The protection has been removed, but there is less restriction without the elbow pads. You've gotta give to get; we gave skin.
(4) Comfort. The pant is a bit heavier than most due to the numerous rubber patches and added padding. Our testers didn't mind the extra weight because O'Neal Hardwear gear has a reputation for durability. The inside of the pant was plush and comfortable. As for the jersey, it does not offer enough ventilation for the SoCal summer months, but O'Neal offers a fully vented jersey for the hot months. The collar is non-restrictive and the material is soft as silk.
(5) Durability. We could tell you tales of riders who have been wearing the same O'Neal jersey for 10 years without a rip, tear or fade. O'Neal's Hardwear gear gets an easy five stars in the durability department. The thick leather patches, triple-stitched seams and protective rubber patches ensure this gear is built like a tank.
(6) Options. The O'Neal Hardwear line has seven jersey color options but only two pant color options. They are available in sizes 28–40 (pants) and from small to extra-extra large (jersey). They are constantly adding new color combinations, so be sure to check their website.
WHAT'S THE SQUAWK? Our only squawk is that we like elbow padding, but it is rapidly disappearing from modern motocross gear.
MXA RATING: The O'Neal Hardwear gear is as rugged as a Sherman tank. This gear is like the Energizer Bunny—it just keeps going and going.